Guide to The Vistas Condo Houston
Built in 2005, located in Inner Loop, see The Vistas condos for sale, amenities, pictures & reviews.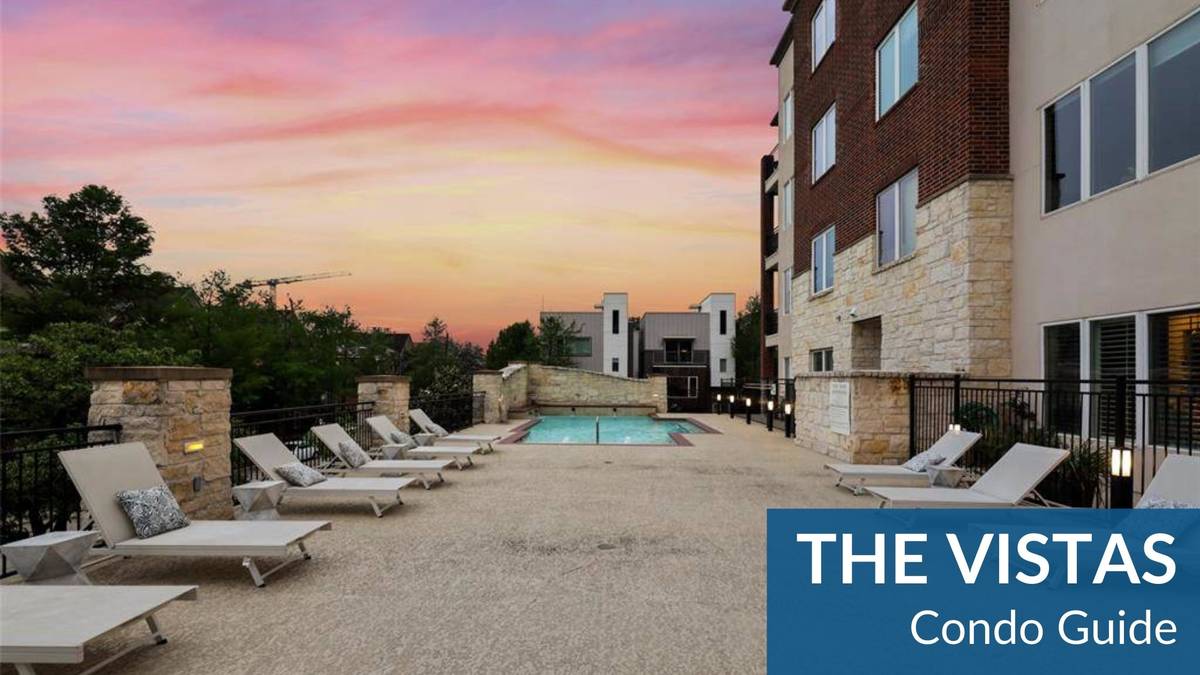 The Vistas is a condo complex within Houston's Inner Loop. Its location gives residents quick access to Midtown and Downtown Houston.
People choose units in The Vistas because of their:
UNIQUE FACILITIES: The condo has many perks that residents enjoy. There is a designated area for amusement. Residents get to enjoy a community garden or take walks with pets. Another option is the private pool deck which has many cabanas. This deck on the higher condo floors offers a 360-degree view of the skyline.

VARIOUS UNITS: The Vistas is a 5-story building with 72 condo units. Each unit has 10-foot ceilings, giving more expansive living spaces. Vast windows allow natural light to brighten the whole area. Condo units have a kitchen that opens up to the living and dining area. The flooring of every unit varies from granite to carpet options.

MANY LEISURE SITES: Plenty of recreation areas surround The Vistas. Residents enjoy parks like Avondale Promenade, Cherryhurst, and West Webster. The Vistas is close to many shopping centers and dining areas. There is the option to dine at Onion Creek Coffee House, Pink's Pizza, and more. Residents have the choice of how they can spend their time.

CLOSENESS TO CITY ZONES: The Vistas is within the Inner Loop. Its location is close to Energy Corridor, and the Galleria. These zones have top-notch shopping malls, commercial hubs, and leisure spots.

CONVENIENCE: The freeways around The Vistas give a quick ride around Houston. The roads nearby include the Gulf, Southeast, and Eastex Freeways. These are wide roads people use to go around the city. The area around The Vistas is walkable, but people move faster on wheels.

GREAT SCHOOLS: The Vistas is zoned to the Houston Independent School District. The HISD is the biggest school district in Texas and the eighth in the US. Some of its schools are near residents of The Vistas. These nearby top schools are some of the best in Houston.

PROXIMITY TO JOB CENTERS: Midtown and Downtown Houston are near The Vistas. The district is home to big companies and plenty of jobs. KPMG, JP Morgan Chase, Chevron, and other employers are in the area.
The prime location of the Vistas makes it harder to buy properties. Competition is stiff as people compete to get the benefits of the area. To find the best home, people can ask for the help of real estate experts.

To get personal advice on buying or selling in The Vistas area, contact Paige Martin, one of Houston's best realtors and one of the top-ranked Realtors in the United States.
"I wholeheartedly recommend Courtney from the Houston Properties Team! I worked with her to sell my home, and I couldn't be happier with the results. Courtney's knowledge of the market was exceptional, and she worked tirelessly to get the best possible price for my home. She was always available to answer my questions and provided excellent support throughout the entire process. Without a doubt, Courtney and her team are the best in the business!" - Maximina Deras (Google Review)
---
Table of Contents
---
The Vistas Condo Amenities
| Information | The Vistas |
| --- | --- |
| Address | 100 Willard Street |
| City | Houston |
| Zip | 77006 |
| Region | Inner Loop |
| Year Built | 2005 |
| Construction Status | Complete |
| Developer | GT Leach |
| # Floors | 5 |
| # Units | 72 |
| Parking | Assigned |
| Guest Parking | Limited |
| HOA | The Vistas |
| --- | --- |
| HOA / Sq Ft | $0.44 |
| What's Included in HOA Fee? | Building & Grounds, Cable TV, Insurance Common Area, Intrusion Alarm System, Limited Access, Other, Partial Utilities, Recreational Facilities, Trash Removal, Water and Sewer |
| Amenities | The Vistas |
| --- | --- |
| Fitness Room/Gym | Yes |
| Pool | Yes |
| Pool: Heated | No |
| Pool: Lap Size | No |
| Pool: Indoor | No |
| Pool: Hot Tub/Jacuzzi | No |
| Party/Gathering Room | Yes |
| Concierge | No |
| Valet | No |
| Porter | No |
| On Site Manager | Yes |
| Balconies Available? | No |
| Electric Car Option? | No |
| Tennis Courts | No |
| Extra Security? | Yes |
| Security | Yes |
| Guest Rooms Available? | No |
| Rooftop Deck/Terrace | Yes |
| Outdoor Kitchen | No |
| Gas Cooktop Available? | No |
| Storage Unit Option | No |
| Sauna | No |
| Business Center | No |
| Building Generator | No |
---
The Vistas Condo Sales Trends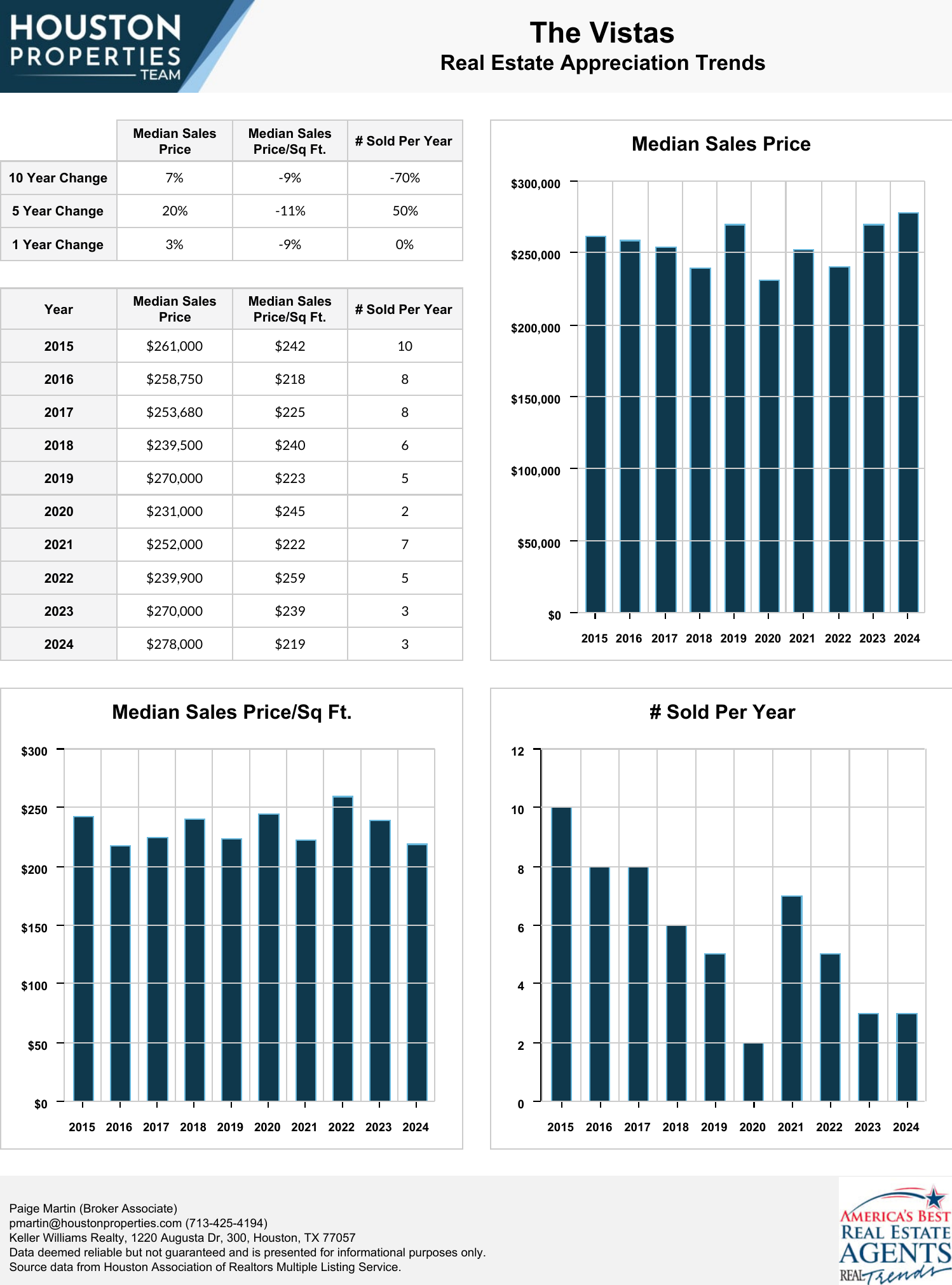 ---
How To Find The Vistas In Houston
| Commute Time | The Vistas |
| --- | --- |
| Downtown (min) | 10 |
| Med Ctr (min) | 15 |
| Energy Corridor (min) | 25 |
| Galleria (min) | 15 |
Highlights
The Vistas
Run / Bike Trails
Memorial Park Hike and Bike Trailhead, Purple Trail
Nearby Retail / Dining
Onion Creek Coffee House, Bar and Lounge, Kroger, Barnaby's Cafe, La Mexicana, Max's Restaurant, a'Bouzy, Table 7 Bistro

Black Walnut Cafe, Katz's, la Madeleine, Velvet Taco, Pink's Pizza
| MetroRail Access | The Vistas |
| --- | --- |
| # Blocks to MetroRail | N/A |
| Nearest MetroRail Stop | N/A |
---
The Vistas Pet Policies & Information
| Commute Time | The Vistas |
| --- | --- |
| Pet Area/Courtyard | Yes |
| Pet Area / Unique Pet Features | Has a private dog walking/picnic table area complete with outdoor grills and community gardens. |
| Max # Animals | Unable to find |
| Breed Restriction | Unable to find |
| Weight Limit | Unable to find |
---
The Vistas Best Realtor Insights
G T Leach Construction developed the Vistas at 100 Willard Street in 2005. It is a five-story building that's home to 72 condominium units.
The Vistas is close to both Midtown and Downtown Houston. It's also close to significant districts like Energy Corridor and the Galleria.

The Vistas has a designated outdoor area for leisure. This includes a community garden with picnic tables, outdoor grills, and a private dog-walking area. The site also has a fitness center.

The Vistas features a pool deck surrounded by cabanas, offering a wide view of Downtown Houston and the skyline.

The Vistas feature both single and double-bedroom units that residents can choose from.

The units' interior design is laid out and includes an open kitchen to the living and dining areas. Every apartment has a different type of flooring, such as carpet or granite.

The building is near the best restaurants and nightlife, which is less than a 20-minute drive. Retail shops like Lanford's Grocery and Market, Finer Foods, and Wholefoods are nearby.

Several trails and green spaces are also available nearby. Memorial Park Hike, Bike Trailhead, and Purple Trail are also nearby The Vistas.

The Vistas is near major employers. Like KPMG, JP Morgan Chase, United Airlines, Chevron, and others.

The Vistas features an advanced security system for each of its units. It utilizes card access, intercom systems, and assigned parking spaces for the residents.

The Vistas is nearby golf courses like Hermann Park Golf Course, Optimal Golf Performance, and more.
---
The Vistas Condominium Reviews
Midtown Vistas Condos For Sale Location Benefits
---
Condos for sale in Midtown Vistas are at a prime location. Midtown Houston is situated directly between Downtown Houston, Montrose, and the Texas Medical Center making these business and commercial centers highly accessible to residents.
Midtown Houston is close to major freeways and the Red Line METRORail also runs through the area. This makes commuting for Midtown Vistas condo owners to Downtown, the Medical Center, or Reliant Stadium easier.
---
Midtown Vistas Condos Features
---
Midtown Vistas is a 4-story mid-rise that's comprised of 72 one-or two-bedroom units.
The units feature kitchens with wooden cabinets, granite countertops, and either ceramic or hardwood floors. The ceilings also have crown molding finishes and elegant lighting fixtures.
Unique to midrise condominiums, units in the Midtown Vistas have relatively higher ceilings measuring up to 10 feet. This makes the units have more spacious living areas and a more comfortable ambiance.
The building also features a community pool, an outdoor entertainment area, and secure underground parking spaces for its residents.
---
Best Houston Real Estate Resources
---