Guide to Mimosa Terrace Condo Houston
Built in 0, located in Galleria, see Mimosa Terrace condos for sale, amenities, pictures & reviews.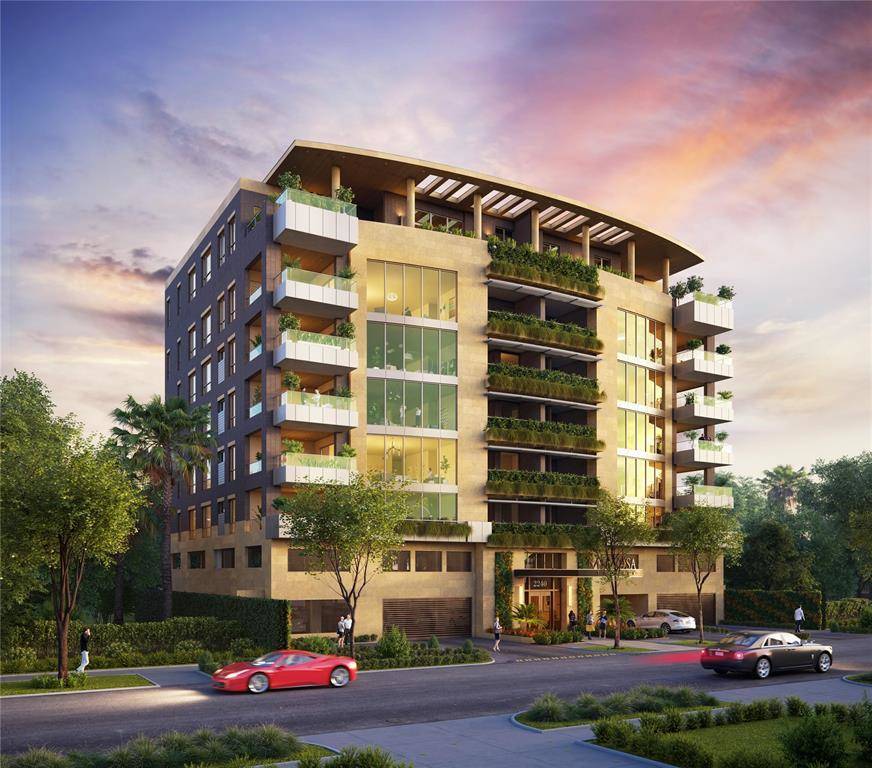 Mimosa Terrace is a new 7-story midrise located near the Galleria area and Upper Kirby district. It features signature architectural designs reminiscent of Europe's popular boutique condos.
Mimosa Terrace is popular due to its:
NEW CONSTRUCTION MIDRISE: The Mimosa Terrace is a new luxury condo from Citiscape International. The residential building is located within the River Oaks area, one of Houston's most expensive neighborhoods. Mimosa Terrace Units for sale cost an average of $2 million. This makes it one of Houston's most expensive luxury condos.

SPACIOUS LIVING SPACE: Mimosa Terrace has one of Houston's largest floor plans. The residential floors include two units with over 4,400 square feet of indoor living space. It also has a covered terrace of 600 square feet. The penthouse has 6,600 square feet of interior and 3,200 square feet of terrace space.

UNIT AMENITIES: Each Mimosa Terrace condo features exclusive amenities. These include custom Italian cabinetry from Poliform and Gaggenau kitchen appliances. It also has an oversize master closet and expansive terraces with built-in garden planters. Unit upgrades include an outdoor spa and an additional outdoor fireplace.

PROXIMITY TO BUSINESS CENTERS: Mimosa Terrace is less than 5 miles from Downtown and Texas Medical Center. Downtown is Houston's central business center, with 3,500 businesses and 150,000 employees. The Texas Medical Center is the largest medical center, with more than 50 medical and research institutions.

SHOPPING AND ENTERTAINMENT OPTIONS: Galleria is 3 miles from Mimosa Terrace. It houses upscale shopping centers like The Galleria, Uptown Park, and Highland Village. Residents are also a few minutes away from 150 Yelp-rated establishments. Kirby Drive, Shepherd Drive, and Westheimer Road are just nearby.

LOW HOA FEE: Mimosa Terrace was designed as a "non-amenitized" luxury condo. The monthly maintenance fee is one of the lowest in Houston. (See Houston Condos: HOA Fees & Amenities).

PET-FRIENDLY BUILDING: Mimosa Terrace is one of Houston's pet-friendly condos. The building features an exclusive area for pets. It has a walking area, pet relief areas, and planters on terraces. The management permits 4 pets in each unit with no limit on pet weight. However, aggressive breeds are not allowed.
Buying a condo in Mimosa Terrace can be tricky. It's a new building so there are limited historical sales trends.
To get personal advice on buying or selling in the Mimosa Terrace unit, contact Paige Martin, one of Houston's best condo realtors and one of the top-ranked Realtors in the United States.
"Brittney Coyle and her team are truly the best. We felt like she not only listened to our needs for our new home, but was also always willing to chat about concerns or provide expertise about the areas we were looking into. The sheer amount of knowledge & network she had about any aspect of homebuying made it seem like she had been working in the industry for decades. When it came time to make an offer, she was the best advocate we could ask for and made sure we got the house we wanted. We appreciate her looking in on us throughout the process and following up with various folks to take care of our family as we relocated. She is a credit to her company and we wouldnt go with anyone else if we needed to buy again -but we found the perfect house, so hopefully not:) !" - Brittany Cordero (Google Review)
---
Table of Contents
---
Mimosa Terrace Condo Amenities
| Information | Mimosa Terrace |
| --- | --- |
| Address | 2240 Mimosa Drive |
| City | Houston |
| Zip | 77019 |
| Region | Galleria |
| Year Built | 0 |
| Construction Status | New (Planned) |
| Developer | Mimosa Terrace LLC |
| # Floors | 7 |
| # Units | 11 |
| Parking | Assigned, Above Ground |
| Guest Parking | Self Park, Limited |
| HOA | Mimosa Terrace |
| --- | --- |
| HOA / Sq Ft | $0.65 |
| What's Included in HOA Fee? | Building & Grounds, Concierge, Gas, Gym, Insurance Common Area, Limited Access, Partial Utilities, Pet Run, Porter, Private Garage, Storage Outside of Unit, Trash Removal, Water and Sewer |
| Amenities | Mimosa Terrace |
| --- | --- |
| Fitness Room/Gym | Yes |
| Pool | No |
| Pool: Heated | No |
| Pool: Lap Size | No |
| Pool: Indoor | No |
| Pool: Hot Tub/Jacuzzi | No |
| Party/Gathering Room | No |
| Concierge | Yes |
| Valet | No |
| Porter | Yes |
| On Site Manager | No |
| Balconies Available? | Yes |
| Electric Car Option? | Yes |
| Tennis Courts | No |
| Extra Security? | Yes |
| Security | Yes |
| Guest Rooms Available? | No |
| Rooftop Deck/Terrace | Yes |
| Outdoor Kitchen | Yes |
| Gas Cooktop Available? | Yes |
| Storage Unit Option | Yes |
| Sauna | No |
| Business Center | No |
| Building Generator | Yes |
---
Mimosa Terrace Condo Sales Trends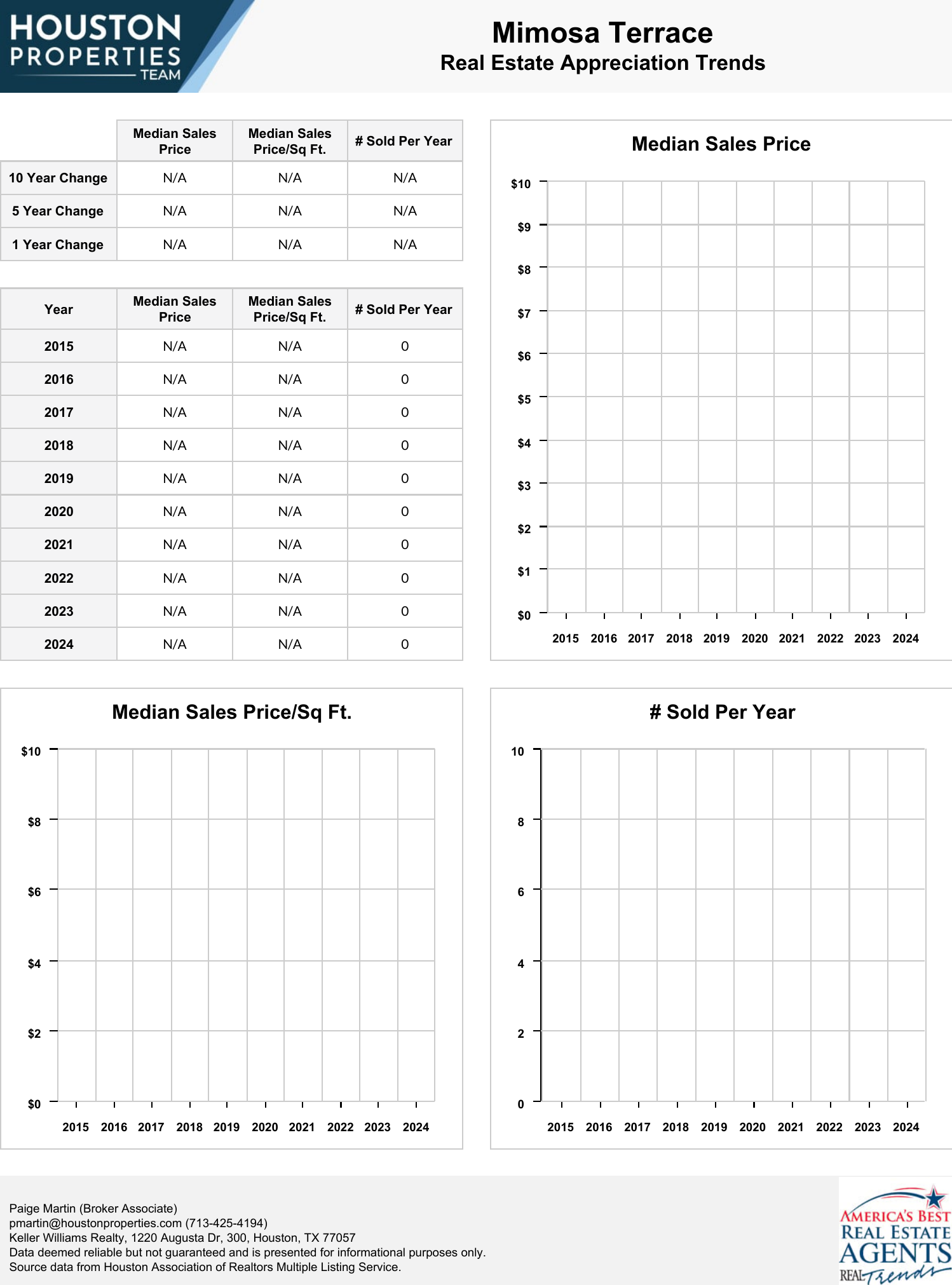 ---
How To Find Mimosa Terrace In Houston
| Commute Time | Mimosa Terrace |
| --- | --- |
| Downtown (min) | 15 |
| Med Ctr (min) | 20 |
| Energy Corridor (min) | 25 |
| Galleria (min) | 20 |
| Highlights | Mimosa Terrace |
| --- | --- |
| Run / Bike Trails | Cherryhurst Park, River Oaks Country Club, Memorial Park, Beautiful Park, Hyde Park |
| Nearby Retail / Dining | District 7 Grill Midtown, Barnaby's Cafe, State of Grace, Torchy's Tacos, River Oak Shopping Center, The Galleria, Highland Village, Uptown Park, River Oak Shopping Center, and Theater; various Yelp accredited establishments |
| MetroRail Access | Mimosa Terrace |
| --- | --- |
| # Blocks to MetroRail | N/A |
| Nearest MetroRail Stop | N/A |
---
Mimosa Terrace Pet Policies & Information
| Commute Time | Mimosa Terrace |
| --- | --- |
| Pet Area/Courtyard | Yes |
| Pet Area / Unique Pet Features | Pet walking and pet relief areas. Planters on terraces. |
| Max # Animals | 4 |
| Breed Restriction | Aggressive breeds not allowed |
| Weight Limit | N/A |
---
Mimosa Terrace Best Realtor Insights
Mimosa Terrace is a luxury condo project of Citiscape.
Mimosa Terrace is within Houston's most expensive neighborhood with low HOA fees.

Mimosa Terrace offers a safe space for pets. The terrace has a pet-walking area, a relief area, and planters.

Nearby key Houston districts are Texas Medical Center and Downtown.

Mimosa Terrace is 3 miles away from the shopping trifecta. These are The Galleria, Uptown Park, and Highland Village.

The condo is near main roads like Westheimer Road, Kirby Drive, and San Felipe Street.

Unit sizes are between 2,000 and more than 4,000 square feet. Balcony sizes range from 100 to over 800 square feet.

Each unit features quartz counters in the kitchen and baths. It also has sophisticated interiors like Poliform Italian cabinetry and Gaggenau kitchen appliances. Options for a fireplace and a wine room are available.

Mimosa Terrace is within the River Oaks area. The River Oaks Shopping Center, River Oaks Theatre, and River Oaks Country Club are only a mile away.

The neighborhood lies south of Memorial Park and north of Upper Kirby. While Neartown/Montrose is on the west, and the Galleria/Uptown is on the east.

Around 5 miles away are the Galleria area and Memorial Park. The two provide the option for many activities like shopping and sports.
---
Mimosa Terrace Condominium Reviews
Mimosa Terrace: Mass Transit Options And Access
---
The main roads are accessible from Mimosa Terrace Condo. Kirby Drive, San Felipe Street, Westheimer Road, Loop 610, Southwest Freeway (US 59), and Katy Freeway (I-10).
There are 10 bus stops near the building. The nearest is 0.3 miles away and is along Shepherd Drive.
The Mimosa Terrace has many exciting retail and entertainment establishments. The list includes the River Oaks Shopping Center and West Avenue Complex. They feature many boutique shops, restaurants, bars, and art galleries. There are also River Oaks District's posh social venues and different establishments.
Popular Neighborhood Venues: River Oaks Shopping Center, River Oaks District.
Top Ranked Restaurants Nearby: Brenner's on the Bayou, Express Rolls, State of Grace, Piada Italian Street Food, Backstreet Café, Cafe Ginger, The Kitchen at The Dunlavy, Rossini Caffe Italiano, Hops Meet Barley
Grocery Stores: Central Market Houston, Kroger, Whole Foods Market, H-E-B, Trader Joe's, Sprouts Farmer's Market
Trails & Parks: River Oaks Country Club, Memorial Park, Buffalo Bayou Park
---
Mimosa Terrace: Maps And Directions
---
Mimosa Terrace is located at 2240 Mimosa Drive. It is near the Glendower Court area between Upper Kirby and River Oaks. The neighborhood lies south of Memorial Park, west of Neartown/Montrose, east of Galleria/Uptown, and north of Upper Kirby.
Memorial Park is about 4 miles away from Mimosa Terrace. It features hike-and-bike trails, a public golf course, and several sports facilities. Two miles northwest of the building, residents also get to enjoy Buffalo Bayou's skate parks. Biking, jogging, and watching stunning skyline views are other activities.
River Oaks Shopping District is a few blocks away from the building. It features 75+ retail stores, restaurants, and other commercial establishments.
A few pubs, restaurants, and cafes line both sides of Shepherd Drive. Further south, the Shepherd Square Shopping Center is the best option. The Galleria, Uptown Park, and Highland Village are also nearby.
Houston's major employment centers are within a few miles of the building.
The River Oaks neighborhood has a 77019 zip code. (View Houston zip code map.)
---
Mimosa Terrace: School Zoning Information
---
Mimosa Terrace Condo residents can send their children to the following schools:
River Oaks Elementary School at 2008 Kirby Dr. River Oaks Elementary School is one of the first elementary schools in Texas to offer the International Baccalaureate Primary Years Programme (IB PYP). It is also a Vanguard Magnet and neighborhood school. Apart from its academic programs, the school also offers great electives and enrichment courses.

Lanier Middle School at 2600 Woodhead St. Formerly Jefferson Davis High, the recently renamed school, is home to the Panthers. It is a magnet school with a hotel and restaurant management program.

Lamar High School at 3325 Westheimer Rd. Lamar offers exemplary academic programs: Advanced Placement (AP), International Baccalaureate (IB) Diploma Programme, and a business magnet program. Its IB Diploma programs include classes in 5 languages, Russian, Chinese, French, Italian, and Spanish.
To find an updated listing of all Mimosa Terrace real estate zoned to any specific public school, please email Paige Martin at PMartin@HoustonProperties.com with the property preference and budget that you're working with.
Note: For more detailed information on specific schools zoned to different Mimosa Terrace areas, please refer to our Houston Schools Guide OR email me.
Note: School zoning tends to change from year to year. The information provided above is accurate but not guaranteed. Please double-check by visiting the school's website.
---
Best Houston Real Estate Resources
---