One Montrose Place is a 7-story tall condo building in the Montrose area. It can be found at 1419 Montrose in Houston Texas, 77019, near River Oaks, Rice Military, and Upper Kirby neighborhoods.
For more information or available One Montrose Place Houston Condos for sale, call Paige Martin at
713-384-5177 or email Paige@HoustonProperties.com
One Montrose Place Condos For Sale

All One Montrose Place Condo Listings
One Montrose Place Amenities
One Montrose Place Condos Overview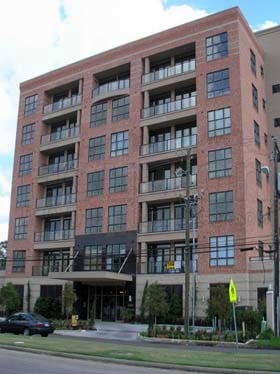 One Montrose Place Condominiums has an ideal Montrose location. It is only a few minutes away from Downtown Houston, where you will find a selection of restaurants, shops, clubs and an exciting night scene. Near the area you will also find banks, healthcare centers, groceries, police stations, museums, and libraries.
Condos for sale in One Montrose Place also have spacious balconies which allow its residents to enjoy the breaktaking views of the Galleria and Downtown Houston skyline. Surrounded by world-class restaurants, massive shopping areas, and peaceful neighborhoods and just a short distance away from the main business complex Downtown, One Montrose Place has the potential to be a dream-home, particularly by people who prefer city-dwelling.
Montrose, as well as neighboring Upper Kirby and Rice Military areas, are a relatively private and therefore quiet and peaceful community.
One Montrose Place Condos For Sale Features
The condos at One Montrose Place have cherry hardwood furniture, custom kitchen cabinetry, granite kitchen countertops, and state-of-the-art stainless steel appliances. Some of the more luxurious units are even outfitted with breakfast bars, marble or granite baths, and whirlpool tubs.
Structurally and aesthetically impressive brick and stucco exterior as well as the homely interior design tones accentuate the quality and style of each of these One Montrose Place condos.
For more information on available One Montrose Place condos, please contact Paige Martin at 713-384-5177 or email paige@houstonproperties.com
One Montrose Place Condos Amenities
Assigned Parking
Card controlled access