Guide to Parc IV Condo Houston
Built in 1964, located in Inner Loop, see Parc IV condos for sale, amenities, pictures & reviews.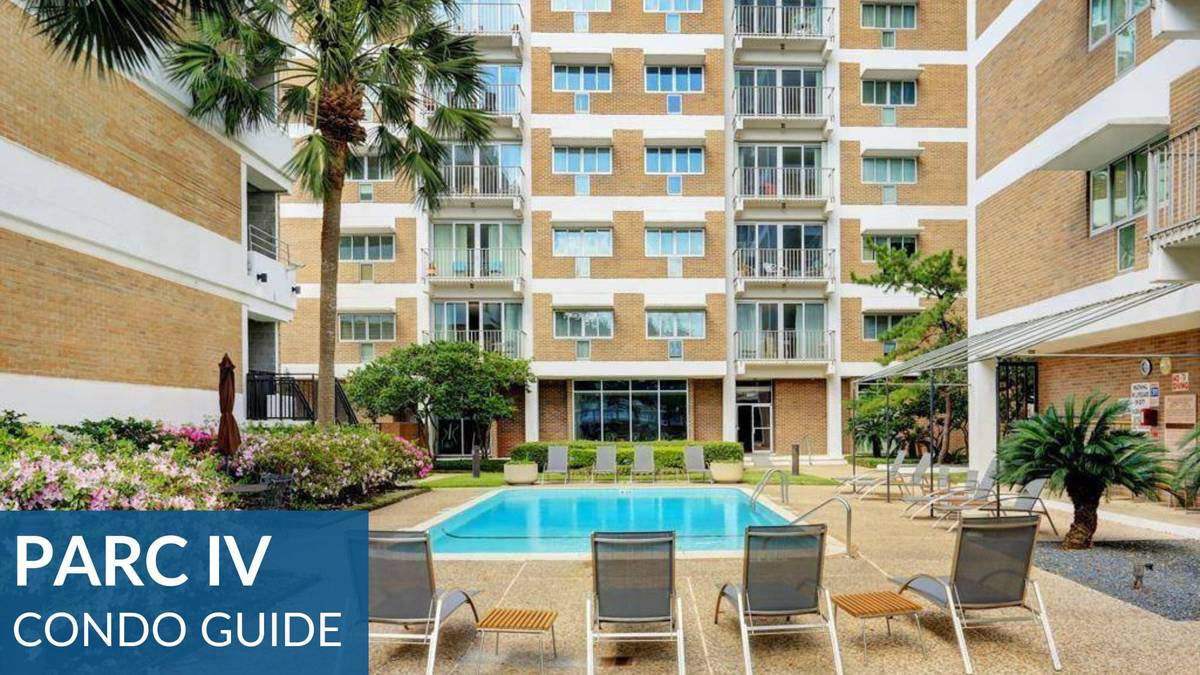 Located in Montrose, Parc IV is a high-rise condominium with modern and functional designs. It is a recipient of the Preservation Achievement Award for perfectly restored historic buildings.
The Parc IV features its:
NEWLY RENOVATED SPACE: Initially built in 1964, the Parc IV has undergone several renovations. It has newly remodeled space features. Units now have exposed ceilings and designer lighting. The kitchens are well-appointed and have solid vinyl floors. The units are also equipped with heating and cooling systems. Private balconies overlooking the skyline of Houston are also available in some units.

CENTRAL LOCATION: Located in Montrose, Parc IV belongs to one of Houston's Most Accessible Neighborhoods. Due to its central location, Houston's key hotspots like Downtown and Medical Center are accessible. Major roads and freeways surround the neighborhood, including Richmond Avenue, Montrose Boulevard, and Westheimer road. This gives way to shorter commute times going to and fro Parc IV's neighborhood.

VIBRANT NEIGHBORHOOD: Montrose is known for its Bohemian flavor. It features mansions from the 1920s and modern and luxury properties. It also houses art museums. The neighborhood has a collection of art pieces from celebrated artists like Picasso and Pollock. Other than art pieces, Montrose is also home to several art festivals.

FOOD AND SHOPPING HUBS: Parc IV is within Houston's Inner Loop. Residents can enjoy Montrose's top-ranked boutiques, restaurants, pubs, and vintage shops. One is Rudyard's, which offers a good beer and food selection. It also hosts comedy and musical acts and is called "Montrose's Living Room." This high-rise is just a short drive away from River Oaks, which has an upscale shopping district.

GREAT AMENITIES: The Parc IV features a contemporary design and a gallery entry. It also has a swimming pool, exercise, and a party room. There are interior elements spread throughout the building's common areas. These include photographs depicting the Parc's and Houston's History. The building also has its on-site manager and gated security system.

ACCESS TO TOP SCHOOLS: Parc IV's neighborhood is close to some of Greater Houston's best schools. Most schools in the area offer the International Baccalaureate World Program. Among these schools are Lanier Middle School and Lamar High School.
Buying a unit in Parc IV may be challenging due to the increasing demand for homes in accessible neighborhoods in Houston. Montrose is also among the areas with high median home prices.
To get personal advice on buying or selling a Parc IV residence, contact Paige Martin, one of Houston's best condo realtors and one of the top-ranked Realtors in the United States.
"This was my first home buying experience and Ashley was amazing. She held our hands as we navigated this hot-market. Was honest about home buying decisions and encouraged us to think long term. Easily accessible, readily available and always willing to answer questions. She provided a contract timeline that allowed us to stay on time throughout the entire process. She also developed a relationship with the lender to minimize unforeseen issues on closing day. Always pleasant and always truthful. Thank you Ashley for an amazing experience." - David Foreman (Google Review)
---
Table of Contents
---
Parc IV Condo Amenities
| Information | Parc IV |
| --- | --- |
| Address | 3614 Montrose Boulevard |
| City | Houston |
| Zip | 77006 |
| Region | Inner Loop |
| Year Built | 1964 |
| Construction Status | Complete |
| Developer | Parc IV |
| # Floors | 12 |
| # Units | 92 |
| Parking | Private Garage |
| Guest Parking | Self Park |
| HOA | Parc IV |
| --- | --- |
| HOA / Sq Ft | $1.05 |
| What's Included in HOA Fee? | Building & Grounds, Courtesy Patrol, Electric, Full Utilities, Gym, Insurance Common Area, Limited Access, On Site Guard, Porter, Recreational Facilities, Trash Removal, Water and Sewer |
| Amenities | Parc IV |
| --- | --- |
| Fitness Room/Gym | Yes |
| Pool | Yes |
| Pool: Heated | No |
| Pool: Lap Size | No |
| Pool: Indoor | No |
| Pool: Hot Tub/Jacuzzi | No |
| Party/Gathering Room | Yes |
| Concierge | No |
| Valet | No |
| Porter | Yes |
| On Site Manager | Yes |
| Balconies Available? | Yes |
| Electric Car Option? | No |
| Tennis Courts | No |
| Extra Security? | Yes |
| Security | Yes |
| Guest Rooms Available? | No |
| Rooftop Deck/Terrace | Yes |
| Outdoor Kitchen | No |
| Gas Cooktop Available? | No |
| Storage Unit Option | No |
| Sauna | No |
| Business Center | Yes |
| Building Generator | No |
---
Parc IV Condo Sales Trends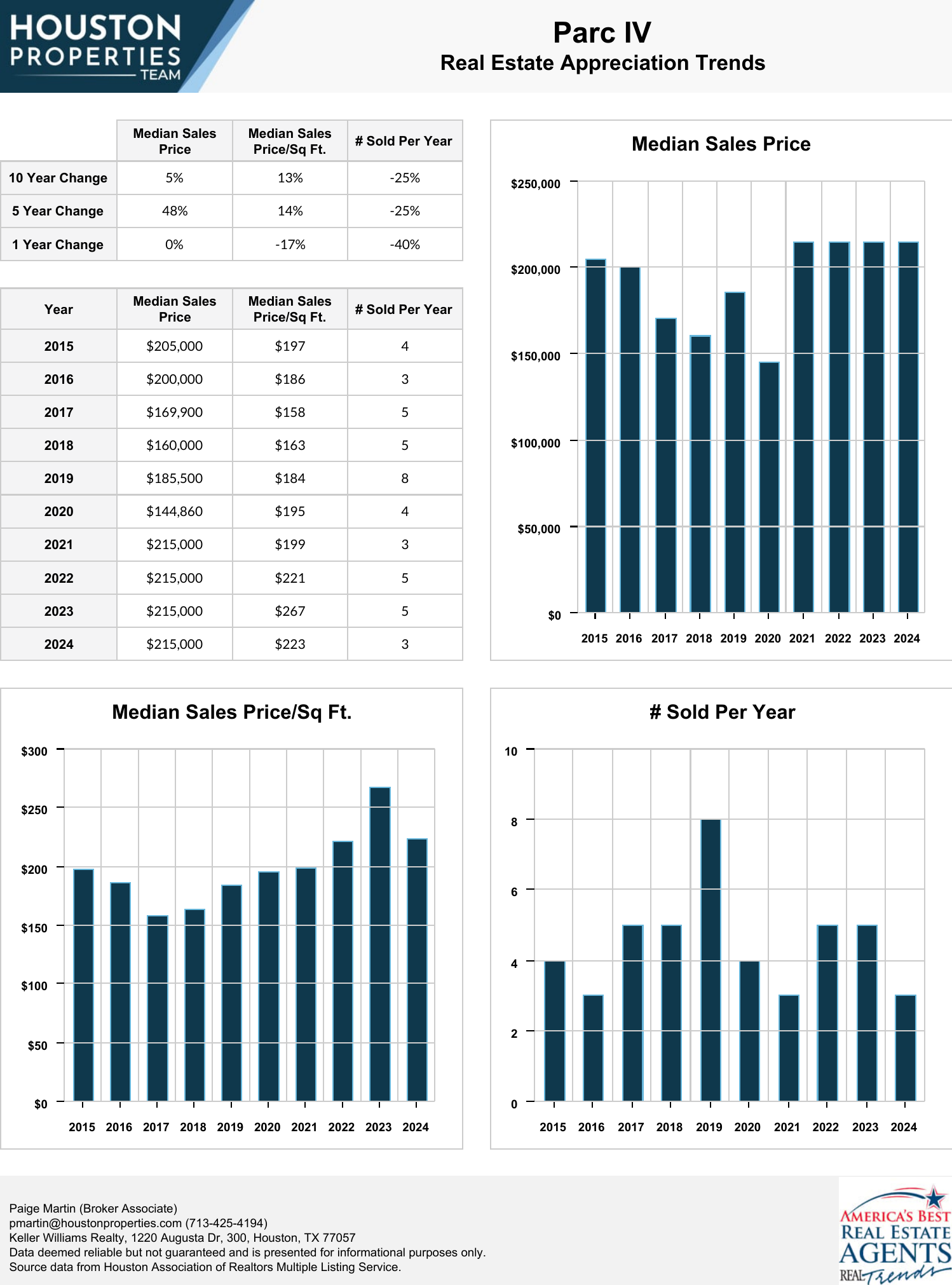 ---
How To Find Parc IV In Houston
| Commute Time | Parc IV |
| --- | --- |
| Downtown (min) | 10 |
| Med Ctr (min) | 10 |
| Energy Corridor (min) | 25 |
| Galleria (min) | 15 |
Highlights
Parc IV
Run / Bike Trails
Limited Options
Nearby Retail / Dining
Jr Retail, Luna Retail LLC, Southwest Freeway Retail Center, Mc Queen's Custom Tailor Retail Store Men & Women.
Brennan's of Houston, March, District 7 Grill Midtown, BCN Taste & Tradition, Riel, Taste Bar + Kitchen, Gatsby's, Bistro Menil, Da Marco, Uchi, Velvet Taco, Sorrento.
Midtown Food Store, Randalls, Whole Foods Market, H-E-B.
MacGregor Elementary School, Baker Montessori School, Presbyterian School, Montessori School of Downtown, Post Oak High School, St. Stephen's Episcopal School - Houston
| MetroRail Access | Parc IV |
| --- | --- |
| # Blocks to MetroRail | N/A |
| Nearest MetroRail Stop | N/A |
---
Parc IV Pet Policies & Information
| Commute Time | Parc IV |
| --- | --- |
| Pet Area/Courtyard | No |
| Pet Area / Unique Pet Features | No pet walking areas but there are pet stations around the property. |
| Max # Animals | N/A |
| Breed Restriction | Pets no larger than 40lbs are allowed on the property. |
| Weight Limit | 40lbs |
---
Parc IV Best Realtor Insights
The Parc IV is one of Houston's mid-century landmarks. It is located at 3614 Montrose Blvd, Houston, TX 77006.
Parc IV is a high-rise condominium that was first built in 1964. It features a clean, contemporary design.

The building has a gallery entrance that displays art pieces related to the Parc's and Houston's history.

The Parc IV is near these major roads and freeways: Montrose Boulevard, Richmond Avenue, Southwest Freeway, Westheimer Road, and Shepherd Drive.

It is conveniently located within Houston's Inner Loop, providing easy access to Houston's major districts. These include Downtown and the Medical Center.

Business hubs in Galleria and the shopping district in River Oaks are all a few-minute drive from Parc IV.

Parc IV belongs to the vibrant neighborhood of Montrose. Montrose is home to vintage mansions, modern townhomes, and luxury condominiums. The area has several historical landmarks, museums, and art festivals that residents can enjoy.

Most Parc IV units have 1-3 bedrooms and bathrooms. Units are also equipped with well-appointed kitchens with solid vinyl floors.

The units in Parc IV have exposed ceilings complemented by designer lighting. There are also units that have private balconies revealing scenic viewpoints of the neighborhood.

Amenities of Parc IV include a swimming pool, an exercise room, and a party room. The building also has a gated security system.

Parc IV also has access to the Houston Independent School District (HISD) schools. There are also schools that adopt the International Baccalaureate (IB) World Program.
---
Parc IV Condominium Reviews
Parc IV Condos Houston for Sale
---
All Parc Houston Condo Listings
---
Parc Houston Condos Location Overview
---
Parc IV Condos Houston (also known as Parc/Parc V) resides within the peaceful and diversified Montrose area. Montrose is one of the oldest neighborhoods in Houston, and with it comes a unique identity that reflects a balanced mix of renovation and preservation.
A good portion of Montrose has undergone remodeling and development. However, there is still a healthy dose of old stately homes, traditional townhomes, and brick bungalows. The people are a well-rounded mix – from artists, musicians, and students to business professionals and corporate executives. The shops close to Parc Houston in Montrose are just as diverse. The restaurants include a sampling of fare from all over the world.
Parc Houston is also near Midtown and Downtown Houston. As the residential building is within Houston's Inner Loop, its residents can enjoy a long list of historical landmarks, museums, arts, sports arenas, fine-dining restaurants, and first-class shopping that they can choose.
---
Parc Houston Condos for Sale Features
---
The Parc Houston building itself has a clean contemporary design, with well-maintained lawns at its entrances. It also features a gallery entry, and the individual units feature exposed ceilings and granite kitchen countertops.
It was way back in 1966 when the Parc Houston Condos was completed, but it has undergone recent renovations. The remodeled living spaces now have designer lighting and a private balcony that reveals stunning views. New furniture and more detailed finishings have been added too. The entrance, kitchen floors, and baths are in solid vinyl. The kitchens are well-appointed, with a dishwasher, gas range oven, microwave, and wine cooler as some of the appliances. Heating and cooling systems are also available in condominium units.
---
Best Houston Real Estate Resources
---