Guide to Parc V Condo Houston
Built in 1965, located in Inner Loop, see Parc V condos for sale, amenities, pictures & reviews.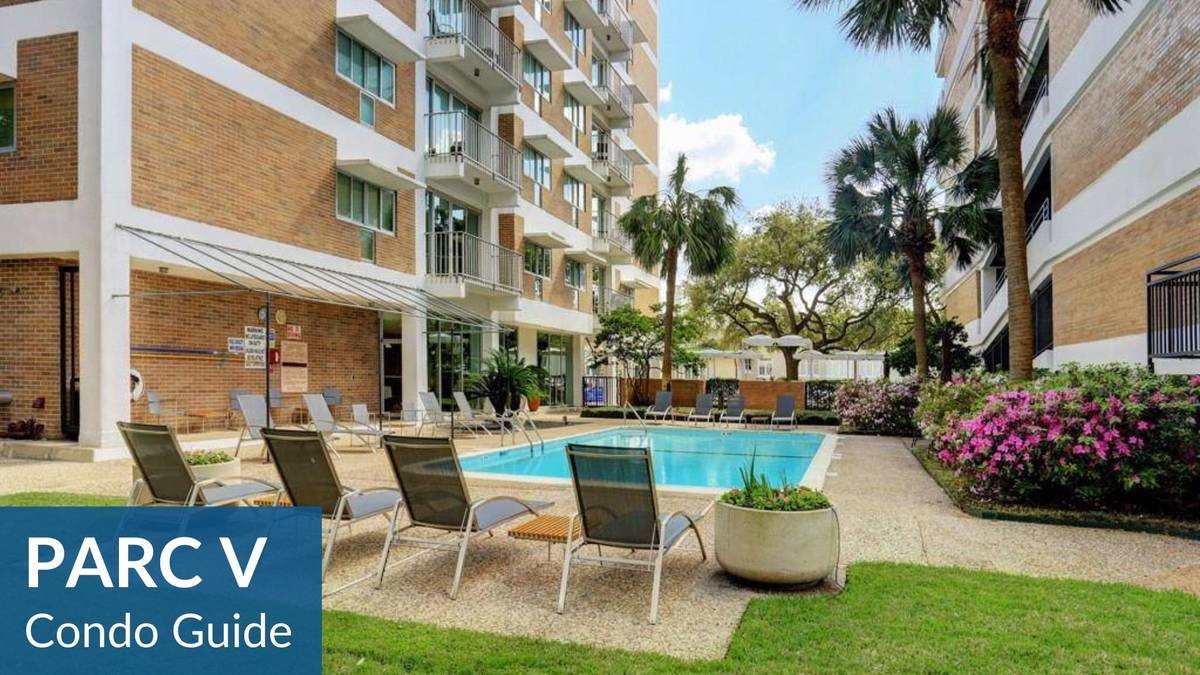 Parc V is a mid-century building in the cultural district of Montrose. The neighborhood around Parc V attracts realtors who love the arts. Parc V is also near urban centers, entertainment, and shopping districts.
The high-rise entices people who are looking to buy properties with:
VARIOUS COMFORTS: Parc V offers amenities to cater to its residents. The condo has a fitness center, an office station, and a swimming pool. All these facilities and equipment are within the high-rise's Parc Campus.

RENOVATED STRUCTURES: Parc V got design changes since 1965. New terrazzo floors blend with vintage black-and-white photos in the common areas. The exterior and interior of the building went through extensive work. Managers listen to inputs from residents to improve the condo.

STRONG AND MODERN SECURITY: Parc V has revamped security measures. The high-rise has gated, secured parking that keeps vehicles safe. Added security cameras and improved lighting to keep residents safe. Management is strict with law-breaking residents to keep the peace in the condo.

MODERN CONDO UNITS: All units had design changes to attract realtors. Condo units have tall ceilings, modern countertops, and wine coolers, among other features. Residents enjoy balconies with breathtaking skyline views over Houston. The maintenance crew takes good care of the condo and listens to concerns.

FRIENDLY MANAGERS AND STAFF: The staff replies fast when asking about the condo. Moving and settling into the units is easy with the help of the condo staff. In 2017, the managers got awards for their restoration project on Parc V. The management is strict with its rules to keep the condo manageable.

GREAT AREA FOR THE ARTS: Parc V is in the cultural zone of Montrose. The neighborhood attracts people looking for a home near the arts. Museums nearby display the works of Pollock, Warhol, Picasso, and Matisse. Festivals in Montrose attract tourists throughout the year. Community events cater to residents with creative pursuits.

NEARBY URBAN ZONES: Parc V is near central hubs like Midtown and Downtown Houston. These urban centers have several famous institutes and landmarks. World-class museums, amusement districts, and downtown business centers are near Parc V.
The area around Parc V is one of Houston's most walkable areas. Its location attracts people investing in the local real estate market. Condo units sell out fast, so asking real estate experts helps when looking for homes in the area.
To get personal advice on buying or selling a Montrose Parc V unit, contact Paige Martin, one of Houston's best condo realtors and one of the top-ranked Realtors in the United States.
"We lucked upon Paige when we decided to locate a property inside the Houston 610 loop. We were very impressed by her professionalism and warm personality. Not only was she knowledgeable with the current market trends, but as the process unfolded, she always provided us with valuable and timely advice, regularly updating us with progress and information. She was very patient as she walked us through a complex process. She is the best Houston realtor and we hope others won't have to depend on luck to find her. If you need a realtor in Houston, call her quickly and get ready to be wowed!" - Eddie Mann (Google Review)
---
Table of Contents
---
Parc V Condo Amenities
| Information | Parc V |
| --- | --- |
| Address | 3600 Montrose Boulevard |
| City | Houston |
| Zip | 77006 |
| Region | Inner Loop |
| Year Built | 1965 |
| Construction Status | Complete |
| Developer | Parc V |
| # Floors | 12 |
| # Units | 184 (in both Parc IV and Parc V) |
| Parking | Assigned |
| Guest Parking | Limited |
| HOA | Parc V |
| --- | --- |
| HOA / Sq Ft | $0.97 |
| What's Included in HOA Fee? | Building & Grounds, Cable TV, Clubhouse, Concierge, Courtesy Patrol, Electric, Full Utilities, Gym, Insurance Common Area, Limited Access, Lounge, On Site Guard, Outdoor Kitchen, Porter, Private Garage, Recreational Facilities, Trash Removal, Valet Parking, Water and Sewer |
| Amenities | Parc V |
| --- | --- |
| Fitness Room/Gym | Yes |
| Pool | Yes |
| Pool: Heated | No |
| Pool: Lap Size | No |
| Pool: Indoor | No |
| Pool: Hot Tub/Jacuzzi | No |
| Party/Gathering Room | Yes |
| Concierge | No |
| Valet | No |
| Porter | No |
| On Site Manager | Yes |
| Balconies Available? | Yes |
| Electric Car Option? | No |
| Tennis Courts | No |
| Extra Security? | Yes |
| Security | Yes |
| Guest Rooms Available? | No |
| Rooftop Deck/Terrace | No |
| Outdoor Kitchen | No |
| Gas Cooktop Available? | No |
| Storage Unit Option | No |
| Sauna | No |
| Business Center | No |
| Building Generator | No |
---
Parc V Condo Sales Trends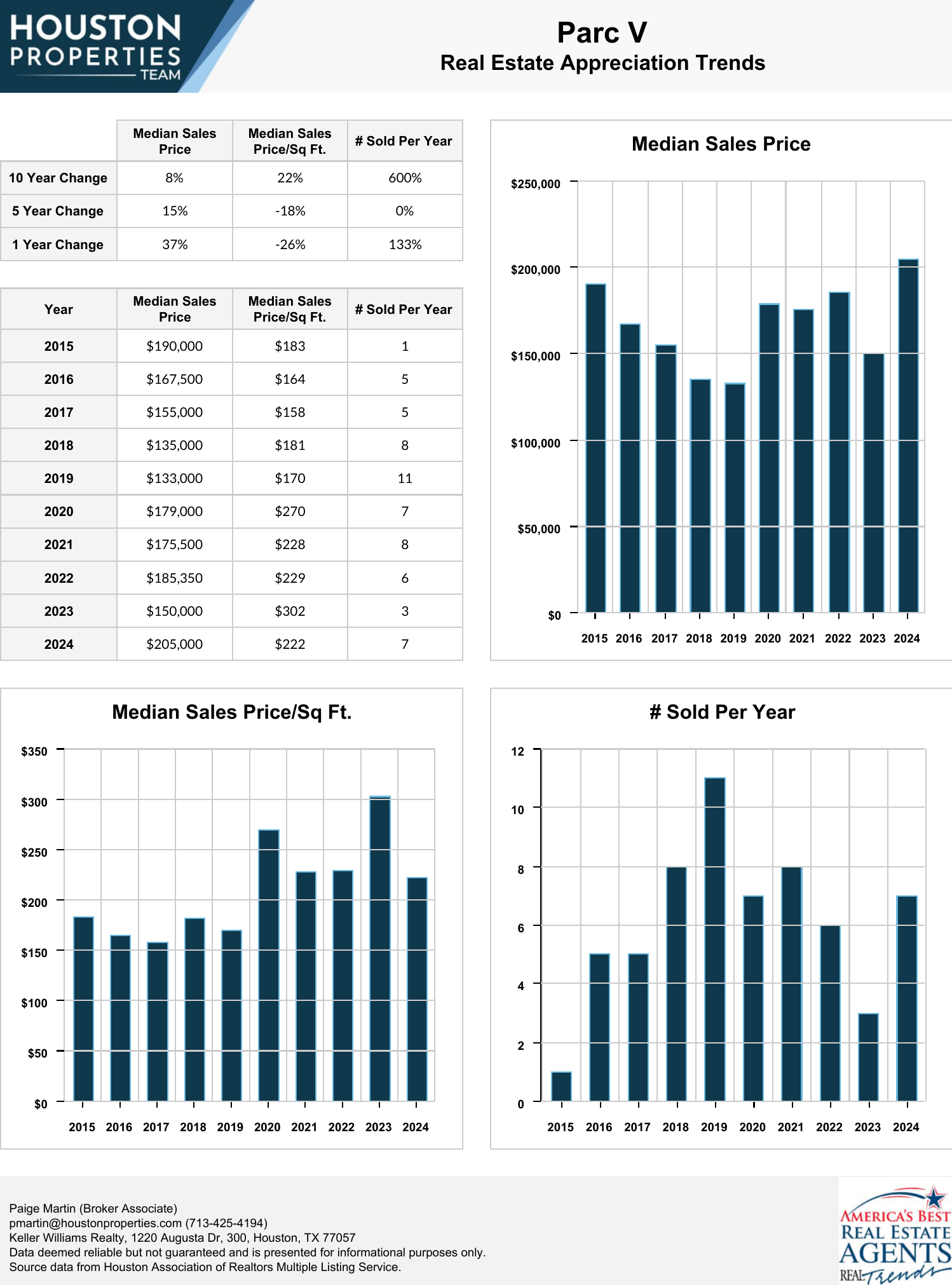 ---
How To Find Parc V In Houston
| Commute Time | Parc V |
| --- | --- |
| Downtown (min) | 10 |
| Med Ctr (min) | 10 |
| Energy Corridor (min) | 30 |
| Galleria (min) | 15 |
| Highlights | Parc V |
| --- | --- |
| Run / Bike Trails | Menil Park, University of St. Thomas, Cherryhurst Park |
| Nearby Retail / Dining | Walgreens Pharmacy, Hollywood Food Store, Whole Foods Market, Target, The Shops at Houston Center (Chick-fil-A, Pappas Bros. Steakhouse, Brooklyn Meatball) |
| MetroRail Access | Parc V |
| --- | --- |
| # Blocks to MetroRail | 12 |
| Nearest MetroRail Stop | Ensemble/HCC |
---
Parc V Pet Policies & Information
| Commute Time | Parc V |
| --- | --- |
| Pet Area/Courtyard | No |
| Pet Area / Unique Pet Features | Per courtyard |
| Max # Animals | Waiting to hear back from HOA |
| Breed Restriction | Waiting to hear back from HOA |
| Weight Limit | Waiting to hear back from HOA |
---
Parc V Best Realtor Insights
Parc V is a prominent mid-century residential landmark in Houston.
Parc V is a high-rise within the Montrose neighborhood.

The building has a contemporary design. It follows the Brutalist style, which first appeared in Europe during the 1950s.

Parc V is close to major establishments and landmarks in Houston. These areas include world-class museums, theater districts, and business centers.

The high-rise features 12 floors with modern home designs. The upper floors offer an impressive view of the skyline.

Parc V is close to the business districts. Residents can access several grocery centers, restaurants, and world-renowned establishments.

The high-rise features new terrazzo floors in the first-floor common areas. The lobbies include Knoll Plattner furniture.

Residents of Parc V enjoy different amenities. The building offers an indoor office station, a fitness center, and a swimming pool.

The Parc Condominiums received the 2017 American Association of Architects Award for Preservation. The group handles Parc V.

The high-rise's most recent preservation project restored the building from top-to-bottom. The project installed new lighting and security systems in the building.

Buying a property in Parc V starts at $120,000 and goes up to $330,000.
---
Parc V Condominium Reviews
Parc Houston Condos: Location Overview
---
Parc IV Condos Houston (also known as Parc and/or Parc V) can be found within the peaceful and diversified Montrose area. Montrose is one of the oldest neighborhoods in Houston, and with it comes a unique identity that reflects a balanced mix between renovation and preservation.
A good portion of Montrose has undergone remodeling and development. However, there is still a healthy dose of old stately homes, traditional townhomes, and brick bungalows. The people are a well-rounded mix – from artists, musicians, and students to business professionals and corporate executives. The shops close to Parc Houston in Montrose are just as diverse, and the restaurants include a sampling of fare from all over the world.
Parc Houston is also near Midtown and Downtown Houston. The residential building is within Houston's Inner Loop, so its residents enjoy a long list of historical landmarks, museums, arts, sports arenas, fine restaurants, and first-class shopping.
---
Parc Houston Condos: For Sale Features
---
The Parc Houston building has a clean contemporary design, with well-maintained lawns at its entrances. It also features a gallery entry, and the individual units feature exposed ceilings and granite kitchen countertops.
It was way back in 1966 when The Parc Houston Condos was completed, but it has undergone recent renovations. The remodeled living spaces now have designer lighting and a private balcony with stunning views. New furniture and a more detailed finishing have been added too.
The entrance and kitchen floors, as well as the baths, are done in solid vinyl. The kitchens are well-appointed, with a dishwasher, gas range oven, microwave, and wine cooler as some of its appliances. Heating and cooling systems are also available at the condominium units.
---
Best Houston Real Estate Resources
---