The Royalton At River Oaks Houston Condo Guide
Located in 3333 Allen Parkway Houston, Texas, 77019, The Royalton at River Oaks is a towering 33-story high residential condo built on a 2.7-acre site in the River Oaks area and just one mile west of Downtown Houston. The Royalton Condos has 253 units that come in 27 different floor plans to fit all kinds of residents and lifestyles.
For more information or available The Royalton at River Oaks Condos for sale, call Paige Martin at
713-384-5177 or email Paige@HoustonProperties.com
The Royalton Condos For Sale

All The Royalton Condo Listings
The Royalton Condos Amenities
The Royalton at River Oaks Condos: Location Overview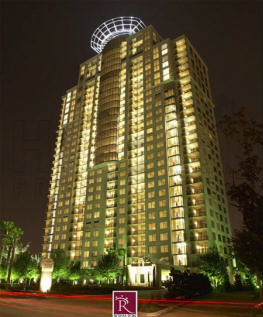 With its 33 floors, The Royalton Condominiums perches over the peaceful and affluent neighborhood of River Oaks. It serves as a fitting beacon and landmark to the exclusive and upscale River Oaks neighborhood. The Royalton's towering structure also provides its condos for sale owners exclusive access to the amazing Downtown Houston, Galleria, and River Oaks views.
Long-time Houstonians are familiar with River Oaks as it is well-known to be an affluent community essentially located in the center of Houston, Texas. River Oaks is north of the Houston district of Upper Kirby, Montrose, east of Memorial, south of Memorial Park/Rice Military and only minutes from Downtown Houston. This location gives Royalton condos for sale owners access to a good number of the city's hottest spots, including top-of-the-line restaurants, shopping malls, numerous retail outlets, and growing business districts.
Residents of The Royalton at River Oaks is also only minutes away from the Central Business District, with easy access to the Greenway Plaza area, The Galleria, and Medical Center. Not only are they able to easily go to these entertainment establishments, people who work in these areas also enjoy a conveniently short distance separating their workplace and home.
The condos in Royalton is also in close proximity to the Buffalo Bayou jogging trails and park, The Theater District, and Memorial Park.
The Royalton Condos For Sale Features And Amenities
Built in 2003, The Royalton carries the architectural features a modern, 20th-century luxury highrise should have. It is a towering structure of 33 floors with uniquely recognizable skyline and building design tones.
This architectural themes extend to The Royalton's 253 condos for sale, with its carefully crafted interiors highlighted by gourmet kitchens, grand master bedroom suites, private balconies and lavish designer finishes. Royalton condos come in one-, two-, and three-bedroom variants designed with 27 varying floor plans. This allow condos for sale buyers a long list of options as they can pick the plan that fits their needs and lifestyle.
Royalton at River Oaks condo owners can also take advantage of the 24-hour workout facility, hair salon, cigar bar, private wine room, large conference and dining rooms, banquet/ballrooms with a service kitchen, garden cocktail terrace, pristine pool with sundeck, recreational game room with a huge screen TV/private theater and bar.
For more information on available The Royalton condos, please contact Paige Martin at 713-384-5177 or email paige@houstonproperties.com
The Royalton Condos Amenities
Concierge service
Valet parking
Fitness center
Party room
Swimming pool
Business center
Theatre
Guest suite
Storage space
Wine cellar