Guide to The Royalton Condo Houston
Built in 2003, located in Inner Loop, see The Royalton condos for sale, amenities, pictures & reviews.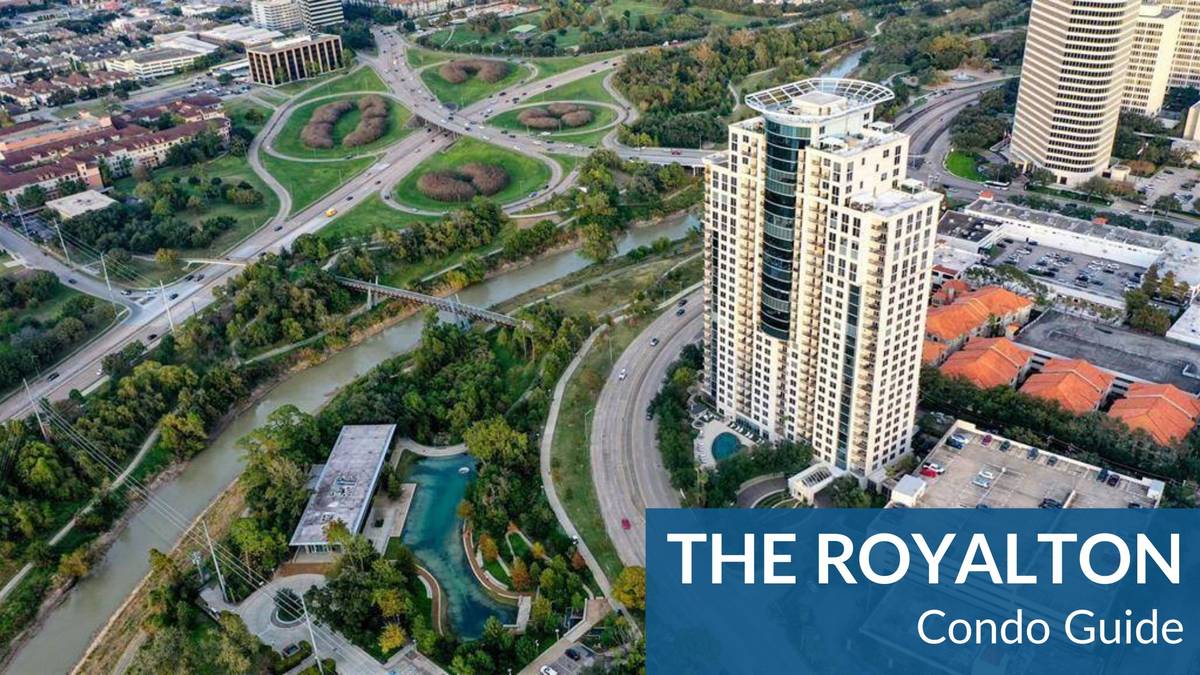 Royalton At River Oaks is one of Houston's premier landmark buildings with an iconic contemporary architectural design.
Located near River Oaks, Houston's Most Expensive Neighborhood, The Royalton offers hotel-like services and luxury amenities.
The luxury highrise features:
LUXURY AMENITIES: Royalton At River Oaks' luxury amenities include a pristine infinity pool with sundeck, 3000-square foot state-of-the-art fitness center, a grand ballroom, private movie theatre, recreational game room, caterer's kitchen, and garden cocktail terrace. The luxury building also offers hotel-like services, including 24-7 concierge and valet parking, and private limousine services. The condo's white-glove services include assistance with transportation, theater tickets, and flower arrangements, among others.

DISTINCT ARCHITECTURE: Royalton At River Oaks sits at the former site of the 1929-built Gulf Publishing Corp. Headquarters. To preserve its historical significance, the developers attached the frieze of the original building to the entrance wall of The Royalton. The most iconic feature of The Royalton is the signature metal crown on top of the building. At night, the lit ornamental crown is visible for miles.

STRONG HISTORICAL APPRECIATION: With a median sale price over $500,000, Royalton At River Oaks has one of the best 5- and 10-year appreciation rates among Houston's luxury highrises. (See Guide To Best Performing Luxury Houston Condos.)

NEAR RIVER OAKS SHOPPING CENTER: Located a mile away from The Royalton, River Oaks Shopping Center features over 70 eclectic boutique shops and restaurants and the River Oaks Theatre. Residents are also a few minutes away from other upscale shopping centers like The Galleria, River Oaks District, Uptown Park, and Highland Village.

OUTDOOR ACTIVITIES: Residents enjoy direct access to Buffalo Bayou Park and its proximity to Memorial Park. The 160-acre Buffalo Bayou Park features hike and bike trails, a skate park, a dog park, and picnic areas adjacent to the building. About 2 miles west of the building, Memorial Park features a golf course, a running trail, and facilities for sports like tennis, swimming, and volleyball.

DIRECT ACCESS TO MAJOR JOB CENTERS: located about 3 miles east of the building, Downtown is one of Houston's main employment centers with over 150,000 employees and 3,000 businesses. Downtown also houses popular landmark centers, including Minute Maid Park Stadium (home of the Houston Astros), the Toyota Center (home of the Houston Rockets), Discovery Green, and the George R. Brown Convention Center. Featuring more than 50 medical and research institutions, The Texas Medical Center houses more than 7 million visitors yearly.
Buying in the Royalton At River Oaks can be tricky for several reasons. The building has over 250 units, and some of the floor plans have had resale issues in the past. Units facing certain directions typically sell at a premium/discount (based on views and sun exposure).
To get personal advice on buying or selling a Royalton At River Oaks unit, contact Paige Martin, one of Houston's best condo realtors and one of the top-ranked Realtors in the United States.
"We worked with Brad and the Houston Properties Team for our move to Houston, and I must say that he was the best we've had. I have worked with other agents and Realtors before, but Brad and his team were on another level. What sets him apart is his incredible service. He gave 100% in making sure our move was as smooth and stress-free as possible. From recommending local services to providing valuable insights into the Houston real estate market, he truly exceeded our expectations. We were in regular contact with Brad every step of the way, and he was great at anticipating our questions and giving spot-on answers. When a problem arises, Brad always comes up with great solutions. We just cannot recommend Brad and the Houston Properties Team enough. Buying a new home isn't as daunting when you have one of the top Houston Realtors on your side!" - Melinda Bundy (Google Review)
---
Table of Contents
---
The Royalton Condo Amenities
| Information | The Royalton |
| --- | --- |
| Address | 3333 Allen Parkway |
| City | Houston |
| Zip | 77019 |
| Region | Inner Loop |
| Year Built | 2003 |
| Construction Status | Complete |
| Developer | Group LSR |
| # Floors | 33 |
| # Units | 253 |
| Parking | Assigned, Private Garage |
| Guest Parking | Valet, Self Park |
| HOA | The Royalton |
| --- | --- |
| HOA / Sq Ft | $0.73 |
| What's Included in HOA Fee? | Activities Manager, Building & Grounds, Cable TV, Clubhouse, Concierge, Courtesy Patrol, Fireplace/Fire pit, Gym, Insurance Common Area, Limited Access, Lounge, Massage Room, On Site Guard, Other, Outdoor Fireplace, Outdoor Kitchen, Partial Utilities, Pet Run, Pet Washing Station, Porter, Private Garage, Recreational Facilities, Storage Outside of Unit, Trash Removal, Valet Parking, Water and Sewer |
| Amenities | The Royalton |
| --- | --- |
| Fitness Room/Gym | Yes |
| Pool | Yes |
| Pool: Heated | Yes |
| Pool: Lap Size | No |
| Pool: Indoor | No |
| Pool: Hot Tub/Jacuzzi | Yes |
| Party/Gathering Room | Yes |
| Concierge | Yes |
| Valet | Yes |
| Porter | Yes |
| On Site Manager | Yes |
| Balconies Available? | Yes |
| Electric Car Option? | No |
| Tennis Courts | No |
| Extra Security? | Yes |
| Security | Yes |
| Guest Rooms Available? | Yes |
| Rooftop Deck/Terrace | Yes |
| Outdoor Kitchen | Yes |
| Gas Cooktop Available? | No |
| Storage Unit Option | Yes |
| Sauna | No |
| Business Center | Yes |
| Building Generator | No |
---
The Royalton Condo Sales Trends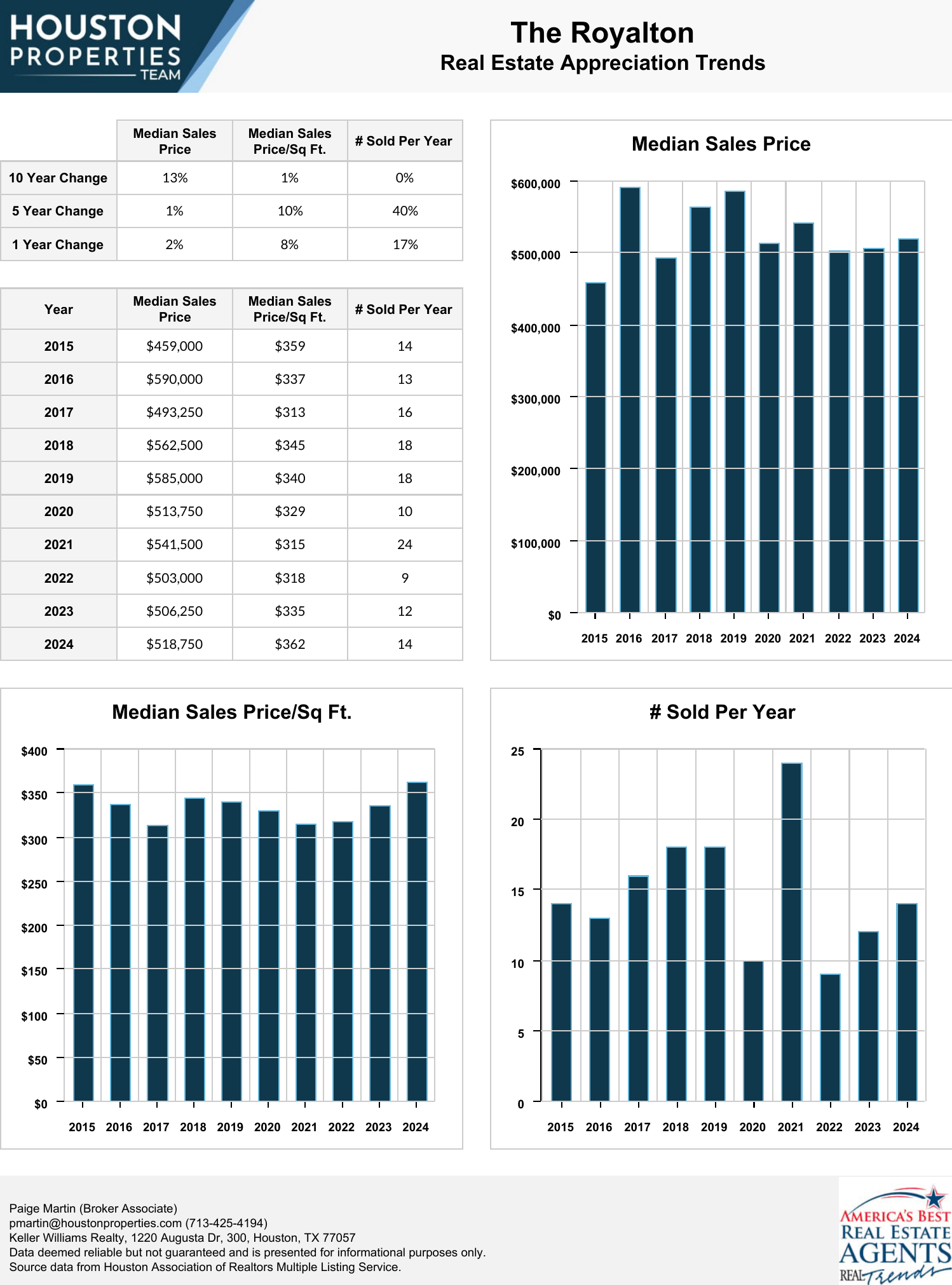 ---
How To Find The Royalton In Houston
| Commute Time | The Royalton |
| --- | --- |
| Downtown (min) | 10 |
| Med Ctr (min) | 15 |
| Energy Corridor (min) | 20 |
| Galleria (min) | 20 |
| Highlights | The Royalton |
| --- | --- |
| Run / Bike Trails | Buffalo Bayou Park Trails, Green Tree Nature Area, Spotts Park |
| Nearby Retail / Dining | Mint Thai Kitchen, The Dunlavy, Piggy's Kitchen & Bar, Jack in the Box, Panera Bread, Shops at River Oaks Shopping Center |
| MetroRail Access | The Royalton |
| --- | --- |
| # Blocks to MetroRail | N/A |
| Nearest MetroRail Stop | N/A |
---
The Royalton Pet Policies & Information
Commute Time
The Royalton
Pet Area/Courtyard
Yes
Pet Area / Unique Pet Features
Pet-friendly residential building
Has an open-pet policy, meaning no restrictions on the number and weight of pets
Max # Animals
No Limit
Breed Restriction
Yes, limited to cats/dogs
Weight Limit
No Limit
---
The Royalton Best Realtor Insights
Group LSR, a Montreal-based developer, completed the development of Royalton in 2003.

Royalton is a 33-story condominium building with 253 units, with 27 varying floor plans. Residents can choose among one-, two- or three-bedroom floor plans.

Sitting at 3333 Allen Parkway in River Oaks, Royalton is in a central location within Inner Loop. Its locale gives residents breathtaking views of the Houston skyline and unparalleled city access.

Royalton is only a few minutes away from Downtown Houston, the city's central business district. Residents are just within 10 mins drive or commute from the building to their workplace.

The residents have easy access to other districts like Galleria, Medical Center, and Museum District. The building is also near the Theater District, Memorial Park, and Buffalo Bayou jogging trails.

Royalton residents are zoned to some of the top schools in Houston. The neighborhood also has good access to premier private schools.

Royalton is a pet-friendly residential building with no restriction on the number and weight of pets.

Royalton has a contemporary interior design and architecture. Each unit's interiors, gourmet kitchens, private balconies, grand-master bedrooms, and posh designer finishes have been carefully crafted to complete a distinct luxury condo experience for residents.

The Royalton features 24-7 amenities like concierge, valet, executive fitness center, and state-of-the-art health centers. Apart from round-the-clock services, Royalton also has five-star hotel amenities like an infinity edge pool, recreational theater room, garden cocktail terrace, and private wine room.

Prices for Royalton units for sale are typically priced between $275,000 to $1,600,000, depending on the number of rooms.
---
The Royalton Condominium Reviews
Royalton At River Oaks: Mass Transit Options And Access
---
River Oaks is one of the most accessible neighborhoods in Houston. The proximity of Royalton to main thoroughfares provides its residents easy commutes, as several main roads go through the neighborhood. These include Westheimer Road, Kirby Drive, and San Felipe Street.
Aside from enjoying River Oaks' scenic view of towering trees and bushes, Royalton residents also have convenient access to top-of-the-line restaurants, commercial establishments, and numerous shopping malls and retail outlets.
Popular Neighborhood Venues: River Oaks Shopping Center, River Oaks District.
Top Ranked Restaurants Nearby: Brenner's on the Bayou, Express Rolls, State of Grace, Piada Italian Street Food, Backstreet Café, Cafe Ginger, The Kitchen at The Dunlavy, Rossini Caffe Italiano, Hops Meet Barley
Grocery Stores: Central Market Houston, Kroger, Whole Foods Market, H-E-B, Trader Joe's, Sprouts Farmer's Market
Trails & Parks: River Oaks Country Club, Buffalo Bayou Park
---
Royalton At River Oaks Condos: Maps And Directions
---
Based within the upper-class River Oaks, The Royalton stands along Allen Parkway. The neighborhood is situated North of Upper Kirby, East of Briar Hollow and Galleria/Uptown, West of Neartown/Montrose, and South of Memorial Park.
Royalton has access to business and retail centers in Houston. Medical Center is just 4 miles away, while the Galleria is 7 miles from the condominium.
Royalton residents are also a few minutes away from entertainment centers. River Oaks Shopping Center is less than 2 miles away from the condo, while Highland Village and The Galleria are 6 miles away.
River Oaks is within Harris County and bears 77027 and 77019 zip codes.
---
Royalton At River Oaks: School Zoning Information
---
Sitting in one of Houston's exclusive neighborhoods, Royalton At River Oaks is zoned to the Houston Independent School District (HISD).
Royalton At River Oaks condo residents can send their children to the following schools:
Wharton Dual Language Academy at 900 W Gray St. Wharton is an alternative primary school that serves gifted and talented students in their Vanguard programs (Language Magnet program for Pre-K to 8). Their language program promotes both Spanish and English as languages of equal value.
Gregory-Lincoln Education Center at 1101 Taft St. GLEC is a Fine Arts magnet school that offers instrumental music, vocal music, theatre arts, dance, culinary arts, visual arts, and multimedia classes.
Lamar High School at 3325 Westheimer Rd. Lamar High School has a great Athletics program. They have one of the oldest lacrosse programs in the state and have either won or placed several times in state championships in the past. Their football team is one of the highest-ranking teams within the Greater Houston area. Lamar also offers exemplary academic programs: Advanced Placement (AP), International Baccalaureate (IB) Diploma Programme, and a business magnet program. Its IB Diploma programs include classes in 5 languages: Russian, Chinese, French, Italian, and Spanish.
To find an updated listing of all The Royalton real estate zoned to any specific public school, please email Paige Martin at PMartin@HoustonProperties.com with the property preference and budget that you're working with.
Note: For more detailed information on specific schools zoned to different The Royalton areas, please refer to our Houston Schools Guide OR email me.
Note: School zoning tends to change from year to year. The information provided above is accurate but not guaranteed. Please double-check by visiting the school's website.
---
Best Houston Real Estate Resources
---