Guide to The Point Condo Houston
Built in 2011, located in Inner Loop, see The Point condos for sale, amenities, pictures & reviews.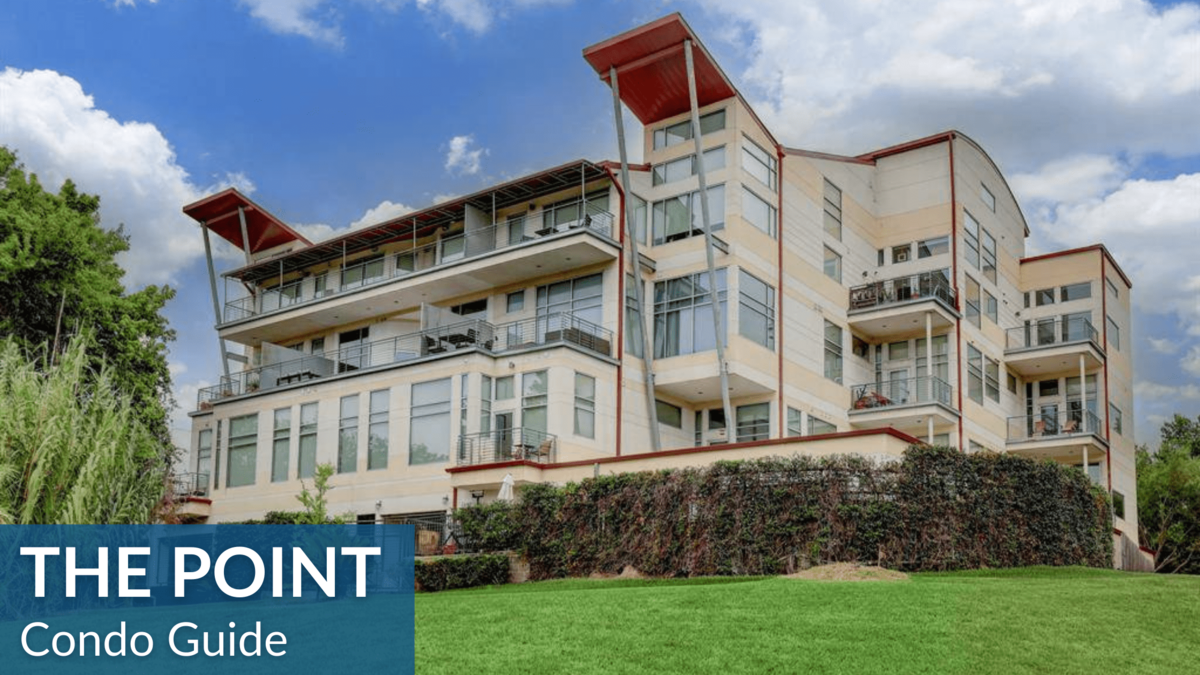 Nested atop a peaceful hilltop, The Point has clear views of Downtown Houston. This mid-rise condo features accessible amenities, contemporary suites, and private living.
The Point Condos features:
ACCESSIBLE AMENITIES: The Point Condos features a dedicated floor of lifestyle amenities. These include the lobby, swimming pool, a community patio area, intercom, and 24/7 security. Each resident also enjoys ample parking space for up to 2 vehicles.

OPEN LOFT FLOOR PLAN: The Point's second and third floors are "one-level" residences or "flats." Most suites here feature multi-tiered layouts with "step-ups" to bedrooms. Meanwhile, the fourth and fifth-floor units have high ceilings, with an emphasis on ventilation and natural light.

CONTEMPORARY INTERIORS: Most suites in The Point have a modern look and feel. The common unit features quartz counters, painted cabinets, and vinyl shade windows.

HIGH-END MATERIALS: The Point is one of Randall Davis' curated portfolios. With proven expertise in quality projects, the developer used steel and concrete to ensure the condo's longevity for years to come. Other Randall Davis' projects include The Manhattan and The Marlowe

EXCLUSIVITY AND PRIVACY: The Point Condos only has four floors and 22 units with a focus on exclusivity. Since The Point sits on top of a quiet hilltop, Residents enjoy clear, scenic views and private living.

GREAT COMMUTE: The Point is only a few minutes away from Downtown. With over 200,000+ jobs, Downtown is one of the major employment and business centers in Houston. Living at The Point makes hassle-free commutes to the workplace a possibility.

PARKS AND RECREATION: World-class green spaces and recreation sites surround The Point Condos. These are perfect for those who have an active lifestyle or simply want to enjoy a day on trails. Some of these parks include Donovan Park, Minute Maid Park, and White Oak Bayou Greenway.

VIBRANT RETAIL SCENE: Residents have easy access to a variety of shopping and dining options. These establishments include specialty shops, restaurants, grocery stores, cafes, and diners. There is also lively nightlife with bars, pubs, and nightclubs all around the corner.
Buying a condo unit at The Point can be challenging for several reasons. Unlike the high-rise residential towers popular in Houston today, The Point is only four levels high. This might be a deal-breaker for anyone who's fond of high-rise towers found in Uptown and Downtown.
Also, since the building was constructed in 2008, some units are starting to go through recent upgrades and renovations. All of these factors must be considered when evaluating a unit's fair value price.
To get personal advice on buying or selling in The Point, contact Paige Martin, one of Houston's best condo realtors and one of the top-ranked Realtors in the United States
"It was such a pleasure to work with Yolanda Ames. She was the most professional and personable agent I have ever worked with. She recommended to sell my house at higher price range than 3 other agents I interviewed. As part of her services she brought an interior designer to help me stage the house to show case the best view for online viewers at no cost. She walked me through each step of the way until the end. I would not have sold my house at such short period of time and at higher price if it wasn't to Yolanda's details and market research. At the time of rising interest rates, selling a house in 9 days takes a miracle and Yolanda was my angel to make that happen. Her market research and listening to the potential buyers helped us price the house right and sell it fast. She cared about my house selling at the highest price and shortest time and all her effort in market research made that happen. It was an absolute pleasure to work with such a professional agent. If you work with her, you will never work with any other agent. It was my sincere pleasure to working with Yolanda!" - Saida Khan (Google Review)
---
Table of Contents
---
The Point Condo Amenities
| Information | The Point |
| --- | --- |
| Address | 102 Quitman Street |
| City | Houston |
| Zip | 77009 |
| Region | Inner Loop |
| Year Built | 2011 |
| Construction Status | Complete |
| Developer | Randall Davis |
| # Floors | 4 |
| # Units | 22 |
| Parking | Assigned, Private Garage |
| Guest Parking | Limited |
| HOA | The Point |
| --- | --- |
| HOA / Sq Ft | Unknown |
| What's Included in HOA Fee? | Building & Grounds, Insurance Common Area, Intrusion Alarm System, Limited Access, Lounge, Porter, Private Garage, Recreational Facilities, Storage Outside of Unit, Trash Removal, Water and Sewer |
| Amenities | The Point |
| --- | --- |
| Fitness Room/Gym | No |
| Pool | Yes |
| Pool: Heated | No |
| Pool: Lap Size | No |
| Pool: Indoor | No |
| Pool: Hot Tub/Jacuzzi | No |
| Party/Gathering Room | No |
| Concierge | No |
| Valet | No |
| Porter | No |
| On Site Manager | No |
| Balconies Available? | No |
| Electric Car Option? | No |
| Tennis Courts | No |
| Extra Security? | Yes |
| Security | Yes |
| Guest Rooms Available? | No |
| Rooftop Deck/Terrace | No |
| Outdoor Kitchen | No |
| Gas Cooktop Available? | No |
| Storage Unit Option | No |
| Sauna | No |
| Business Center | No |
| Building Generator | No |
---
The Point Condo Sales Trends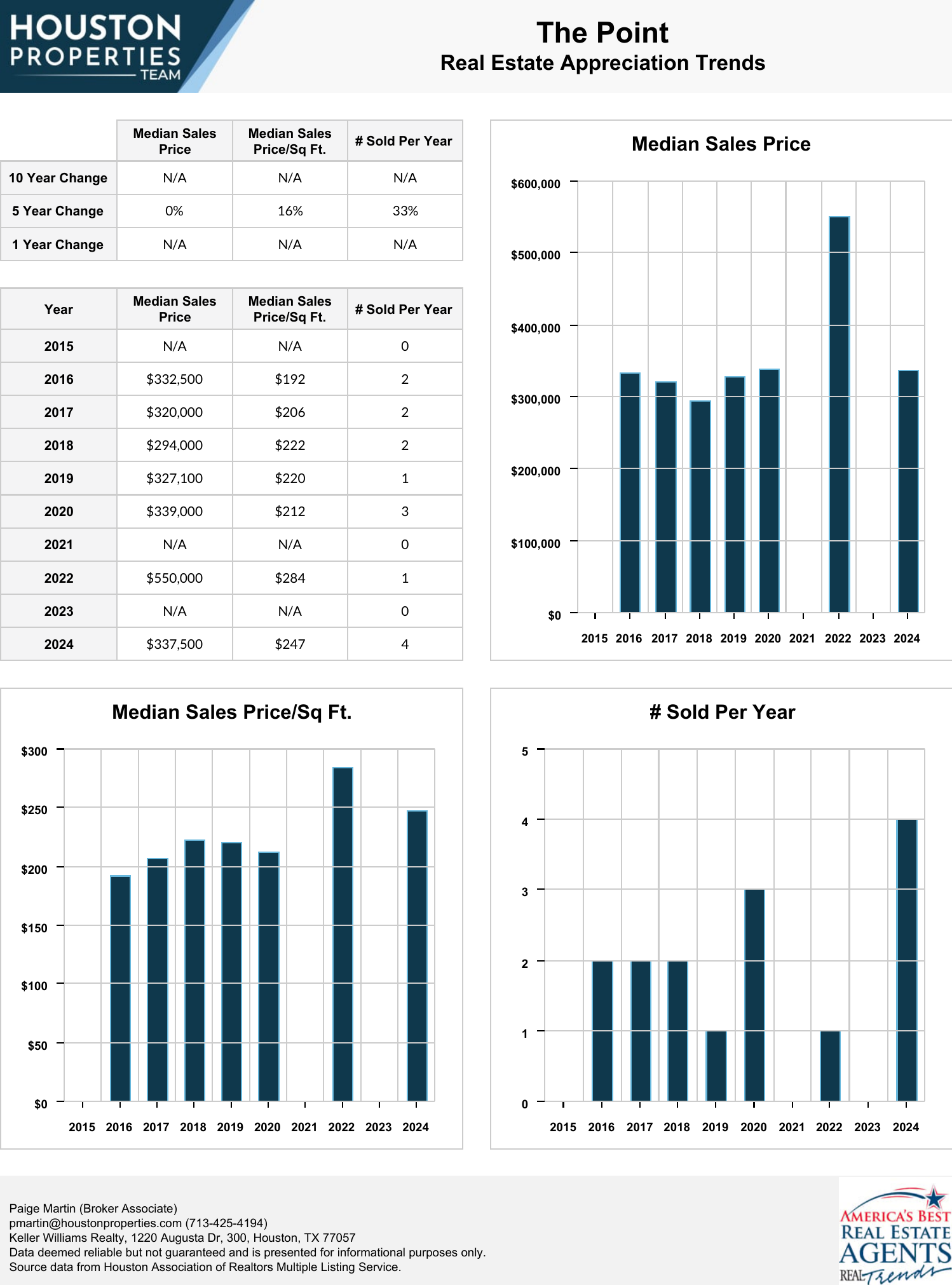 ---
How To Find The Point In Houston
| Commute Time | The Point |
| --- | --- |
| Downtown (min) | 10 |
| Med Ctr (min) | 15 |
| Energy Corridor (min) | 20 |
| Galleria (min) | 20 |
| Highlights | The Point |
| --- | --- |
| Run / Bike Trails | Donovan Park, Minute Made Park, White Oak Bayou Greenway, Woodland Park, Buffalo Bayou Park |
| Nearby Retail / Dining | Stores at nearby Woodland Heights, Shops at N. Main St. (Target, Heights Common Market), White Oak Music Hall |
| MetroRail Access | The Point |
| --- | --- |
| # Blocks to MetroRail | N/A |
| Nearest MetroRail Stop | N/A |
---
The Point Pet Policies & Information
| Commute Time | The Point |
| --- | --- |
| Pet Area/Courtyard | No |
| Pet Area / Unique Pet Features | No answer from HOA yet |
| Max # Animals | No answer from HOA yet |
| Breed Restriction | No answer from HOA yet |
| Weight Limit | No answer from HOA yet |
---
The Point Best Realtor Insights
The Point Condo is within the Inner Loop and sits on a hilltop.
The Point has four floors and 22 units. Units on the second and third floors have multi-tiered floor plans and staircases leading to bedrooms.

The Point features a pool and a patio area with breathtaking views of Houston Skyline. Two parking spaces are available at the garage for each resident. All these amenities are accessible on the first floor.

The developers call the building's fourth and fifth floors the "townhomes in the sky." These oversee White Oak Bayou and Downtown Houston.

The Point provides a modern lifestyle, with each unit featuring high ceilings for open and airy living spaces.

The Point condo sits on a hilltop, offering residents a secure and private life.

The condo has a contemporary design and is in a pleasant location. The 22 Point condos use commercial storefront windows and doors and steel and concrete materials for high use and strength.

Exciting locations like Downtown Houston and Midtown Houston are close to The Point. The nearby places are convenient for short commutes between houses and workplaces.

Donovan Park, Minute Maid Park, and White Oak Bayou Greenway are all close to the Point. It is perfect for those who want to enjoy renting a bike and spending a day on trails.

The building is close to Target, Heights Common Market, and Woodland Heights nearby shops.

The unit features quartz counters, painted cabinets, and vinyl shade windows. The units boast natural light and grand views of the units.
---
The Point Condominium Reviews
The Point Condos Houston: Location Overview
---
The Point Condos Houston was built with only four floors and 22 units to ensure exclusivity. The building is situated on a quiet hilltop at the equally peaceful White Oak Bayou, ensuring privacy and secure living among its residents.
Its location at a hilltop is not an issue as it is only a few minutes away from some of the busiest retail, entertainment, and business centers, such as Downtown and Midtown Houston.
Downtown Houston is one of the biggest commercial business districts in the city. Currently, it houses over 200,000 employees. This makes The Point an ideal place to live for people who prefer shorter travel time between their workplace and home. The district also features a wide variety of restaurants, theaters, cafes, bars, and nightclubs.
---
The Point Condos: For Sale Features And Amenities
---
The Point has unique features that set it apart from other highrise luxury buildings in the Uptown and Downtown areas. While other highrises have 20 to 30 floors, The Point is a 4-story building that offers great views of the city.
Other highlights of The Point include its contemporary design and units that are built with steel and concrete materials. The Point condos for sale are also equipped with commercial "store-front" windows and doors.
The lobby, pool, community patio area, and parking garage can be found on the first floor of the building. Each resident is entitled to two parking spaces. The 2nd and 3rd floors are dedicated to "one-level" homes or "flats. Most of the units that are found on these floors have multi-tier floor plans with staircases that lead to the bedroom. Lastly, the 4th and 5th levels, what the developers call "townhomes in the sky." These units feature high ceilings and enough space to allow for an additional 3rd floor.
---
Best Houston Real Estate Resources
---