Guide to The Westmore Condo Houston
Built in 2021, located in Inner Loop, see The Westmore condos for sale, amenities, pictures & reviews.
The Westmore is one of Houston's most exclusive mid-rises. It is a seven-story building located at 2323 West Main, just east of Kirby Drive.
The residence is popular for its:
SPECTACULAR VIEWS: Designed by Mirador Group and developed by Pelican Builders, Inc., The Westmore features a floor-to-ceiling glass design with a spacious balcony, allowing residents to enjoy a near 360-degree city view.

DISTINCTIVE ARCHITECTURAL DESIGN: Pelican Builders, Inc. incorporates design ideas from its previous projects, including The Woodway, Greenway, 5000 Montrose at the Museum, The Revere at River Oaks, and The Hawthorne. Meanwhile, Mirador designed The Westmore, focusing on the interaction between architecture and the community.

PREMIUM LIVING SPACES: The Westmore houses 33 standard or penthouse units with high ceilings, oversized glass windows, hardwood flooring, and Bosch appliances. Ranging from 1,500 to 2,600 square feet, the spacious units provide residents with an option to build partitions or retain their modern-looking interior.

SMART & CONVENIENT LIVING: The Westmore offers an intelligent lifestyle as all units are ready for home automation. The building also has controlled access, a 24/7 concierge, fire and smoke alarm, a formal entry, and a foyer. In addition, parking spaces with electric vehicle charging capability and same floor storage space for each unit are available.

THRIVING DISTRICT: Located in Upper Kirby, The Westmore benefits from a trendy and mixed-use neighborhood. With the median sales price of homes in the community improving, more businesses, institutions, and attractions are coming up in the area. It is also conveniently located near Highway 59 and several major streets.

GREAT ACCESSIBILITY: The Westmore is nearby restaurants, hotels, parks, shopping centers, retail stores, and other commercial establishments. It is also minutes away from the University of St Thomas, one of the most prestigious universities in the country. Other buildings near The Westmore include Giorgetti Condos, Renaissance at River Oaks, 2727 Kirby, and The Revere at River Oaks.
Building amenities include a fitness room, social room, and the residents' terrace with firepit and grill, wine cooler, and more.
To get personal advice on buying or selling a Westmore unit, contact Paige Martin, one of Houston's best condo realtors and one of the top-ranked Realtors in the United States.
"Selling your home is an emotional process. For that, it is important to work with the best real estate agency out there. From the moment we decided to sell, Houston Properties Team was there for us. They took their time to get to know us, what our needs were and when it would be the right time to sell, and for what price. We received a detailed timeline so we knew exactly where we were in the process at all times. They were very knowledgeable and went above and beyond for us. They were very patient, answered every question we had big or small promptly, and always provided us with the information we needed. I highly recommend working with the Houston Properties Team. Thanks to them, we had a very smooth sale and found the perfect new owners for our house." - Olivia Simoen-Deman (Google Review)
---
Table of Contents
---
The Westmore Condo Amenities
| Information | The Westmore |
| --- | --- |
| Address | 2323 W. Main Street |
| City | Houston |
| Zip | 77098 |
| Region | Inner Loop |
| Year Built | 2021 |
| Construction Status | New (Planned) |
| Developer | Pelican Builders |
| # Floors | 7 |
| # Units | 33 |
| Parking | Assigned, Above Ground |
| Guest Parking | None, Self Park |
| HOA | The Westmore |
| --- | --- |
| HOA / Sq Ft | $0.61 |
| What's Included in HOA Fee? | Building & Grounds, Clubhouse, Concierge, Fireplace/Fire pit, Gas, Gym, Insurance Common Area, Limited Access, Lounge, On Site Guard, Outdoor Fireplace, Outdoor Kitchen, Partial Utilities, Porter, Recreational Facilities, Storage Outside of Unit, Trash Removal, Water and Sewer |
| Amenities | The Westmore |
| --- | --- |
| Fitness Room/Gym | Yes |
| Pool | Yes |
| Pool: Heated | No |
| Pool: Lap Size | No |
| Pool: Indoor | No |
| Pool: Hot Tub/Jacuzzi | No |
| Party/Gathering Room | Yes |
| Concierge | Yes |
| Valet | No |
| Porter | No |
| On Site Manager | No |
| Balconies Available? | No |
| Electric Car Option? | Yes |
| Tennis Courts | No |
| Extra Security? | Yes |
| Security | Yes |
| Guest Rooms Available? | No |
| Rooftop Deck/Terrace | Yes |
| Outdoor Kitchen | No |
| Gas Cooktop Available? | Yes |
| Storage Unit Option | Yes |
| Sauna | No |
| Business Center | No |
| Building Generator | No |
---
The Westmore Condo Sales Trends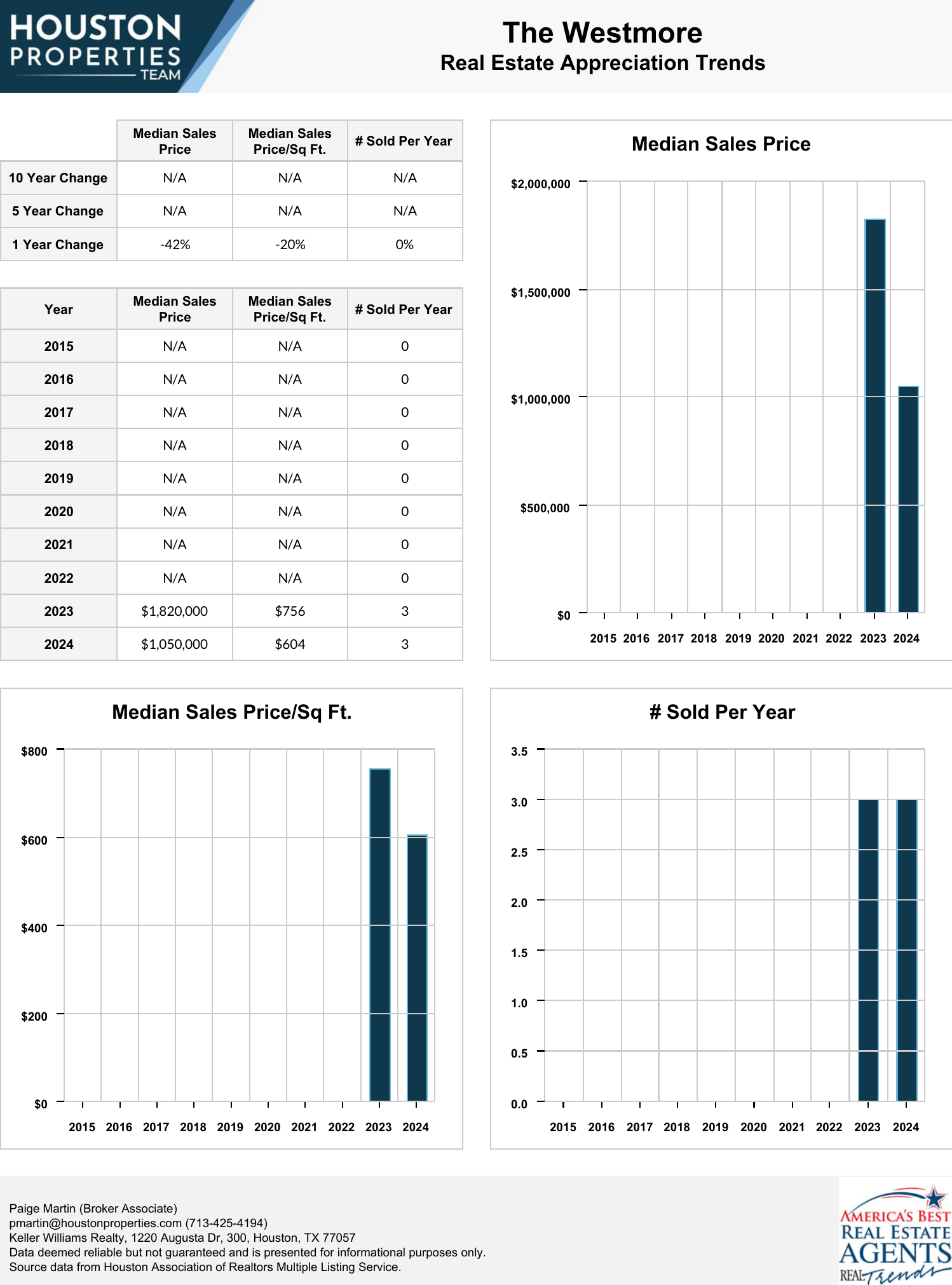 ---
How To Find The Westmore In Houston
| Commute Time | The Westmore |
| --- | --- |
| Downtown (min) | 15 |
| Med Ctr (min) | 5 |
| Energy Corridor (min) | 35 |
| Galleria (min) | 10 |
| Highlights | The Westmore |
| --- | --- |
| Run / Bike Trails | Levy Park, Academy Sports + Outdoors, River Oaks Park, Fleming Park, Waterfall, With Love from River Oaks Pandr Mural, McGovern Centennial Gardens, Hermann Park Lake Plaza, Pioneer Memorial Obelisk, McGovernn Centennial Gardens, Discovery Green, Evelyn's Park Conservancy, Hanover River Oaks, |
| Nearby Retail / Dining | Carrabba's - The Original On Kirby, Gables Revere Upper Kirby in The Loop Salon, Monogram Market & More, Appliance Cowbows Sub Zero & Other, Office Depot, Color Factory Houston, A Ma Maniere, Hancock Whitney Bank, GH Thai Massage, Kirby Richmond Plaza, Little Pappasito's Cantina, Khyber, Texas Children's Specialty Care, Texas Children's Pediatrics |
| MetroRail Access | The Westmore |
| --- | --- |
| # Blocks to MetroRail | N/A |
| Nearest MetroRail Stop | N/A |
---
The Westmore Pet Policies & Information
| Commute Time | The Westmore |
| --- | --- |
| Pet Area/Courtyard | No |
| Pet Area / Unique Pet Features | Unable to find after 15 min of searches, but sent an inquiry via email. |
| Max # Animals | Unable to find after 15 min of searches, but |
| Breed Restriction | Unable to find after 15 min of searches, but sent an inquiry via email. |
| Weight Limit | Unable to find after 15 min of searches, but |
---
The Westmore Condominium Reviews
No Page
---