Guide to The White Oak Condo Houston
Built in 1980, located in Inner Loop, see The White Oak condos for sale, amenities, pictures & reviews.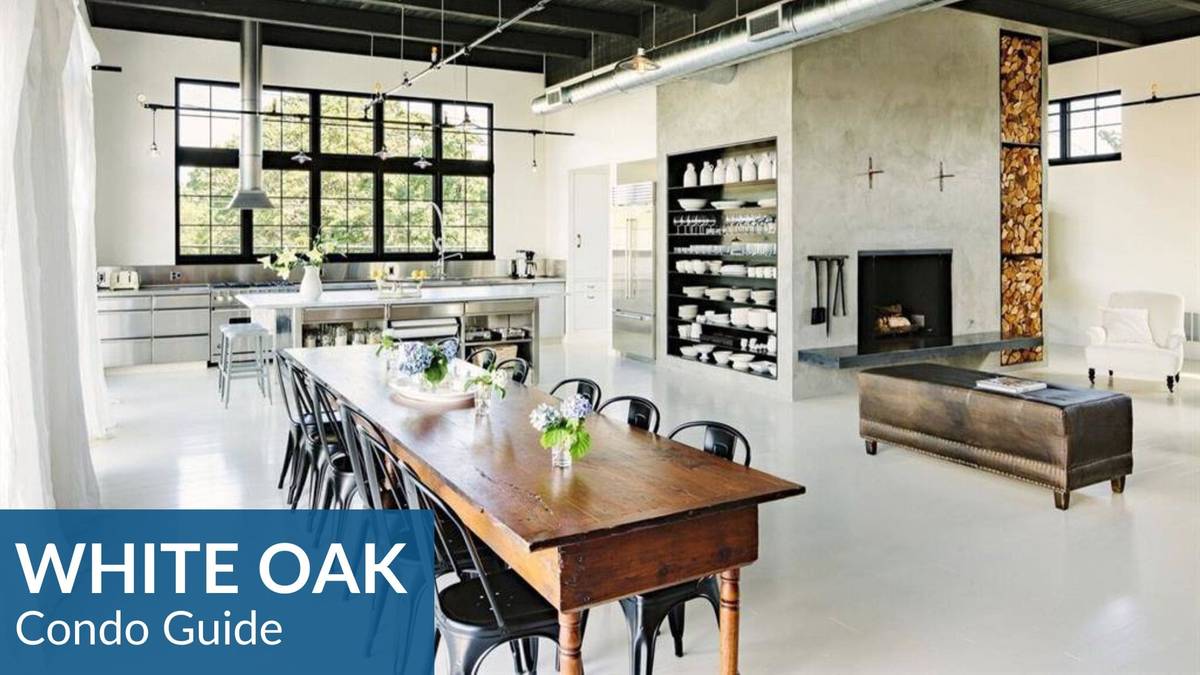 The White Oak, located at 2520 Houston Avenue, is an 8-story building with 30 units of open-floor design. This is developed by Jaxon Hill, LLC, the developer of 2727 Kirby.
The White Oak is popular for its:
NEW CONSTRUCTION HIGH-RISE: This condo shares a developer with 1111 Studewood, a mid-rise mixed-use feature building 5 minutes away. They also constructed the Lofts on Post Oak right in the heart of the business district in Galleria.

ACCESSIBILITY: The Heights is the largest and most popular neighborhood in Houston. It is very accessible to all four major job centers (Downtown Houston, The Galleria, The Medical Center, and The Energy Corridor). The White Oak has direct bike access to Stude Park, Woodland Park, and Bayou Greenways Park, where residents can enjoy biking and running.

LUXURY AMENITIES: The White Oak offers exclusive amenities such as a roof deck pool with resort-like features. This can be a great venue for entertaining guests, especially with White Oak's dining and kitchen facilities. Balconies have full-frame glass windows that provide natural light.

CUSTOMIZABLE UNITS: Residents have the freedom to design the unit before moving in. Each unit is soundproof with wired smart home technology. It comes with a generous allowance for fixtures, finishes, and planning time with the project designer.

OPEN PET POLICY: The White Oak is a pet-friendly condo. Balconies have electrical provisions for pet pads. They also have a dog run and a pet wash area. However, they do have one restriction: the maximum weight of each pet should be 75 lbs. Owners should check with management for more details.
Buying a new construction condo can be tricky for several reasons. Consulting with a great Realtor can help weigh the advantages and risks of buying a new construction condo as opposed to a more established development.
To get personal advice on buying at The White Oak, contact Paige Martin, one of Houston's best condo realtors and one of the top ranked Realtors in the United States.
"We enjoyed working with Violet Brooks. She was an absolute pleasure to work with throughout the whole process. She is a knowledgeable Real Estate agent who understood our needs and went above and beyond to find the right property for us! She made the process so easy thanks to her thoroughness and dedication! We feel so happy that Violet was our Realtor." - Maricarmen Colin (Google Review)
---
Table of Contents
---
The White Oak Condo Amenities
| Information | The White Oak |
| --- | --- |
| Address | 2520 Houston Avenue |
| City | Houston |
| Zip | 77009 |
| Region | Inner Loop |
| Year Built | 1980 |
| Construction Status | New (Planned) |
| Developer | Jaxon Hill, LLC |
| # Floors | 8 |
| # Units | 34 |
| Parking | Assigned, Above Ground |
| Guest Parking | Valet, Limited |
| HOA | The White Oak |
| --- | --- |
| HOA / Sq Ft | $0.67 |
| What's Included in HOA Fee? | Building & Grounds, Concierge, Gas, Insurance Common Area, Limited Access, Outdoor Fireplace, Outdoor Kitchen, Pet Run, Pet Washing Station, Private Garage, Storage Outside of Unit, Trash Removal, Water and Sewer |
| Amenities | The White Oak |
| --- | --- |
| Fitness Room/Gym | Yes |
| Pool | Yes |
| Pool: Heated | No |
| Pool: Lap Size | No |
| Pool: Indoor | No |
| Pool: Hot Tub/Jacuzzi | No |
| Party/Gathering Room | Yes |
| Concierge | Yes |
| Valet | Yes |
| Porter | No |
| On Site Manager | No |
| Balconies Available? | Yes |
| Electric Car Option? | Yes |
| Tennis Courts | No |
| Extra Security? | Yes |
| Security | Yes |
| Guest Rooms Available? | Yes |
| Rooftop Deck/Terrace | Yes |
| Outdoor Kitchen | Yes |
| Gas Cooktop Available? | Yes |
| Storage Unit Option | Yes |
| Sauna | Yes |
| Business Center | No |
| Building Generator | Yes |
---
The White Oak Condo Sales Trends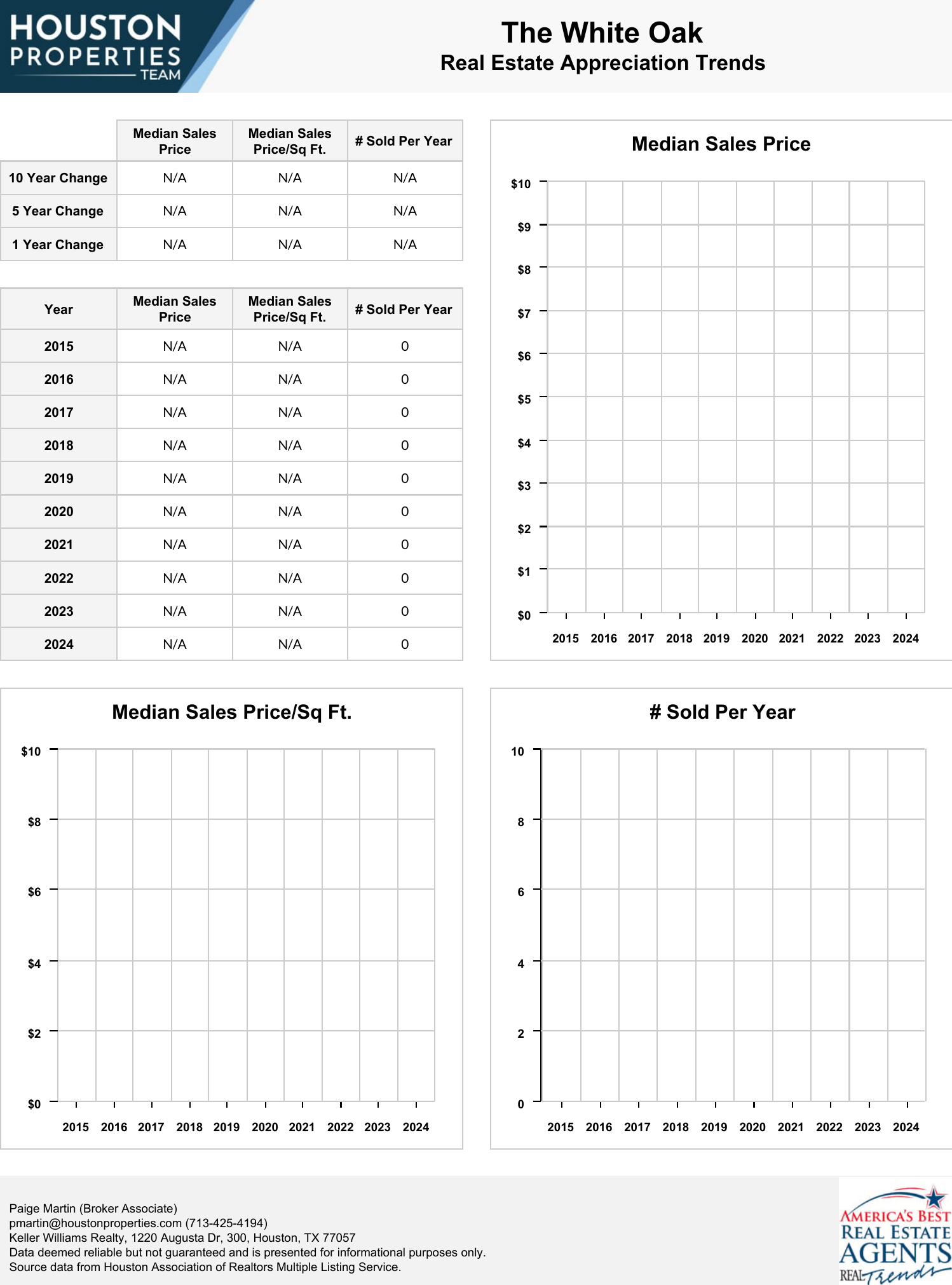 ---
How To Find The White Oak In Houston
| Commute Time | The White Oak |
| --- | --- |
| Downtown (min) | 10 |
| Med Ctr (min) | 15 |
| Energy Corridor (min) | 25 |
| Galleria (min) | 15 |
| Highlights | The White Oak |
| --- | --- |
| Run / Bike Trails | Stude Park, Woodland Park, Bayou Greenways Park |
| Nearby Retail / Dining | Little Buddy, Fiesta Mart, LLC, Market Day of Texas, Kroger, Domino's Pizza, Pinkerton's Barbeque, Ciro's, Le Peep, BB's Tex-Orleans, White Oak Music Hall, Bayou Music Center, 713 Music Hall |
| MetroRail Access | The White Oak |
| --- | --- |
| # Blocks to MetroRail | N/A |
| Nearest MetroRail Stop | N/A |
---
The White Oak Pet Policies & Information
| Commute Time | The White Oak |
| --- | --- |
| Pet Area/Courtyard | Yes |
| Pet Area / Unique Pet Features | Dog run and pet washing station, electrical capabilities for a pet pad on each private balcony |
| Max # Animals | No answer from HOA yet. |
| Breed Restriction | No answer from HOA yet. |
| Weight Limit | 75 lbs |
---
The White Oak Best Realtor Insights
White Oak Heights is a unique, high-rise condo community with stunning views, luxurious amenities, and exceptional service.
The Heights is home to a diverse community of residents who love it for its walkability, hike and bike trails, historic architecture, and the hottest restaurants and bars.

Schools, parks, restaurants, and retail centers are just minutes from the Highline's homes.

Each unit has a generous allowance for fixtures, finishes, and planning time with our project designer. Standard with each unit is soaring 14-foot ceilings and gracious balconies for outdoor living.

White Oak Heights is responsible for maintaining some of the community's historic sites and enforcing deed restrictions.

Residents of The Heights enjoy the best family fun Houston presents with nearby access to Heights Hike and Bike trail and White Oak Bayou Trail.

Retail and entertainment are highly accessible to the University of Houston, Heights Mercantile shopping center, and much more!

The Heights is known for its unique architecture and vibrant arts scene. There are more than 30 galleries along 1st Street, as many double retail shops. Restaurants and bars line 1st Street as well, making it an ideal place for an evening out on the town.

Enjoy exhilarating nightlife, treasure-packed shopping, delightful dining, and neighborhood events, all while staying close to Downtown Houston and living in a fantastic residential community.

The neighborhood is also known for its proximity to the famous White Oak Music Hall and the Houston Heights area. The community is also home to several local businesses, including staples like La Carafe and Heights Bier Garten.

Each residence will be structurally wired with Smart Home technology and Acoustically Insulated to absorb and minimize reflective noise.
---
The White Oak Condominium Reviews
No Page
---
Best Houston Real Estate Resources
---