Patio Homes For Sale In Houston TX: Guide To New Patio Homes Houston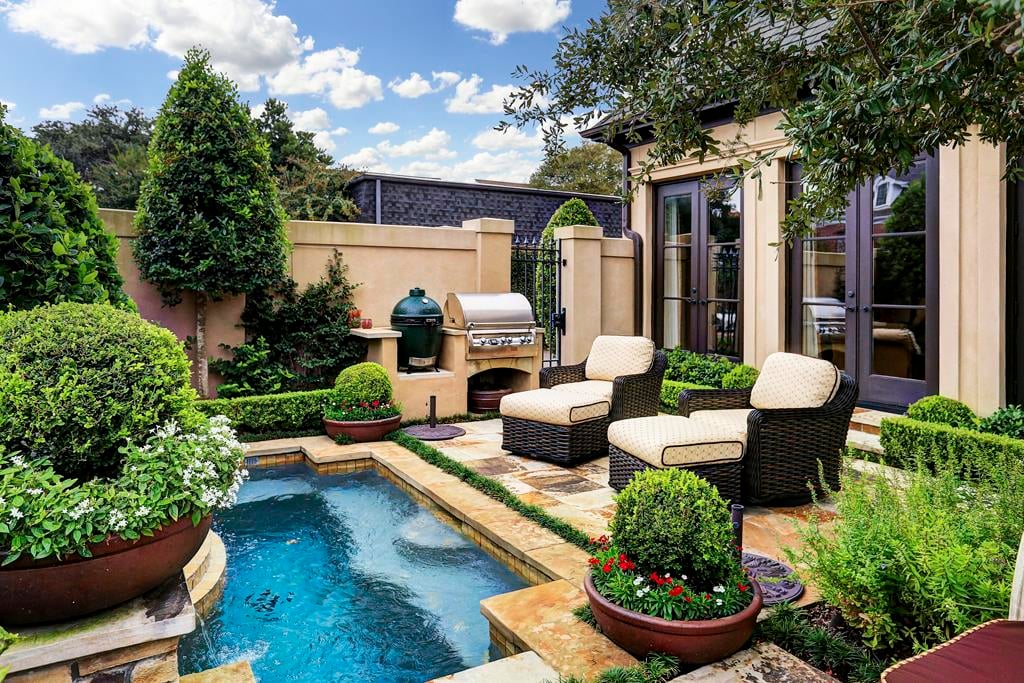 Also called "garden homes" or townhomes, patio homes are free-standing dwellings, typically nestled on a small lot. These smaller properties are quite popular due to their affordability and low upkeep and maintenance costs.
Houston patio homes are similar to townhomes as both home types are usually built in rows. Patio homes, however, are usually detached and don't share a wall with their neighbors.
Many patio homes in the Houston area are located within sections of master-planned communities.
Notable communities with sections for patio homes include Cinco Ranch (Katy), Imperial (Sugar Land), The Woodlands, and Sienna Plantation.
New construction patio homes are also on the rise, usually within suburban communities outside the Loop. There are a few patio home properties within Houston's hottest neighborhoods as well, notably The Heights and Rice Military.
Houston patio homes for sale typically sit under $500K, though pricing can depend on the home's age, location, and condition.
See all Houston patio homes by:
"Paige and her team are knowledgeable, attentive, responsive, patient. The HoustonProperties.com team put us into our first dream home, and due to that experience, we've returned to them time and again for our real estate needs. While the team's focus is on completing your deal, their endgame is to ensure your needs are preserved and satisfied."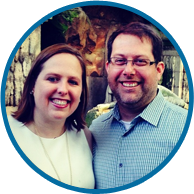 If you'd like to see any specific patio home or learn about patio home communities that are best for you, please contact Paige Martin at 

[email protected]

, ranked #1 Individual Agent with Keller Williams in Houston and #10 in the United States.
Houston Patio Homes For Sale
Patio homes within the central Houston area are typically older units, many of which have been torn down and replaced with newer townhomes. There are still some patio homes available in areas like The Heights and Rice Military.
Below we've listed Houston Inner Loop neighborhoods (as well as notable gated communities) with patio homes.
Patio home communities are common outside the Loop, notably in the Memorial/Spring Branch area and master-planned communities.
Below we've grouped together Houston patio homes outside the Loop.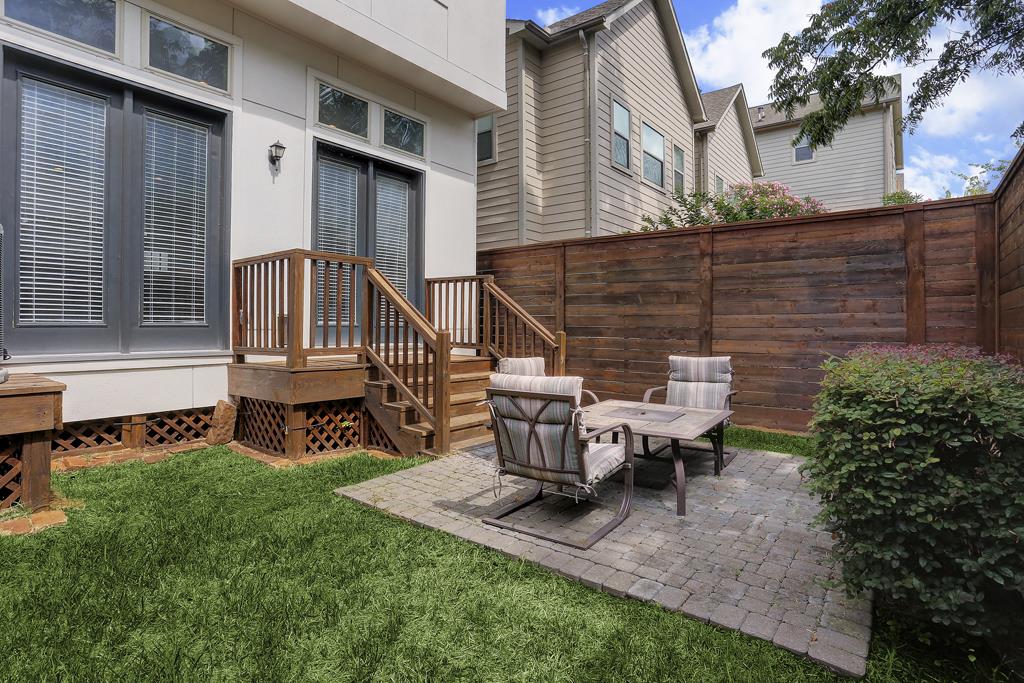 Outside the Loop: Memorial Area/Spring Branch
Outside the Loop: Houston Suburbs and Master-planned Communities
New construction patio homes for sale are typically located within master-planned communities or tucked within gated enclaves. Some luxury patio homes are built around amenities like golf courses, lakes, parks, and recreational centers.
Some patio home communities (most are active lifestyle neighborhoods) offer 24/7 security, lawn maintenance, pools, hike-and-bike trails, and other community amenities. Deed restrictions and covenants are typically in place to protect the look an and feel of these neighborhoods.
Maintenance within these communities come at a fee, though costs are typically minimal.
Some new construction patio homes are available in the central Houston area, notably with the Heights and Rice Military.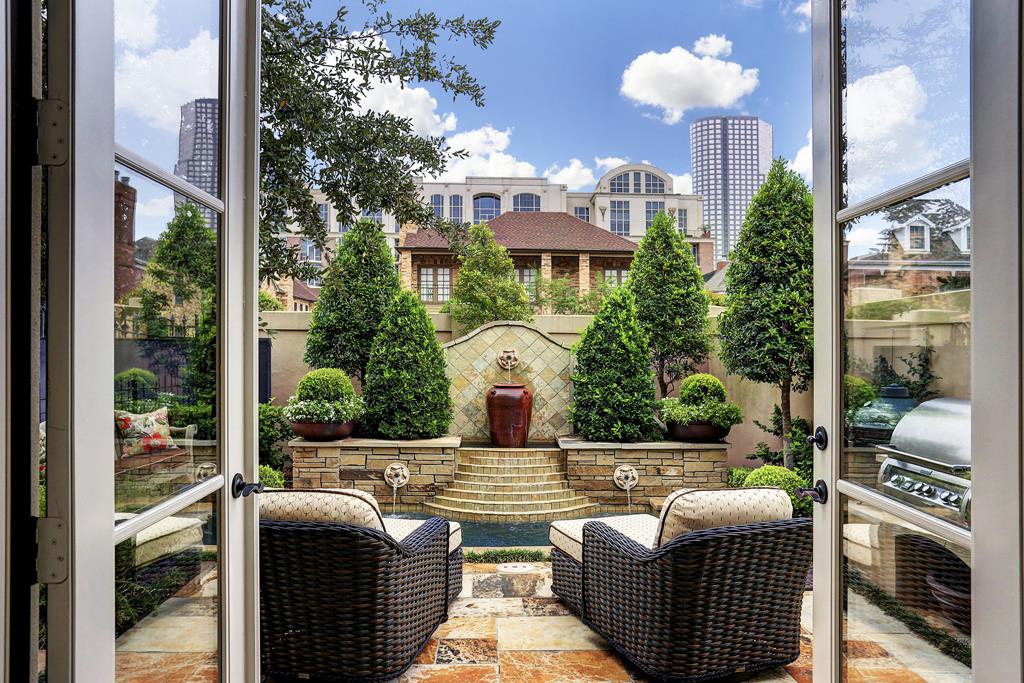 Given the influx of people relocating to Houston, this additional new inventory should help Houston home buyers find more options.
Notable patio home developers include:
Coventry Homes
Darling Homes
Village Builders
Jeff Paul Custom Homes
Trendmaker Homes
Connor Davis
Urban Living
Lennar Homes
Both townhomes and patio homes are popular for their relative affordability. While both typically sit on small lots and are built close together, townhomes share a wall with a neighbor. Patio homes are often single-detached, with some setbacks on all sides.
Patio homes are mostly laced together by each home's small yard.
Patio homes in Houston are single-family dwellings with fairly minimal or no lawn or yard maintenance.
Patio homes typically feature small lots, sharing a wall or sitting close to the next home.
Single-story patio homes Houston are common, though bigger two-story floor plans are also available.
Patio homes are popular for their relatively lower maintenance costs and more affordable pricing.
Depending on the community and the builder, new patio homes can feature a variety of different architectural styles. Ranch and traditional styles are common in Houston patio homes, though modern and contemporary styles are also available.
The average patio home can feature one- to three-bedroom floor plans.
Most new patio homes Houston are located in new construction communities, with some nestled within private residential enclaves and gated communities.
Master-planned communities around Houston like Riverstone, Cross Creek Ranch, and The Woodlands feature patio home communities.
Lot sizes range from 4,000 to more than 10,000 square feet.
Living areas can be between 1,000 to more than 2,500 square feet.
Some older patio homes in Houston have been replaced with townhomes, though a number of new construction and updated patio homes are available around the Bayou City.
Prices for Houston patio homes for sale can start at around $150,000. Bigger and newer properties can go for as much as $500,000.
Houston Patio Homes Defined
Patio homes in Houston are typically defined as single-family homes on small lots. Often called garden homes, these home types can be attached (duplexes or townhouse-types) or detached units.
Houston patio homes are also typically within gated communities or within sections of master-planned communities. Homes within these enclaves typically offer exterior maintenance and landscaping, often included in the HOA fees.
Similar to townhomes, some patio homes are considered condos wherein all homeowners share ownership of the land and common areas. Most patio homes in Houston, however, are more similar to single-family homes and townhomes where you own the land from the center of the earth to infinity plus the structure.
Townhomes typically share a wall (or two) with a neighbor. Some patio homes are built close to their neighbor or share a wall but most have small setbacks on all sides. Some properties have structures sitting on a property line.
Condos and lofts share walls too, and share ownership of the building and common areas. They don't own the land where their units are, instead owning airspace.
The benefits of owning a patio home mixes the appeal of owning a single-family home (owning the dirt upon which the structure stands) and the ease of maintaining a townhouse.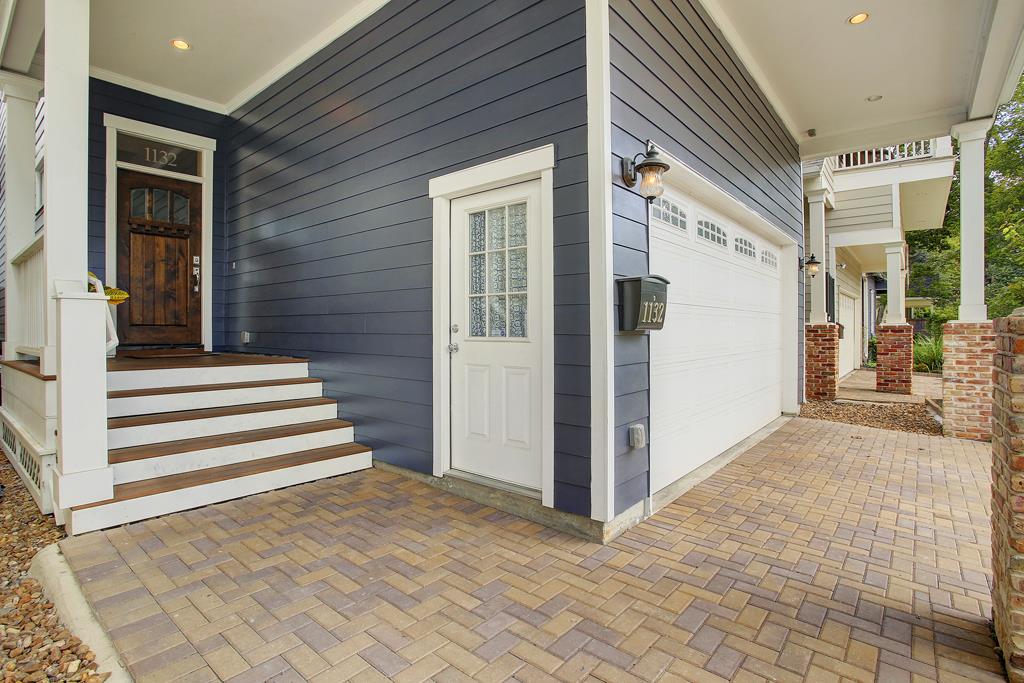 Pros of Living in a Patio Home
Price. Compared to their single-family home counterparts, patio homes are typically less expensive. Patio homes usually sit on smaller lots and and have a smaller footprint than a single-family home. Houston patio homes for sale can range from $150,000 to $500,000.
Lock-and-leave lifestyle. Some of the most expensive Houston patio homes are located within gated communities, which often feature 24-hour security and lawn maintenance.
Reduced maintenance. Community amenities, exterior maintenance, and landscaping are usually handled by the HOA and is included in fees.
Community amenities. Patio homes within master-planned and gated communities often offer amenities including lakes, central park areas, swimming pools, golf courses, controlled access, and hike-and-bike trails, among other things.
Lower HOA fees. Compared to Houston condos, most patio homes in Houston have substantially lower HOA fees.
Primary Cons of Living in a Patio Home
Shared wall. Some patio homes share a wall with a neighbor.
HOA fees. Community amenities and additional security is nice, but will come with a fee. Be sure to weigh costs with amenities.
Fewer amenities. Compared to living in a luxury high-rise, living in a patio home typically offers less amenities. Houston condos often feature fitness rooms, tennis courts, swimming pools, meeting/business centers, and party rooms.
Houston patio homes is a great option for people looking to downsize or looking for a second home. They are less expensive, easier to maintain, and often located in master-planned communities. There are some trade-offs, like smaller lots, but patio homes offer more privacy than condos or townhomes.
BENEFITS OF WORKING WITH
The Houston Properties TEAM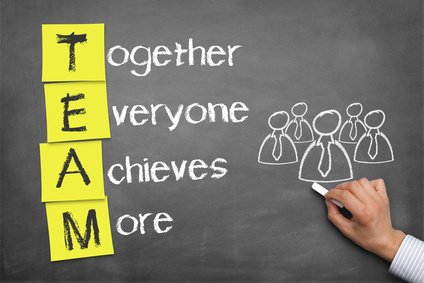 The Houston Properties Team has a well-defined structure based on the individual strengths of each member.
We find a team approach as the most effective way to sell homes. We have dedicated people doing staging, marketing, social media, open houses and showings. Each Houston Properties Team member is a specialist in their role – which is why our homes sell faster and for more money than average.
The benefits of working with a team include:
Ability to be in 2 or 3 places at one time: a member can handle showings, while another answer calls.
Collective time and experience of members.
Targeted advise and marketing of agent expert in your area.
Competitive advantage by simply having more resources, ideas, and more perspectives.
A "Checks and Balances" system. Selling and buying a home in Houston is an intensely complex process.
More people addressing field calls and questions from buyers and agents to facilitate a faster successful sale.
Efficient multi-tasking: One agent takes care of inspections and/or repair work, while another agent is focused on administrative details.
Multiple marketing channels using members' networks.
Constant attention: guaranteed focus on your home and your transaction.
Lower risk for mistakes. Multiple moving parts increase oversights. A team approach handles these "parts" separately.
Flexibility in negotiation and marketing.
Better management of document flow.
Increased foot traffic through more timely and effective showing schedule coordination.
Increased Sphere of Influence and exposure to more potential buyers.