Guide To The Franklin Lofts Houston
Built by Houston Lofts developer Frank Garvey, The Franklin Lofts is an 8-story residential building with neoclassical designs located in 201 Main St. in Houston, Texas 77002.
Downtown Houston's Franklin Lofts has 62 luxury loft condominiums ranging from 885 to 2446 square feet in size; it is also well known for being the first steel-framed structure in Houston.
Note: As Franklin Lofts Houston is a smaller loft building, units are listed infrequently and transactions occur off-market (not publicly listed).
For more information or available Franklin Lofts Houston for sale, call Paige Martin at 713-384-5177 or email Paige@HoustonProperties.com
Franklin Lofts For Sale
All Franklin Lofts Listings
Franklin Lofts Amenities
Franklin Lofts Houston Location Overview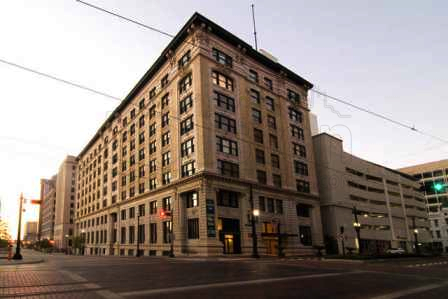 Franklin Lofts Houston is located right along Main Street, and north of the heart of Downtown. Downtown Houston is currently one of the fastest growing business districts in Texas, with over 200,000 jobs housed within numerous businesses and offices in the area. This gives owners of condos in Franklin Lofts who also work downtown a convenient travel time between their home and workplace.
The Theater District is in close proximity to Franklin Lofts Houston too. This district spans 17 blocks and is where Houston's nine performing arts organizations, the 130,000-square-foot Bayou Place entertainment complex, restaurants, movies, plazas, and parks can be found. It is a favorite destination for many (over 2 million people visit it every year) because of its cultural and entertainment value.
Just a few minutes away from the building is the MetroRail, as well as the Interstate-10, Interstate-45, and Highway 59. Being this close to the aforementioned places allow Franklin Lofts residents to have an easy commute or drive to various places within the city.
The Franklin Lofts For Sale Features And Amenities
More than a century ago, the building where Franklin Lofts now stand used to be the base of the First National Bank. Frank Garvey worked on converting it to a residential area and in 2002, it was launched as a 8-story high structure with 62 lofts for sale all carrying modern designs. Franklin Lofts has retained its neoclassical architectural look, making it blend well with the similarly themed buildings within the area.
Overlooking Buffalo Bayou, Franklin Lofts Houston feature original 10-foot windows, 11-20 foot concrete ceilings, exposed brick walls, and hardwood floors. Ranging between 885 to 2446 square feet in size, the lofts in Franklin Lofts are equipped with all of the modern conveniences, telecommunication and energy efficiency of new construction, with an adjacent parking garage for the convenience of its residents.
For more information on available Franklin Lofts Houston, please contact Paige Martin at 713-384-5177 or email paige@houstonproperties.com
Franklin Lofts Amenities
Solid oak flooring
Double density wall partitions for absolute sound absorption
Open gourmet kitchens
European style cabinets
Granite & stainless steel kitchen countertops
Stainless steel GE & Dacor appliances
Kohler fixtures
Large windows
Halogen track lighting & decorative wall sconces
Hunter Douglas Everwood Blinds
Solid wood doors
Commercial grade telecommunications wiring
Energy efficient water source heat pump
Covered parking in adjacent 7-story parking facility for residents and guests