Guide To Hermann Lofts Houston
Located in 204 Travis St. Houston, Texas 77002, Hermann Lofts Houston is an 8-story residential building known for its rich history. Named after the great Houston philanthropist George Henry Hermann, the 32-unit Downtown Houston loft building was for a time used as a headquarters for the Salvation Army.
It was converted to a residential loft tower in 1997 and today carries units with 10- and 11-foot high concrete ceilings, wide-open floor plans, and hardwood floors.
Note: As Hermann Lofts Houston is a smaller loft building, units are listed infrequently and transactions occur off-market (not publicly listed).
For more information or available Hermann Lofts for sale, call Paige Martin at 713-384-5177 or email Paige@HoustonProperties.com
All Hermann Lofts Listings
Hermann Lofts Amenities
Hermann Lofts Houston Location Overview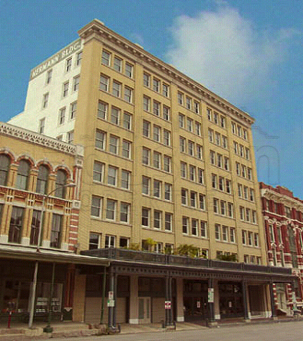 The 8-story tall Hermann Lofts has 32 lofts for sale and can be found in Main Street in Downtown Houston. Downtown Houston is known locally for two main things:
First is the developing business district that houses prominent and big companies such as Chevron, JP Morgan Chase, Continental Airlines, and Shell Oil Company. It is not surprising then that there are over 200,000 workers downtown. Owners of lofts for sale in Hermann who also work downtown enjoy a very short travel time between their home and workplace.
Second would be the numerous commercial establishments in the vicinity. Due to the high number of workers in Downtown Houston, establishments for leisure and entertainment such as restaurants, bars, cafes, and shopping stores have been built all over the place. This gives Hermann Lofts residents a wide array of dining, shopping, and entertainment options.
A block away from Hermann Lofts Houston is the Market Square. This very traditional "market setting" gives off a "close-knitted neighborhood" feel to the area which in turn helps develop a strong community vibe. Many of the buildings around this area are well-preserved to carry on its current cultural and traditional atmosphere.
Hermann Lofts For Sale Features And Amenities
Built in 1977, Hermann Lofts Houston has undergone renovation to make it one of Houston's first and original loft conversion projects when it was launched 20 years later. Very little changes were done to its exterior to preserve the cultural and historical elements of its design.
Once featured on the National Register of Historic Places, this 8-story yellowish-bricked building with a green cast iron canopy covering the entire front sidewalk, today gives off a warm, homely, and romantic vibe due to its well-preserved facade, architectural structure, and traditional design tones.
Condos for sale in Hermann Lofts today go from 675 square feet to 2,000 square feet in size with interior staples such as 10- and 11-foot high concrete ceilings, wide-open floor plans, and hardwood floors. Hermann Lofts also features an exquisite rooftop terrace, reserved parking spaces for residents, and storage units.
For more information on available Hermann Lofts Houston, please contact Paige Martin at 713-384-5177 or email paige@houstonproperties.com
Hermann Lofts Amenities
Concierge service
Fitness center
Parking
Storage space
Rooftop terrace