Guide to Keystone Lofts Condo Houston
Built in 1995, located in Downtown, see Keystone Lofts condos for sale, amenities, pictures & reviews.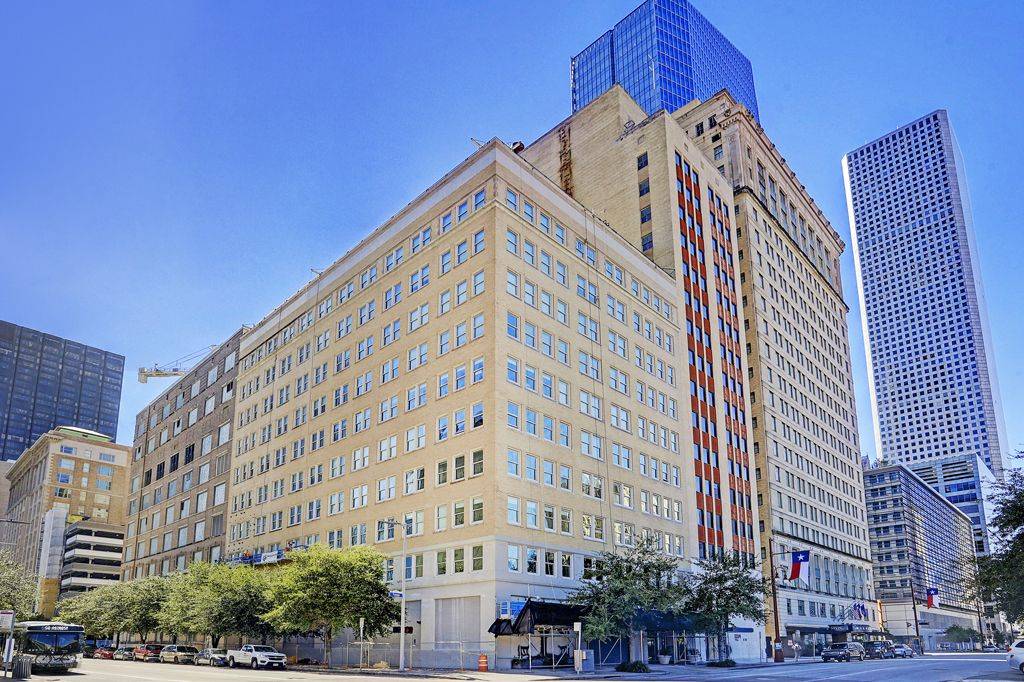 Dating back to 1922, Keystone Lofts is one of the best high-rises near METRORail. Residents of the condo enjoy exciting landmarks Downtown.
Living in Keystone Lofts is an option for people looking for:
MODERNIZED BUILDING: Keystone Lofts is a historical structure. It is one of the earliest buildings in Houston. Before renovations, the building serves as an office. The 10-story landmark got renovations in 1998. The current Keystone Lofts has 34 units and three penthouses.

METRORAIL ACCESS: The METRORail system is near Keystone Lofts. Residents of the condo can use the system at its Central Station. The facility is the second most used light rail in the southern US. Riding the train system leads to districts like Medical Center and EaDo.

SPACIOUS LOFTS: The units at Keystone Lofts range between 1,350 square feet to 4,400 square feet. Each unit comes in one- and two-bedroom floorplans. Condo units have 10-foot ceilings, granite countertops, and jacuzzi tubs.

CENTRAL LOCATION: The high-rise is at the heart of Downtown, a walkable area. Downtown Houston has retailers, malls, restaurants, and other points of interest. Unit owners of the condo enjoy Minute Maid Park and Discovery Green. Another option is Market Square Park, a city-block-wide leisure spot.

MIX OF OLD AND NEW: The architect behind Houston City Hall designed the condo. Keystone Lofts mixes old and modern styles. These styles include brick walls, exposed ducts, and wooden floors. Renovations on the building added modern touches to each condo unit.

CULTURAL HUBS: The Downtown Theatre District is accessible from Keystone Lofts. The area covers 17 city blocks with fun and amusement venues. This district has several world-renowned performing arts groups in the US. Downtown hosts the Bayou City Arts Festival, an event that helps non-profits. Events in the area attract tourists from nearby districts. The nearest visitors come from Greater Heights, Midtown, and Sawyer Heights.

CITY EMPLOYERS: Residents of Keystone Lofts are near businesses in the city. Downtown Houston is a large job hub, home to 3,500 employers and over 200,000 workers. The majority of workspaces are in the Central Business District. The district has over 40 million square feet of office space. Some global companies have offices in the area.
The Keystone Lofts is in a premier zone in Inner Loop. Its location is competitive when it comes to the real estate market. Choosing units is challenging for new buyers. When deciding on units in Keystone Lofts, real estate experts are helpful.
To get personal advice on buying or selling a Keystone Lofts unit, contact Paige Martin, one of Houston's best condo realtors and one of the top-ranked Realtors in the United States.
"Brad and the Houston Properties Team are the real deal. Brad's attention to detail and organizational skills set him apart from other real estate agents I have worked with in the past. As if that's not even enough, he also offers his clients tickets to this Astros game! I highly recommend Brad to anyone looking for a knowledgeable, professional, and dedicated real estate agent." - Jeremy Garcia (Google Review)
---
Table of Contents
---
Keystone Lofts Condo Amenities
| Information | Keystone Lofts |
| --- | --- |
| Address | 1120 Texas Street |
| City | Houston |
| Zip | 77002 |
| Region | Downtown |
| Year Built | 1995 |
| Construction Status | Complete |
| Developer | Joseph Finger |
| # Floors | 10 |
| # Units | 34 |
| Parking | Private Garage |
| Guest Parking | Limited |
| HOA | Keystone Lofts |
| --- | --- |
| HOA / Sq Ft | $0.67 |
| What's Included in HOA Fee? | Building & Grounds, Concierge, Electric, Insurance Common Area, Limited Access, Other, Trash Removal, Water and Sewer |
| Amenities | Keystone Lofts |
| --- | --- |
| Fitness Room/Gym | No |
| Pool | No |
| Pool: Heated | No |
| Pool: Lap Size | No |
| Pool: Indoor | No |
| Pool: Hot Tub/Jacuzzi | Yes |
| Party/Gathering Room | No |
| Concierge | No |
| Valet | No |
| Porter | Yes |
| On Site Manager | Yes |
| Balconies Available? | No |
| Electric Car Option? | No |
| Tennis Courts | No |
| Extra Security? | Yes |
| Security | Yes |
| Guest Rooms Available? | No |
| Rooftop Deck/Terrace | Yes |
| Outdoor Kitchen | No |
| Gas Cooktop Available? | No |
| Storage Unit Option | No |
| Sauna | No |
| Business Center | No |
| Building Generator | No |
---
Keystone Lofts Condo Sales Trends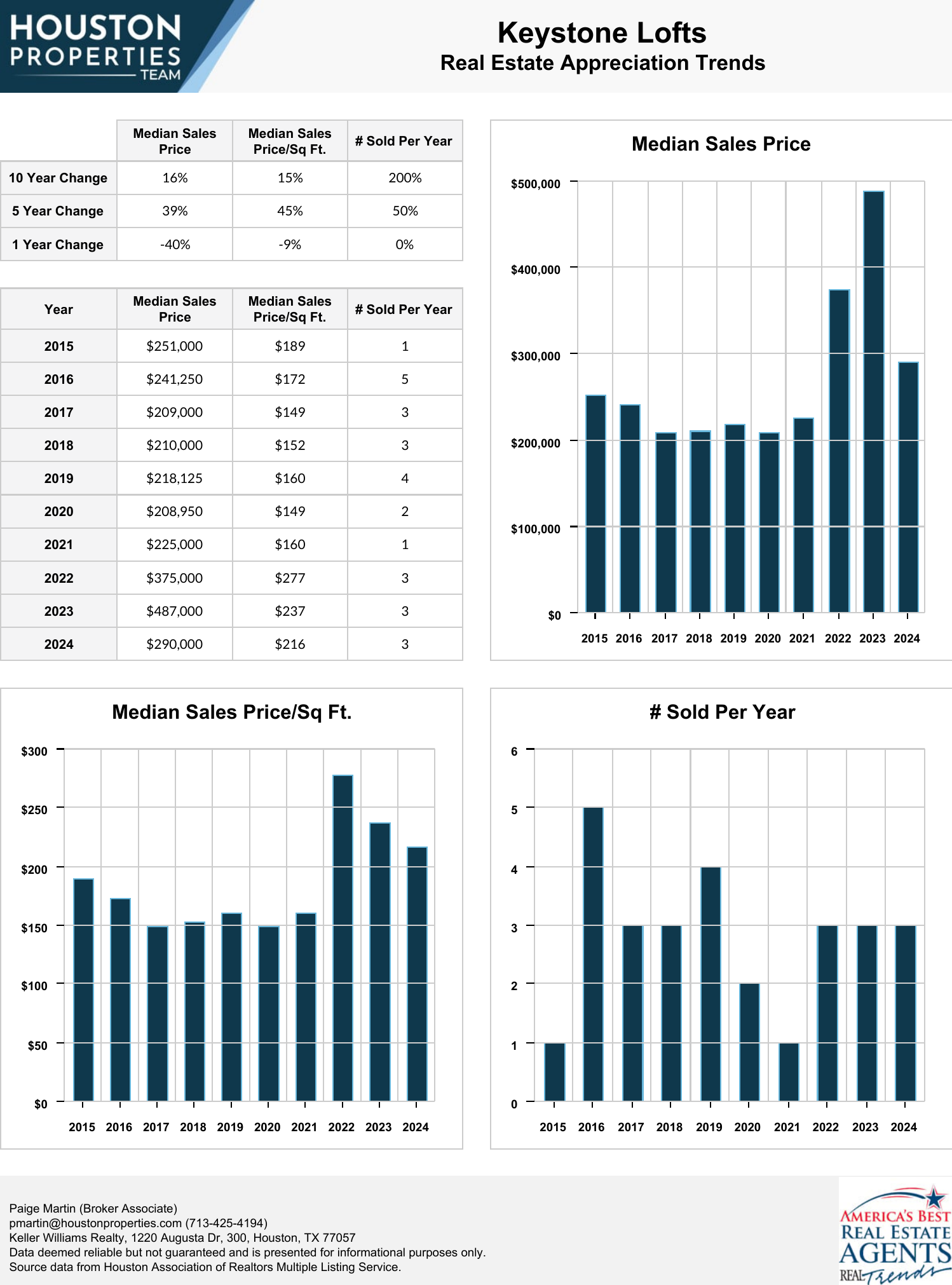 ---
How To Find Keystone Lofts In Houston
| Commute Time | Keystone Lofts |
| --- | --- |
| Downtown (min) | 5 |
| Med Ctr (min) | 5 |
| Energy Corridor (min) | 20 |
| Galleria (min) | 20 |
| Highlights | Keystone Lofts |
| --- | --- |
| Run / Bike Trails | Nearby Northside High School, Discovery Green for running and trailing, Heights Hike Bike and Trail, White Oak Bayou Greenway, |
| Nearby Retail / Dining | Nearby Theatre District, Minute Maid Park and PNC Stadium for entertainment, and Toyota Center are less than a mile away, Dining at La Carafe and Warren's, 3 blocks away from Market Square Park |
| MetroRail Access | Keystone Lofts |
| --- | --- |
| # Blocks to MetroRail | 2 |
| Nearest MetroRail Stop | Central Station |
---
Keystone Lofts Pet Policies & Information
Commute Time
Keystone Lofts
Pet Area/Courtyard
No
Pet Area / Unique Pet Features
they allow pets
breed and weight limit due for mgmt's approval
Max # Animals
N/A
Breed Restriction
Management's approval
Weight Limit
Management's approval
---
Keystone Lofts Best Realtor Insights
A Joseph Finger-designed building, Keystone Lofts is a converted building with a central Downtown location.
Keystone Lofts was renovated in 1988 after being initially constructed in 1922. The 10-story midrise was a multi-tenant office and document storage facility before its renovation.

Joseph Finger, the same architect behind the Houston City Hall and other local buildings, designed Keystone Lofts.

Minute Maid Park and Toyota Center (Home to the Houston Astros and the Houston Rockets) are less than a mile away from Keystone Lofts.

Just a few minutes away, Discovery Green is a popular Downtown venue with an open lawn, one-acre Lake, amphitheater and slope, dog runs, jogging trails, public artworks, and restaurants.

Located three blocks from Keystone Lofts, the historic Market Square Park features green space, dog runs, an entertainment plaza, and public art exhibits.

Other establishments include restaurants and outdoor cafes, such as Bad News Bar, Batanga, OKRA Charity Saloon, La Carafe, and Warren's. Sam Houston Park, Tranquility Park, and Sesquicentennial Park are some attractions close to Keystone Lofts.

The Theatre District is less than a mile away from Keystone Lofts. The 17-block district features four entertainment venues with seven world-renowned performing arts organizations.

Keystone Lofts features 34 units spread across eight residential floors. The units feature designs unique to a converted building, including open floor plans, brick walls, exposed ducts, and wooden floors.

Available in one- and two-bedroom floor plans, Keystone Lofts features units ranging between 1,350 square feet to 4,400 square feet. Each unit comes with 10-foot ceilings, granite countertops, washers and dryers, and Jacuzzi tubs.

The METRO Rail Redline is easily accessible from Keystone Lofts. The nearest METRORail stop is Central Station, just two blocks from the building.
---
Keystone Lofts Condominium Reviews
Keystone Lofts: Mass Transit Options And Access
---
Keystone Lofts is in Downtown Houston, an accessible area in Houston. Residents enjoy the fast commute times through several mass transit options. METRORail, the bus system, and Houston B-Cycle help residents travel. Using these options will help reach the Museum District and Medical Center.
Downtown is a business, culture, and amusement hub. Tourists spend time at attractions like Minute Maid Park and Discovery Green. There are plenty of performances to enjoy in the Theatre district. Market Square Park and Bayou Place offer a place to eat and go shopping.
Popular Neighborhood Venues: Discovery Green, GreenStreet, Houston Theater District

Top Ranked Restaurants Nearby: Niko Niko's, Hearsay Gastro Lounge, La Fisheria, La Carafe, The Pastry War, Fusion Taco

Grocery Stores: Phoenicia Specialty Foods, Guanajuato Supermarket

Trails & Parks: Market Square Park, The Buffalo Bayou
---
Keystone Lofts Condos: Maps And Directions
---
Keystone Lofts sits at the intersection of Texas Ave. and San Jacinto St. It is in an area that lies north of I-69, south of I-10, and west of I-45. Locals call these roads Gulf, Katy, and Eastex Freeways, in order.
Keystone Lofts condos are near employment, retail, and leisure centers. Six miles southwest of the building is Texas Medical Center. It is the largest medical complex in the US. Other nearby urban districts are Galleria (9 mi) and Museum District (6 mi).
Popular spots are Minute Maid Park, Discovery Green, and Toyota Center. Keystone Lofts is near the Theatre District, by a few blocks.
The Keystone Lofts has a zip code of 77002.
---
Keystone Lofts: School Zoning Information
---
Keystone Lofts is located in Downtown Houston. The Downtown area is zoned to the Houston Independent School District (HISD).
Keystone Lofts residents can send their children to the following schools:
Gregory-Lincoln Education Center at 1101 Taft St. GLEC serves students from Kindergarten to 8th grade. The school features a fine arts magnet program. Students can enroll in multimedia arts and music.

Northside High School at 1101 Quitman St. Northside High was Jefferson Davis High School. Students can enroll in a Hotel and Restaurant Management magnet program.
To find an updated listing of all Keystone Lofts real estate zoned to any specific public school, please email Paige Martin at PMartin@HoustonProperties.com with the property preference and budget that you're working with.
Note: For more detailed information on specific schools zoned to different Keystone Lofts areas, please refer to our Houston Schools Guide OR email me.
Note: School zoning tends to change from year to year. The information provided above is accurate but not guaranteed. Please double-check by visiting the school's website.
---
Best Houston Real Estate Resources
---