Guide to Washington Lofts Condo Houston
Built in 2001, located in Inner Loop, see Washington Lofts condos for sale, amenities, pictures & reviews.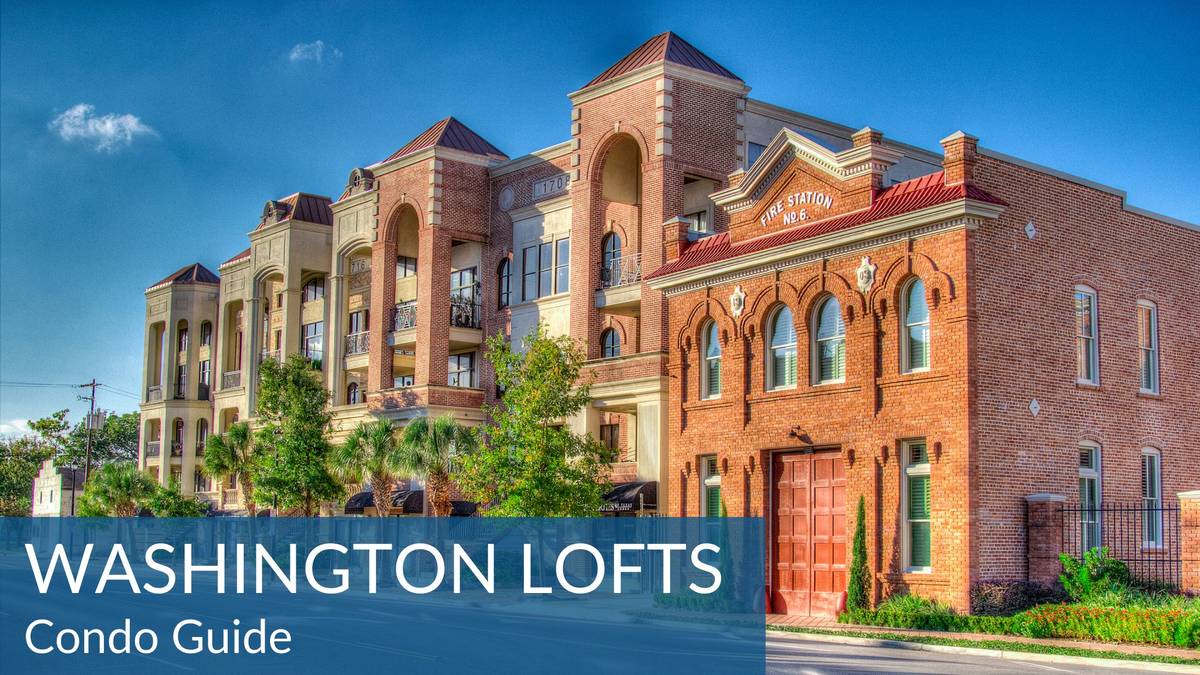 Washington Lofts is a hirise condo with easy access and a panoramic view of Downtown Houston. The Texas Brownstone built the building in 2001. It offers premium amenities to the 18 units and its residents.
Some of Washington Lofts' best features are its:
ACCESSIBLE LOCATION: Located along Washington Avenue, Washington Lofts is close to Downtown Houston. Restaurants, cafes, shops, and entertainment areas are within walking distance from the condo. Being Downtown as one of Houston's Most Walkable Neighborhoods, it is easy to navigate.

SCENIC VIEWS: The units' balconies are the ideal places to enjoy and watch the beautiful skyline of Downtown. Homeowners get to enjoy the fireworks display during the 4th of July. They can also witness the Houston Marathon. Even relaxing after a stressful day, watching the scenic views is one way to ease the mind.

UNIQUE BUILDING AMENITIES: Each unit has a dedicated two-car garage. It is equipped with an automatic garage door opener and driveway gate. It also has gated outside parking dedicated to guests and visitors.

SPACIOUS FLOOR PLANS: There are only two units per floor in this five-story building. One unique feature of this condo is the no-shared walls between units. This design allows each condo unit to have a spacious and open layout.

MODERN DESIGN: The units feature wall-to-wall windows and a walk-out balcony. Its high ceilings have exposed ductwork, and the flooring is all hardwood. With a light and airy layout, indoor-outdoor living and entertaining are likely to be a hit in each unit. It also displays granite countertops and stainless steel appliances.

SURROUNDING SCHOOLS: Washington Loft's location is near schools and other learning institutions. It is near Crockett Elementary School, Hogg Middle School, and Heights High School.

NEAR BUSINESSES AND ATTRACTIONS: The condo's location is inside the Inner Loop region. Thus, it is close to economic hub spots and attractions. Being situated in the Washington Avenue Coalition - Memorial Park neighborhood is convenient. t is near the Theater District and The Buffalo Bayou Hike, Downtown's well-known attractions.
Buying a Washington Loft unit can be tricky. Unlike other condos, this building lacks community areas for amenities. The building does not offer a pool or a fitness facility. This non-existing feature can be a challenge for some to consider.
To get personal advice on buying or selling a Washington Lofts unit, contact Paige Martin, one of Houston's best condo realtors and one of the top-ranked Realtors in the United States.
"Three years after purchasing our home, Paige Martin continues to provide excellent service! After experiencing electrical problems a recently, she was able to immediately put us in touch with her top inspector who walked us through the issue over the phone. Something that could have cost us hundreds of dollars, ended up being an easy fix for free! With Paige and her team, you know you will have help and support whenever you need it, even long after you have purchased your home. That kind of help is invaluable!!" - April Coker (Google Review)
---
Table of Contents
---
Washington Lofts Condo Amenities
| Information | Washington Lofts |
| --- | --- |
| Address | 1722 Washington Avenue |
| City | Houston |
| Zip | 77007 |
| Region | Inner Loop |
| Year Built | 2001 |
| Construction Status | Complete |
| Developer | Texas Brownstone |
| # Floors | 5 |
| # Units | 18 |
| Parking | Assigned, Above Ground |
| Guest Parking | None |
| HOA | Washington Lofts |
| --- | --- |
| HOA / Sq Ft | $0.38 |
| What's Included in HOA Fee? | Building & Grounds, Cable TV, Insurance Common Area, Other, Private Garage, Trash Removal, Water and Sewer |
| Amenities | Washington Lofts |
| --- | --- |
| Fitness Room/Gym | No |
| Pool | No |
| Pool: Heated | No |
| Pool: Lap Size | No |
| Pool: Indoor | No |
| Pool: Hot Tub/Jacuzzi | No |
| Party/Gathering Room | No |
| Concierge | No |
| Valet | No |
| Porter | No |
| On Site Manager | No |
| Balconies Available? | Yes |
| Electric Car Option? | No |
| Tennis Courts | No |
| Extra Security? | Yes |
| Security | Yes |
| Guest Rooms Available? | No |
| Rooftop Deck/Terrace | Yes |
| Outdoor Kitchen | No |
| Gas Cooktop Available? | No |
| Storage Unit Option | No |
| Sauna | No |
| Business Center | No |
| Building Generator | No |
---
Washington Lofts Condo Sales Trends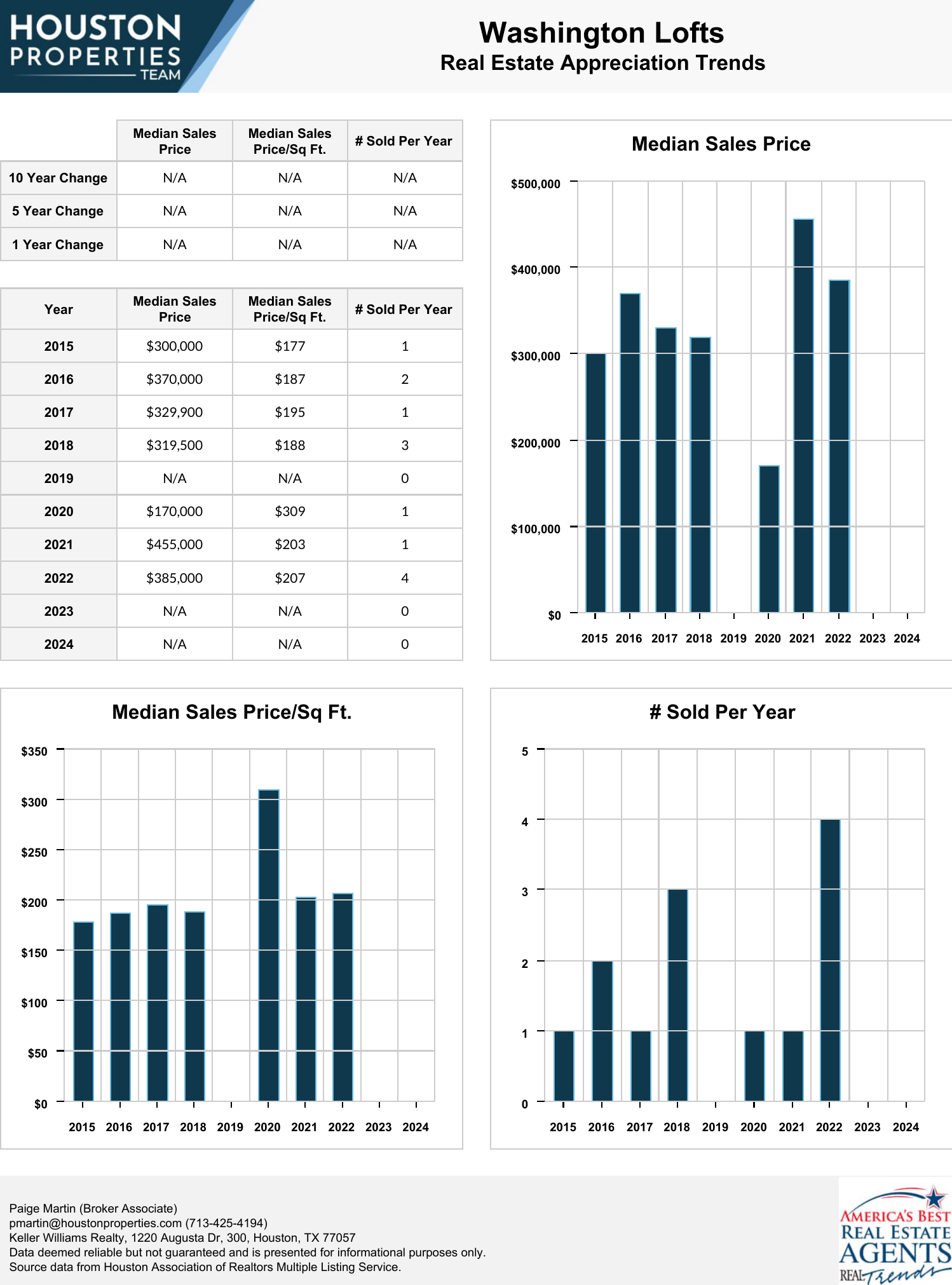 ---
How To Find Washington Lofts In Houston
| Commute Time | Washington Lofts |
| --- | --- |
| Downtown (min) | 10 |
| Med Ctr (min) | 15 |
| Energy Corridor (min) | 25 |
| Galleria (min) | 20 |
Highlights
Washington Lofts
Run / Bike Trails
Buffalo Bayou Hike and Bike Trail Downtown
Nearby Retail / Dining
Catalina Coffee
Handerson and Kane
Gus World's Famous Fried Chicken
Platypus Brewing
B&B Butchers and Restaurant
| MetroRail Access | Washington Lofts |
| --- | --- |
| # Blocks to MetroRail | N/A |
| Nearest MetroRail Stop | N/A |
---
Washington Lofts Pet Policies & Information
| Commute Time | Washington Lofts |
| --- | --- |
| Pet Area/Courtyard | No |
| Pet Area / Unique Pet Features | Unable to find |
| Max # Animals | Unable to find |
| Breed Restriction | Unable to find |
| Weight Limit | Unable to find |
---
Washington Lofts Best Realtor Insights
Washington Lofts is a luxury apartment complex located on Washington Avenue/Memorial Park.
It is located at 1722 Washington Avenue, Houston, along the 4.5-mile stretch of Washington Avenue.

Texas Brownstone, the building's developer, began work on it in 2001. The developer aimed to provide residents with first-rate amenities.

The five-story building is home to 18 units: 12 loft units and six penthouses.

Hardwood floors, gallery-size towering walls, and high ceilings are all standard amenities. The loft also features granite countertops, hardwood floors, and stainless steel appliances.

Each unit of Washington Lofts has a two-car tandem garage with an auto garage door opener and automatic driveway gate.

Washington Lofts do not offer some shared area for facilities. There is no access to a pool and fitness center, in contrast to other condos.

Washington Lofts is very accessible to Downtown Houston. It is near different cafes and restaurants.

It is close to various school sites. Surrounding schools are Heights High School, Hogg Middle School, and Crockett Elementary School.

The spaces include balconies with panoramas of Downtown that are picturesque and lovely. It is the best location to see Houston's 4th of July firework display celebration.

The Washington Lofts' location is convenient. Going to concerts and events or experiencing excellent dining will be hassle-free.
---
Washington Lofts Condominium Reviews
Washington Lofts Location Overview
---
Washington Lofts is along the 4.5-mile stretch of Washington Avenue. The three five-story buildings overlook Downtown Houston. It is within walking distance of many restaurants, coffee shops, boutiques, and entertainment.
Downtown is a busy business district located at the center of Houston. It is at the junction of Interstate 10, Interstate 45, and Interstate 69. Living outside downtown, residents can visit entertainment and recreation destinations like Theater District. Large-scale sporting events and concerts take place at the Toyota Center. The local dining scene offers upscale grills, casual taquerias, and sushi spots.
---
Best Houston Real Estate Resources
---