Royden Oaks/Afton Oaks Real Estate Guide
Royden Oaks/Afton Oaks homes for sale & insider real estate guide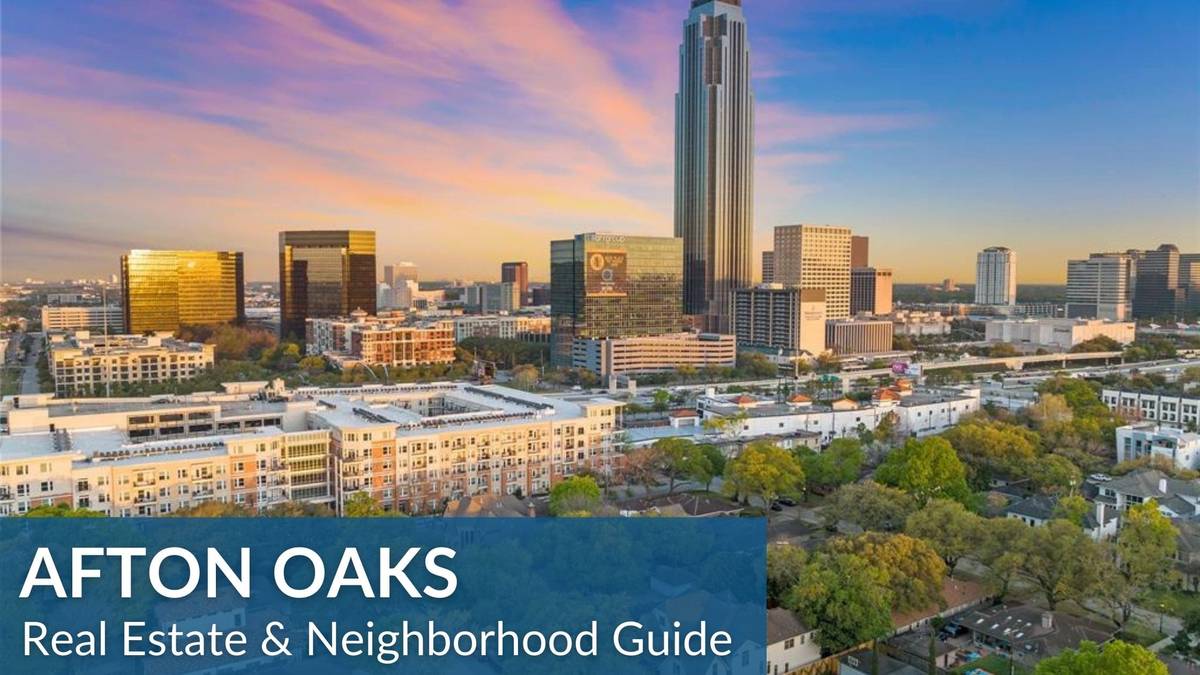 Royden / Afton Oaks is an upscale and premier community near the Galleria and River Oaks. It is one of the Most Expensive Neighborhoods in Houston. The community is located east of Loop 610 and north of the Southwest Freeway. The community is also bordered by Westheimer road on its north. Afton Oaks features high accessibility, excellent entertainment, and housing options.
Royden / Afton Oaks homes are well-known for their:
GREAT PROXIMITY TO BEST RETAIL: Afton Oaks homes are minutes away from world-class retail, dining, and entertainment. Just a few blocks away from the community is The Galleria. An upscale shopping district, the Galleria is home to over 350 retail stores and establishments. Uptown Park, Highland Village, and the River Oaks District are nearby options.

ACCESSIBILITY TO BUSINESS CENTERS: Afton Oaks homes are conveniently located between Uptown and Greenway Plaza. Providing the community with easy access to major Houston business districts. Uptown Houston has over 23 million square feet of office space. The Uptown Plaza is home to over 2,000 businesses. The Greenway Plaza is a mixed-use development that includes ten commercial buildings. It houses over 4 million square feet of retail and office space.

UPSCALE NEIGHBORHOOD: Real estate in the Afton Oaks community is among the Most Expensive in Houston. Demand is still being driven by its location, atmosphere, and accessibility. Afton Oaks is among the Most Desirable Inner Loop Neighborhoods. The median sales price is more than $900,000.

WIDE RANGE OF HOME OPTIONS: Afton Oaks real estate continues to appreciate rapidly. In terms of real estate appreciation, the neighborhood is one of the Hottest Inner Loop Neighborhoods. Afton Oaks is also one of Houston's older neighborhoods. It features a variety of home options, including updated ranch-style homes from the 1950s. New construction homes are also available in the area.

EXCELLENT COMMUTE: Afton Oaks is located near two major freeways and provides easy access to other notable districts. Homes in the area also have easy access to major thoroughfares such as Westheimer Road and Richmond Avenue.
Afton Oaks also features great community atmosphere thanks to its community civic club. The Afton Oaks Civic Club is in charge of enforcing the neighborhood's covenants and maintaining common areas. The club also provides services such as extra security. The civic club was founded in 1955. Due to its deed restrictions and proximity to major roads and retailers, Afton Oaks real estate might be challenging to navigate.
To get personal advice on buying or selling in the Royden Oaks/Afton Oaks area, contact Paige Martin, one of Houston's best realtors and one of the top-ranked Realtors in the United States.
"Brad and Laura were amazing and exceeded my expectations. They helped me and my family selling our old home and buying a new one. They were both very professional, knowledgeable and respectful of my time and my family. I have 2 teenagers and a dog that can make anyone's job challenging but they were able to accommodate to our schedule and always seem calm and confident that everything was going to be ok. A process that could have been stressful was actually a pleasure. From the staging and pictures to the day we sold our house everything was great and the house sold really quick at a very good price. Brad was always a call away and was very responsive to any question we might have; excellent communication and customer service skills. Brad was with us every step of the way and did not miss anything for the house we sold and the house we bought; he recommended a very good inspector who was able to find some issues with our new house that the builder was able to fix before we signed on the contract to buy our new house; Brad also went to the final walk through with me and helped me checking the house one last time since my husband was not going to be able to go. Everything from day one was first class with Brad and Laura. I would recommend them as realtors to anyone I know. We hope to stay in this new house for a while but I will definitely contact them the next time I sell and/or buy a new house!" - Paula Sutton (Google Review)
---
Table of Contents
---
Royden Oaks/Afton Oaks Home Sale Trends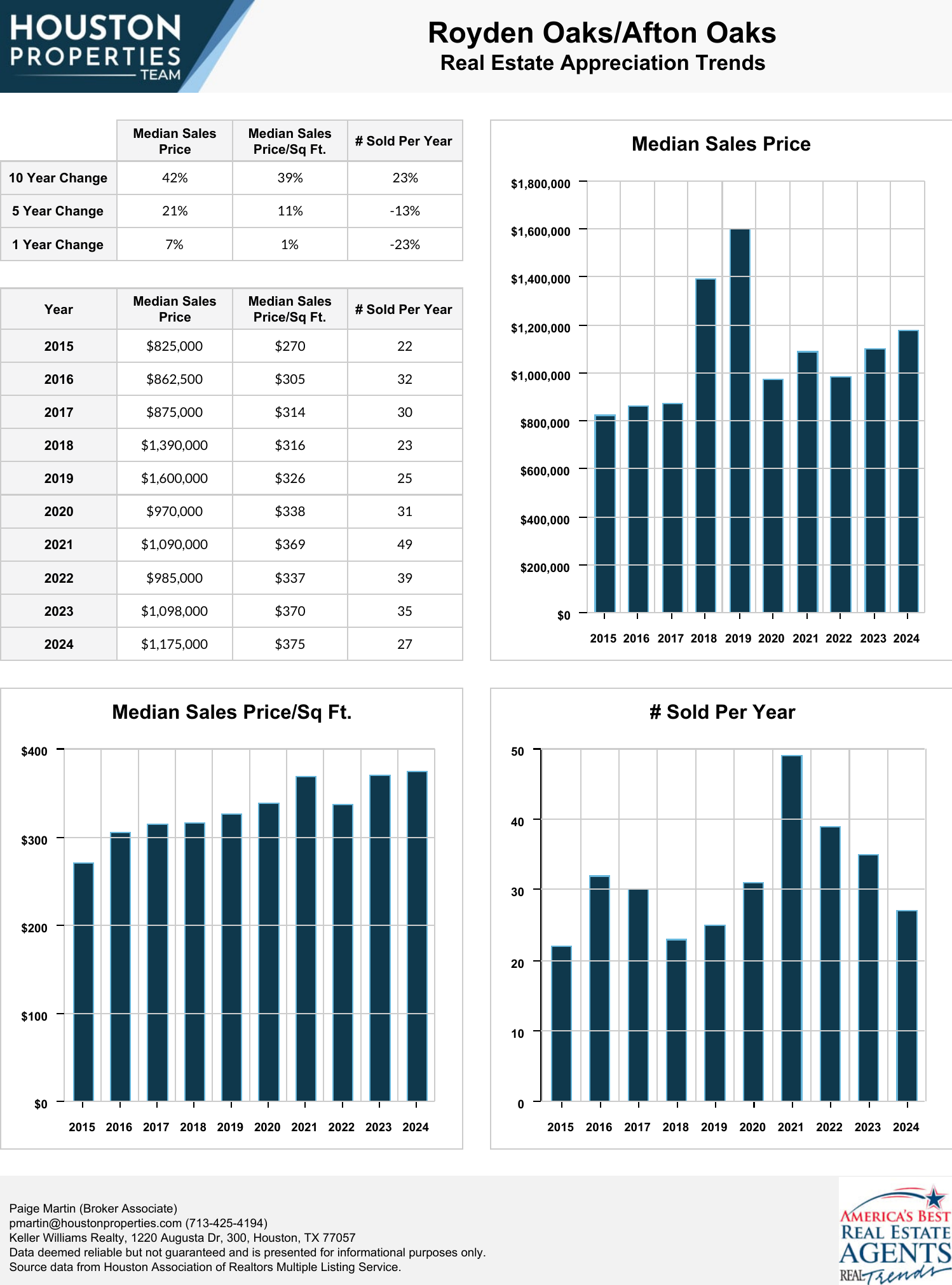 The Royden/Afton Oaks area comprises two upscale deed-restricted communities nestled east of Loop 610 and north of Southwest Freeway. The Royden Oaks area, in particular, is right next to the River Oaks neighborhood.
The Royden/Afton Oaks neighborhoods are known for their:
SHORT COMMUTE TO KEY NEIGHBORHOODS: Afton Oaks is only a 6-minute drive away from Uptown District, home to over 2,000 businesses. It is also close to other upscale neighborhoods, such as River Oaks District and Highland Village.

PROXIMITY TO HOUSTON'S BEST RETAIL: Afton Oaks is just across from The Galleria, which has over 350 retail stores and establishments.

WELL-MAINTAINED COMMUNITY: The Afton Oaks Civic Club handles common area maintenance, deed restriction enforcement, and other services like additional security. This allows residents to have pleasant and tranquil surroundings.

EXCLUSIVITY: The Afton Oaks Neighborhood is home to some of Houston's most expensive properties in Houston. This is mostly because of its convenient location, accessibility, and atmosphere.
The Royden/Afton Oaks area has approximately 700 homes. These neighborhoods are largely residential, featuring single-family homes with generous lot sizes between 8,000 to 10,000 square feet.
---
Royden Oaks/Afton Oaks Best Realtor Insights
Nestled on the northeast corner of Loop 610 and Southwest Freeway. Afton Oaks is one of Houston's older and most expensive neighborhoods.
Afton Oaks real estate feature a central Inner Loop location. World-class retail, business, employment hubs, and parks are nearby. Numerous entertainment and dining options are minutes away from the neighborhood.

The community has immediate access to Westheimer Road, West Loop, and Southwest Freeway. Afton Oaks is minutes away from key Houston areas. The Galleria, the Medical Center, and Downtown Houston are just minutes away.

Homes in the neighborhood are within a few blocks of some retail and entertainment destinations. This includes River Oaks Shopping Center and Galleria. Uptown Park and Highland Village Shopping Center are also nearby.

Oak trees line the streets of Afton Oaks, giving homes great curb appeal thanks to over 50 years of active civic club involvement.

One of Houston's older neighborhoods, Afton Oaks, feature gorgeously updated ranch-style homes from the 1950s. New construction is also available in the area. Afton Oaks real estate continues to post strong appreciation rates.

Homes in the area typically sit on spacious lots, ranging from 8,000 to 10,000 square feet. Like most Inner Loop neighborhoods, some of Afton Oaks' original homes have been torn down. The homes have been renovated into larger, custom-built homes.

Older Afton Oaks home sizes range from 2,000 to more than 4,000 square feet. Two-story new construction homes can offer 2,000 to just under 7,000 square feet of living space.

Most homes in the neighborhood can feature 3- to 4-bedroom floor plans. The most expensive Afton Oaks real estate can offer as many as 5 to 6 bedrooms.

Prices for Afton Oaks homes can start at around $400,000 and go up to more than $3,000,000.

The neighborhood has remained an extraordinary enclave amidst Houston's hustle and bustle. Thanks to its active HOA and deed restrictions.
---
Royden Oaks/Afton Oaks Maps, Location & Zip Code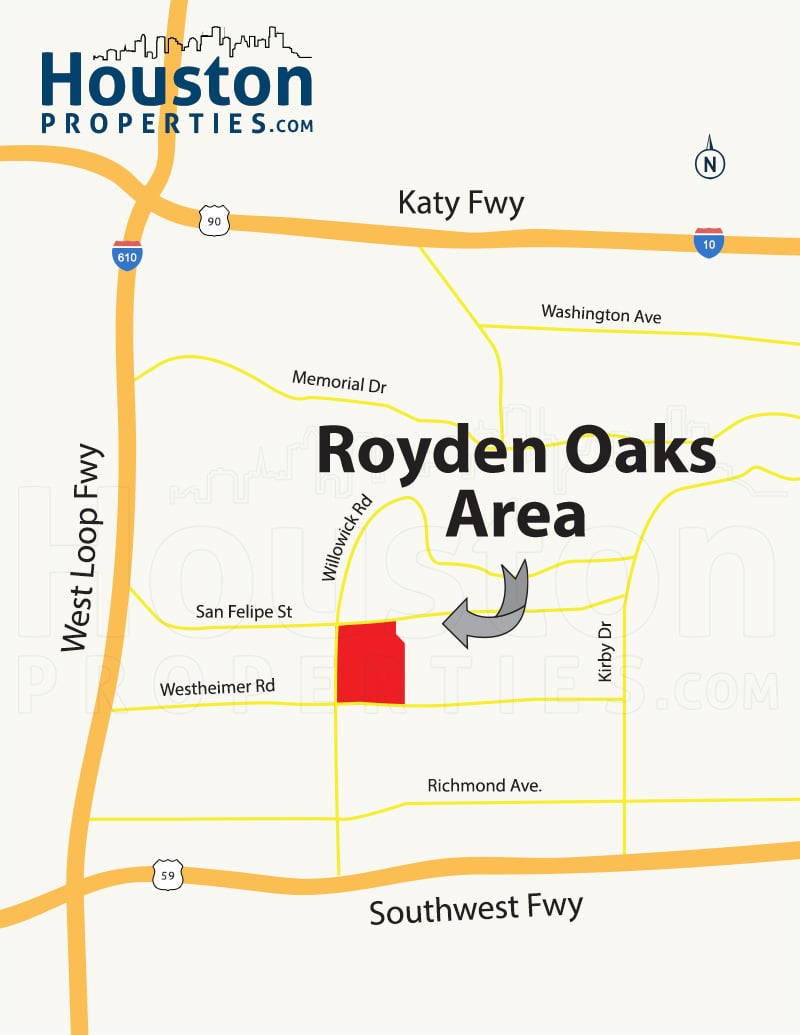 | Commute Time | Royden Oaks/Afton Oaks |
| --- | --- |
| Downtown (min) | 10 |
| Med Ctr (min) | 15 |
| Energy Corridor (min) | 20 |
| Galleria (min) | 5 |
| Exxon Campus (min) | 35 |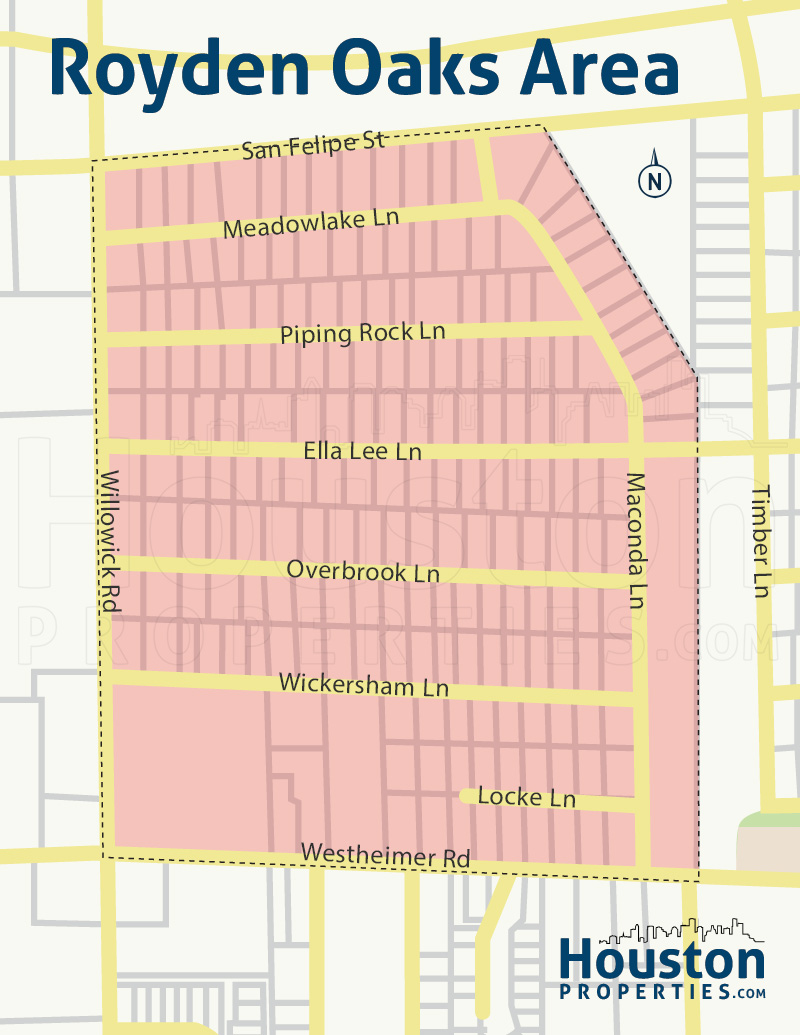 Highlights
Royden Oaks/Afton Oaks
Amenities
Royden/Afton Oaks has great access to the Southwest and West Loop Freeway.

Residents are near many retail, dining, and entertainment centers.
Golf Courses
- Memorial Park Golf Course and Driving Range
- Houston Country Club
- River Oaks Country Club
Run / Bike Trails
Running/Biking/Hiking Trails and Tracks:

- 400m Memorial Track - Paved
- Cullen Running Trails Center
- Memorial Park Hike and Bike Trailhead

Parks:

- Post Oak Park
- Judson Park
- River Oaks Park
- Ella Lee Park
- Gerald D. Hines Waterwall Park
- Vic Discroll Park
- Locust Park
Nearby Retail / Dining
Retail Shops:

- COS
- Tillys
- Dillard's
- Old Navy
- Express

Dining:

- Grotto Ristorante
- Piatto Ristorante
- Bayou City Seafoods & Pasta
- Seasons 52
- Liberty Taco
- Clutch City Coffee
- Luce Coffee Roasters
- Starbucks
- Cavo Coffee
- 7 Leaves Cafe

Entertainment:

- IPIC Theaters
- Regal Edwards Greenway Grand Palace
- XD Ride Adventure
- Jumping World Sharpstown
- The Richmond Arms Pub
- Ron's Pub
- Red Lion's British Pub
- Velvet Melvin Pub
- Loch Bar
- Revolve Kitchen + Bar

Groceries:

- Target Grocery
- Randalls
- Whole Foods Market
- Kroger
- H-E-B
Major Employers
- Westlake Corporation
- The Hanover Company
---
Royden Oaks/Afton Oaks Schools
| Top Middle Schools | Great Schools Ranking |
| --- | --- |
| Lanier Middle | 9 |
Royden Oaks/Afton Oaks homes are zoned to the Houston Independent School District (HISD).
Established in the 1920s, Houston ISD is the largest school district in the state (with 283 schools). The Texas Education Agency (TEA) gave the district a "Met Standard" rating in 2016. HISD features several International Baccalaureate (IB) World schools. Lamar High School, Lanier Middle School, and St. George Place Elementary School are among those.
Students in the area may attend the following public schools:
---
Elementary Schools
---
St. George Place Elementary School at 5430 Hidalgo St. St. George Place Elementary is an IB World School serving the Primary Years Programme (PYP). Also known as The School at St. George Place, it has received an "Exemplary" rating from the TEA.
---
Middle Schools
---
Lanier Middle School at 2600 Woodhead St. Located in Neartown/Montrose, Lanier Middle is an IB World School serving the Middle Years Programme (MYP). The school offers neighborhood (non-magnet) and Vanguard (gifted and talented) programs. Lanier opened in 1926 and was one of the first schools of HISD. The school also received the Texas Gold Performance Award in 2011.
---
High Schools
---
Lamar High School at 3325 Westheimer Rd. Home to the Texans, Lamar High School has a great Athletics program. They have one of the oldest lacrosse programs in the state. Their football team is one of the highest-ranking teams within the Greater Houston area. Lamar also boasts exemplary programs: Advanced Placement (AP) and IB Diploma Programme. They also have a business magnet program. Its IB Diploma programs include classes in 5 languages, Russian, Chinese, French, Italian, and Spanish.
---
Royden Oaks/Afton Oaks Houston Private Schools
---
The following are some of the more notable private schools near Royden Oaks/Afton Oaks.
Afton Oaks School at 4739 Ingersoll St. Afton Oaks School is a coeducational Montessori school for students grades PK-3.

Presbyterian School at 5300 Main St. Presbyterian School is a co-education school serving Pre-K to 8 students. It has a GreatSchools.org community rating of 5/5.

St. John's School at 2401 Claremont Ln. St. John's School is one of "America's Elite Prep Schools" according to Forbes.com, and "the best private school in Houston" according to the New York Times. St. John's admits students from K-12.

St. Anne Catholic School at 2120 Westheimer Rd. St. Anne Catholic School is an accredited Pre-K through 8th grade with a National Blue Ribbon Status from the Department of Education. It has a GreatSchools.org community rating of 4/5 stars.

Episcopal High School at 4650 Bissonnet St. A coeducational school with a curriculum based on academics, religion, fine arts, and athletics. It has a GreatSchools.org community rating of 4/5.

The Post Oak School at 4600 Bissonnet St. A Montessori school serving elementary to high school students. The elementary and middle school campus is located in Bellaire, while the high school campus is in the Museum District. It has a GreatSchools.org community rating of 4/5.
To find an updated listing of all Royden Oaks/Afton Oaks real estate zoned to any specific public school, please send an email to Paige Martin at PMartin@HoustonProperties.com with the property preference and budget that you're working with.
Note: For more detailed information on specific schools zoned to different Royden Oaks/Afton Oaks areas, please refer to our Houston Schools Guide OR email me.
Note: School zoning tends to change from year to year. The information provided above is accurate but not guaranteed. Please double-check by visiting the school's website.
---
Royden Oaks/Afton Oaks Real Estate Market
Royden Oaks/Afton Oaks Single-Family Home Sale Trends
---
Afton Oaks single-family homes for sale feature small to large lot sizes between 2,000 to 13,000 square feet.
Many of the neighborhood's original ranch-style homes from the 1950s still stand. Among these older homes, prices vary depending on the renovation done.
Afton Oaks' older single-family homes are in excellent condition. As such, homeowners are more likely to remodel their homes instead of tearing them down to build new homes.
Home styles vary from 1950's ranch-style to recently constructed homes. Other designs include traditional, Spanish, Mediterranean, and French-style homes.
Newer construction homes tend to go for higher prices. Custom-built home prices go from $700,000 to over $3,000,000.
---
Royden Oaks/Afton Oaks Townhome Sales Trends
---
The ongoing trend of replacing older homes gave rise to several patio homes and townhome developments in Afton Oaks.
Afton Oaks townhomes for sale are a popular option because they provide many of the benefits of single-family homes. These also include luxurious living of condos, but without the hefty price tag.
Many of these new townhomes sit near Loop 610. These spacious 3-story townhomes have quickly become a favorite among people. Among them are those interested in relocating to Houston due to their proximity to the Galleria and Downtown.
Townhomes and patio homes in Afton Oaks sit on smaller lots, ranging from 1,400 to 4,000 square feet. Most feature three-bedroom floor plans spread over 3,500 square feet of living space.
Newly constructed Afton Oaks townhomes for sale typically start at around $800,000.
---
Royden Oaks/Afton Oaks Condo Sale Trends
---
There are no high-rise condos within Afton Oaks. However, there are other options for condos in the River Oaks and Galleria area.
Condos near Afton Oaks include:
River Oaks
Galleria:
To see other condos within the Inner Loop, see Inner Loop Houston Condos. To see condos within the Galleria area, see Galleria Houston Condos. To see other condos within Downtown Houston, see Downtown Condos. To see condos within Museum District, see Museum District Condos.
The Houston Properties Team are expert in Royden Oaks/Afton Oaks real estate. Please contact us if you'd like to see Houston condos or learn more about buildings that could be a fit for you.
---
Royden Oaks/Afton Oaks TX History
---
The O'Meara and Stahlman families previously owned the farmland where Afton Oaks now sits. Development in the area started in the early 1950s.
Unlike other Houston neighborhoods, Afton Oaks had its civic club early before its full completion. Residents immediately established a civic club while the area was still under development. In 1955 the civic club was established. The Afton Oaks Civic Club formulated and heavily enforced deed restrictions in the neighborhood.
Aside from enforcing deed restrictions, the civic club works to protect the neighborhood's environment. They ensure trees and pocket gardens are well maintained. They also contracted the BFI to provide backdoor garbage collection.
Afton Oaks was selected for a "Neighborhoods to Standard" renovation program due to the active civic club. It is a four-year program that installs improved streets, curbs, and storm sewers in the neighborhood.
---
Fun Things To Do Near Royden Oaks/Afton Oaks
---
Credit to its location, Afton Oaks residents have easy access to the best Houston offers.
Some of Houston's best retail hotspots include the world-famous Galleria and River Oaks Shopping Center. Highland Village Shopping Center and Rice Village are within minutes of the neighborhood. Residents are mere minutes away from 1,000 commercial establishments within a mile radius.
Memorial Park (Houston's largest urban park) is 2.5 miles from Afton Oaks. It has several indoor and outdoor recreational facilities available to everyone. The Houston Arboretum and Nature Center are also within the park.
The neighborhood also features long-running Houston favorites. It includes Bayou City Seafood and Pasta (1990) and Nielsen'sDelicatessen (1952). Luling City Market (1981) and Ragin' Cajun (1974) counted.
Here are some of Afton Oaks Houston's must-visit places:
Dining
Grotto Ristorante
Blue Onyx Bistro
Seasons 52
Ouzo Bay
Sage Restaurant
Loch Bar
The Oceanaire Seafood Room
Bosscat Kitchen & Libations
Bayou City Seafood & Pasta
Le Colonial
Nightlife
Kapri Ultra Lounge
Liquid Lounge
Ovations
Uforia Lounge
Uropa Nightclub & Lounge
The Black Swan Nightclub
Lumen
Mr X Bar and Lounge
Groceries
Target Grocery
Randalls
Kroger
Whole Foods Market
Hebert's Specialty Meats
Renwick Food Market
H-E-B
Run/Bike/Hike Trails
Memorial Park Hike and Bike Trails
Judson Park
Gerald D. Hines Waterfall Park
Bark Park
Grady Park
Ware Family Park
Feld Park
River Oaks Park
Huffington Park
Mulberry Park
Retail Centers
Dillard's
Macy's
Express
Windsor
Anthropologie
Old Navy
Urban Outfitters
Aeropostale
Nordstrom Rack
H&M
---
Best Royden Oaks/Afton Oaks Realtor – Paige Martin
---
As featured on Fox News in the Morning, Houston Business Journal, and Houston Magazine, Paige Martin, a consistent Top Producing Broker-Associate and head of the Houston Properties Team, is ranked as one of the top residential real estate agents in the world.
---
Best Houston Real Estate Resources
---