Most Expensive Afton Oaks Homes For Sale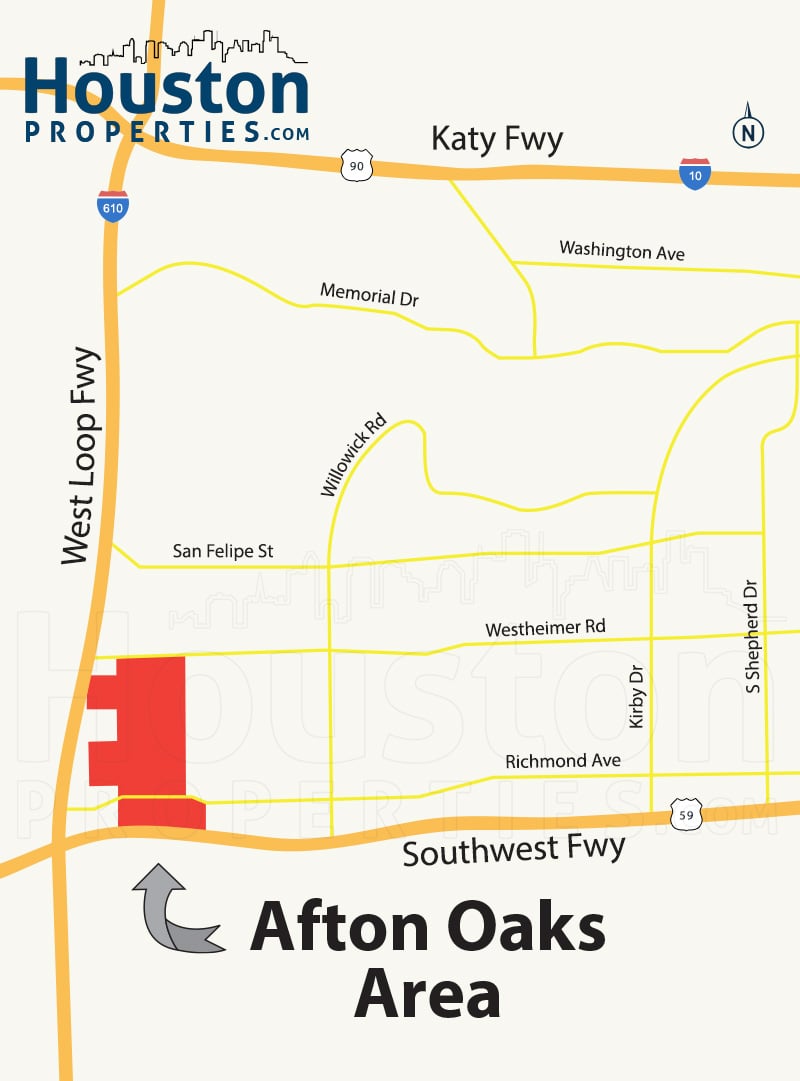 Afton Oaks is an affluent, deed-restricted neighborhood within Houston's Inner Loop. Like the neighboring River Oaks, it is an enclave with luxury homes and mansions.
Afton Oaks is one of the most expensive neighborhoods in Houston.
Factors that contribute to this reputation include:
Gorgeous neighborhood: Afton Oaks boasts of excellently maintained or updated homes built in the 1950's. The esplanade that runs along Newcastle Drive displays a canopy of hardwood trees that curve through pocket gardens to the rest of the neighborhood.
Great location: Afton Oaks enjoys the convenience of being near freeways, major shopping destinations and business districts. It is right across the Galleria and within a few minutes from Greenway, Downtown Houston, and Texas Medical Center.
Security: The area is patrolled by off-duty Houston policemen in marked cars for additional security.
Afton Oaks Houston Resources:
For more information on available Afton Oaks luxury real estate for sale, call Paige Martin at
713-425-4194 or email [email protected]
Luxury Afton Oaks Real Estate For Sale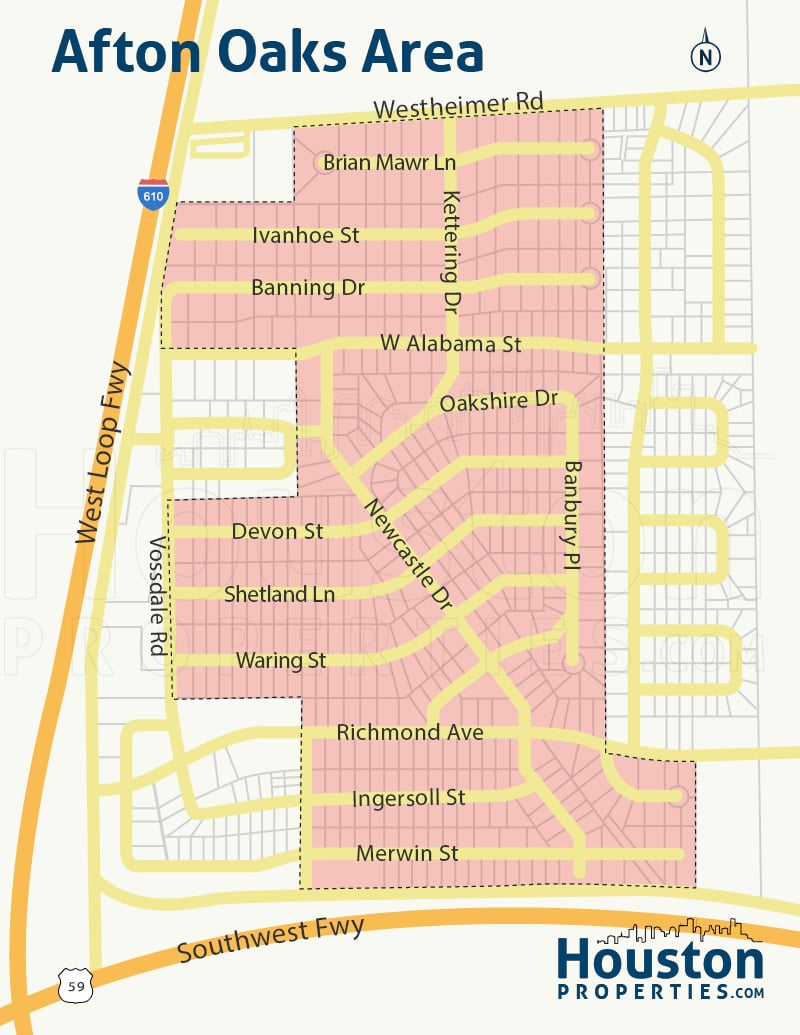 Afton Oaks lies along two major freeways: Interstate 610 and US Highway 59. It is is bordered by Westheimer Road to the north, Union Pacific's Mid lane to the east, Southwest Freeway (US Highway 59) to the south, and Interstate 610 to the west.
Homes for sale in Afton Oaks vary from 1950's ranch-style properties to recently constructed traditional, Spanish, Mediterranean, and French-inspired houses. Afton Oaks single-family homes for sale feature lot sizes between 8,000 to 10,000 square feet.
Afton Oaks has a very active civic organization. Afton Oaks is also among Houston's "Neighborhoods to Standard", a renovation program that calls for new streets, storm sewers, and curbs.
The Afton Oaks Civic Club provides services for the community such as 24-hour patrol service, backdoor garbage pickup, and maintenance of all greenery in the esplanades.
They also contributed to the "quiet zone" along the freight rail between Afton Oaks, River Oaks, Bellaire, and West University. The civic club also requires train operators to limit horn usage when passing through these areas.
Afton Oaks Houston: Fun Things To Do In The Neighborhood
Afton Oaks is right across the world-famous Galleria. The community is only a few minutes from Houston's largest park, Memorial Park. The park offers many recreational activities such as a public golf course, tennis courts, sports fields, playgrounds, a swimming pool, an arboretum, and jogging and biking trails.
Afton Oaks along with River Oaks is considered one of Houston's "Super Neighborhoods".
Several long running Houston favorites are within the neighborhood. These include: Bayou City Seafood and Pasta (1990), Nielsen's Delicatessen (1952), Luling City Market (1981), and Ragin' Cajun (1974).
Other places to visit within Afton Oaks include:
Dining
Omaha Steaks
Serenitea
Narin's Bombay Brasserie
Richmond Chill
Cedar's
Grotto Ristorante
Le Peep
Kiran's
Sullivan's Steakhouse
Nit Noi Restaurant
Ambassador Chinese Restaurant
Nightlife
Shopping
Fancy, LLC
Miwa Fashions
Micci Marmalade Fashion Studio
Impression Bridal
Max Lang Belts & Buckles
Serious Cigars
Golfsmith
Hebert's Specialty Meats
Paige Martin – Afton Oaks Houston Realtor
As featured on Fox News in the Morning, the Houston Business Journal, Houston Chronicle, and Houston Magazine, Paige Martin – a consistent Top Producing Broker-Associate and head of the Houston Properties Team – is ranked amongst the very top Keller Williams agents in the Houston area.
Paige is ranked as one of the top realtors in Afton Oaks, Houston, and the state of Texas. Read more about the over 65 awards she's won in the last few years.
Paige works with a tremendous number of buyers and sellers in Afton Oaks.
For a specific recommendation of neighborhoods, homes or properties based upon your personal style, goals & price point, please contact Paige Martin, head of the Houston Properties Team & Broker Associate at [email protected] or 713-425-4194.