Luxury Avalon Place Homes For Sale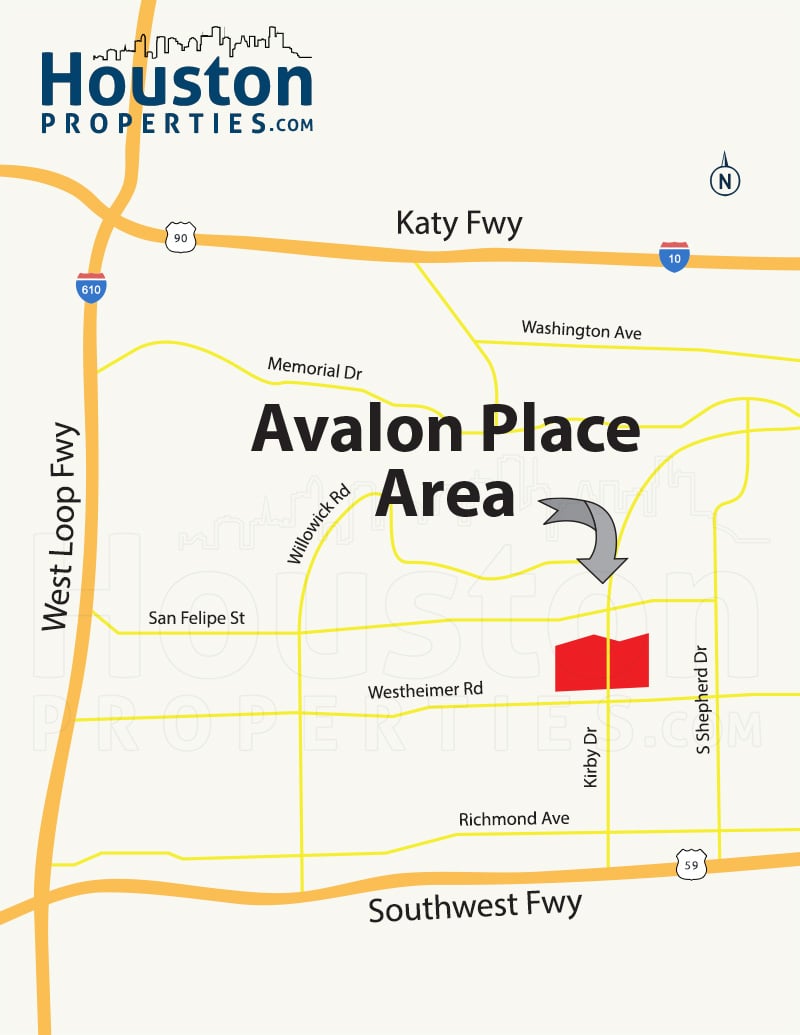 Avalon Place is the 7th most expensive Houston neighborhood.
Avalon Place is in the vicinity of the prestigious River Oaks. The neighborhood offers many conveniences that are well worth its price. Avalon Place provides its residents:
GREAT LOCATION: The neighborhood is within minutes from Houston's busiest business districts such as Uptown Houston, Greenway Plaza, and Downtown Houston.
SUPERIOR HEALTH CARE: Residents are a mere 15 minutes away from the world-class facilities and top medical practitioners of the Texas Medical Center.
ACTIVE HOA: The Avalon Property Owners Association enforces stringent deed restrictions that preserve the integrity and property values of the neighborhood.
STRONG CHARACTER: Nestled between River Oaks and Montrose, Avalon Place combines the grace of Montrose's historic homes and the luxuries of River Oaks, the most expensive Houston neighborhood.
LUXURY HOMES: Avalon Place homes exude the same sophistication of luxury River Oaks homes for sale, but on a more manageable price tag.
Avalon Place homes are very limited, resulting to the number of homes sold dropping by 38% in the last 5 years.
For-sale-by-owner homes are also common and homes don't stay long on the market. Working with the best Avalon Place realtor will make house hunting easier for prospective homebuyers.
For questions, advice, Avalon Place Houston real estate recommendations, or off-market MLS listings, contact Paige Martin, head of the Houston Properties Team and rated as the best Keller Williams Memorial realtor the last four years.
Avalon Place Houston Resources:
Avalon Place Homes Under $1m
NOTE: Avalon Place homes are among the fastest selling real estate in Houston. Some of the properties are off-market (not publicly listed). For more information on available Avalon Place homes for sale call Paige Martin at 713-425-4194 or email [email protected]
Avalon Place Houston Neighborhood Guide
Avalon Place was developed as a result of William Thomas Dickey's dreams to turn his farmlands to a subdivision to be called "College Heights". He did not live long enough to see this happen, but through the efforts of his son, Avalon Place was completed in the 1940's.
The neighborhood is located in one of the most expensive Houston zip codes, 77019. It covers 70 acres between Westheimer Road, San Felipe Street, Dickey Place, and Bellmeade St.
It is composed of 7 sections which initially followed its own deed restriction. However, in 2001, the Avalon Property Owners Association incorporated the deed restrictions into a single master document, which is still presently followed.
These deed restrictions include having provisions for signages, architecture, setback lines, and dwelling orientation.
Avalon Place is a strictly single-family residential subdivision. The neighborhood goes against the Houston trend of tearing down older homes. It instead mirrors Montrose's culture of updating older homes.
There are still a few new constructions in the neighborhood, rivaling the grandeur and scale of the recently renovated homes. These renovated homes come with substantial updating and modern amenities to meet the luxurious lifestyle of Avalon Place residents.
Regardless of age or size, the 251 single-family homes within Avalon Place Houston are all elegant and expensive. Avalon Place homes for sale are priced between $740,000 to over $3 million despite having older homes with a median year built of 1940.
Nearby zip codes include: 77098, 77002, 77007, 77046, 77027, and 77006. (View Houston zip code map)
Neighborhoods near Avalon Place include: River Oaks, Glendower Court, Oak Estates, Royden Oaks, Highland Village, Lynn Park, Afton Oaks, Chevy Chase, Alabama Place, Hyde Park, Upper Kirby, and Greenway Plaza.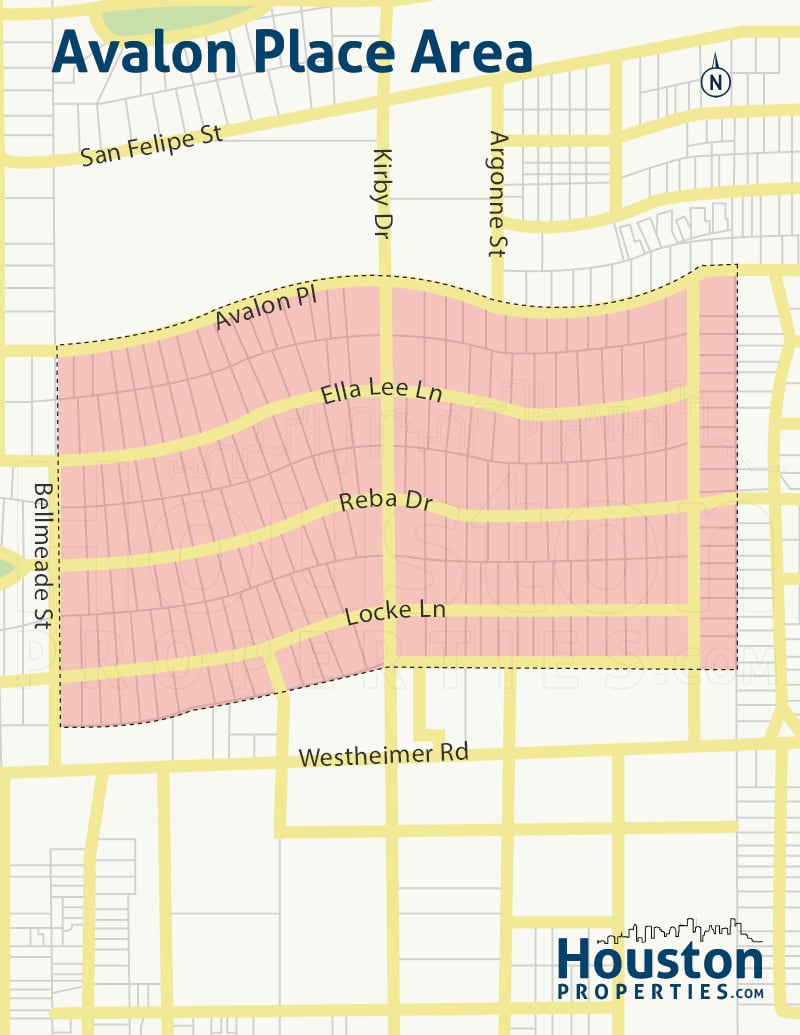 Avalon Place: Main Establishments Nearby
There are many shopping options for residents of Avalon Place. Highland Village, one of Houston's best shopping centers, is just a few minutes from the neighborhood.
The world-famous The Galleria and its specialty boutiques are just a short drive away along Westheimer Road and across the loop.
It is also less than 2 miles away from Montrose's antique stores, thrift shops, and funky boutiques.
Leash laws are strictly implemented within the neighborhood according to Houston ordinances, and the fenced areas of the adjacent Spark Park in the River Oaks Elementary School are restricted to dogs.
Despite being a strictly residential area, there are plenty of fine dining, musical entertainment, and great shopping locations clumped together along its borders.
Residents can do their grocery runs at the nearby Super K Food Store on South Shepherd Drive or at Whole Foods Market along Kirby Drive.
The Theatre district is also easily accessible from Avalon Place, delighting music and arts lovers in the neighborhood. There's also plenty of green spaces for residents who wish to enjoy outdoor activities.
This neighborhood is highly coveted due to its strategic Inner Loop location and proximity to Westheimer Road, one of the city's major thoroughfares.
Other fun places to visit near Avalon Place include:
Restaurants:
Avalon Diner
Shanghai River
Armando's
Chuy's
60 Degrees Mastercrafted
Cafe
West Cafe
The Teahouse
The Path of Tea
la Madeleine Country French
Nightlife
Downing Street Pub
Del Frisco's Grille
Kenneally's Irish Pub
Lizard's Pub
Marfreless Ventures
Roeder's Pub
Outdoors
Mary Elliott Park
Meyer Park
Homewood Park
Live Oak Park
Shopping
Nobility Studio
Malia Mills
Sloan-Hall
Tootsies
Billy Reid
Nicole Miller
Sam and Lili Boutique
Entertainment
River Oaks Theatre
VIA – Houston
Rienzi
Space Montrose
MFAH Bayou Bend
Churches
St. John the Divine Episcopal Church
St. Luke's United Methodist Church
St. Anne Catholic School
River Oaks Baptist Church
Bethany Christian Church
First Cumberland Presbyterian Church
Avalon Place Houston Realtor – Paige Martin
As featured on Fox News in the Morning, the Houston Business Journal, Houston Chronicle, and Houston Magazine, Paige Martin – a consistent Top Producing Broker-Associate and head of the Houston Properties Team – is ranked amongst the very top Keller Williams agents in the Houston area.
Paige is ranked as one of the top realtors in Avalon Place Houston, and the state of Texas. Read more about the over 65 awards she's won in the last few years.
Paige works with a tremendous number of buyers and sellers within the Inner Loop.
For a specific recommendation of neighborhoods, homes or properties based upon your personal style, goals & price point, please contact Paige Martin, head of the Houston Properties Team & Broker Associate at [email protected] or 713-425-4194.