Bell Heights Houston Real Estate Guide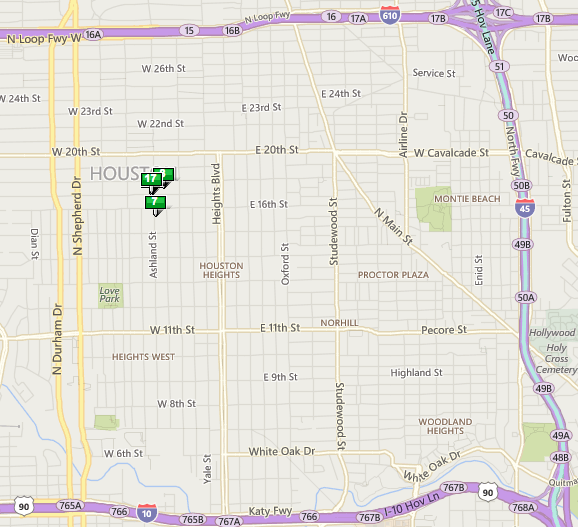 Located along 17th St within the historic Houston Heights area, Bell Heights is a new construction three-story property complex with 24 luxury lofts and 20 single-family cottages.
The gated enclave features a mix of contemporary lofts and traditional custom homes reminiscent of the upscale Garden District neighborhood of New Orleans.
1714 Ashland Condominiums is also within Bell Heights. 1714 Ashland features 24 luxury condos that come in 3- and 2-bedroom floorplans.
Bell Heights is a private gated enclave by Houston-based, custom-home developers Rohe & Wright Builders.
Just a block from 19th Street, one of Houston's most pedestrian-friendly streets, Bell Heights sits on a prime location at the heart of Houston Heights. The community is within a thriving dining and cafe scene, as well as an array of quaint and sophisticated shops.
The Heights has enjoyed one of the best 10-year real estate appreciation rates in Houston. It is one of the 10 hottest Inner Loop neighborhoods in terms of real estate appreciation.
Bell Heights' Inner Loop location gives residents easy access to Downtown Houston, Galleria, and other main city entertainment and business hubs. It has direct access to North Houston via I-45 and the Energy Corridor via I-10, allowing a relatively easy commute to main job centers outside the Loop.
Bell Heights homes for sale will feature both loft and cottage configurations, ranging from 1,500 to over 4,000 square feet.
Rohe & Wright repurposed the historic 1950s structure of the former Southwestern Bell switching station to become a contemporary luxury home that embraces its rich past.
Lofts will have a unique floor plan with two or three bedrooms and a private balcony. If buyers secure a unit early, they can customize it with porcelain tile, stone, or hardwood floors; or choose upgrades such as Viking appliances in the kitchen.
The style of Bell Heights is inspired by the famous Garden District of New Orleans, where homes boasts Greek Revival, Italianate, and Victorian styles framed with magnificent, manicured gardens.
Prices for these Bell Heights Houston real estate properties start at around $700,000 but can go up to as much as $1,999,900 for the corner, three-level penthouse loft.
For more information on available Bell Heights homes for sale
and how they compare to nearby neighborhoods
call Paige Martin at 713-425-4194 or email [email protected]
Guide To Bell Heights Houston Homes for Sale
Bell Heights is the newest project by Rohe & Wright Builders, a Houston-based developer that specializes in creating distinguished, custom homes.
Rohe & Wright are popular for their luxury real estate projects. One of their recent creations is Saint Honore, a River Oaks luxury townhomes complex with parisian-inspired architecture.
Similar to their previous projects, Bell Heights is a luxury property consisting of 24 spacious, lavish lofts and 20 charming, period-style cottages located in the thriving Houston Heights area, a very desirable area to live in the city.
Historic buildings, charming locally owned shops, beautiful architecture, and trendy restaurants and bars can be found within this neighborhood.
The three-story cottages will be free-standing homes that will feature the traditional, Victorian style that is seen throughout Houston Heights. It will have three to four bedrooms and up to 2,900 square feet of living space. These Bell Heights homes for sale will have their own garage and balcony.
Bell Heights Houston real estate property, whether loft or cottage, will feature contemporary furnishing and fixture with an option to  customize finishes including floors and kitchen appliances.
Bell Heights Condos and Lofts: 1714 Ashland
The private gated community of Bell Heights in Houston Heights features 24 contemporary lofts housed in 1714 Ashland Condos.
The Belle Heights lofts for sale will have an open-plan living area and two or three bedrooms with a private balcony. These units will range in size from 1,500 to over 4,000 square feet.
A corner loft spanning three levels will have its own rooftop terrace and outdoor kitchen. This unit will have three bedrooms and three and a half baths for a total floor area of 6,315 square feet.
There is a 10,000-square-foot rooftop enclave above the lofts with skyline city views, a spa, seating areas, arbor, kitchen, and a firepit lounge. It can be accessed by residents of Bell Heights Houston all year.
Belle Heights Houston loft residents is alloted with a space or two at the sub-basement parking, ensuring privacy and safety for their vehicles.
Bell Heights amenities include:
Outdoor terrace
Viking appliances
Private park with fountains
A 10,000 square foot rooftop retreat with outdoor kitchen
Garden
Lounge
Sun Deck
Spa
Putting green
Parking
Top-Ranked Bell Heights Realtor – Paige Martin
As featured on Fox News in the Morning, the Houston Business Journal, Houston Chronicle, and Houston Magazine, Paige Martin – a consistent Top Producing Broker-Associate and head of the Houston Properties Team – is ranked amongst the very top Keller Williams agents in the Houston area.
Paige is ranked as one of the best realtors in Houston, and the state of Texas. Read more about the over 65 awards she's won in the last few years.
Paige works with a tremendous number of buyers and sellers within Houston.
For a specific recommendation of neighborhoods, homes or properties based upon your personal style, goals & price point, please contact Paige Martin, head of the Houston Properties Team & Broker Associate at [email protected] or 713-425-4194.