Guide To Bellaire Homes For Sale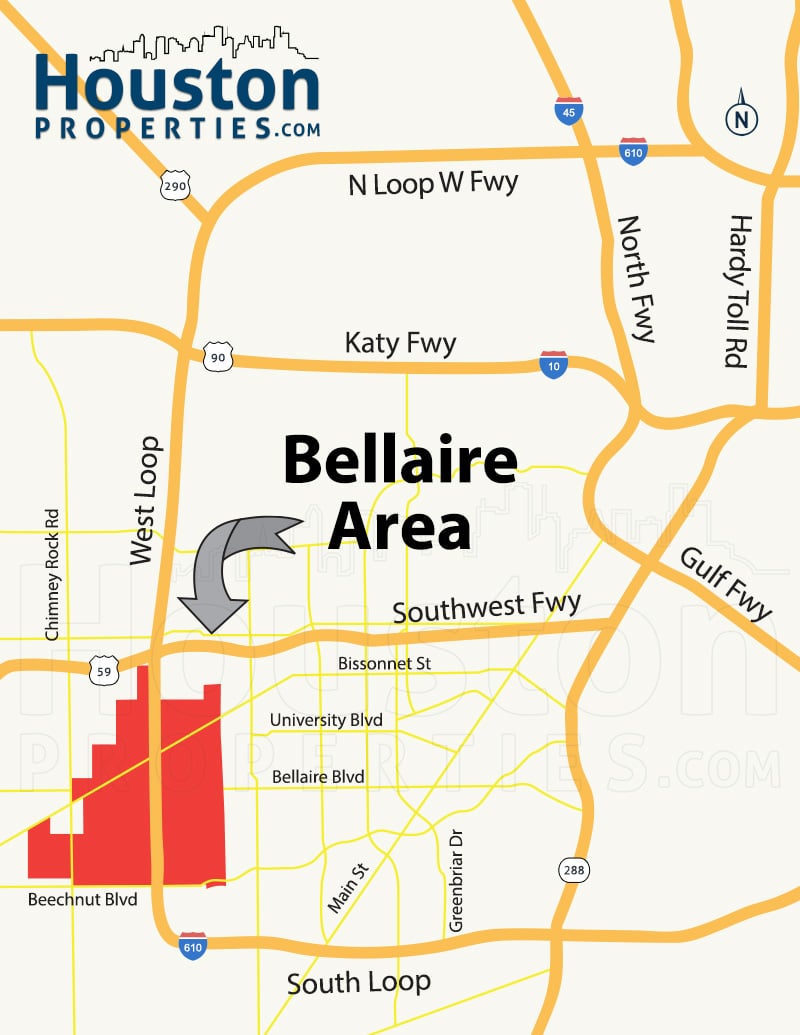 Located within the Houston-The Woodlands-Sugar Land Metropolitan Area, Bellaire is bordered by Houston and West University.
Important Houston districts and hubs are also within easy reach, including Downtown Houston, the Texas Medical Center, and The Galleria.
Bellaire's red signs and tree-lined streets lend the community a small town charm.
Homes in Bellaire vary in size and architectural style. Lots average 7,000 square foot lot in size. In comparison, West University has an average lot area of 5,000 square feet.
Bellaire High School, one of the highest rated schools in the country, is zoned to the neighborhood. National Blue Ribbon School award winning Pin Oak Middle School also serves the community.
Bellaire has a Harris County 77401 zip code and has its own parks and recreation, police, and fire departments.
Contact Paige Martin, a top-ranked Houston realtor and head of the Houston Properties Team for questions and advice about Bellaire homes for sale.
Bellaire TX Resources:
NOTE: Bellaire homes are among the fastest selling real estate in Texas. Some of the properties are off-market (not publicly listed). For more information on available Bellaire Houston homes for sale call Paige Martin at 713-425-4194 or email [email protected]
Bellaire TX Neighborhood Guide
One of the best things about Bellaire is its central location and its great access to the Southwest (Interstate 59) and West Loop S (Interstate 610) freeways. Several main streets and thoroughfares run through and around the neighborhood as well, making the commute fairly easy for Bellaire residents.
Work centers like the Medical Center and Downtown Houston are within a few minutes' drive, along with cultural, entertainment, and shopping centers in Houston.
Bellaire homes for sale are near parks, libraries, and excellent schools. Bellaire Zindler Park, a 7.5-acre park, offers amenities for swimming, tennis, and baseball. It also has a picnic area and a playground, along with a civic center and a recreation center.
Bellaire started out as part of William Marsh Rice's vast Rice Ranch. William Wright Baldwin bought an eastern parcel of land with a six-mile buffer zone from Houston. He built small truck farms on the land called Westmoreland Farms. Bellaire was built in the center to serve as a residential neighborhood and a trading hub.
Bellaire, which means "good air," was originally a humble neighborhood of 25 homes, but after the housing boom post-World War II and the teardown boom in the 1980s, the city is now a collection of beautiful houses, parks, libraries, and commercial centers.
Bellaire is zoned to commercial, mixed use residential and commercial, and light industrial, but the city is mostly residential. Dubbed the "City of Homes," it has a nice, small town character while having the best access to Houston's commercial, cultural, and business districts.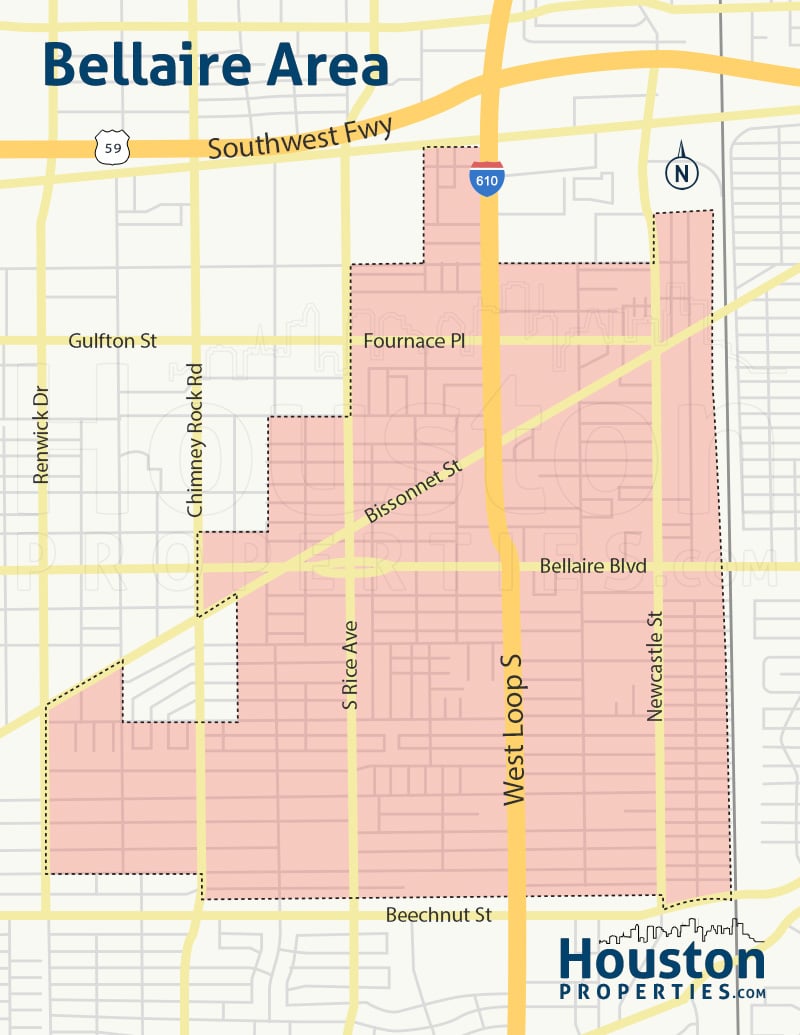 Fun Things To Do In Bellaire
There are a good number of shopping, entertainment, and outdoor recreational areas within and around Bellaire.
For those who love shopping, The Galleria, the River Oaks Shopping Center, and the Highland Village Shopping Center are highly accessible via the I-610. On the other hand, those who like outdoor activities won't have to look any further than the Bellaire Zindler Park, among the many other parks in the neighborhood.
Other must-visit places in Bellaire include:
Dining
Colleena's
Casa Dominguez Bellaire
La Madeleine French Bakery
Saltgrass Steak House
Thai Cottage
Charlie's Bar-B-Que & Catering
Costa Brava Bistro
Café Piquet
Bernie's Burger Bus Stop
Pappa Geno's
Bellaire Broiler Burger
Samurai Japanese Steak & Sushi House
Auntie Pasto's
MargieBeth's Bake Shop LLC
Romeros Trattoria Italian Grill
Fine Dining
Brennan's Restaurant
Cafe Annie
Damian's Cucina Italiana
Sorrento's Ristorante
Cafe Le Jadeite
Nightlife
Little Woodrow's
Firehouse Saloon
Richmond Arms Pub
Big Woodrow's
Pinot's Palette
The Deck on Fountainview
The West End
Grocery Stores
H-E-B Pantry Foods
Randall's Food Market
Davis Food City
Parks
Bellaire Zindler Park
Loftin Park
Paseo Park
Jaquet Park
Joe Gaither Park
Feld Park
Locust Park
Mulberry Park
Russ Pitman Park
Henshaw House Community Center & Nature Discovery Center
Evergreen Park
Horn Field
Lafayette Park
Bellaire Schools Information
Bellaire is home to some of the best schools in the area. It is under zip code 77401 in Harris County, zoned to the Houston Independent School District (HISD).
Elementary
Condit Elementary School at 7000 South 3rd Street. Condit Elementary School serves PK to 5 students. It has a student population of 648 and its students have above average TAKS scores. It has a TEA Exemplary rating and a GreatSchools.org rating of 9 out of 10.
Horn Elementary School at 4530 Holly Street. Horn Elementary School, like Condit, serves PK to 5 students. It is a magnet school with a TEA Exemplary rating. It has a GreatSchools.org rating of 10 out of 10.
Mandarin Chinese Language Immersion Magnet School at 6300 Avenue B.Affectionately called MCLIMS, it is a relatively new magnet primary school located in the former Gordon Elementary School. It caters to PK-5 students and has a diverse student body.
Ripley House Charter School at 4410 Navigation Boulevard. Ripley House is a co-educational charter school that has a student population of 1,530. It serves grades PK to 5 students.
Middle School
Pin Oak Middle School at 4601 Glenmont Drive. Pin Oak is a National Blue Ribbon School that serves students in grades 6 to 8. It as an Exemplary TEA rating and has a similarly excellent rating at GreatSchools.org, 10/10.
Ripley House Middle Campus at 4410 Navigation Boulevard. This is Ripley House Charter School's middle school campus. It serves grades grades 6 to 8 students.
High School
Bellaire High School at 5100 Maple Street. Bellaire High School is one of the best secondary schools in the area, offering great academics and athletics programs. It has produced a lot of professional athletes and other accomplished alumni with notable achievements in various fields.
Bellaire is also home to excellent private schools. Listed below are some of them:
Episcopal High School at 4650 Bissonnet Street. It is a co-educational private day school with a curriculum based on four pillars, Academics, Religion, Fine Arts, and Athletics.
The Post Oak School at 4600 Bissonnet Street. The Post Oak is a Montessori school with campuses in both Bellaire and the Museum District in Houston. It has received accreditation from both the Association Montessori Internationale (AMI) and the Independent Schools Association of the Southwest (ISAS).
Veritas Christian Academy at 7000 Ferris Street. It is a private school that offers an accelerated Classical Program. It also has excellent arts, academics, and athletics programs.
To find an updated listing of all Bellaire real estate zoned to any specific public school, please send an email to Paige Martin at [email protected] with the property preference and budget that you're working with.
*Note: School zoning tends to change from year to year, information provided above are accurate but not guaranteed. Please double check by visiting the school's website.
Bellaire TX Realtor – Paige Martin
As featured on Fox News in the Morning, the Houston Business Journal, Houston Chronicle, and Houston Magazine, Paige Martin – a consistent Top Producing Broker-Associate and head of the Houston Properties Team – is ranked amongst the very top Keller Williams agents in the Houston area.
Paige is ranked as one of the top realtors in Bellaire, Houston, and the state of Texas. Read more about the over 65 awards she's won in the last few years.
Paige works with a tremendous number of buyers and sellers within the Inner Loop.
For a specific recommendation of neighborhoods, homes or properties based upon your personal style, goals & price point, please contact Paige Martin, head of the Houston Properties Team & Broker Associate at [email protected] or 713-425-4194.