Bellaire TX Homes For Sale Under $600k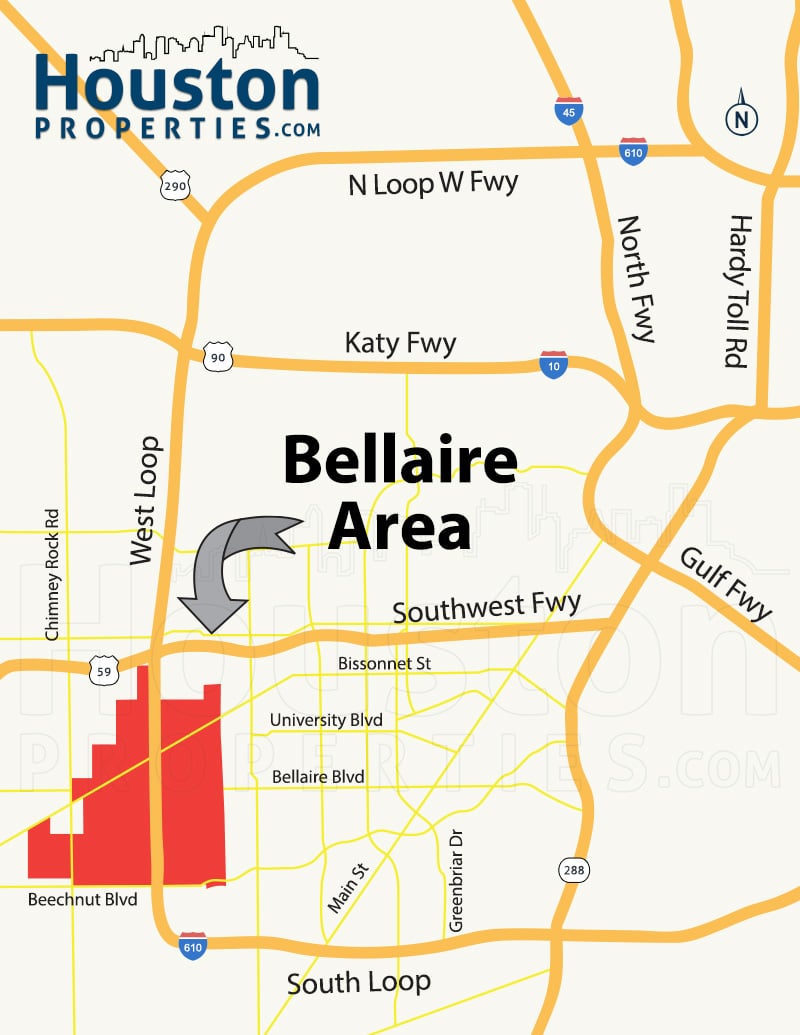 Bellaire, also known as the City of Homes, is located just south of The Galleria and Southwest Freeway. It is nestled next to Houston neighborhoods and the city of West University.
A city of mostly residential properties, Bellaire has some of the most affordable homes for sale within the Inner Loop.
Great schools, recreational parks, and job centers are also within minutes from the neighborhood. The West Loop S and Southwest Freeway provide Bellaire residents with easy access to The Galleria, Downtown Houston, the Texas Medical Center, and other commercial and business hubs in Houston.
There are a good number of Bellaire homes for sale for under $600k, and these properties vary in sizes and types. Some are older bungalows, while others are new construction townhomes.
Contact Paige Martin, head of the Houston Properties Team & Broker Associate at [email protected] or 713-425-4194 for advice or questions about buying or selling a Bellaire townhome.
Bellaire TX Resources:
For more information on available Bellaire townhomes for sale call Paige Martin at 713-425-4194 or email [email protected]
Bellaire TX Neighborhood Guide
Like most Inner Loop neighborhoods, properties in Bellaire are prized for their location and their access to important Houston districts. The Galleria and River Oaks Shopping Center are north of the city, while Downtown Houston, the Museum District, and the Medical Center are at the east.
Bellaire boasts of its own police, fire, and recreation departments. It has its own libraries and is a member city of the Metropolitan Transit Authority of Harris County, Texas (METRO).
Bellaire homes for sale are zoned to the Houston Independent School District (HISD)'s Bellaire High School, Pin Oak Middle School, and Horn Elementary School.
Bellaire High School has appeared in lists of top schools in the United States for years, while the Pin Oak Middle School has won a National Blue Ribbon School award. Charter schools and private schools are also available in and around Bellaire.
Bellaire started out in 1908, when businessman William Wright Baldwin of the South End Land Company purchased a parcel of land from William Marsh Rice's Rice Ranch. Upon it, Baldwin built small truck farms with Bellaire at the center to serve as a residential neighborhood.
The city had a modest population until the post-WWI housing boom which brought many new residents in the area. A renovation boom in the 1980s replaced some of the smaller bungalows in the city and revived them into beautiful two-story homes.
Bellaire townhomes are also available along with single-family homes. The area's competitive prices make Bellaire a popular choice for starter families and young professionals.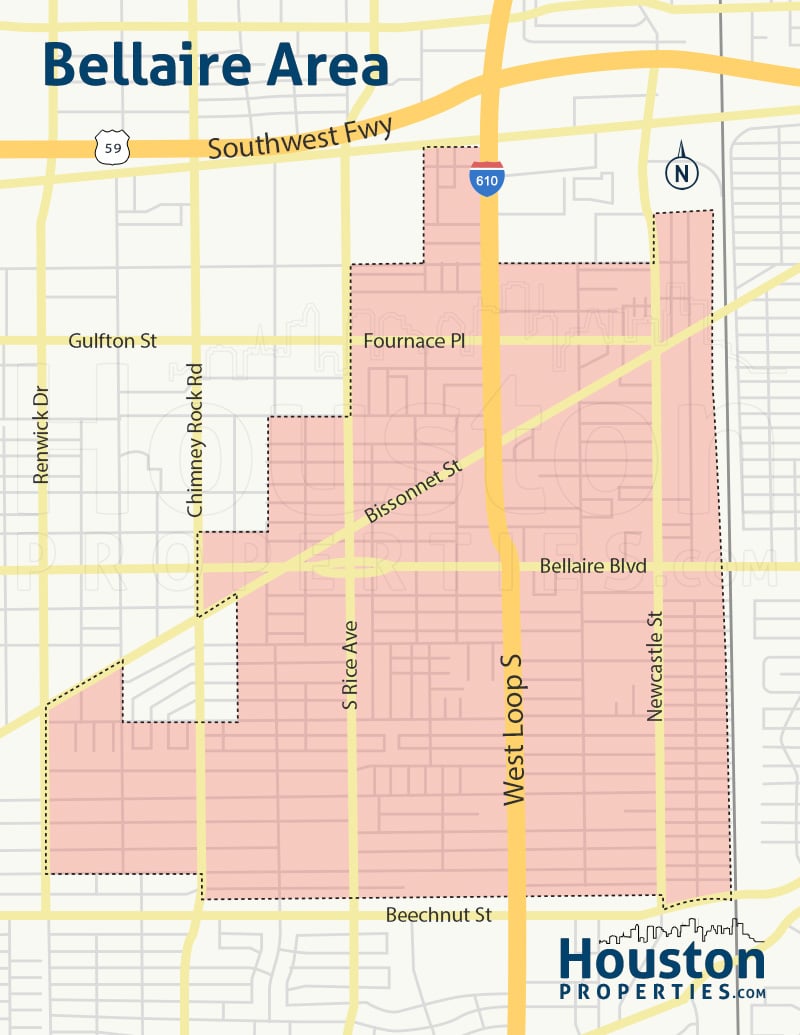 Bellaire Schools Information
Bellaire is home to some of the best schools in the area. It is under zip code 77401 in Harris County, zoned to the Houston Independent School District (HISD).
Elementary
Condit Elementary School at 7000 South 3rd Street. Condit Elementary School serves PK to 5 students. It has a student population of 648 and its students have above average TAKS scores. It has a TEA Exemplary rating and a GreatSchools.org rating of 9 out of 10.
Horn Elementary School at 4530 Holly Street. Horn Elementary School, like Condit, serves PK to 5 students. It is a magnet school with a TEA Exemplary rating. It has a GreatSchools.org rating of 10 out of 10.
Mandarin Chinese Language Immersion Magnet School at 6300 Avenue B.Affectionately called MCLIMS, it is a relatively new magnet primary school located in the former Gordon Elementary School. It caters to PK-5 students and has a diverse student body.
Ripley House Charter School at 4410 Navigation Boulevard. Ripley House is a co-educational charter school that has a student population of 1,530. It serves grades PK to 5 students.
Middle School
Pin Oak Middle School at 4601 Glenmont Drive. Pin Oak is a National Blue Ribbon School that serves students in grades 6 to 8. It as an Exemplary TEA rating and has a similarly excellent rating at GreatSchools.org, 10/10.
Ripley House Middle Campus at 4410 Navigation Boulevard. This is Ripley House Charter School's middle school campus. It serves grades grades 6 to 8 students.
High School
Bellaire High School at 5100 Maple Street. Bellaire High School is one of the best secondary schools in the area, offering great academics and athletics programs. It has produced a lot of professional athletes and other accomplished alumni with notable achievements in various fields.
Bellaire is also home to excellent private schools. Listed below are some of them:
Episcopal High School at 4650 Bissonnet Street. It is a co-educational private day school with a curriculum based on four pillars, Academics, Religion, Fine Arts, and Athletics.
The Post Oak School at 4600 Bissonnet Street. The Post Oak is a Montessori school with campuses in both Bellaire and the Museum District in Houston. It has received accreditation from both the Association Montessori Internationale (AMI) and the Independent Schools Association of the Southwest (ISAS).
Veritas Christian Academy at 7000 Ferris Street. It is a private school that offers an accelerated Classical Program. It also has excellent arts, academics, and athletics programs.
To find an updated listing of all Bellaire real estate zoned to any specific public school, please send an email to Paige Martin at [email protected] with the property preference and budget that you're working with.
*Note: School zoning tends to change from year to year, information provided above are accurate but not guaranteed. Please double check by visiting the school's website.
Bellaire TX Realtor – Paige Martin
As featured on Fox News in the Morning, the Houston Business Journal, Houston Chronicle, and Houston Magazine, Paige Martin – a consistent Top Producing Broker-Associate and head of the Houston Properties Team – is ranked amongst the very top Keller Williams agents in the Houston area.
Paige is ranked as one of the top realtors in Bellaire, Houston, and the state of Texas. Read more about the over 65 awards she's won in the last few years.
Paige works with a tremendous number of buyers and sellers within the Inner Loop.
For a specific recommendation of neighborhoods, homes or properties based upon your personal style, goals & price point, please contact Paige Martin, head of the Houston Properties Team & Broker Associate at [email protected] or 713-425-4194.