Bellaire Houston Neighborhood Maps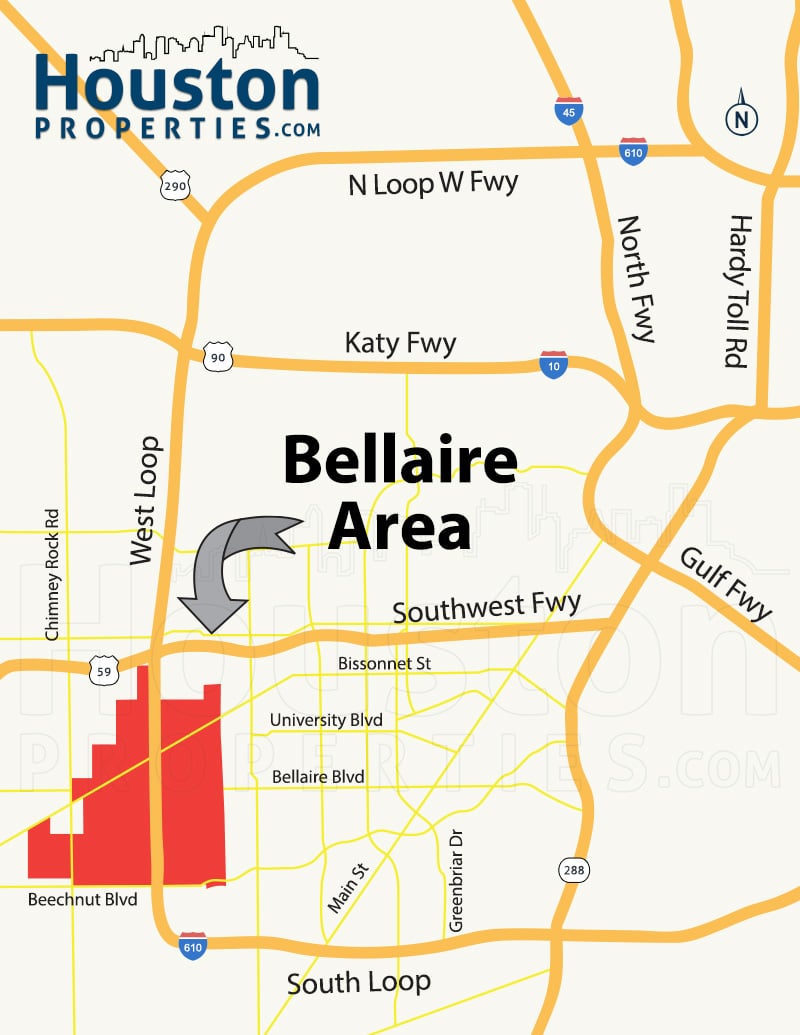 Bellaire Houston is located south of the Galleria area and west of West University Place and Southside Place. Bellaire is one of the 14 Hottest Houston Inner Loop Neighborhoods in real estate appreciation.
The name "Bellaire" originated from "good air" or "good breeze", attributed to the neighborhood's small-town, family-friendly community.
It is primarily a residential community, earning its monicker, "The City of Homes." Located south of the Southwest Fwy, West Loop South runs through the city and leads to Uptown Houston, making it a popular bedroom community.
The City of Bellaire, Texas is roughly bordered by the following streets: Westpark Dr., Anderson St., South Rice Ave., Elm St., 6th St., Dashwood St., Chimney Rock Rd., Bissonnet St., South Renwick Dr., Maple St., Mimosa Dr., and Newcastle St.
Bellaire Houston Related Resources:
Two New Bellaire Houston Neighborhood Maps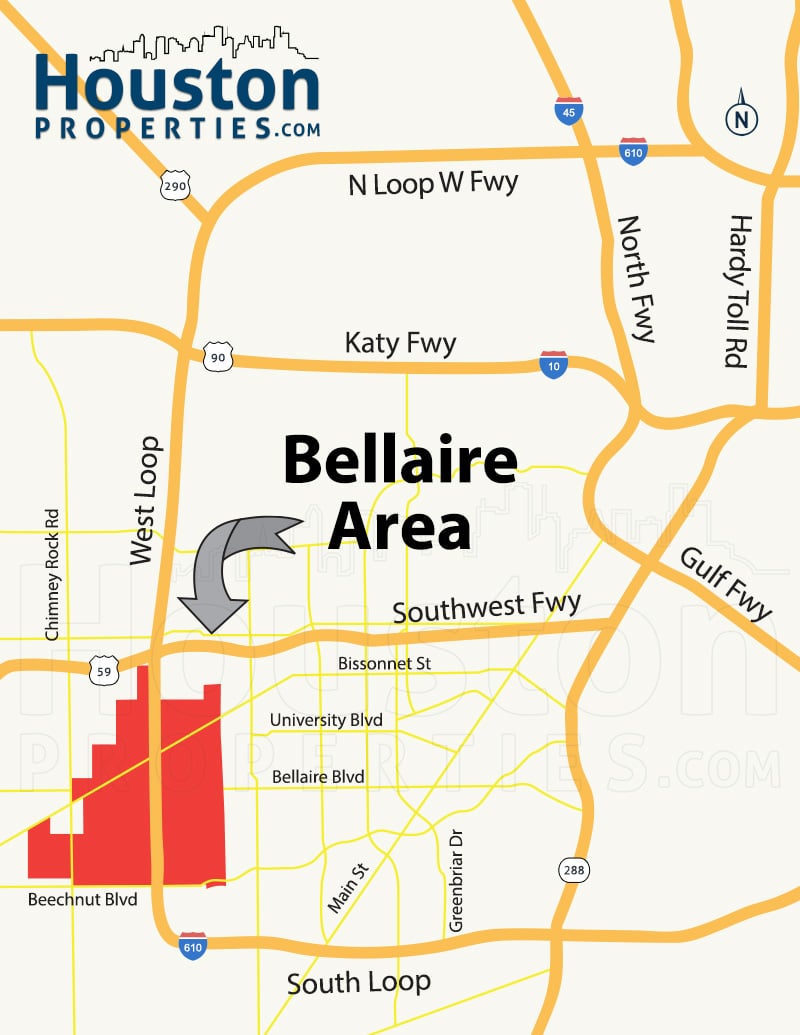 Bellaire Houston Maps: Neighborhood
Bellaire TX was founded in 1908 by William Wright Baldwin in what used to be a 9,500-acre ranch.
Bellaire was originally an agricultural trading area. More than a hundred years later, it is now a place that provides the conveniences of a big city, with a small-town charm.
The city is within Harris County, in the Houston-Sugar Land-Baytown metropolitan area. Bellaire Houston zip codes include 77401 and 77402.
Bellaire employs zoning laws and has properties zoned for light industrial, commercial, and residential uses. Majority of the businesses are located on high-rises along I-610, while the rest of the area remains to be mostly residential.
Its cultural diversity is reflected by the variety of dining options ranging from Japanese, Mediterranean, Italian, classic American, and Mexican.
There's also plenty of shopping options. The Bellaire Triangle Center fronts Bellaire Blvd., Chimney Rock Rd., and Bissonnet St., and has been a prime retail spot for over 50 years.
The area has several bus lines running through Post Oak, Chimney Rock, and Bissonnet.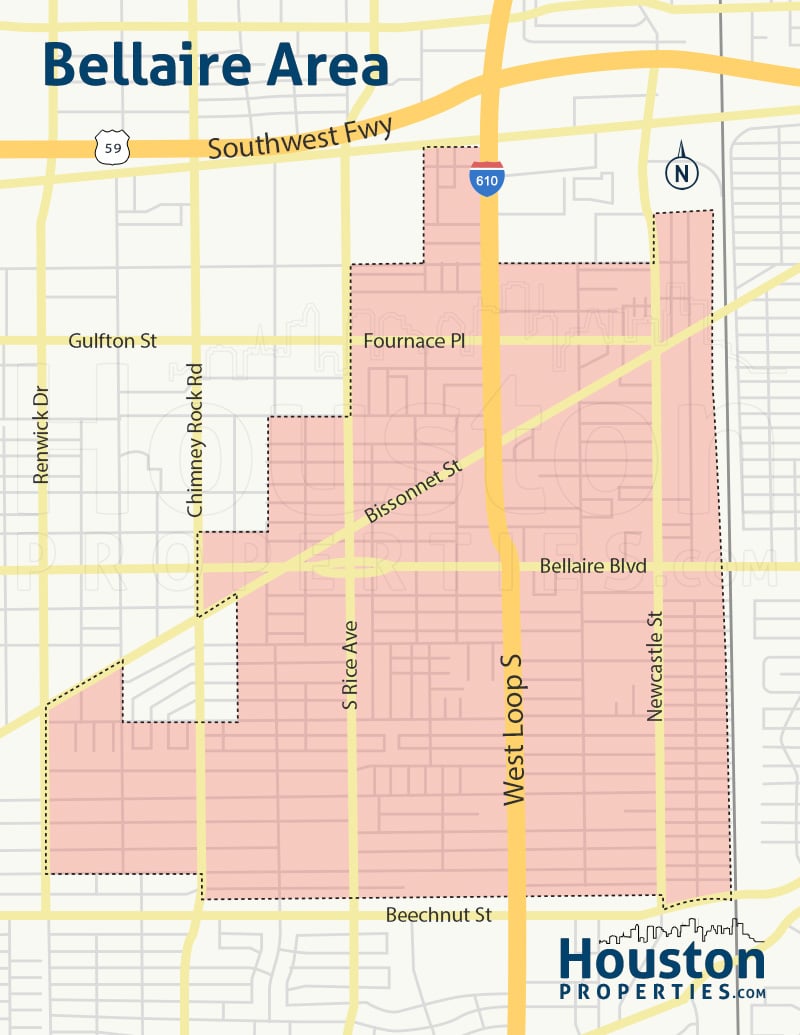 Bellaire Houston Real Estate Guide
Most of the homes for sale in Bellaire Houston are 1950s and 1960s ranch-style properties. There are also mansions, traditional American bungalows, and newly-constructed 2 and 3-story homes.
Bellaire homes for sale generally have larger and less expensive lots compared to neighboring West U.
Bellaire Texas has shown an ongoing trend to tear down older homes to replace with new constructions, or upgrade them to houses with modern design.
The city is a great option for those who find West University Place homes beyond their budget, but want to enjoy proximity to the Houston business districts, exemplary municipal services, and great schools.
There's plenty of green space in Bellaire. The city has 14 parks where residents can have picnics and enjoy various outdoor activities: Pin Oak Park, Feld Park, Locust Park, Vic Driscoll Park, Evelyn's Park Conservancy, Bellaire-Zindler Park, Russ Pitman Park, Evergreen Park, Lafayette Park, Joe Gaither Park, Jacquet Park, Mulberry Park, Paseo Park, and Officer Lucy Dog Park.
Bellaire Houston Subdivisions
The City of Bellaire Texas is home to many subdivisions, including:
Bellaire Place
Teas Gardens
Mulberry Manor
Westmoreland Farms
Pin Oak Estates
Carroll Subdivision
Braeburn Country Club Estates
Southdale
Broad Acres
Medinah Place Townhomes
Braeburn Gardens
Richmond Plaza
Maplewood
Loveland Terrace
Cedar Oaks
Heart of Bellaire
Willow Lane Place
Blume Acres
Oakdale
Warwick Village
Post Oak Terrace
Lee Manor
Evergreen Court
Azalea Court
Russell Place
Peaceful Valley
Moreland Court
Pine Circle Estates
Evergreen Plaza
La Mont
Morris Gardens
Merrie Lane Place
Bellaire Oaks
Sylvania Courts
Elmhurst