Braes Heights Houston Neighborhood Guide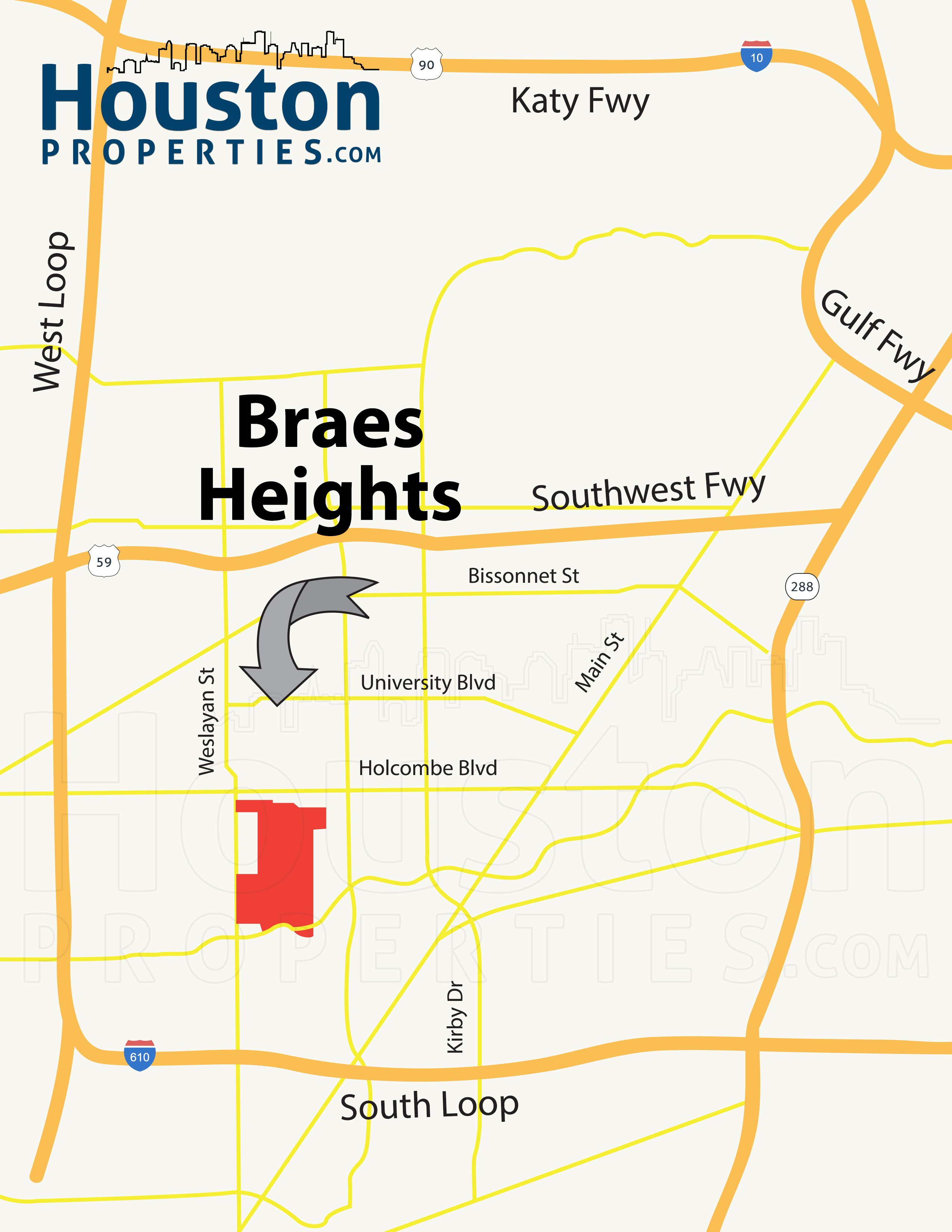 One of the communities that make up Braeswood Place, Braes Heights is a small neighborhood located a couple of minutes west of the Buffalo Speedway.
Braes Heights feature some of the fastest appreciating real estate in the Inner Loop.
Its quiet suburban charm and family-friendly vibe, along with its great schools, make it an ideal option for homebuyers. Braes Heights homes for sale are very highly desirable due to the following:
CENTRAL LOCATION: Centrally locates a few miles southwest of Downtown Houston, Braes Heights has schools, activity centers, green spaces, and retail areas nearby.
HIGHLY ACCESSIBLE: Two of Houston's key business and job centers, Downtown and Medical Center, along with the Museum District and the Galleria, are highly accessible to and from Braes Heights via the Inner Loop's main roads, including the Buffalo Speedway.
GREAT SCHOOLS: Braes Heights homes for sale are zoned to some of the Houston ISD's best schools, including Twain Elementary and Bellaire High School.
ACTIVE COMMUNITY: Braes Heights is under the Braeswood Place Homeowners Association, a blanket HOA covering all the communities in Braeswood Place. It handles the upkeep of neighborhood infrastructure, security, and the neighborhood's deed restrictions.
GREAT SHOPPING AND ENTERTAINMENT OPTIONS: The Galleria and the Museum District are located a few minutes away from the neighborhood.
LARGE LOTS AND LIVING SPACES: Braes Heights features mostly single-family homes – from 1950s ranch-style homes to newer construction custom-built homes. Compared to similar properties in Bellaire and West University, homes in Braes Heights are typically bigger in terms of land and living areas.
Homebuyers will appreciate Braes Height's quiet character, great amenities, and its location near key Inner Loop areas. The neighborhood has Houston's finest at its fingertips, while at the same time enjoying a peaceful atmosphere.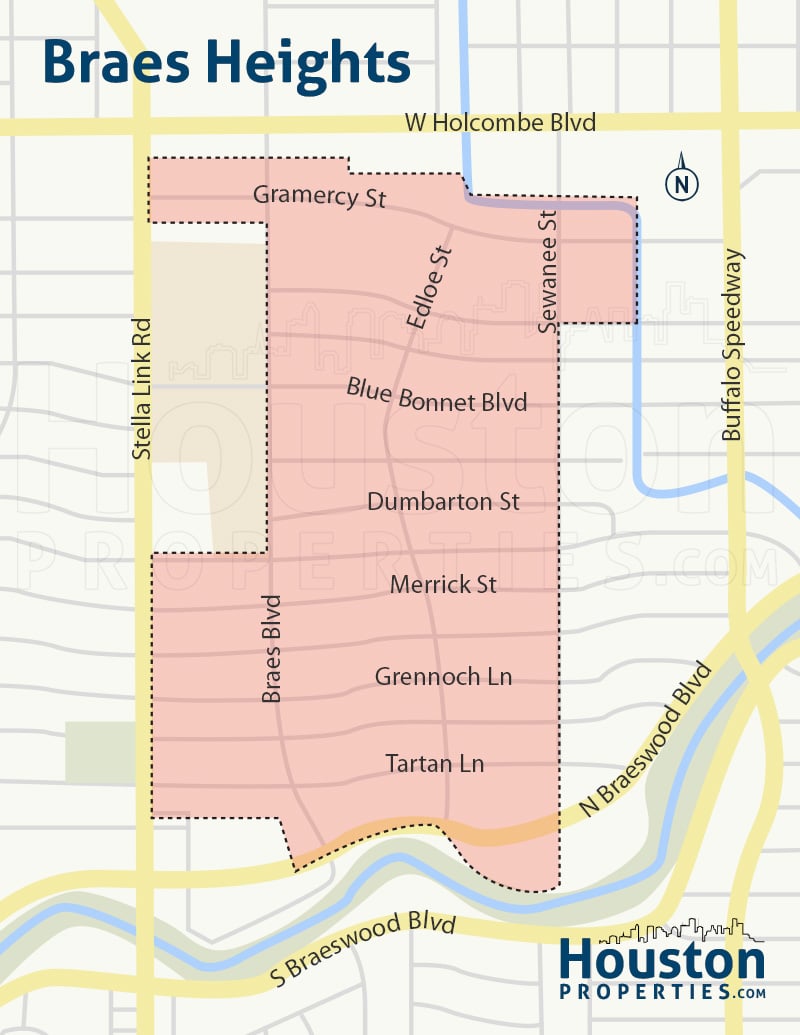 For any inquiries about Braes Heights homes recommendations, or off-market MLS listings, get in touch with Paige Martin, head of the Houston Properties Team and ranked as one of the top realtors in Houston.
Braes Heights Resources (Popular Topics)
Houston Braes Heights Neighborhood Profile
Braes Heights Real Estate Guide
Paige Martin – Braes Heights Realtor
Braes Heights Maps and Location
Braes Heights is located west of the Buffalo Speedway, north of the Braeswood Boulevard, east of Stella Link, and south of both Bellaire Boulevard and Holcombe Boulevard.
The neighborhood has Bellaire to the west, Southside Place and West University Place to the north, Meyerland to the southwest, and the Texas Medical Center and Old Braeswood to the east. The Museum District lie northwest of the neighborhood.
The neighborhood sits north of the Brays Bayou.
Braes Heights is one of the communities that make up Braeswood Place, along with Ayrshire, Southern Oaks, Braes Oaks, Braes Manor, Braes Terrace, and Emerald Forest.
Like most of Braeswood Place, Braes Heights is largely made up of single-family homes, though several retail and entertainment establishments are within a stone's throw of the area.
Braes Heights is divided into 13 sections, each with its own set of deed restrictions.
Braes Heights Houston has a 77024 Harris County zip code.
Nearby zip codes include 77098, 77019, 77002, 77005, and 77004. (View Houston zip code map)
Fun Things To Do Near Braes Heights
Braes Heights' reputation as a family-friendly neighborhood shows in its green spaces and family centers. It features several parks, facilities for both outdoor and indoor activities, as well as shopping, dining, and entertainment options nearby.
Key areas of interest in Braes Heights are its green areas and the Stella Link Park community service corridor.
Karl Young Park, located in 7800 Stella Link Road, features several basketball courts, a baseball field, a tennis court, playgrounds, and a picnic pavilion. At around 5 acres, the park also features a trail system.
McGovern Park is located along Braes and Blue Bonnet boulevards and is much larger at 20 acres. Senior services facility Sheltering Arms and the McGovern-Stella Link Library are also located within the area.
The Weekley Family YMCA, on the other hand, features facilities for several indoor and outdoor sports, including a gymnasium, an outdoor field, and an outdoor pool. Office spaces are also housed within the YMCA.
Braes Height's proximity to Houston's key hotspots also increases the options available to residents. Rice Village and the Galleria, offering some of the best shopping and dining options in the Inner Loop, are just minutes from Braes Heights.
Here are some of the best places to visit in and around Braes Heights:
Outdoor Activities and Activity Centers
Weekley Family YMCA
Sheltering Arms Senior Services
McGovern-Stella Link Library
Retail
Rice Village
The Galleria
Meyerland Plaza
Braes Heights Shopping Center
Groceries
Kroger
The Fresh Market
Randall's
Brompton Market
La Michoacana
Whole Foods Market
Dining
Wild Kitchen
Fajita Pete's
Captain Benny's Half Shell Oyster Bar
Bon Baguette
Sleepy Po-Boys
The Union Kitchen, Morningside Thai
Smashburger
Mama's Oven
Two Guys Pizzeria
Island Grill
JerryBuilt Homegrown Burgers
Parks
Karl Young Park
Helen Park
John P. McGovern Campus Park
Braeswood Park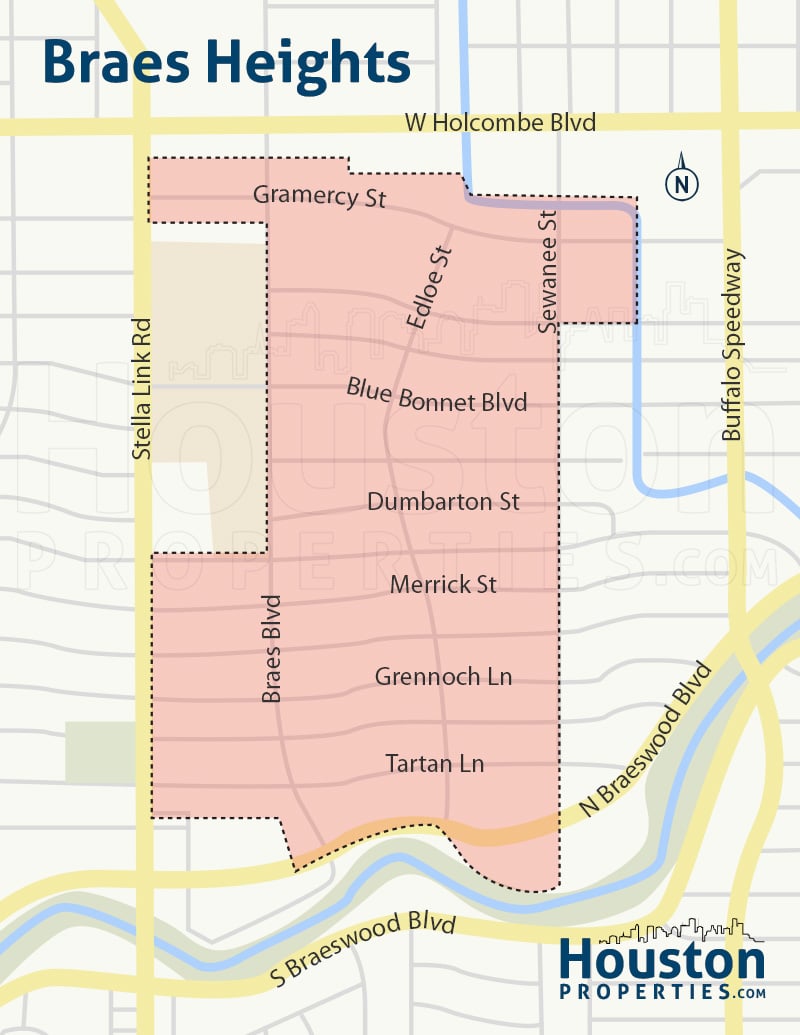 Neighborhoods Near Braes Heights
Neighborhoods near Braes Heights include:
Southside Place
Old Braeswood
Braes Heights Houston History
Braes Heights is one of Houston's older neighborhoods. Development in the area started in 1947 and spanned through 1952. During this period, ranch-style homes dotted the streets of Braes Heights.
In the 1990s, a group of residents banded together to rehabilitate some parts of the neighborhood, forming the Stella Link Redevelopment Association (SLRA). The association succeeded with the help of the city of Houston and private entities. The Stella Link Park community service corridor site now features the McGovern-Stella Link Library, McGovern Park, and the Weekley Family YMCA. Two renovated schools, Mark Twain Elementary School and Pershing Middle School, also call the area home.
The early 2000s marked the neighborhood's transition from 1950s ranch-style homes to two-story custom-built homes in other architectural styles. Prior to 2001, this transition has been slow, though the neighborhood's recovery from Tropical Storm Allison accelerated it.
Today, Braes Heights homes for sale are a mix of ranch-style homes from the 1950s and new construction homes in Colonial, French, Mediterranean, Traditional, Georgian styles.
Braes Heights Schools
Braes Heights is zoned to the Houston Independent School District (HISD).
Public
Elementary
Mark Twain Elementary School at 7500 Braes Blvd. Mark Twain Elementary has been serving the southwest Houston area since 1950. Since then, it has become an IB World School featuring programs like the International Baccalaureate Primary Years Programme, the PYP and the Literary Development Magnet program. Twain is also an International Spanish Academy with a Dual Language program.
Middle School
Pershing Middle School at 3838 Blue Bonnet Blvd. John J Pershing Middle School offers several academic programs, including neighborhood, gifted and talented, high school credits, and pre-AP. It also features a Fine Arts magnet program and several enrichment classes in varying "unorthrodox" areas.
Pin Oak Middle School at 4601 Glenmont. One of the best middle schools in the HISD, Pin Oak is a multi-award winning, "application only" school (National Blue Ribbon School and TEA Exemplary School). Students within the Pershing area can apply to the regular program. Students may also apply for the school's Foreign Languages magnet program, which offers Chinese, French, Spanish, Italian, and German.
High School
Lamar High School at 3325 Westheimer Rd. Home to the Lamar Texans (formerly the Redskins), it is considered to have one of the best Athletics programs in the HISD. Lamar is not all about athletics though, as it offers a great academics program too. It offers a business magnet, neighborhood, and Advanced Placement programs. The school is also an IB World School, with one of the largest International Baccalaureate Diploma programs in North America.
Bellaire High School at 5100 Maple St. Bellaire has long held the reputation of being one of the HISD's finest schools. It is a Foreign Languages magnet school, and offers several languages, including Spanish, Hebrew, Latin, Italian, Arabic, Russian, Japanese, and Chinese, among others. An IB World School since the late 70s, Bellaire also offers an Advanced Placement program and an International Baccalaureate Diploma Programme.
Braes Heights also features several private schools. Here are some of them:
St. Vincent de Paul School at 6800 Buffalo Speedway.
St. Mark's Episcopal School at 3816 Bellaire Blvd.
Episcopal High School at 4650 Bissonnet St.
To find an updated listing of all Braes Heights real estate zoned to any specific public school, please send an email to Paige Martin at [email protected] with the property preference and budget that you're working with.
*Note: School zoning tends to change from year to year, information provided above are accurate but not guaranteed. Please double check by visiting the school's website.
Braes Heights Real Estate Trends
Braes Heights features lovingly maintained and updated ranch-style homes, alongside newer construction custom-built traditional homes. The area's deed restrictions have helped maintain its charm and atmosphere – not to mention its property prices as well.
Properties in the neighborhood have been steadily appreciating, posting growth across the board.
Braes Heights real estate have marked impressive growth over the past decade, with home and land prices more than doubling from 2005 to 2014. The median sales price of Braes Heights homes increased by a whopping 129%, from $329,000 to $754,250. Land price per square foot, on the other hand, grew from $33 to $67.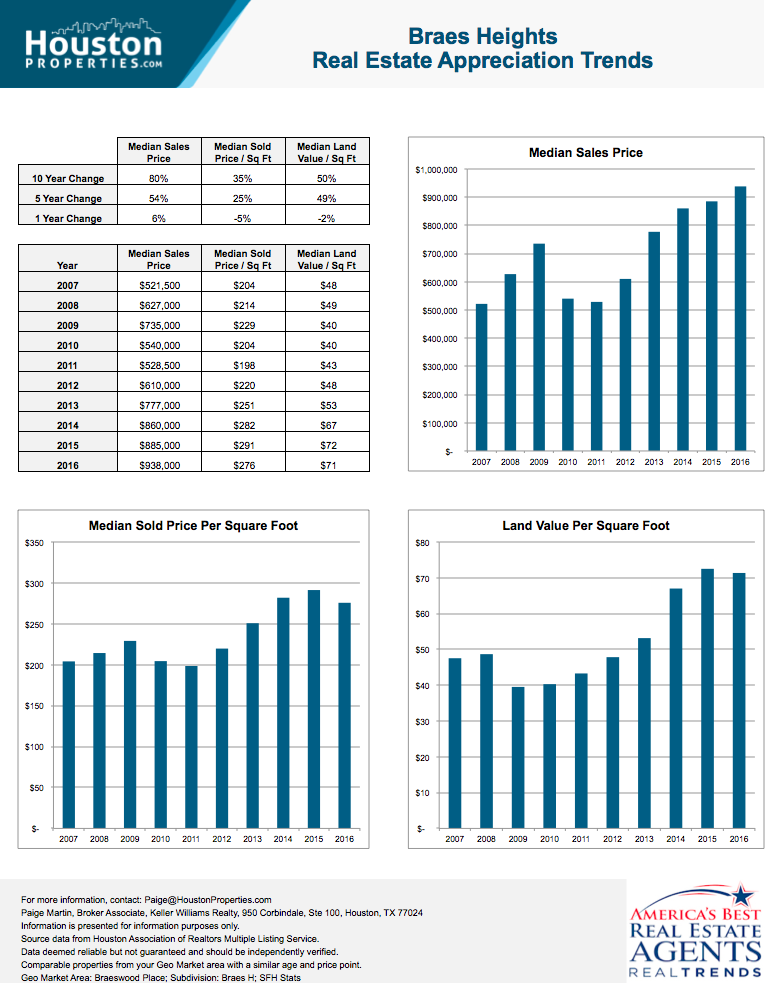 (Data sourced from the Houston Association of Realtors Multiple Listing Service and is deemed reliable but not guaranteed.)
For updated information regarding Braes Heights real estate pricing and trend analysis, please contact Paige Martin at [email protected].
Braes Heights Single-Family Home Sale Trends
Like most of the subdivisions that make up Braeswood Place, Braes Heights largely features single-family homes.
Braes Heights homes are mostly ranch-style homes from the 1950s, with homeowners updating, expanding, or intensively renovating their properties. The teardown trend, which had taken other Houston and nearby cities by storm in the 80s and 90s, was slow to infect Braes Heights. These days, however, it is not uncommon to see two-story custom-built homes in the area.
Often compared to the nearby cities of Bellaire and West University Place, Braes Heights features homes with more expansive lots and more living space. Lot sizes can range from 7,000 to more than 15,000 square feet. Floor areas, on the other hand, can vary from home to home. A modest ranch-style home can offer 1,800 square feet, while larger, two-story homes can go upwards of 3,500 square feet.
Braes Heights Townhomes Sale Trends
Along with Braeswood Place's 6 other communities, Braes Heights is largely made up of single-detached homes due to the neighborhood's deed restrictions. Some townhomes are available in nearby Houston areas.
Braes Heights Condo Sale Trends
Due to its deed restrictions, there are no multi-family dwellings like mid- and high-rise condos in Braes Heights. Nearby River Oaks, Galleria, and Museum District areas have plenty of condo options.
Highrise condos near and around Braes Heights include:
Downtown Houston (77002 / 77010):
To see other condos within the Inner Loop, see Inner Loop Houston Condos. To see condos within the nearby Museum District area, see Museum District Area Houston Condos.
Braes Heights Houston Realtor – Paige Martin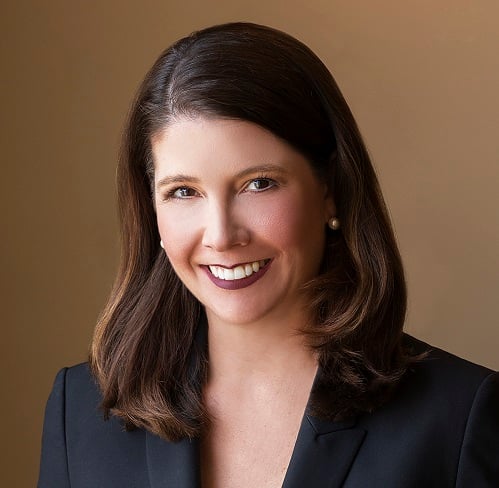 As featured on Fox News in the Morning, the Houston Business Journal, Houston Chronicle, and Houston Magazine, Paige Martin – a consistent Top Producing Broker-Associate and head of the Houston Properties Team – is ranked amongst the very top Keller Williams agents in the Houston are
Paige is ranked as one of the top realtors in Braes Heights Houston, and the state of Texas. Read more about the over 65 awards she's won in the last few years.
Paige works with a tremendous number of buyers and sellers within Braes Heights, earning praises like "Paige Martin is the best Braes Heights Houston realtor I know".
For a specific recommendation of neighborhoods, homes or properties based upon your personal style, goals & price point, please contact Paige Martin, head of the Houston Properties Team & Broker Associate at[email protected] or 713-425-4194.