BRAES HEIGHTS REAL ESTATE GUIDE
2022 Braes Heights homes for sale & insider real estate guide
Braes Heights is a small neighborhood located a couple of minutes west of the Buffalo Speedway. It is one of the communities that make up Braeswood Place. Braes Heights feature some of the fastest appreciating real estate in the Inner Loop. Its suburban vibe, along with its great schools, makes it an ideal option for homebuyers.
Braes Heights homes for sale are very highly desirable due to their:
CENTRAL LOCATION: Braes Heights is centrally located a few miles southwest of Downtown Houston. The neighborhood has schools, activity centers, green spaces, and retail areas nearby. Braes Heights is located west of the Buffalo Speedway and north of Braeswood Boulevard. It is east of Stella Link and south of both Bellaire Boulevard and Holcombe Boulevard.

HIGH ACCESSIBILITY: Two of Houston's key business and job centers are Downtown and Medical Center. Other key districts are Museum District and the Galleria. These are highly accessible to and from Braes Heights via the Inner Loop's main roads, including the Buffalo Speedway.

GREAT SHOPPING AND ENTERTAINMENT OPTIONS: The Galleria and the Museum District are located a few minutes away from the neighborhood. Braes Heights features several shopping, dining, and entertainment options nearby. Key areas of interest in Braes Heights are its green areas. The Stella Link Park community service corridor is also featured in the neighborhood.

ACTIVE COMMUNITY: Braes Heights is under the Braeswood Place Homeowners Association. This is a blanket HOA covering all the communities in Braeswood Place. It handles the upkeep of neighborhood infrastructure, security, and the neighborhood's deed restrictions.

HIGHLY RATED SCHOOLS: Braes Heights homes for sale are zoned to the Houston Independent School District. Some of the best schools in the area include Twain Elementary with a GreatSchools.org rating of 8/10. Another top-rated school students can attend is Bellaire High School.

LARGE LOTS AND LIVING SPACES: Braes Heights features mostly single-family homes – from 1950s ranch-style homes to newer construction custom-built homes. Homes in Braes Heights are typically bigger in terms of land and living areas. This is compared to similar properties in Bellaire and West University.
Braes Heights real estate is tricky to navigate given the abundance of major thoroughfares (being on one hurts resale). Getting help from the top Braes Heights real estate agent will greatly help homebuyers.
To get personal advice on buying or selling in the Braes Heights area, contact Paige Martin, one of Houston's best realtors and one of the top-ranked Realtors in the United States.
"Houston Properties Team helped us to sell our condo within a week and closed it within a month. It was really an amazing experience. The entire process was very smooth. They provided the timeline schedule so we know exactly where we are and what to expect. They are the best professional real estate team we have ever worked with. Excellent teamwork from the beginning to the end!" - Sandra Chao (Google Review)
---
Table of Contents
---
Braes Heights Home Sale Trends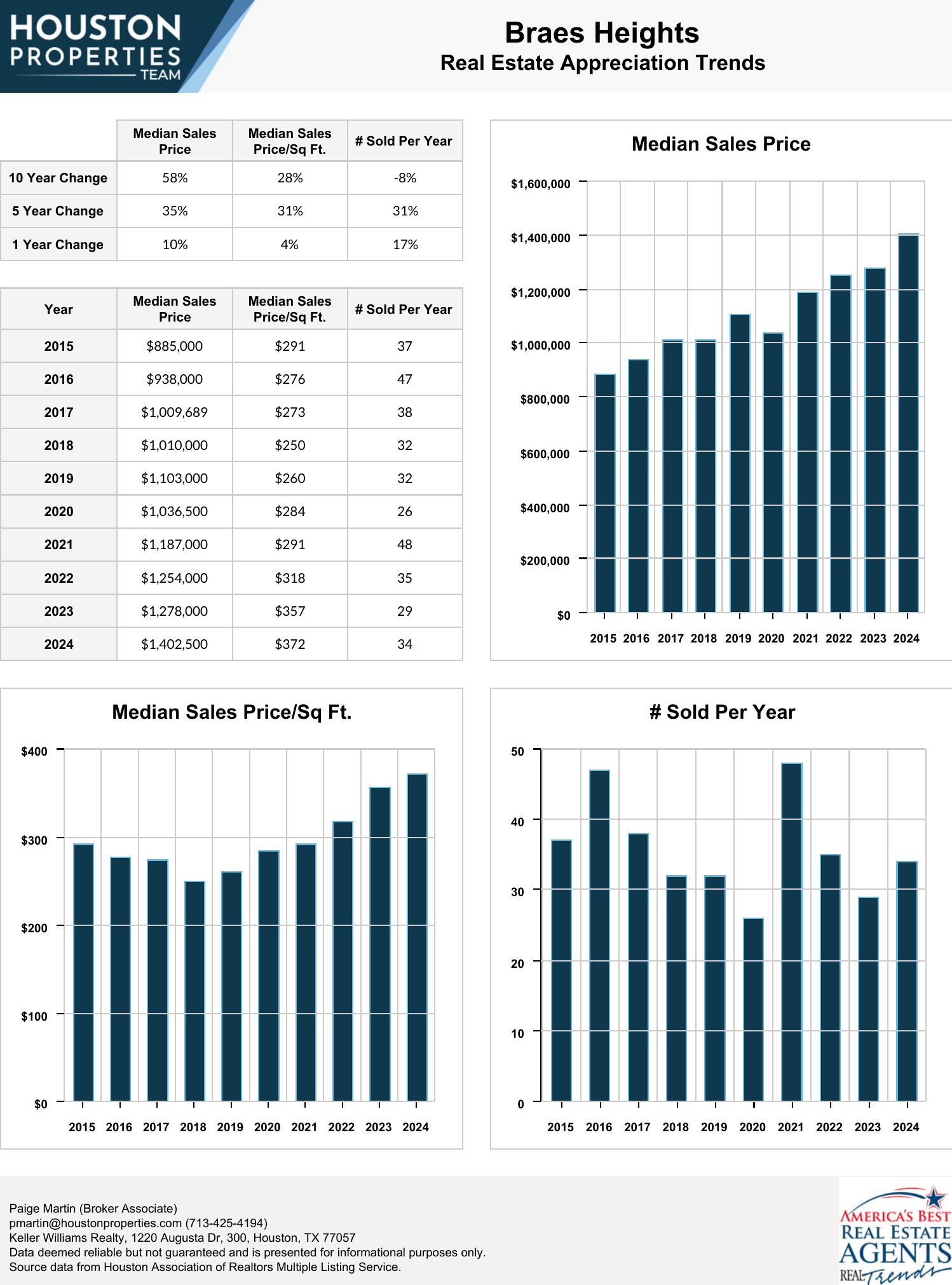 ---
Braes Heights Maps, Location & Zip Code
| Commute Time | Braes Heights |
| --- | --- |
| Downtown (min) | Unknown |
| Med Ctr (min) | Unknown |
| Energy Corridor (min) | Unknown |
| Galleria (min) | Unknown |
| Highlights | Braes Heights |
| --- | --- |
| Amenities | Unknown |
| Golf Courses | Unknown |
| Run / Bike Trails | Unknown |
| Nearby Retail / Dining | Unknown |
| Major Employers | Unknown |
---
Braes Heights Schools
| Top Elementary Schools | Great Schools Ranking |
| --- | --- |
| Twain Elem | 8 |
---