Most Expensive Braes Heights Homes For Sale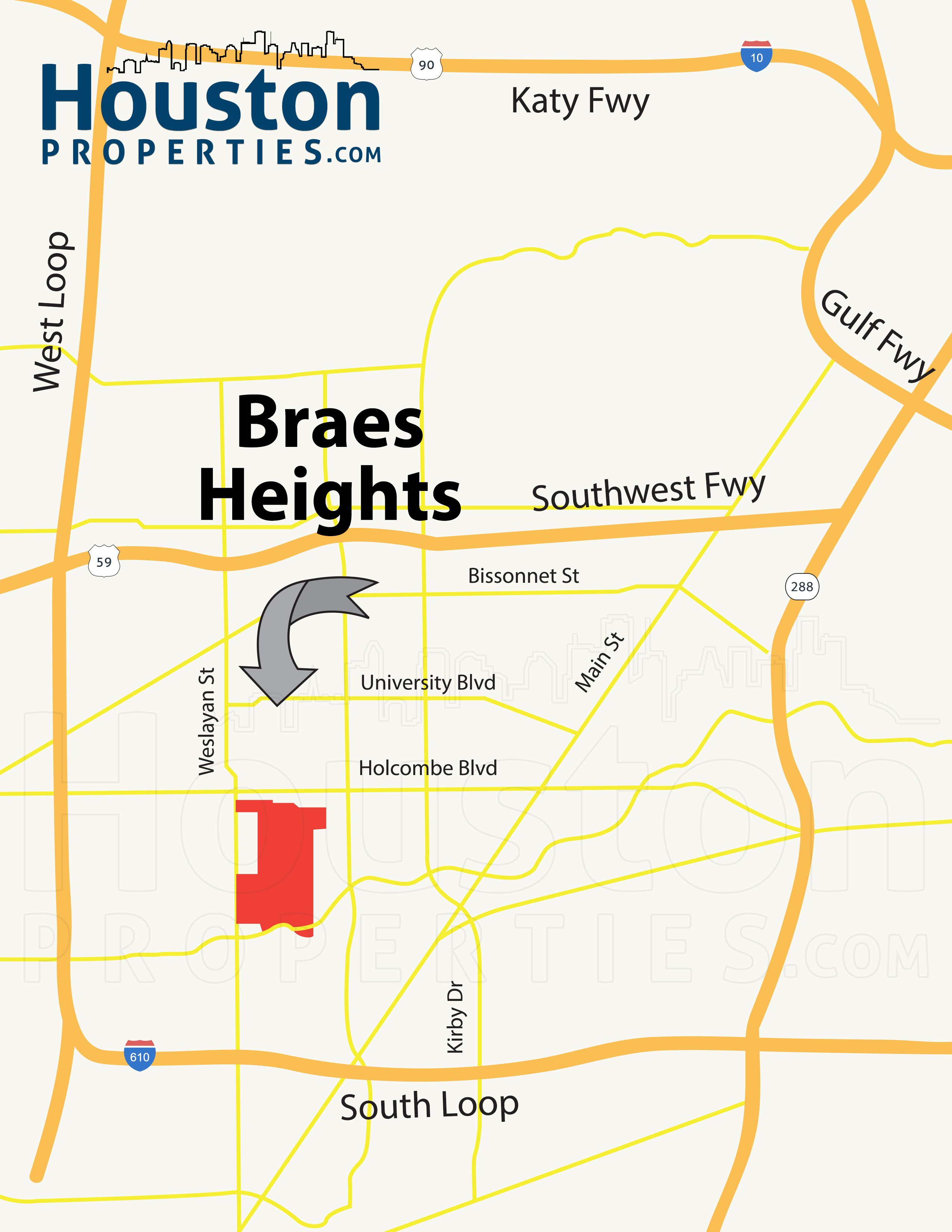 Braes Heights, one of Houston's most coveted residential enclaves, is part of the bigger Braeswood Place neighborhood.
A quiet suburban character blankets the neighborhood, with mature oaks and regal homes heightening Braes Height's unique charm.
Several factors make the neighborhood highly desirable, including its accessibility, prime location, great schools, and gorgeous homes.
Located in the southwest corner of the Inner Loop, Braes Heights luxury real estate are minutes from major thoroughfares like Braeswood Boulevard, Buffalo Speedway, and Bellaire Boulevard. Key Houston business, entertainment, and cultural centers, including Downtown, the Galleria, Medical Center, and Museum District, are within minutes of the neighborhood.
Braes Heights homes are zoned to some of the Houston ISD's most highly rated schools, including Bellaire High School and Pershing Middle School.
The most expensive Braes Heights homes are typically new construction custom-built homes in various architectural styles. In general, these luxury homes feature two-story construction and sit on large, manicured lots.
One of the Inner Loop's hottest neighborhoods, Braes Heights is a very popular choice among families and professionals alike.
Contact Paige Martin, one of the best realtors in Houston, head of the Houston Properties Team, and Broker Associate at [email protected] or 713-425-4194 for more information about Braes Heights luxury real estate.
Braes Heights Houston Resources:
For more information on available Braes Heights luxury real estate call Paige Martin at 713-425-4194 or email [email protected].
Braes Heights Luxury Real Estate and Neighborhood Guide
Straddling the Brays Bayou, the community is made up of roughly 900, mostly single-family homes. It is centrally located near schools, main roads, parks, activity centers, retail and entertainment hotspots.
Braes Heights is among the seven communities that make up Braeswood Place, including Ayrshire, Southern Oaks, Braes Oaks, Braes Manor, Braes Terrace, and Emerald Forest. Each subdivision has its own deed-restrictions though they are all under one homeowners association.
The neighborhood is nestled west of Bellaire and south of Southside Place and West University Place. The Medical Center, one of Houston's largest job centers, is located a few minutes east of the neighborhood. The Brays Bayou – and its bike and hike trail – snakes its way south of Braes Heights.
One of Houston's older neighborhoods, construction in the area started in the late 1940s and was built out by 1952. This early development is quite apparent in Braes Heights, as vintage 1950s ranch-style homes still line the neighborhood's streets.
These homes are mostly gorgeously updated and carefully maintained. Some properties are expanded to accommodate homeowners' growing space needs. New construction homes slowly seeped into Braes Heights in the 1990s, and these typically featured two-story floor plans.
Today, some of the most expensive Braes Heights homes feature two to three stories, with 4 to 6 bedrooms, and 4 to 6 baths. These properties typically include multi-car garages, patios, front and/or backyards, decks, and balconies.
Architectural styles in the area include Traditional, Georgian, Mediterranean, and French, among others. Floor areas can range from 3,500 to more than 5,000 square feet.
Known for sprawling lots, Braes Heights features lot areas ranging from 7,000 to upwards of 9,000 square feet.
Braes Heights Houston luxury real estate have a 77025 Harris County zip code.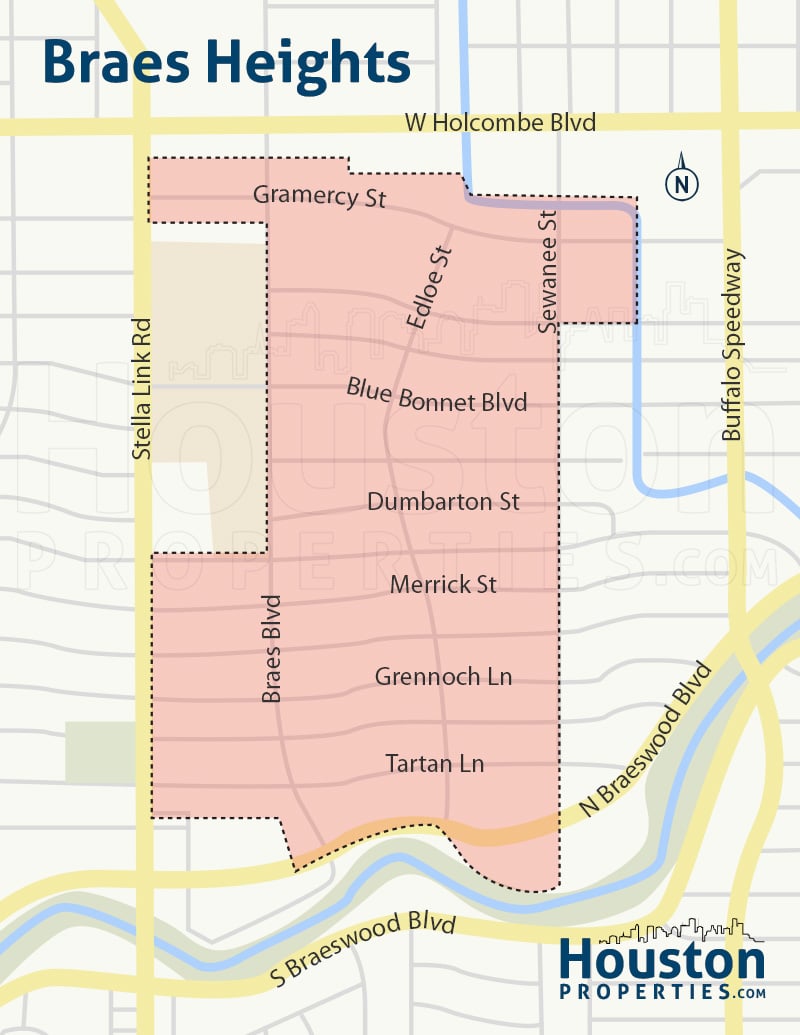 Braes Heights Houston: Fun Things To Do In The Neighborhood
Braes Heights' reputation as a family-friendly neighborhood shows in its green spaces and family centers. It features several parks, facilities for both outdoor and indoor activities, as well as shopping, dining, and entertainment options nearby.
Key areas of interest in Braes Heights are its green areas and the Stella Link Park community service corridor.
Karl Young Park, located in 7800 Stella Link Road, features several basketball courts, a baseball field, a tennis court, playgrounds, and a picnic pavilion. At around 5 acres, the park also features a trail system.
McGovern Park is located along Braes and Blue Bonnet boulevards and is much larger at 20 acres. Senior services facility Sheltering Arms and the McGovern-Stella Link Library are also located within the area.
The Weekley Family YMCA, on the other hand, features facilities for several indoor and outdoor sports, including a gymnasium, an outdoor field, and an outdoor pool. Office spaces are also housed within the YMCA.
Braes Height's proximity to Houston's key hotspots also increases the options available to residents. Rice Village and the Galleria, offering some of the best shopping and dining options in the Inner Loop, are just minutes from Braes Heights.
Here are some of the best places to visit in and around Braes Heights:
Outdoor Activities and Activity Centers
Weekley Family YMCA
Sheltering Arms Senior Services
McGovern-Stella Link Library
Retail
Rice Village
The Galleria
Meyerland Plaza
Braes Heights Shopping Center
Groceries
Kroger
The Fresh Market
Randall's
Brompton Market
La Michoacana
Whole Foods Market
Dining
Wild Kitchen
Fajita Pete's
Captain Benny's Half Shell Oyster Bar
Bon Baguette
Sleepy Po-Boys
The Union Kitchen, Morningside Thai
Smashburger
Mama's Oven
Two Guys Pizzeria
Island Grill
JerryBuilt Homegrown Burgers
Parks
Karl Young Park
Helen Park
John P. McGovern Campus Park
Braeswood Park
Braes Heights Houston Realtor – Paige Martin
As featured on Fox News in the Morning, the Houston Business Journal, Houston Chronicle, and Houston Magazine, Paige Martin – a consistent Top Producing Broker-Associate and head of the Houston Properties Team – is ranked amongst the very top Keller Williams agents in the Houston area.
Paige is ranked as one of the top realtors in Braes Heights Houston, and the state of Texas. Read more about the over 65 awards she's won in the last few years.
Paige works with a tremendous number of buyers and sellers within Braes Heights.
For a specific recommendation of neighborhoods, homes or properties based upon your personal style, goals & price point, please contact Paige Martin, head of the Houston Properties Team & Broker Associate at [email protected] or 713-425-4194.