Braes Heights Houston Homes For Sale Under $1M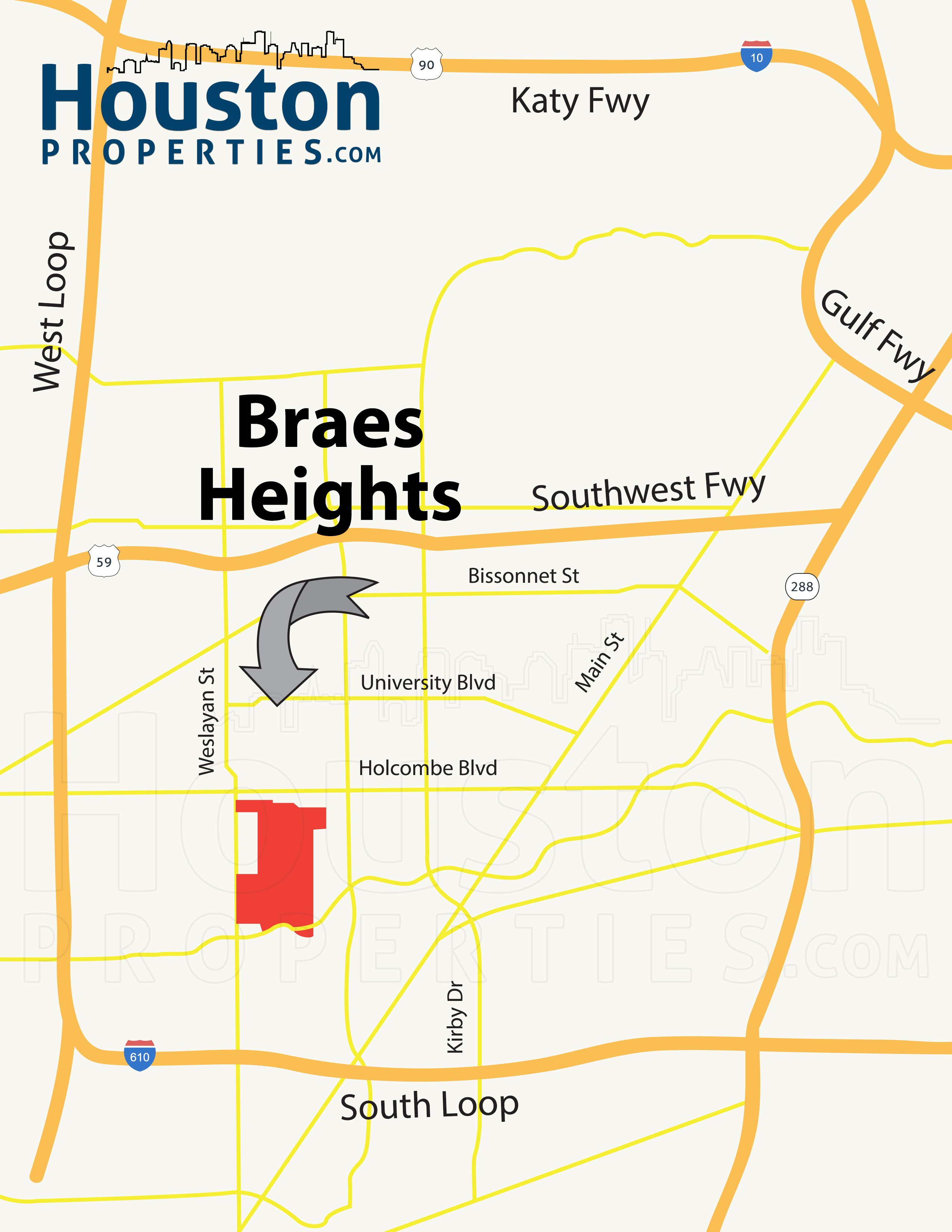 Largely residential and deed-restricted, Braes Heights is among the seven subdivisions that make up Braeswood Place.
One of the hottest real estate market in the Inner Loop, Braes Heights mostly feature raised single-family homes, amid mature oak trees and a quiet suburban vibe.
Nestled in the area east of Bellaire and south of West University and Southside Place, the neighborhood enjoys a central location near parks, schools, and retail and entertainment hubs.
Owing to its proximity to major roads, Braes Heights homes have easy access to Downtown Houston, the Galleria, and Museum District. The Medical Center, a major Houston job center, is minutes away.
Zoned to the Houston ISD, highly rated schools like Bellaire High, Pershing Middle, and Twain Elementary serve Braes Heights homes for sale.
As part of Braeswood Place, Braes Heights is under the neighborhood's homeowners association. The community is divided into 13 sections, each with its own set of deed restrictions.
Braes Heights real estate have marked impressive appreciation rates over the last decade. Updated ranch-style homes and newer two-story custom-built homes are available in the area.
Contact Paige Martin, one of the best realtors in Houston, head of the Houston Properties Team & Broker Associate at [email protected] or 713-425-4194 for advice or questions about buying or selling a Braes Heights home.
Braes Heights Houston Resources:
NOTE: Braes Heights homes are among the fastest selling real estate in Houston. Some of the properties are off-market (not publicly listed). For more information on available Braes Heights homes for sale under $1,000,000 call Paige Martin at 713-425-4194 or email [email protected]HoustonProperties.com
Braes Heights Houston Neighborhood Guide
Developed from the late 40s through to the early 50s, Braes Heights is one of the older communities within the Inner Loop. Along with Ayrshire, Southern Oaks, Braes Oaks, Braes Manor, Braes Terrace, and Emerald Forest, Braes Heights is part of a collection of neighborhoods known as Braeswood Place.
The neighborhood is located east of Bellaire and Meyerland, south of Southside Place and West University, and west of Medical Center. Additionally, it has major roads like Stella Link Road, Braeswood Blvd, Holcombe Blvd, Bellaire Blvd, and the Buffalo Speedway are all within a stone's throw from the Braes Heights homes for sale.
The Brays Bayou, with its hike and bike trails, is south of the neighborhood's borders.
The neighborhood is often compared to Bellaire and West University due to its proximity to both independent cities. Braes Heights homes for sale, however, feature larger lots. The neighborhood's sprawling lot areas can range from 7,000 to 15,000 square feet.
Ranch-style homes were previously Braes Heights' main housing option, though more recently constructed single-family homes in various architectural styling are also available in the neighborhood today.
Braes Heights Houston is under the 77025 Harris County zip code.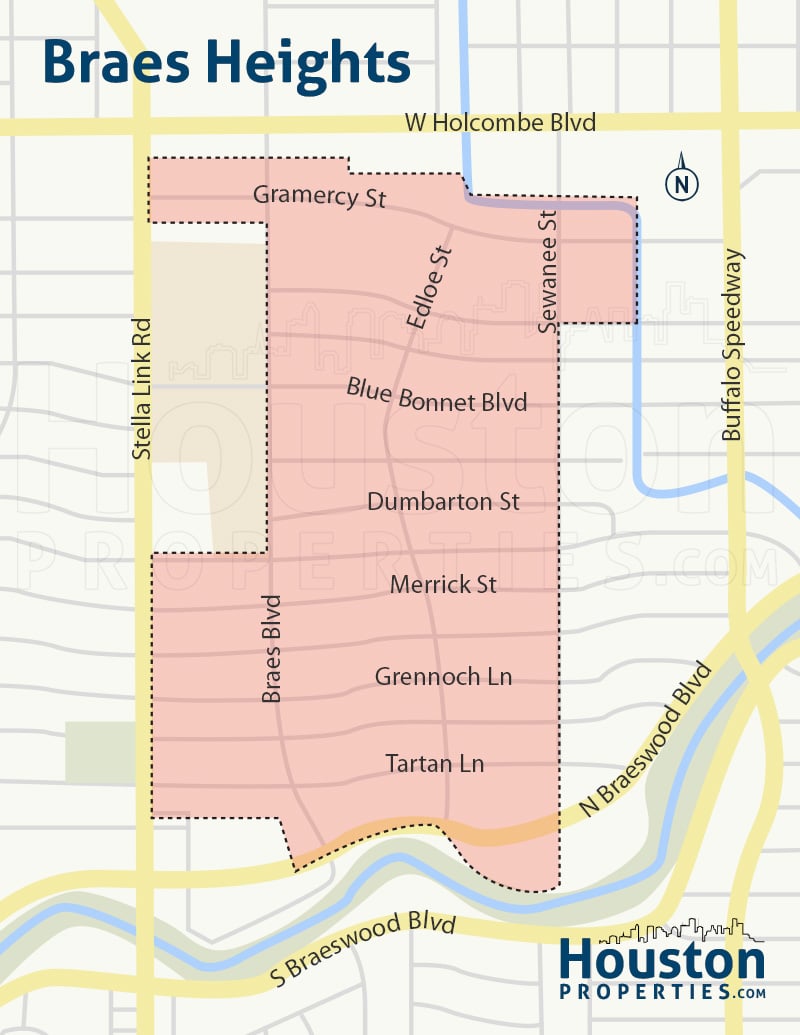 Braes Heights Schools Information
Braes Heights is zoned to the Houston Independent School District (HISD).
Public
Elementary
Mark Twain Elementary School at 7500 Braes Blvd. Mark Twain Elementary has been serving the southwest Houston area since 1950. Since then, it has become an IB World School featuring programs like the International Baccalaureate Primary Years Programme, the PYP and the Literary Development Magnet program. Twain is also an International Spanish Academy with a Dual Language program.
Middle School
Pershing Middle School at 3838 Blue Bonnet Blvd. John J Pershing Middle School offers several academic programs, including neighborhood, gifted and talented, high school credits, and pre-AP. It also features a Fine Arts magnet program and several enrichment classes in varying "unorthrodox" areas.
Pin Oak Middle School at 4601 Glenmont. One of the best middle schools in the HISD, Pin Oak is a multi-award winning, "application only" school (National Blue Ribbon School and TEA Exemplary School). Students within the Pershing area can apply to the regular program. Students may also apply for the school's Foreign Languages magnet program, which offers Chinese, French, Spanish, Italian, and German.
High School
Lamar High School at 3325 Westheimer Rd. Home to the Lamar Texans (formerly theRedskins), it is considered to have one of the best Athletics programs in the HISD. Lamar is not all about athletics though, as it offers a great academics program too. It offers a business magnet, neighborhood, and Advanced Placement programs. The school is also an IB World School, with one of the largest International Baccalaureate Diploma programs in North America.
Bellaire High School at 5100 Maple St. Bellaire has long held the reputation of being one of the HISD's finest schools. It is a Foreign Languages magnet school, and offers several languages, including Spanish, Hebrew, Latin, Italian, Arabic, Russian, Japanese, and Chinese, among others. An IB World School since the late 70s, Bellaire also offers an Advanced Placement program and an International Baccalaureate Diploma Programme.
Braes Heights also features several private schools. Here are some of them:
St. Vincent de Paul School at 6800 Buffalo Speedway.
St. Mark's Episcopal School at 3816 Bellaire Blvd.
Episcopal High School at 4650 Bissonnet St.
To find an updated listing of all Braes Heights real estate zoned to any specific public school, please send an email to Paige Martin at [email protected] with the property preference and budget that you're working with.
*Note: School zoning tends to change from year to year, information provided above are accurate but not guaranteed. Please double check by visiting the school's website.
Braes Heights Houston Realtor – Paige Martin
As featured on Fox News in the Morning, the Houston Business Journal, Houston Chronicle, and Houston Magazine, Paige Martin – a consistent Top Producing Broker-Associate and head of the Houston Properties Team – is ranked amongst the very top Keller Williams agents in the Houston area.
Paige is ranked as one of the top realtors in Braes Heights Houston, and the state of Texas. Read more about the over 65 awards she's won in the last few years.
Paige works with a tremendous number of buyers and sellers within Braes Heights.
For a specific recommendation of neighborhoods, homes or properties based upon your personal style, goals & price point, please contact Paige Martin, head of the Houston Properties Team & Broker Associate at [email protected] or 713-425-4194.