Most Expensive Briargrove Houston Homes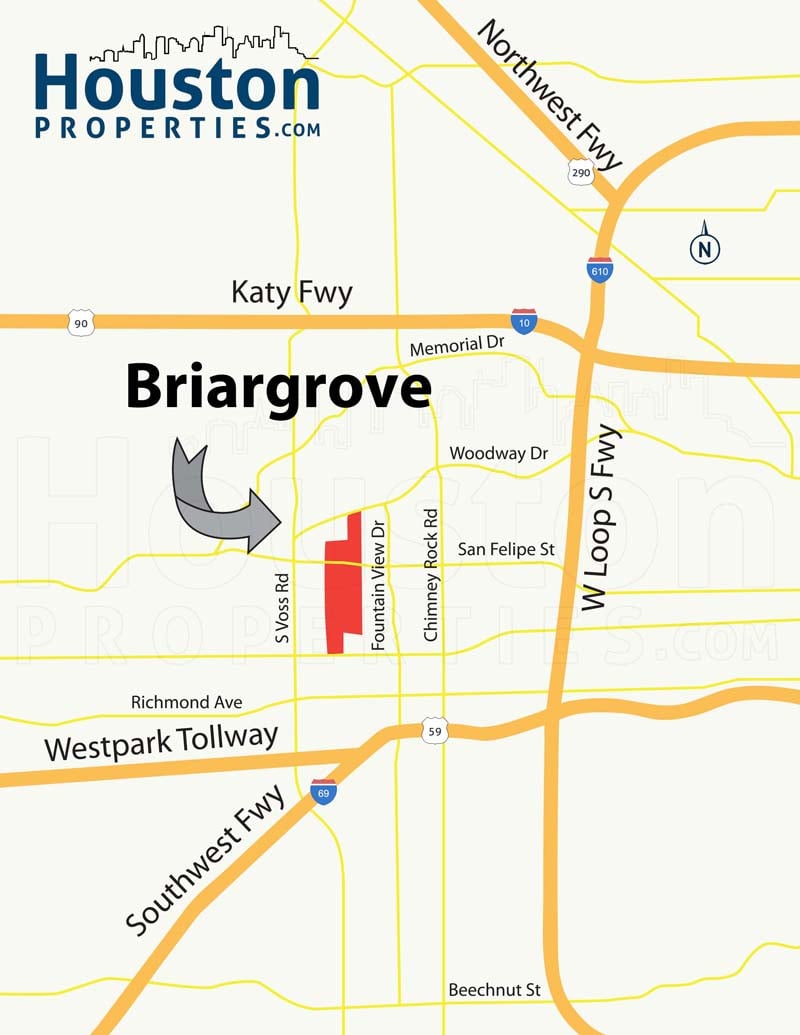 Located directly west of the Galleria/Uptown area, Briargrove is a peaceful residential enclave known for its neighborly vibe.
A number of factors make Briargrove homes highly desirable among homebuyers, including its central location, accessibility, and its beautiful homes.
Though the neighborhood is mostly residential, Briargrove luxury real estate are minutes away from the boutiques, retail stores, hotels, and restaurants in the Galleria.
With immediate access to major Houston roads like Westheimer Road and Woodway Drive, residents have fairly east commutes to and from key Inner Loop neighborhoods like Downtown and the Medical Center.
Briargrove's tight-knit community and peaceful atmosphere also adds to the neighborhood's draw. Its active homeowners association enforces the neighborhood's deed-restrictions, and its architectural committee maintains Briargrove's look and feel.
Briargrove luxury real estate include vintage traditional and ranch-style homes, as well as recent construction custom-built homes. Large lots, manicured lawns, and spacious living spaces are common features.
The neighborhood is one of Houston's most popular, and high demand makes this area challenging to navigate.
Contact Paige Martin, one of the best realtors in Houston, head of the Houston Properties Team, and Broker Associate at [email protected] or 713-425-4194 for more information about Briargrove luxury real estate.
Briargrove Houston Resources:
For more information on available Briargrove luxury real estate call Paige Martin at 713-425-4194 or email [email protected].
Briargrove Luxury Real Estate and Neighborhood Guide
Located in west Houston, Briargrove is an upscale subdivision of beautiful homes and friendly neighbors. It has a very active HOA, which provides 24-hr security, among other things.
Situated about 12 miles west of Downtown Houston, Briargrove has the Galleria/Uptown area and Tanglewood to the east, and two of the Memorial Villages – Piney Point and Hunters Creek – to the north.
Briargrove's proximity to the Bayou City's premiere shopping centers and main business districts means that its residents have their retail and entertainment options covered. Briargrove luxury homes have easy access to retail stores, upscale fashion boutiques, restaurants, and hotels.
The most expensive homes in the area vary from beautifully updated and maintained traditional and ranch-style homes from the 50s and 60s, to more recent construction custom-built homes. Sprawling lots are the norm, and can range from 8,000 to more than 11,000 square feet.
Briargrove luxury real estate typically feature 4 to 5 bedroom floor plans, with 4 and 1 half baths. Multi-car garages, landscaped lawns and backyards, and upscale furnishings are common.
In terms of aesthetics, Briargrove homes for sale don't stray too far from classic Traditional and Ranch styles, though some newer construction draw inspiration from French, Contemporary, and Modern designs.
Briargrove Houston luxury real estate have a 77057 Harris County zip code.
Briargrove Houston: Fun Things To Do In The Neighborhood
There are perks to be had from being located adjacent to the Galleria/Uptown area.
Houston's premiere shopping destination, the Galleria area features over 700 retailers, restaurants, hotels, and other entertainment hubs. With the Galleria and Uptown Park within minutes away, Briargrove homes are within minutes of Houston's best and finest in terms of retail.
Other shopping malls nearby include Rice Village and Highland Village.
Within the neighborhood's borders, residents can enjoy a leisurely stroll around Briargrove Park Center or take a swim in the community center's pool facilities.
Briargrove Park Center offers several facilities, including a pool, tennis courts, and a playground. The park's redevelopment in 2003 led to the improvement of other clubhouse amenities like sidewalks, fences, and its large pavilion. The community center pool is also home to the local swim team – the Barracudas.
Here are some of the must-visit places near Briargrove Houston:
Restaurants
Truluck's
The Capital Grille
True Food Kitchen
Caracol
Etoile Cuisine et Bar
Chama Gaucha Brazilian Steakhouse
Masraff's
Pappas Bros Steakhouse
Maggiano's Little Italy
De Frisco's Double Eagle Steak House
Nightlife
Belvedere
The West End
Ron's Pub
Richmond Arms Pub
51fifteen Restaurant and Lounge
Firehouse Saloon
Muldoon's the Patio
The Black Swan
The Living Room
Retail and Entertainment Centers
The Galleria
Uptown Park
Rice Village
Groceries
Whole Foods
The Fresh Market
Randalls Food & Pharmacy
Target
HEB
Parks
Briargrove Park Center
Tanglewood Park
Gerald D. Hines Waterwall Park
Post Oak Park
Grady Park
Hidalgo Park
Briargrove Houston Realtor – Paige Martin
As featured on Fox News in the Morning, the Houston Business Journal, Houston Chronicle, and Houston Magazine, Paige Martin – a consistent Top Producing Broker-Associate and head of the Houston Properties Team – is ranked amongst the very top Keller Williams agents in the Houston area.
Paige is ranked as one of the top realtors in Briargrove Houston, and the state of Texas. Read more about the over 65 awards she's won in the last few years.
Paige works with a tremendous number of buyers and sellers within Briargrove.
For a specific recommendation of neighborhoods, homes or properties based upon your personal style, goals & price point, please contact Paige Martin, head of the Houston Properties Team & Broker Associate at [email protected] or 713-425-4194.