Briargrove Houston Homes For Sale Under $500k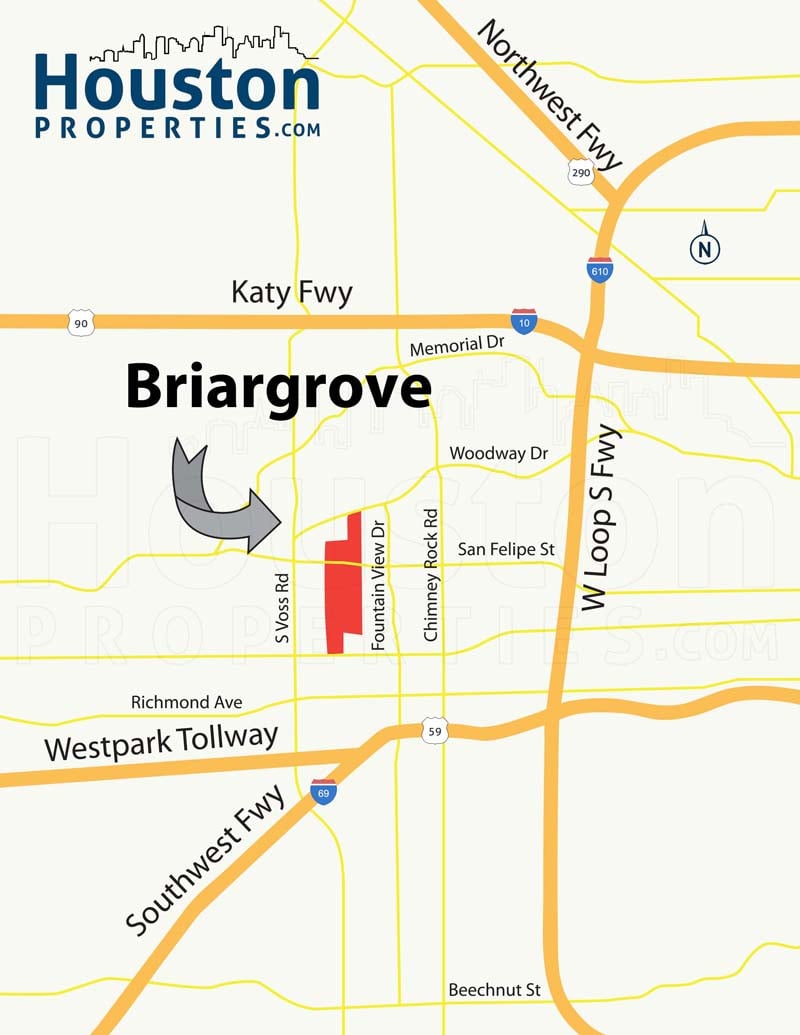 Briargrove is a deed-restricted residential enclave located west of the Galleria.
The neighborhood's proximity to Houston's premiere shopping and retail center has its perks, including being minutes away from over 700 restaurants, fashion boutiques, hotels, and retail stores. Schools, offices, and business centers are also located nearby.
Lined with some of Houston's major roads, Briargrove homes for sale are also highly accessible to and from key centers within the Inner Loop.
Briargrove is also prized for its tight-knit community and peaceful atmosphere. It has a community center, a swimming pool, and an award-winning school, Briargrove Elementary, conveniently within its borders.
Briargrove homes can range from older ranch-style homes that have been updated or remodeled, to newer construction custom-built homes. Like its neighbors in west Houston, Briargrove features homes on large lots.
The neighborhood's popularity has driven demand – making the Briargrove real estate market challenging to navigate.
Contact Paige Martin, one of the best realtors in Houston, head of the Houston Properties Team & Broker Associate at [email protected] or 713-425-4194 for advice or questions about buying or selling a Briargrove townhome.
Briargrove Houston Resources:
For more information on available Briargrove Houston homes for sale call Paige Martin at 713-425-4194 or email [email protected]
Briargrove Houston Neighborhood Guide
Located about 12 miles west of Downtown Houston, Briargrove is  a peaceful, mostly residential neighborhood.
It is adjacent to the Galleria, and is minutes away from major freeways. Briargrove homes also have convenient access to main Houston streets like Westheimer Road and Woodway Drive, making the commute to Inner Loop neighborhoods relatively easy.
The neighborhood was developed during the 1950s, during Houston's suburban boom. Prior to development, Briargrove was home to only a handful of dwellings, but today the neighborhood's household count has grown to around 900.
During its development in the 50s and 60s, Briargrove was filled out with ranch-style homes. Since then, some of the neighborhood's older homes have been replaced with new ones.
Today, Briargrove homes are a mix of old and new, with traditional and ranch-style interspersed with custom-built homes.
Briargrove Houston is located within the 77057 Harris County zip code. Neighborhoods nearby include Tanglewood, the Galleria/Uptown area, Bellaire, the Memorial Villages, Piney Point, and Hunters Creek.
Briargrove Schools Information
Briargrove is zoned to the Houston Independent School District (HISD).
Public
Elementary Schools
Briargrove Elementary School at 6145 San Felipe St. Located comfortably within the neighborhood, Briargrove is a newly named IB World School and now offers the International Baccalaureate Primary Years Programme (PYP). Apart from this new program, the school also features a Critical Thinking Lab, along with several enrichment classes in various subjects and areas.
Briarmeadow Charter School at 3601 Dunvale Rd. As an option for those zoned to Briargrove, charter school Briarmeadow serves students in Pre-K through 8. It features Gifted and Pre-AP programs.
Students within the Briargrove area can apply to the soon to open Mark White School, slated to open its doors in August 2016.
Middle Schools
Grady Middle School at 5215 San Felipe St. As a neighborhood Vanguard school, Henry W. Grady Middle School offers Pre-AP classes for Gifted and Talented students. The school also offers core enrichment classes in different subjects including Technology, Spanish, Music, Fine Arts, and Visual Arts.
High Schools
Lee High School at 6529 Beverly Hill St. Located less than a couple of miles away from Briargrove homes, Lee High School is one of the HISD's magnet schools. It offers several Advanced Placement courses, including World History, Macroeconomics, and Statistics, among others. Students zoned to Lee can choose to attend Lamar or Westside instead.
Lamar High School at 3325 Westheimer Rd. Known for its great athletics program and its football team (the Lamar Texans, formerly the Redskins), Lamar also offers excellent academics programs. As one of the HISD's IB World Schools, Lamar serves a Middle Years Programme (MYP) a Diplomma Programme, and a Career-Related Programme. Its other programs include neighborhood and Advanced Placement.
Westside High School at 14201 Briar Forest Dr. Westside is the Houston ISD's Magnet School for Integrated Technology, and its curriculum centers on how technology can be applied to 5 aspects: Media Relations, Applied Science/Health Science, Fine Arts, Business, and Computing Sciences.
T. H. Rogers School at 5840 San Felipe St. Named a National Blue Ribbon School in 1991-92, the Thomas Horace Rogers School is an alternative public school that serves grades K through 12. It offers a Vanguard program for gifted and talented students from kindergarten to 8th grade. Programs for deaf (Program for Deaf and Hard of Hearing) and multiply impared students (Program for Preparing Students for Independence) are offered from Pre-K to 8th grade, and age 3 to 12th grade, respectively.
Briargrove Houston Private Schools
Briargove homes are located near several private schools, including St. Michael School (1833 Sage Rd.), a part of the Archdiocese of Galveston-Houston, and the Al-Hadi School of Accelerative Learning (2313 S Voss Rd.), a private Islamic School.
Here are a few private schools located near Briargrove:
St. Francis Episcopal Day School at 335 Piney Point Rd.
The Tenney School at 3500 S Gessner Rd.
Robindell Private School at 6610 Alder Dr.
Memorial Lutheran School at 5800 Westheimer Rd.
Duchesne Academy of the Sacred Heart at 10202 Memorial Dr.
The Kinkaid School at 201 Kinkaid School Dr.
Second Baptist School at 6410 Woodway Dr.
To find an updated listing of all Briargrove real estate zoned to any specific public school, please send an email to Paige Martin at [email protected] with the property preference and budget that you're working with.
*Note: School zoning tends to change from year to year, information provided above are accurate but not guaranteed. Please double check by visiting the school's website.
Briargrove Houston Realtor – Paige Martin
As featured on Fox News in the Morning, the Houston Business Journal, Houston Chronicle, and Houston Magazine, Paige Martin – a consistent Top Producing Broker-Associate and head of the Houston Properties Team – is ranked amongst the very top Keller Williams agents in the Houston area.
Paige is ranked as one of the top realtors in Briargrove, Houston, and the state of Texas. Read more about the over 65 awards she's won in the last few years.
Paige works with a tremendous number of buyers and sellers within Briargrove.
For a specific recommendation of neighborhoods, homes or properties based upon your personal style, goals & price point, please contact Paige Martin, head of the Houston Properties Team & Broker Associate at [email protected] or 713-425-4194.