Camp Logan Homes For Sale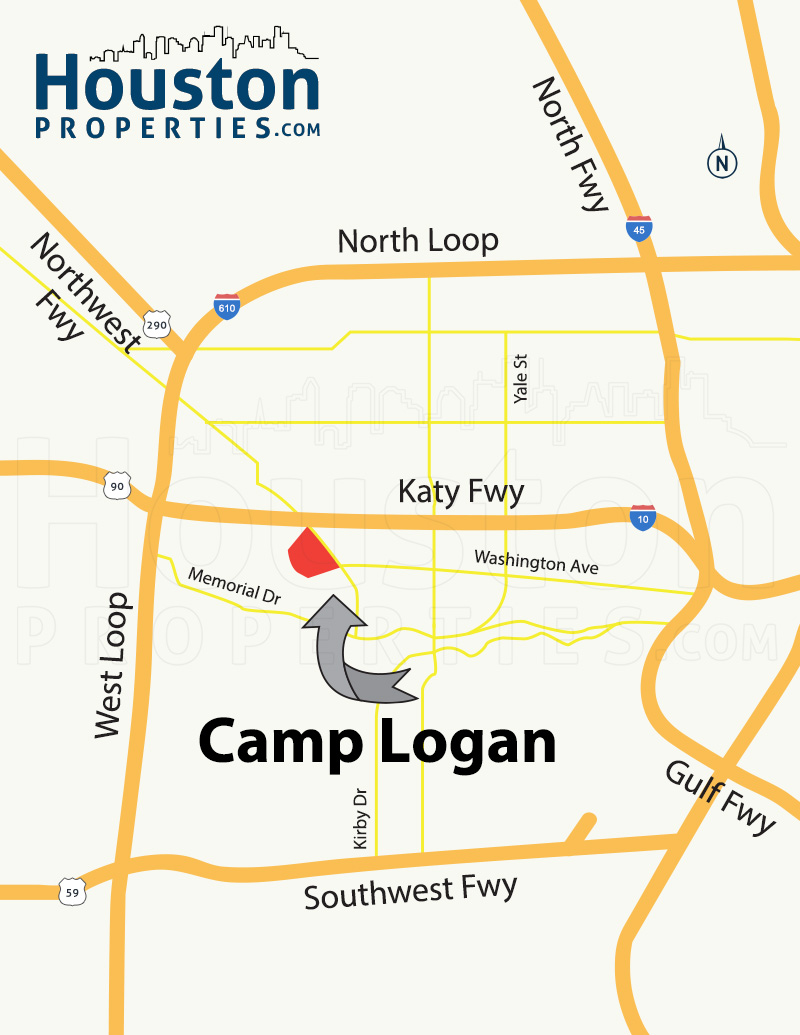 Camp Logan is a small, close-knit community nestled next to Memorial Park. Its winding streets are lined with ranch-style houses and more recently constructed two to four-story townhomes. The neighborhood's charm lies in having Memorial Park right next door.
Camp Logan residents enjoy having direct access to the many amenities of Memorial Park, as well as having other important Houston hubs like Downtown Houston, the Energy Corridor, and the Texas Medical Center close by.
The Galleria is a short drive away, along with other shopping destinations like the River Oaks Shopping Center and Highland Village.
Camp Logan is zoned to the Houston Independent School District's Memorial Elementary School, Hogg Middle School, and Lamar High School. A Roman Catholic school, St. Theresa School, is also within the area.
Contact Paige Martin, a top-ranked Houston realtor and head of the Houston Properties Teamm for questions and advice about Camp Logan homes for sale.
Camp Logan Houston Resources:
NOTE: Camp Logan homes are among the fastest selling real estate in Houston. Some of the properties are off-market (not publicly listed). For more information on available Camp Logan homes for sale call Paige Martin at 713-425-4194 or email [email protected]
Camp Logan Houston Neighborhood Guide
Camp Logan is located south of Katy Freeway (Interstate 10), west of Memorial Park, north of Memorial Drive, and east of Westcott Street.
Camp Logan residents enjoy having Memorial Park as a vast, lush backyard, whilst also being able to take advantage of the perks of city living. The close-knit community has an active civics club and a park within the neighborhood, Camp Logan Park, fondly known "big-dog park."
Camp Logan is within the 77007 zip code of Harris County and is near neighborhoods including Crestwood, Cottage Grove, Timbergrove, Memorial Park, West End, and River Oaks.
The area was once the site of an army training camp during World War I. Brothers Mike and Will Hogg bought the land and adjacent property but sold it at cost to the city of Houston. The former boot camp was later turned into a park commemorating the soldiers who died during WWI. The community beside Memorial Park retained the name Camp Logan.
These days, the neighborhood boasts of an eclectic mix of renovated ranch-style houses and newer single family houses and townhomes, though some vestiges of the area's rich history – trenches, trails, and building foundations – remain.
Having one of the largest urban parks in the United States just next door has its perks, and residents of Camp Logan can certainly take advantage of Memorial Park's various outdoor offerings.
The amenities available in the park include trails for hiking, cycling, and jogging, picnic spots, and facilities for swimming and tennis. Residents can also have a round – or several rounds – of golf at the 18-hole Memorial Park Golf Course.
Schools, shopping malls, and restaurants are not in short supply either, as several are only minutes away from Camp Logan. The Galleria is a short drive away, along with other commercial and dining establishments in the area.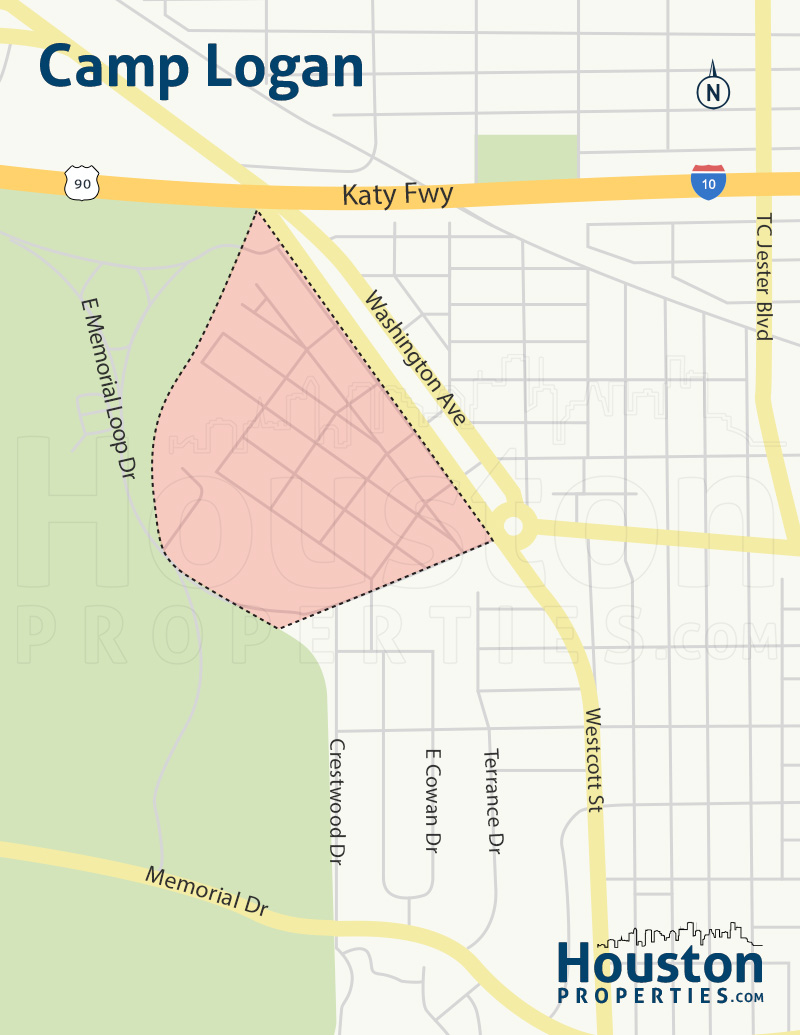 Camp Logan Schools Information
Camp Logan neighborhood is under the Harris County and zoned to the Houston Independent School District (HISD). The following are the schools under the zone 77007.
Elementary
Houston Heights Learning Academy at 902 W 8th St. A charter school that has 115 students in grades PK-5 and has a 10 out of 10 test rating by Education.com. Its TEA ranking is Exemplary.
Crockett Elementary School at 2112 Crockett St. It is a charter school with an Exemplary TEA Ranking that serves 402 students in grades PK-5. It has a 9 out of 10 test rating by Education.com.
Harvard Elementary School at 810 Harvard St.  It is a magnet school that has 689 students in grades PK-5 and has a Recognized TEA Ranking. It has a 7 out of 10 test rating from Education.com. It has an 18:1 student ratio.
Memorial Elementary School at 6401 Arnot St. It is a coeducational public school that serves PK-6 students. It has a GreatSchools.org rating of 6 out of 10.
Middle School
Depelchin-Elkins Campus at Memorial Drive.  It is one of the 16 schools included in the University of Texas' University Charter School District that serves 36 students in grades 6-12.
Hogg Middle School at 1100 Merrill St. Hogg Middle School is a public co-ed school that serves 722 students in grades 6 to 8.
High School
Lamar High School at 3325 Westheimer. Lamar High School serves 3225 students in grades 9 to 12 and has a great Athletics program. Apart from having one of the oldest lacrosse programs in the state of Texas, the school's football team, the Lamar Redskins, is also considered as one of the best in the Greater Houston area. It has a GreatSchools.org rating of 7 out of 10.
Camp Logan townhomes are also located near some great private schools. St. Theresa Catholic school is within a stone's throw of the neighborhood, while others are 15 to 20 minutes away.
St. Theresa Catholic School at 6623 Rodrigo St. It is a private school that employs co-education. It is a part of the Archdiocese of Galveston-Houston and is a member of the National Catholic Educational Association.
St. Thomas High School at 4500 Memorial Dr. It is an all-boys Catholic school that serves grades 9 to 12 students. Like St. Theresa, it is also affiliated with the Archdiocese of Galveston-Houston and the NCEA.
River Oaks Baptist School at 2300 Willowick Rd. River Oaks Baptist School is a coed, nonsectarian school for PK-8 students. It is affiliated with NAIS, and has a GreatSchool.org community rating of 5 out of 5 stars.
To find an updated listing of all Camp Logan real estate zoned to any specific public school, please send an email to Paige Martin at [email protected] with the property preference and budget that you're working with.
*Note: School zoning tends to change from year to year, information provided above are accurate but not guaranteed. Please double check by visiting the school's website.