Champion Forest Houston Homes For Sale Under $500k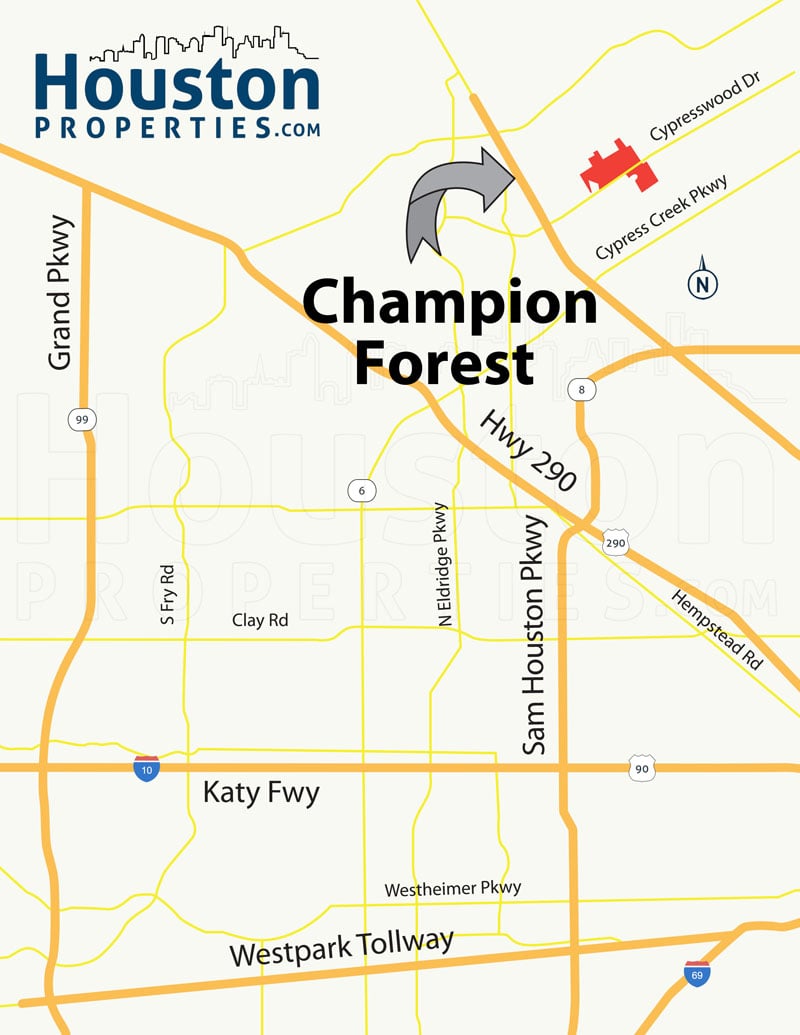 Champion Forest is a master-planned residential neighborhood nestled within northwest Houston.
The neighborhood is popular for its beautifully updated homes from the 70s and 80s, its tree-lined, wandering streets, and its central location and high accessibility.
Located a few minutes north of FM 1960 and east of Highway 249, Champion Forest homes are centrally located near schools, parks, stores, activity centers, restaurants, and cafes.
Facilities for golf and other outdoor activities are also abundant in and around the neighborhood.
Shopping centers along the FM 1960 including the Willowbrook Mall, Willow Center, and Champions Village are minutes away from Champion Forest.
Champion Forest is best known for its great access to premiere and exclusive golf courses and country clubs. The Raveneaux Country Club is located within the community, while the premiere tournament-level Champions Golf Club is a stone's throw away from the neighborhood.
Champion Forest is zoned to the Klein ISD, and students in the neighborhood attend Brill Elementary, Kleb Intermediate, and Klein High School.
Thanks to several civic clubs and an active homeowners association, Champion Forest has managed to maintain its idyllic atmosphere, making it an ideal neighborhood for families and professionals alike.
Contact Paige Martin, head of the Houston Properties Team & Broker Associate at [email protected] or 713-425-4194 for advice or questions about buying or selling a Champion Forest townhome.
Champion Forest TX Resources:
For more information on available Champion Forest homes for sale under $500K call Paige Martin at 713-425-4194 or email [email protected]
Champion Forest TX Neighborhood Guide
Located approximately 26 miles northwest of Downtown Houston, Champion Forest is a quaint, deed-restricted neighborhood. It is one of the affluent, golf-centered communities that make up the Champions area.
Indirectly named for the premiere tournament-level Champions Golf Club, Champion Forest is highly popular for its proximity of country clubs, activity centers, and retail hubs. Schools, parks, stores, restaurants, cafes, and other entertainment centers are also within a short drive away from Champion Forest homes.
Developed in the 1970s, the neighborhood still features a majority of its original homes. Deed restrictions have kept the community's overall look and feel – one- and two-story traditional homes on large lots sit along the neighborhood's tree-lined streets.
On average, homes in the area feature 4 bedrooms, 2 baths, and 2 half baths. Car garages and large, wooded lots are also common.
Champion Forest homes are relatively affordable, starting at around $200,000 for older homes. Newer and bigger properties tend to sell for much higher prices.
Champion Forest has a 77379 Harris County zip code.
Zip codes near Champion Forest TX include 77375, 77388, 77090, 77068, 77069, 77070, and 77090 and 77008.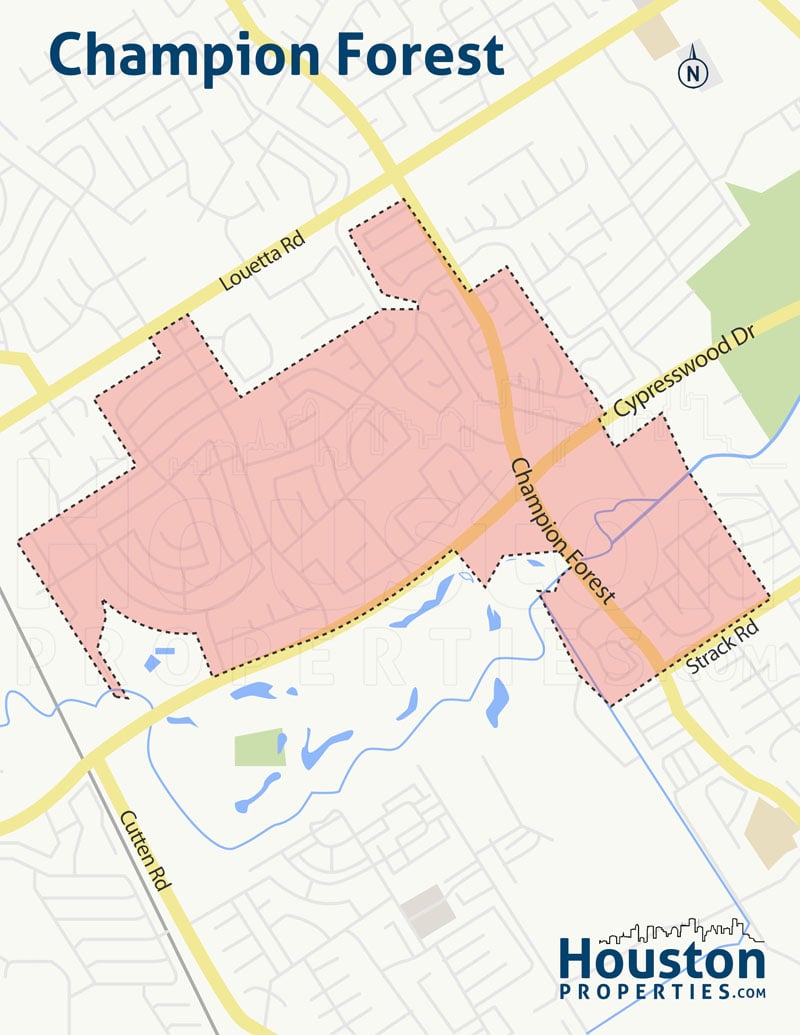 Champion Forest Schools Information
Champion Forest is zoned to the Klein Independent School District (KISD). Residents can attend the following public schools:
Elementary Schools
Brill Elementary School at 9102 Herts Rd. One of the 26 elementary schools in Klein ISD, Brill is located within the the borders of Champion Forest. The school has a GreatSchools.org rating of 8 out of 10.
Middle Schools
Kleb Intermediate School at 7425 Louetta Rd. Home of the Bear Cubs, Kleb Intermediate originally opened its doors in 1981. The school's current campus opened in 1993. Kleb plays host to a wide variety of student academic and athletics clubs and organizations.
High Schools
Klein High School at 16715 Stuebner Airline Rd. The first high school in the KISD, Klein High School is accredited by both the Texas Education Agency (TEA) and the Southern Association of Colleges and Schools. Campus renovation was recently completed. Klein offers a great athletics program and has won state championships in soccer, baseball, tennis, and chess.
Champion Forest TX Private Schools
The following are some of the more notable private schools near Champion Forest.
Champions Montessori School at 16715 Champion Drive. Champions Montessori School offers child-centered and highly-individualized education for Toddler, Pre-Kindergarten, and Primary School students.
Kinsmen Children's Academy at 12100 Champion Forest Drive. The school offers toddler and preschool classes with extended day options.
Primrose School of Champions at 16811 Shadow Valley Drive. A private school established in 1998, Primrose School of Champions became the first school to earn an AdvancED™ Corporation Systems Accreditation based on the New Standards for Quality Early Learning Schools which is the highest-level accreditation an early learning school can receive.  The school offers Infant, Toddler, Early Preschool, Preschool, and Pre-Kindergarten classes, while also implementing after school and summer camp activities.
Champions Academy at 17155 Old Louetta Road. The school specializes in early childhood education and employs a Christian-based educational child care system.
Champions Christian Academy at 2105 Cypress Landing Drive. Serving children ages 12 months through pre-school, and kindergarten through middle school, the school has recently expanded its curriculum to include Science Lab classes as early as second grade and basic Spanish for students in fifth grade and above.
Harmony Science Academy at 16200 Tomball Parkway. Harmony Science Academy is a nearby charter school which caters to Kindergarten to Grade 8 students. Established in 2007, the school received the Title-I National Distinguished School Award from the US Department of Education mainly because of the school's exceptional student performance in the past two years.
Northland Christian School at 4363 Sylvanfield Drive. First opening its doors in the year 1974, Northland Christian School offers both elementary and secondary education. The school boasts of a right mix of excellence in academics, a thriving arts program, and a robust athletics program.
To find an updated listing of all Champion Forest real estate zoned to any specific public school, please send an email to Paige Martin at [email protected] with the property preference and budget that you're working with.
*Note: School zoning tends to change from year to year, information provided above are accurate but not guaranteed. Please double check by visiting the school's website.
Champion Forest TX Realtor – Paige Martin
As featured on Fox News in the Morning, the Houston Business Journal, Houston Chronicle, and Houston Magazine, Paige Martin – a consistent Top Producing Broker-Associate and head of the Houston Properties Team – is ranked amongst the very top Keller Williams agents in the Houston area.
Paige is ranked as one of the top realtors in Champion Forest, Houston, and the state of Texas. Read more about the over 65 awards she's won in the last few years.
Paige works with a tremendous number of buyers and sellers within Champion Forest.
For a specific recommendation of neighborhoods, homes or properties based upon your personal style, goals & price point, please contact Paige Martin, head of the Houston Properties Team & Broker Associate at [email protected] or 713-425-4194.