Conroe Southwest Real Estate Guide
Conroe Southwest homes for sale & insider real estate guide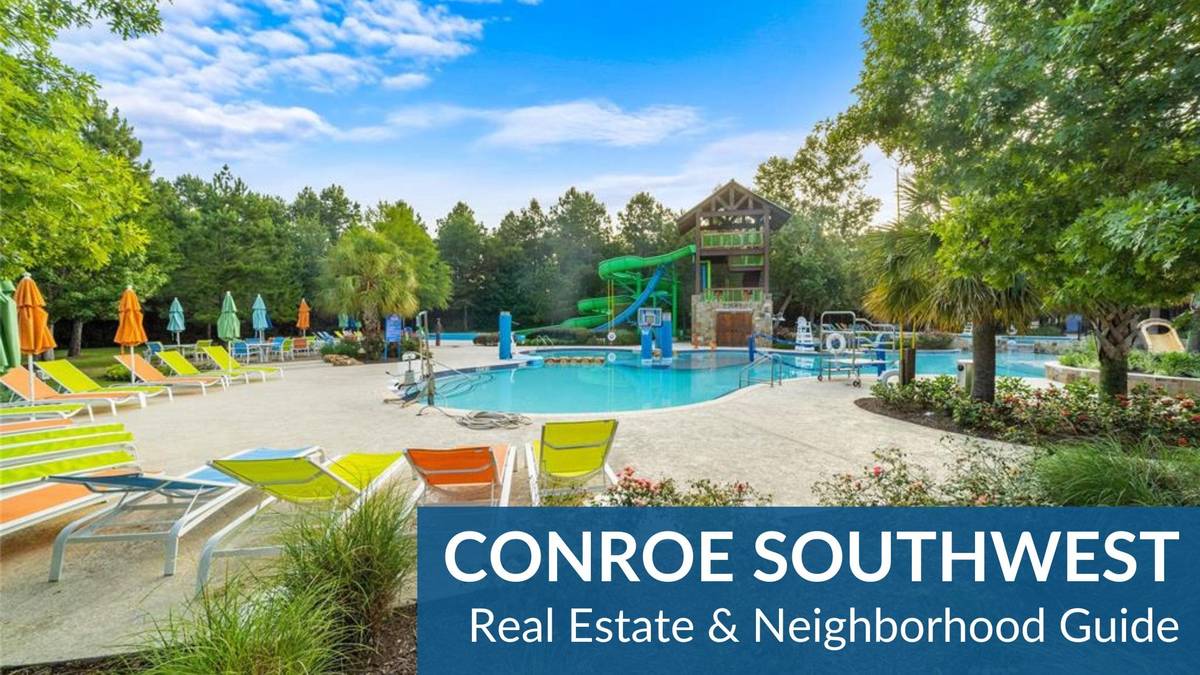 Conroe Southwest offers a peaceful suburban lifestyle while providing quick city access. It is 40 miles north of Downtown:
Conroe Southwest is known for its:
LOW-COST LIVING: The area has affordable housing. This makes it an appealing option for homebuyers compared to other neighborhoods in Houston. The price of homes in Conroe Southwest starts at around $200,000 and can go up to approximately $2,000,000. There are also lower costs for essentials like utilities, transportation, and healthcare.

ACREAGE PROPERTY: Homes often sit on expansive one-acre lots, providing generous livable space. Many of these homes have over 3,000 square feet. These are one- to two-story homes with a traditional architectural style. Lush landscapes and scenic views surround them.

RAPID GROWTH: Residential developments are rising. It became a thriving hub for developing new homes in Texas between 2003 and 2006. Over the past years, the area has undergone remarkable growth and transformation.

OUTDOOR ACTIVITIES AND GREEN SPACE: 26 parks in the neighborhood are perfect for hiking, camping, and observing wildlife. Among the famous parks are Dr. Martin Luther King, Jr. Park, Candy Cane Park, and Milltown Park. Lake Conroe is a nearby 21,000-acre reservoir that provides opportunities for boating and various water-based activities.

HIGH-QUALITY EDUCATION: Most of the top-ranked schools in Houston surround the area. These schools are part of the Conroe Independent School District. Families seeking alternative education options can also choose from private and charter schools. Conroe Southwest ensures families can access quality education for their children.

VIBRANT COMMUNITY AMENITIES: There is a vibrant downtown. There are art galleries and museums that commemorate local history. Conroe's Founders Plaza and Heritage Place provide outdoor performance venues. Live music, shopping malls, dining options, and live theater acts bring life to the area.

GREAT ACCESSIBILITY: It is accessible via Interstate 45 or the North Freeway for easier commuting. It is also near The Woodlands, a master-planned community.
Purchasing a property in Conroe Southwest presents its own set of challenges. The help of a top realtor is invaluable. Having a realtor who is well-acquainted with the Conroe Southwest area is essential.
To get personal advice on buying or selling in the Conroe Southwest area, contact Paige Martin, one of Houston's best realtors and one of the top-ranked Realtors in the United States.
"Brittney and the entire team at Houston Properties have been amazing to work with! I had a condensed timeline to find a place and several things I was particular about and they nailed it. Cannot recommend them enough. There team has been so helpful, even now after I've already closed they always pickup the phone and help me in any way they can with whatever issues I may be having which have been very few." - Hayden Ward (Google Review)
---
Table of Contents
---
Conroe Southwest Home Sale Trends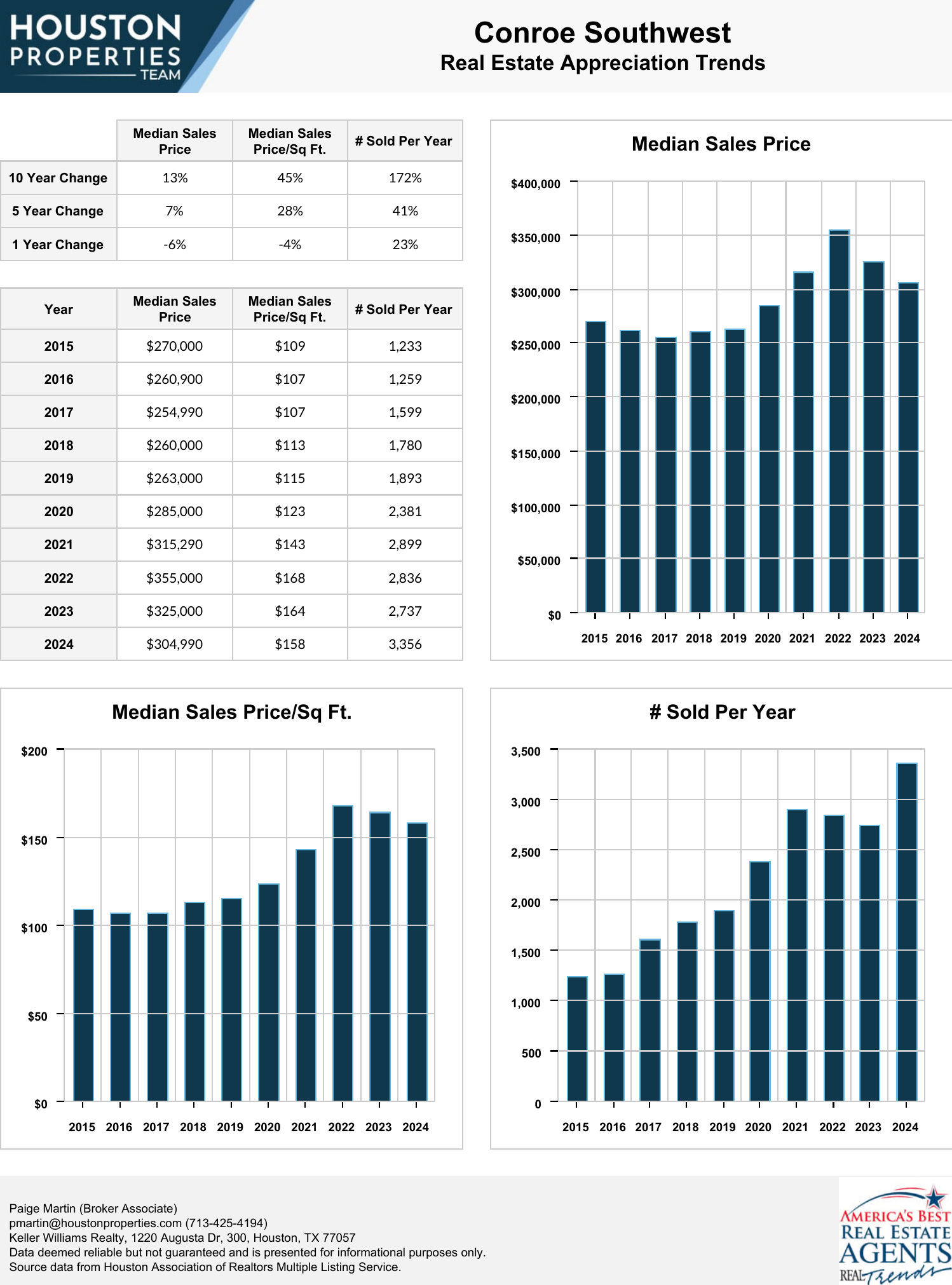 Located 40 miles north of Downtown Houston, Conroe is famous for having notable amenities, parks, restaurants, and access to convention centers and museums.
Conroe is known for its:
EXCELLENT SCHOOLS: Powell Elementary and Anderson Elementary are listed in Top-Ranked Schools of Houston. These high-rated schools are nestled in Conroe.

ACCESS TO PARKS: The neighborhood is zoned to 26 parks. Popular parks around the city include Candy Cane Park, John Burge Park, Shadow Lake, and McDade Park.

GREAT COMMUNITY AMENITIES: It is also home to fascinating amenities, including restaurants, recreational spots, retail centers, a convention center, and nearby malls and museums. Heritage Museum of Montgomery County, Conroe Center, and The Lone Star Convention and Expo Center are easily accessible for residents.

ACCESSIBILITY: Located along Interstate 45 provides residents easy access to nearby communities, including The Woodlands and Spring Branch North. It is also almost 19 minutes away from Lake Conroe.
Conroe covers a 46,570-acre area, a principal city in Houston where the community continues to grow and is famous for its city lights.
---
Conroe Southwest Best Realtor Insights
Conroe Southwest offers a dynamic and picturesque environment where residents and businesses thrive.
Conroe Southwest is 40 miles north of Downtown Houston. It is accessible via I-45, which makes commuting easy.

Homes in Conroe Southwest range from approximately $200,000 to around $2,000,000 in price.

Most properties in Conroe Southwest are single-family homes and townhomes. These one- to two-story homes have traditional architectural styles.

Conroe ISD zones Conroe Southwest. Top-rated schools such as Gerald D. Irons Sr. Jr High and Woodlands High serve the neighborhood.

Conroe Southwest has experienced remarkable growth and significant transformations over the past years. It emerged as a vibrant center for developing new homes in Texas.

Conroe Southwest stands out for its affordable cost of living.

Lush landscapes and vibrant greenery surround Conroe Southwest. The area is nearby 26 parks where residents can go hiking, biking, and camping.

Conroe Southwest residents can enjoy boating and water activities in nearby Lake Conroe.

Conroe Southwest's vibrant downtown area provides nearby shopping and dining options. Live theater acts, music, and outdoor performances bring entertainment.

Conroe Southwest has a booming employment market gaining more people and businesses.
---
Conroe Southwest Maps, Location & Zip Code
| Commute Time | Conroe Southwest |
| --- | --- |
| Downtown (min) | 40 |
| Med Ctr (min) | 50 |
| Energy Corridor (min) | 45 |
| Galleria (min) | 45 |
Highlights
Conroe Southwest
Amenities
Conroe Southwest, is the county seat of Montgomery County. It is about 40 miles north of Downtown Houston.

Nearby Lake Conroe is perfect for boating and fishing. It is also close to some of the best suburbs in Houston.

Conroe Southwest is a tranquil neighborhood with suburban atmosphere. New developments have been consistently rising in the area.
Golf Courses
- Conroe Country Club
- Kohl's Golf Center
- Lauren Baugh Golf
- West Fork Golf Club
Run / Bike Trails
- Milltown Park
- Lewis Park
- Kasmiersky Park
- Dr. Martin Luther King, Jr. Park
- Candy Cane Park
Nearby Retail / Dining
Dining:

- Pacific Yard House
- Ciccios Pasta
- Honor Cafe
- 202 Main
- House of Roux
- Carmelita's
- Dragon Bowl C Noodle Bar

Retail Shops:

- Branding Iron Custom Goods
- Sweet Texas Treasures Boutique - Conroe
- Mimi's On Main
- Conroe Service League / Bargain Box Resale Shop
- Conroe Central Market
- Assistance League Thrift Shop
- Space City Kids Clothing


Entertainment/Nightlife:

- The Corner Pub
- Owen Theatre
- The Vault Speakeasy
- Mogo
- Crighton Theatre

Groceries:

- Fiesta Mart #81
- Grocery Services, Inc.
- El Ahorro Supermarket
- WIC Grocery
- Amigo Food Store
Major Employers
- Max Marketing Company
- Big John Propane
- Conner Industries Inc.
- General Packaging Corporation
- Pepsi Bottling Group
- BAUER Manufacturing Inc.
---
Conroe Southwest Schools
| Top Elementary Schools | Great Schools Ranking |
| --- | --- |
| Armstrong Elem (Conroe) | 8 |
| Austin Elem (Conroe) | 8 |
| Buckalew Elem | 10 |
| Bush Elem (Woodlands) | 10 |
| Deretchin Elem | 9 |
| Galatas Elem | 9 |
| Powell Elem (Conroe) | 8 |
| Top Middle Schools | Great Schools Ranking |
| --- | --- |
| Gerald D. Irons Sr. Jr High | 7 |
| Knox Jr High | 8 |
| Mccullough Jr High | 9 |
| Montgomery Jr High | 7 |
| Top High Schools | Great Schools Ranking |
| --- | --- |
| Woodlands College Park High | 7 |
| Woodlands High | 7 |
Most of Conroe Southwest is served by the Conroe Independent School District. However, a small northern area falls within the Willis Independent School District.
In Conroe Southwest, Texas, students benefit from exceptional instruction that fosters their development, academic achievements, and active involvement in the community.
The following public schools are available to students in the area:
---
Elementary Schools
---
Armstrong Elementary at 110 Gladstell St. The school caters to students ranging from pre-kindergarten to fifth grade. A team of six teachers supports the school's special education department and actively promotes parental and community engagement in the field of education.

Austin Elementary at 14796 Highway 105 East. Established in 2007, this school lives up to its motto of "Empowering every learner, every day!" It caters to learners PK-4. There are a lot of fun programs that learners can participate in, including the Storybook Parade, P.E. Mileage Club, art exhibits, book fairs, and mentoring programs.

Buckalew Elementary at 4909 South Alden Bridge Dr. This has been recognized as high-performing by the National Center for Educational Achievement. This school serves grades PK-4. Various campus programs centered on skills, such as Character Education- Positivity Project, Life Skills Program, and Gardening Club, are offered.

Bush Elementary at 7420 Crownridge Dr. Opened in 2016, the school is named after former United States President George W. Bush. This school caters to learners from PK-4 with programs focused on community involvement projects, gifted and talented programs, and YMCA after-school care programs.

Deretchin Elementary at 11000 Merit Oaks Dr. Established in 2005, this public school serves grades PK–6. This school has an active Parents-Teachers Organization and volunteer program.

Galatas Elementary at 9001 Cochrans Crossing Dr. This school was established in 1992 with a mission to develop lifelong learners and responsible citizens. It serves PK-4 learners. Its campus programs center on science and technology. Science camp, Science fair/Sci-Tech, and Robotics are some of the programs students can participate in.

Powell Elementary at 7332 Cochrans Crossing Dr. As a community school, the focus is on the academic progress of its students. They have various campus programs that engage not just with learners but also with parents as well. The programs they offer prioritize collaboration and employ consistent instructional practices to foster daily learning and facilitate their learners' individual growth.
---
Middle Schools
---
McCullough Junior High School at 3800 South Panther Creek Dr. The school provides a well-rounded curriculum encompassing essential subjects such as English, Math, Science, and Social Studies. Moreover, students can explore elective courses spanning various disciplines, including fine arts, physical education, technology, and beyond.

Knox Jr. High School at 12104 Sawmill Rd. This public school serves students in grades 7 and 8. Knox Junior High provides various extracurricular activities such as sports, debate, drama, and student council to enrich students' experiences.

Gerald D. Irons Sr. Jr High School at 16780 Needham Rd. This school offers various academic and non-academic programs. Algebra, Communications Applications, English Language Arts, Social Studies, Science, and Math are some of the programs students can engage with. Students can also participate in extracurricular activities such as sports, TV Broadcasting, choir, and theater and enhance their leadership skills through the Student Leadership Academy.
---
High Schools
---
The Woodlands College Park High School at 3701 College Park Dr. The school provides a diverse range of options for students. There are over 130 electives, 60+ clubs, and an athletic program with 15 competitive sports. Students have ample opportunities for extracurricular engagement. The school also offers various artistic and academic activities such as band, choir, speech, debate, drama, drill team, orchestra, cheerleading, and participation in UIL academic competitions. Some of the academic programs it offers include Advanced Placement courses, Dual Credit classes, Special Education, and Foreign language instruction, among others.

Woodlands High School at 6101 Research Forest Dr. This high school serves students in grades 9 to 12. With over 130 electives, 80+ clubs and organizations, and an athletic program with 15 different sports, students can explore diverse interests. Students can also participate in band, choir, cheerleading, debate, and drama. Additionally, the school offers a strong academic program that includes alternating block scheduling, Advanced Placement courses, Career and Technology courses, college preparatory courses, foreign language instruction, honors courses, and Special Education support.
---
Conroe Southwest Private Schools
---
Calvary Baptist School at 3401 North Frazier St

St. James Episcopal School at 1803 Highland Hollow Dr

Adventist Christian Academy Of Texas at 3601 South Loop 336 East

Lifestyle Christian School at 3993 Interstate 45 North
To find an updated listing of all Conroe Southwest real estate zoned to any specific public school, please send an email to Paige Martin at PMartin@HoustonProperties.com with the property preference and budget that you're working with.
Note: For more detailed information on specific schools zoned to different Conroe Southwest areas, please refer to our Houston Schools Guide OR email me.
Note: School zoning tends to change from year to year, the information provided above is accurate but not guaranteed. Please double-check by visiting the school's website.
---
Conroe Southwest Real Estate Market
Conroe Southwest Single-Family Home Sale Trends
---
Investment interest has been on the rise in Conroe Southwest due to the area's appealing features and amenities. The demand for single-family homes is leading to a steady increase.
Conroe Southwest single-family homes boast expansive lots with well-maintained landscaping. These residences offer up to five bedrooms and four full bathrooms.
Most homes have a mix of traditional and modern architectural designs. The sizes are between 1,500 up to more than 3,000 square feet.
Residents of Conroe Southwest can enjoy the availability of outdoor space. This includes a backyard providing opportunities for outdoor dining and relaxation.
For sale single-family homes in Conroe Southwest range from $200,000 to $1,200,000. Rental price starts at $1,500 to $5,000.
---
Conroe Southwest Townhome Sale Trends
---
Buyers find Conroe Southwest townhomes more appealing. This is because townhomes have a convenient location and low maintenance.
Developers in Conroe Southwest have constructed appealing townhomes with desirable amenities.
Conroe Southwest townhomes feature floor plans ranging from one to two stories. These homes occupy expansive one-acre lots that provide generous living space. It boasts spacious interiors, adding to their appeal.
The townhomes for sale in Conroe Southwest can start at around $200,000 and go up to about $400,000. The rental price ranges from $1,800 to $3,500. These homes have 2-bedroom, 2-bathroom units that range in size from 1,100 to 1,300 square feet.
Vibrant landscape surrounds Conroe Southwest. It creates a delightful and inviting living environment for the townhomes.
---
Conroe Southwest Condo Sale Trends
---
There are no mid- or high-rise Conroe Southwest condos for sale, but plenty of units are available in the surrounding areas.
Several condo buildings are located in The Woodlands and Lake Conroe, including:
One Lake's Edge
The Millennium Six Pines
Shoreline Condominiums
Paradise Point Condo
April Point
April Sound
Lakeview Terrace
To see other condos within the Inner Loop, see Inner Loop Houston Condos. To see other condos within the nearby Galleria area, see Galleria Houston Condos. To see other condos within Downtown Houston, see Downtown Condos. To see condos within the Museum District, see Museum District Condos.
The Houston Properties Team is an expert in Conroe Southwest real estate. Please contact us if you'd like to see Houston condos or learn more about buildings that could be a fit for you.
---
Conroe Southwest TX History
---
Conroe Southwest got its name after a Houston lumber, Isaac Conroe. This region is in Montgomery County, TX. Conroe Southwest is part of the city of Conroe, incorporated in 1904.
In the late 19th and early 20th centuries, Conroe Southwest and the wider Conroe city experienced significant growth. The presence of pine forests led to the establishment of many sawmills. The timber industry drove the city's growth, with Conroe as a major lumber and railroad hub.
The timber industry declined, but the city's economy diversified into other sectors. The population of Conroe Southwest increased as more people discovered the area's appeal. Expanding job opportunities, quality of life, and attractiveness contribute to the growth.
Today, Conroe Southwest evolves with development and infrastructure improvements. It continues to thrive, offering modern amenities and desirable residential options.
---
Fun Things To Do Near Conroe Southwest
---
Conroe Southwest boasts its nearby 26 parks and Lake Conroe. Residents have many options for enjoyable activities such as hiking, camping, and water-based activities.
Options for shopping, dining, and entertainment are also abundant in this neighborhood.
Here are some of Conroe Southwest's must-visit places:
Dining
Pacific Yard House
Kohl'ss Pasta
Honor Cafe
202 Main
House of Roux
Carmelita's
Dragon Bowl C Noodle Bar
Golf Courses
Conroe Country Club
Kohl's Golf Center
Lauren Baugh Golf
West Fork Golf Club
Parks and Trails
Milltown Park
Lewis Park
Kasmiersky Park
Dr. Martin LMimi'sKing, Jr. Park
Candy Cane Park
Shopping and Retail
Branding Iron Custom Goods
Sweet Texas Treasures Boutique - Conroe
Mimi's On Main
Conroe Service League / Bargain Box Resale Shop
Conroe Central Market
Assistance League Thrift Shop
Space City Kids Clothing
Groceries
Fiesta Mart #81
Grocery Services, Inc.
El Ahorro Supermarket
WIC Grocery
Amigo Food Store
Nightlife
The Corner Pub
Owen Theatre
The Vault Speakeasy
Mogo
Crighton Theatre
---
Best Conroe Southwest Realtor - Paige Martin
---
As featured on Fox News in the Morning, Houston Business Journal, and Houston Magazine Paige Martin, a consistent Top Producing Broker-Associate and head of the Houston Properties Team, is ranked as one of the top residential real estate agents in the world.
---
Best Houston Real Estate Resources
---