Most Expensive Cottage Grove Homes For Sale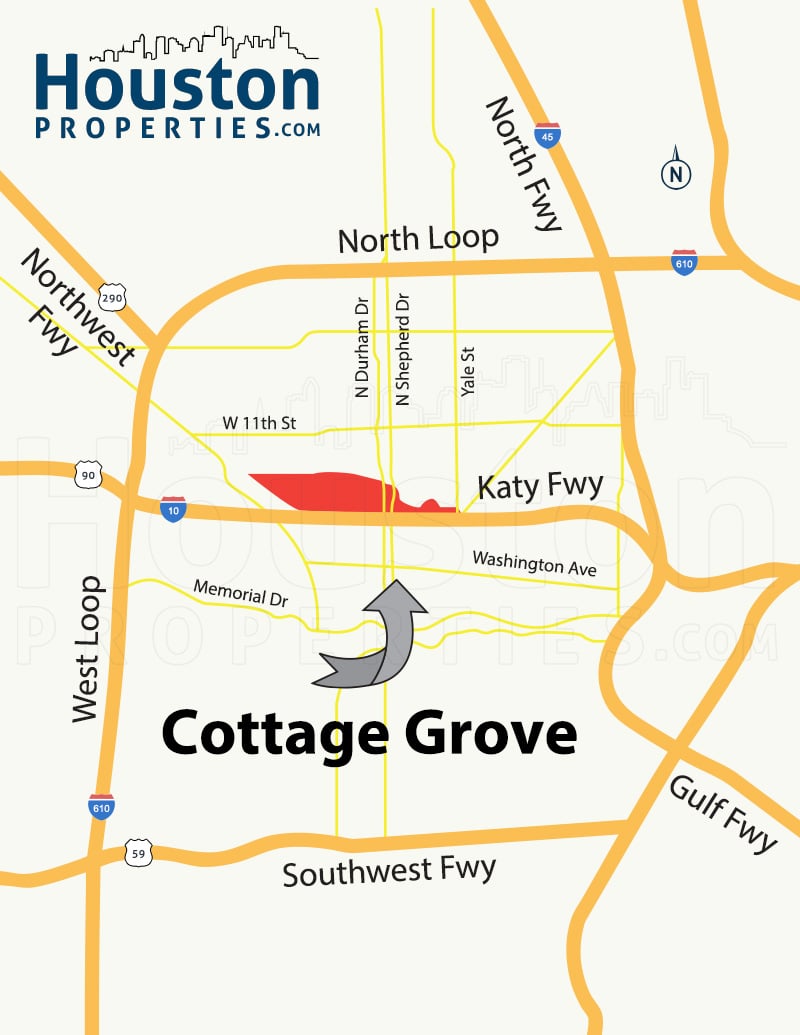 Cottage Grove is a quiet Inner Loop enclave located along the I-10.
Cottage Grove luxury real estate offer excellent accessibility to the best districts in Houston. Cottage Grove homes are sought after due to the neighborhood's:
HOMES IN GATED COMMUNITIES: Like Camp Logan and other Inner Loop neighborhoods, Cottage Grove has come to embrace multi-level living. The most expensive Cottage Grove homes are typically located within gated communities.
GREAT LOCATION: Cottage Grove's west central location within the Inner Loop provides great access to  Downtown Houston, Medical Center, and other main districts within the Loop. Its location along the I-10 and near main Houston roads make the neighborhood very accessible.
LOTS OF RECREATIONAL AND RETAIL HOTSPOTS: With the Washington Corridor, Montrose, and the Galleria all within minutes of the neighborhood, Cottage Grove homes have some of the best dining, nightlife, and retail options available. Outdoor recreation facilities are also available at the Memorial Park, which has several nature trails, a golf course, and other amenities.
Contact Paige Martin, a top ranked Houston realtor, head of the Houston Properties Team & Broker Associate at [email protected] or 713-425-4194 for more information about Cottage Grove luxury real estate.
Cottage Grove Houston Resources:
For more information on available Cottage Grove luxury real estate call Paige Martin at 713-425-4194 or email [email protected].
Cottage Grove Luxury Real Estate and Neighborhood Guide
What makes Cottage Grove very appealing to developers is its location. Straddling the I-10, the neighborhood is a short drive away from Downtown, the Galleria, and the Medical Center. Montrose, Memorial Park, and Rice Military are just south of Cottage Grove.
Formerly a stop for the Texas and Houston Central Railway, the neighborhood grew due mainly to the discovery of oil in the area. The Eureka Oil Field brought thousands to the area for work, and the neighborhood was named for the hundreds of cottages built during the period.
Vintage cottages still line the neighborhood's streets, though a number of new development, particularly townhomes, have permeated through Cottage Grove.
Cottage Grove luxury real estate are mostly multi-level townhomes and single-family homes in gated communities. Amenities can include walking trails and pools, while individual homes can feature rooftop terraces, high ceilings, multi-car garages, backyards, and energy efficient features. Others are even elevator-ready.
Compared to other luxury properties in other Inner Loop neighborhoods, Cottage Grove homes for sale are typically more affordable. New construction townhomes and single-family homes are more expensive, with prices ranging from $500,000 to more than $600,000.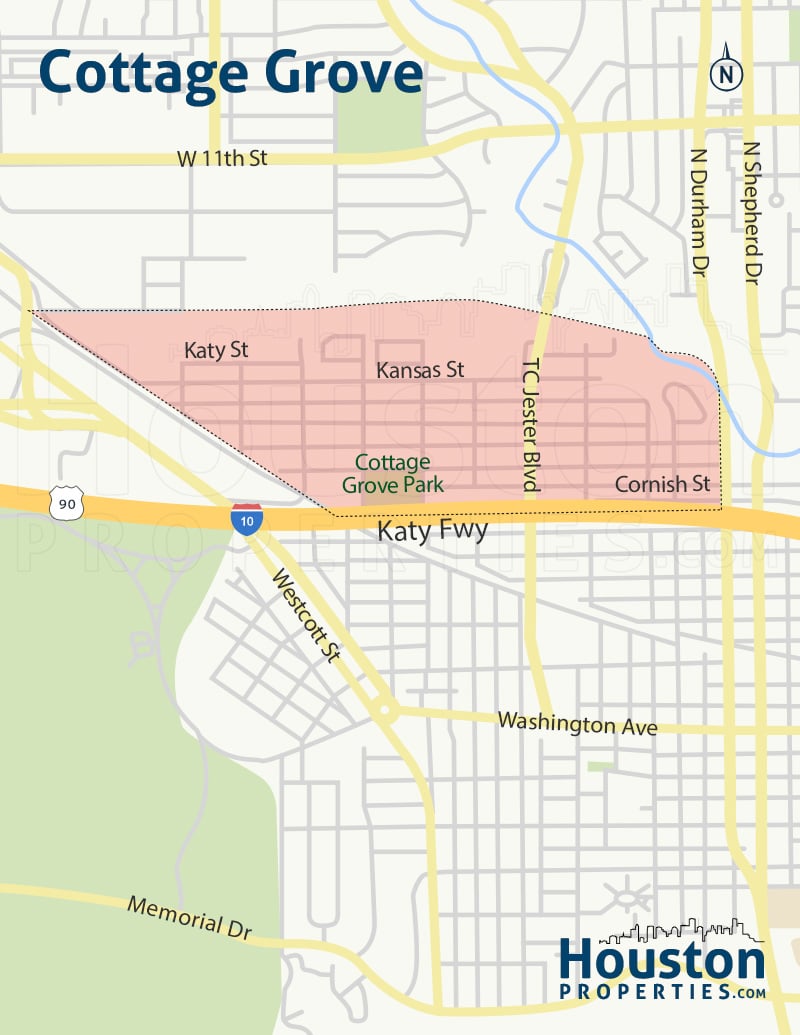 Cottage Grove Houston: Fun Things To Do In The Neighborhood
Cottage Grove is conveniently located near shopping, entertainment, and dining hotspots.
Outdoor recreation areas aren't in short supply either, as Memorial Park is just across the freeway from the neighborhood. One of the largest urban parks in the country, Memorial Park features several jogging, hiking and biking trails, and picnic areas, indoor and outdoor sports facilities, and playgrounds. It also features the Memorial Park Golf Course, the Seymour Lieberman Exercise Trail, and the Houston Arboretum and Nature Park.
The neighborhood also features green spaces of its own, Cottage Grove Park. The park has a covered basketball court, a baseball field, and a playground. Future improvements to the park, as well as the addition of more hike and bike trails around the neighborhood are expected.
With the Galleria, Montrose, and Rice Military within driving distance of the neighborhood, residents won't run out of places to visit. Be it upscale boutiques, restaurants, bars, lounges, coffee shops, and second-hand stores, they are all within easy reach from Cottage Grove.
Here are some of Cottage Grove Houston must-visit places:
Restaurants
Rainbow Lounge
Zelko Bistro
Bourbon and Bacon
Mascalzone
Urban Eats
Hughie's
Provisions
Backstreet Cafe
Truluck's
Chama Gaucha Brazilian Steakhouse
Nightlife
Ibiza
Eleven
Lei Low
The Boot
Down the Street
Underdogs Pub
Liberty Station
Julep
Anvil Bar and Refuge
Poison Girl
Retail and Entertainment Centers
The Galleria
River Oaks Shopping Center
Marq*E Entertainment Center
Uptown Park
Highland Village
Groceries
Kroger
Revival Market
Whole Foods Market
HEB
Parks
Memorial Park
Cottage Grove Park
Spotts Park
In Memorial Park
Seymour Lieberman Exercise Trail
Houston Arboretum and Nature Park
Memorial Park Golf Course
Cottage Grove Houston Realtor – Paige Martin
As featured on Fox News in the Morning, the Houston Business Journal, Houston Chronicle, and Houston Magazine, Paige Martin – a consistent Top Producing Broker-Associate and head of the Houston Properties Team – is ranked amongst the very top Keller Williams agents in the Houston area.
Paige is ranked as one of the top realtors in Cottage Grove Houston, and the state of Texas. Read more about the over 65 awards she's won in the last few years.
Paige works with a tremendous number of buyers and sellers within the Inner Loop.
For a specific recommendation of neighborhoods, homes or properties based upon your personal style, goals & price point, please contact Paige Martin, head of the Houston Properties Team & Broker Associate at [email protected] or 713-425-4194.