Cottage Grove Homes For Sale Under $500K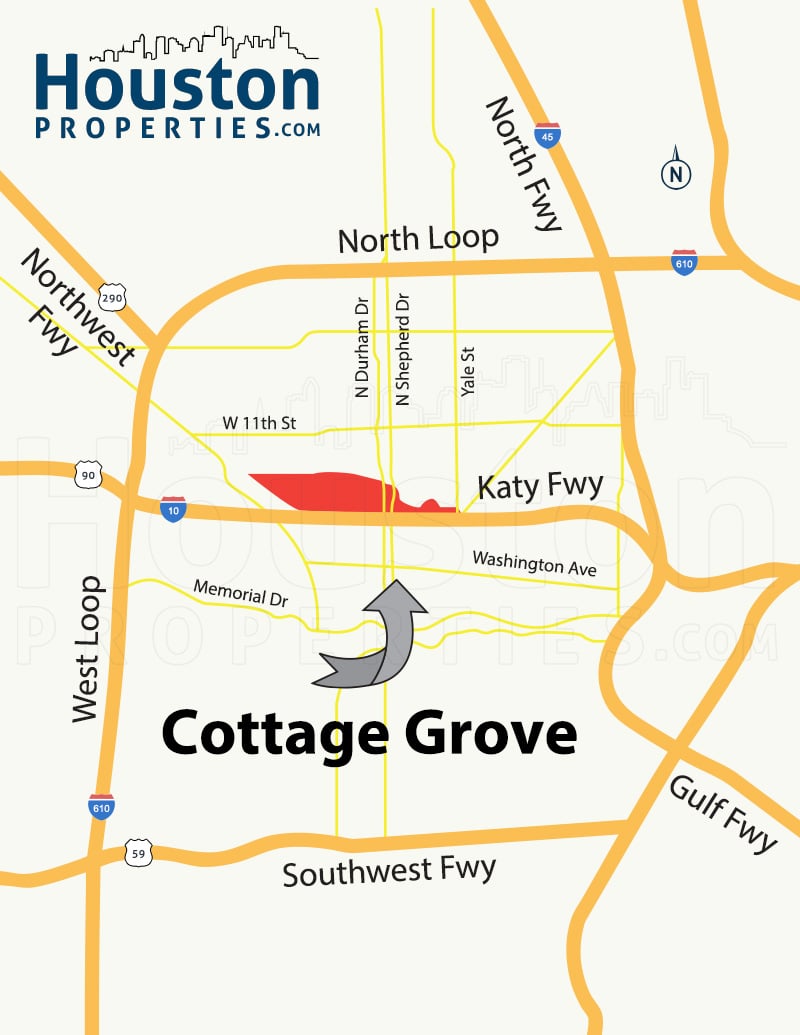 Located along the I-10, Cottage Grove homes are highly accessible to and from the key Houston hubs, including Rice Military, Memorial Park, the Galleria, and Montrose. Business and job centers like Downtown and Medical Center are a short drive away from the neighborhood.
Centrally located, Cottage Grove residents enjoy having schools, restaurants, malls, parks,  bars, lounges, and entertainment options practically next door.
The neighborhood features its eponymous cottages, alongside new construction townhomes and multi-story single-family homes. While rising demand for Cottage Grove homes for sale have driven further development in the area, the neighborhood still have some of the most affordable homes in the Inner Loop.
Due to its continuing development, the Cottage Grove real estate market may be a little tough to navigate. The help of the best Houston realtor will certainly benefit homebuyers.
Contact Paige Martin, a top ranked Houston realtor, head of the Houston Properties Team & Broker Associate at [email protected] or 713-425-4194 for advice or questions about buying or selling a Cottage Grove home under $500k.
Cottage Grove Houston Resources:
NOTE: Cottage Grove homes are among the fastest selling real estate in Houston. Some of the properties are off-market (not publicly listed). For more information on available Cottage Grove homes for sale under $500K call Paige Martin at 713-425-4194 or email [email protected]
Cottage Grove Houston Neighborhood Guide
Just a few miles west of Downtown Houston, location is one of Cottage Grove's best selling points. It is nestled north of the Katy Freeway (I-10), south of Houston Heights and east of Timbergrove/Lazybrook. Across the freeway from the neighborhood lies Camp Logan, Rice Military, and Memorial Park.
During the 20s and 30s, Cottage Grove was a stop for the Houston and Texas Central Railway, and was at the time catering to the Eureka Oil Field. The oil field had brought thousands of workers , which in turn sparked a housing boom in the area.
Hundreds of cottages were built during that period – some of which still line Cottage Grove's narrow streets.
Today, Cottage Grove is prized for its central location near schools, job and business centers, entertainment and retail hotspots, as well as dining and nightlife options. The area's high accessibility, due to its location along the I-10 and near Loop 610, is also a big plus.
Cottage Grove homes are also quite popular among the families and professionals due to their affordability. The neighborhood features some of the most inexpensive homes in the Inner Loop. With prices ranging from $150,000 to more than $500,000, it's a popular choice among the budget-conscious who want the perks of living within the Loop.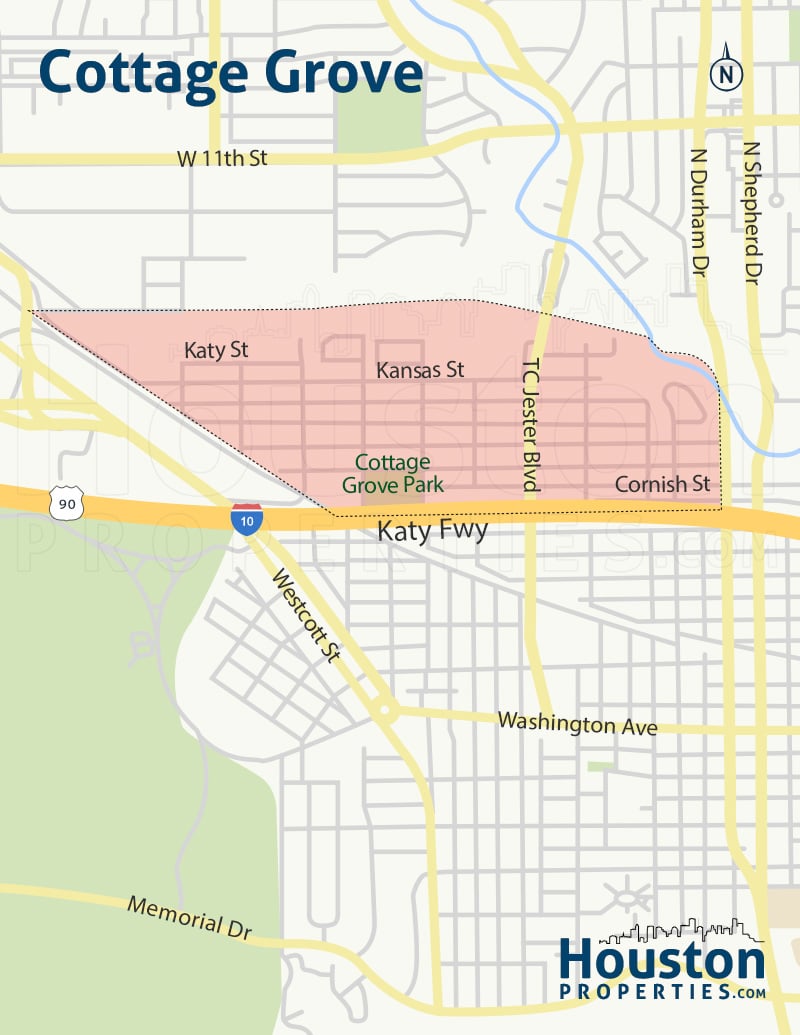 Cottage Grove Schools Information
Zoned to Houston Independent School District (HISD), students of Cottage Grove can attend the following public schools:
Elementary Schools
Memorial Elementary School at 6401 Arnot St. Located in a former boot camp (Camp Logan), Memorial Elementary School was established in 1926. It has a TEA "Recognized" rating.
Love Elementary School at 1120 W 13th St. Love Elementary School offers several services and programs for its students, including a Neighborhood Vanguard Gifted/Talented program, an Bilingual/ELL program, and a special education program. Activities offered at Love include Early Act First Knight and a Lego-based robotics program.
Middle Schools
Hogg Middle School at 1100 Merrill St. Hogg Middle School is one of HISD's International Baccalaureate World schools. It features the IB Middle Years Programme, as well as a STEM Academy (Science, Technology, Engineering, and Mathematics) magnet program.
High Schools
Waltrip High School at 1900 West 34th St. Stephen Pool Waltrip High School features Houston ISD's Research and Technology magnet program and houses a child development center for low income preschool students. Apart from a great academics program, Waltrip also offers a full complement of girls' and boys' varsity teams.
Lamar High School at 3325 Westheimer Rd. Lamar is one of Houston ISD's seven International Baccalaureate schools and it has the biggest number of students who graduate with the IB Diploma in Texas. Lamar is also home to the Texans (formerly the Redskins) and have a great athletics program.
Cottage Grove Houston Private Schools
The following are some of the more notable private schools near Cottage Grove.
River Oaks Baptist School at 2300 Willowick Rd. River Oaks Baptist School is a coed, non-sectarian school for students in grades PK to 8. Affiliated with the NAIS, it has a GreatSchools.org community rating of 5 out of 5 stars.
St. Theresa Catholic School at 6623 Rodrigo St. St. Theresa is a co-educational school and is part of the Archdiocese of Galveston-Houston. It is also a member of the National Catholic Educational Association (NCEA).
St. Thomas High School at 4500 Memorial Dr. St. Thomas is an all-boys Catholic school at that serves students from grades 7 to 12. It is affiliated with the Archdiocese of Galveston-Houston and the NCEA.
To find an updated listing of all Cottage Grove real estate zoned to any specific public school, please send an email to Paige Martin at [email protected] with the property preference and budget that you're working with.
*Note: School zoning tends to change from year to year, information provided above are accurate but not guaranteed. Please double check by visiting the school's website.
Cottage Grove Houston Realtor – Paige Martin
As featured on Fox News in the Morning, the Houston Business Journal, Houston Chronicle, and Houston Magazine, Paige Martin – a consistent Top Producing Broker-Associate and head of the Houston Properties Team – is ranked amongst the very top Keller Williams agents in the Houston area.
Paige is ranked as one of the top realtors in Cottage Grove Houston, and the state of Texas. Read more about the over 65 awards she's won in the last few years.
Paige works with a tremendous number of buyers and sellers within the Inner Loop.
For a specific recommendation of neighborhoods, homes or properties based upon your personal style, goals & price point, please contact Paige Martin, head of the Houston Properties Team & Broker Associate at [email protected] or 713-425-4194.