5 Key Cottage Grove Real Estate Trends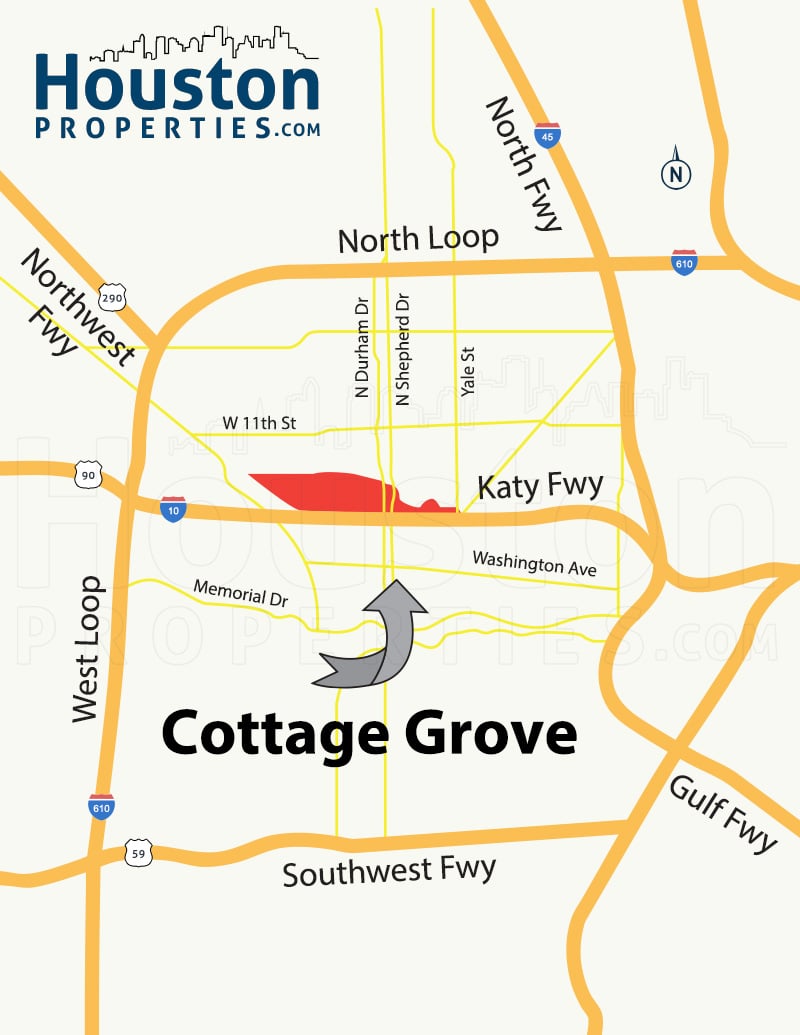 Cottage Grove real estate have grown a lot over a years, with the neighborhood's median sale price appreciating by 99% in the last decade. Home sales have also shot through the roof.
Cottage Grove, so named for its collection of quaint cottages, is a fast developing neighborhood in the Inner Loop.
Conveniently located along the I-10 and a few miles west of Downtown, Cottage Grove homes for sale have easy access to the best things Houston has to offer.
Finding a reliable Cottage Grove Houston realtor gives buyers an edge in this highly competitive market.  For questions, advice, Cottage Grove real estate recommendations, or off-market MLS listings, contact Paige Martin, head of the Houston Properties Team and rated as the best Keller Williams Memorial realtor the last four years.
Here are 5 key Cottage Grove real estate market trends.
Cottage Grove Houston Resources:
For an updated and customized Cottage Grove Houston real estate pricing or trend analysis, please contact Paige Martin at Paige@HoustonProperties.com.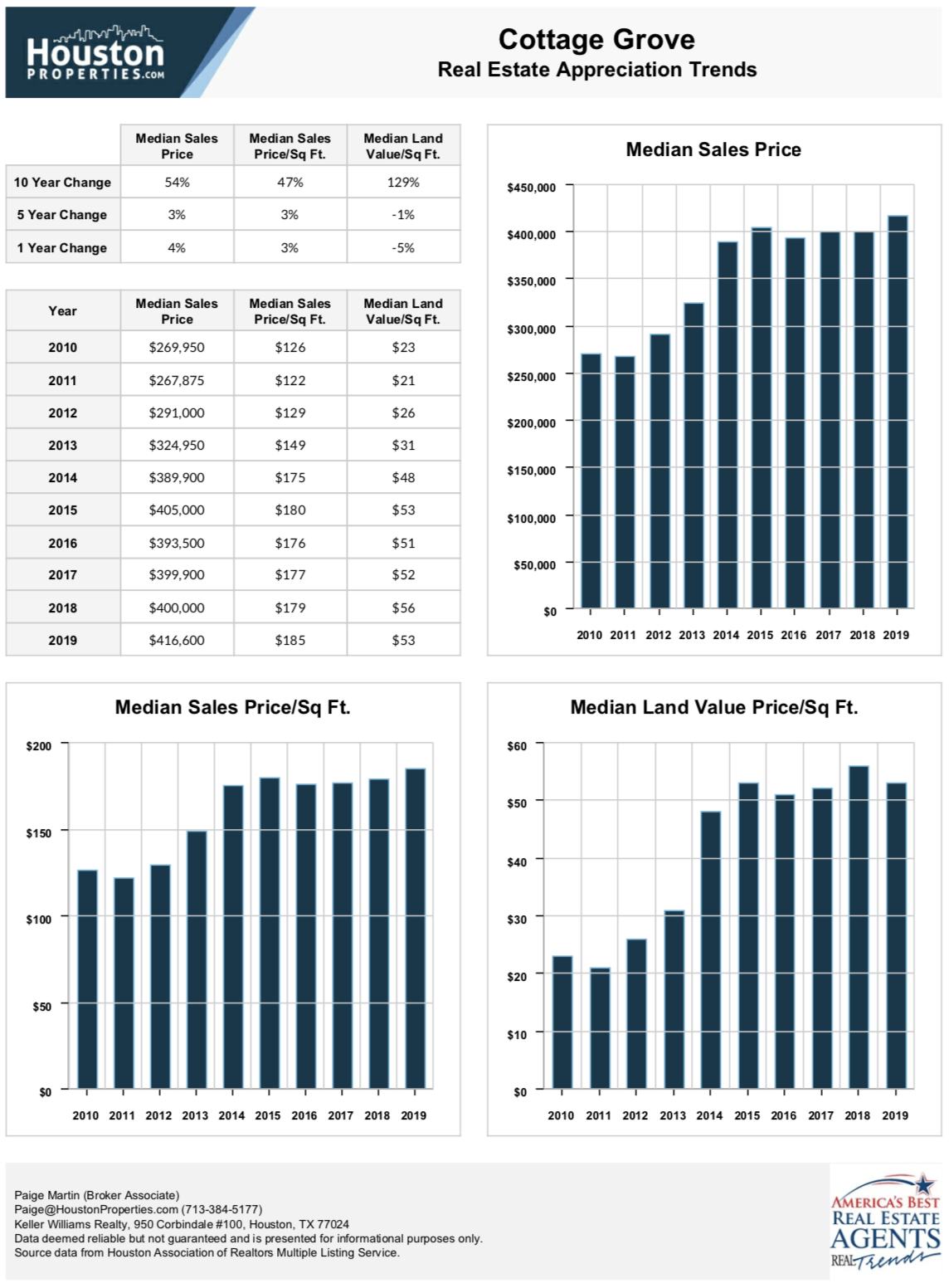 5 Interesting Cottage Grove Real Estate Market Trends
1. The median sales price of Cottage Grove homes has very nearly doubled over the past decade.
From $193,030 in 2005, the median sales price jumped by 99% to $384,900 in 2014. This is due in part to the new developments in Cottage Grove, specifically townhomes and single-family homes.
2. Average price per square foot has increased by over half in the last 5 years.
An average Cottage Grove home can sell for $179 in 2014, from $124 per square foot in 2009. Despite some slight fluctuations, this steady increase bodes well in terms of market strength.
3. Home values of Cottage Grove homes tend to fluctuate.
The average price per square foot and median sales price of Cottage Grove homes have experienced slight fluctuations over the years. This, however, is not an indication of unstable real estate market.
New construction homes – especially ones in gated communities – tend to sell for more than older cottages.
4. Cottage Grove Houston real estate has boomed over the last 10 years.
In 2009, only 49 homes were sold in the neighborhood. In 2014, however, this number exploded to an impressive 261.
5. Cottage Grove real estate show promise in the years to come.
Rising demand sparked new developments in the neighborhood, and this ongoing development in Cottage Grove can in turn fuel more growth.
Cottage Grove Houston Realtor – Paige Martin
As featured on Fox News in the Morning, the Houston Business Journal, Houston Chronicle, and Houston Magazine, Paige Martin – a consistent Top Producing Broker-Associate and head of the Houston Properties Team – is ranked amongst the very top Keller Williams agents in the Houston area.
Paige is ranked as one of the top realtors in Cottage Grove Houston, and the state of Texas. Read more about the over 65 awards she's won in the last few years.
Paige works with a tremendous number of buyers and sellers in Cottage Grove.
For a specific recommendation of neighborhoods, homes or properties based upon your personal style, goals & price point, please contact Paige Martin, head of the Houston Properties Team & Broker Associate at Paige@HoustonProperties.com or 713-384-5177.