Downtown Houston Homebuyers Guide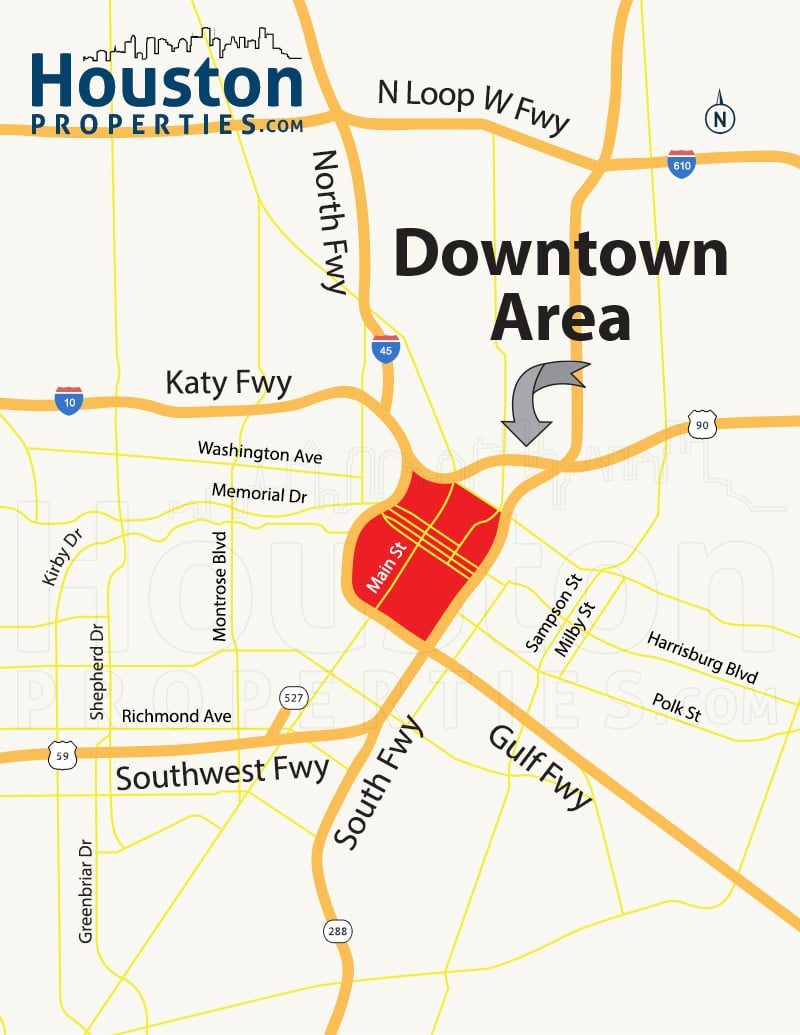 As the Bayou City's main economic and cultural district, Downtown Houston is a vibrant mixed use neighborhood.
Downtown Houston homes for sale are highly desirable due to the neighborhood's:
Central location: Downtown Houston homes are minutes away from sports arenas, restaurants, theaters, retail stores, and employment centers.
High accessibility: The district's central Inner Loop location makes it one of Houston's most accessible neighborhoods. Other key districts like the Medical Center and the Galleria are easily accessible from the neighborhood.
Several entertainment options: Due to the number of major sports venues, convention centers, theaters, museums, bars and restaurants within downtown, residents have a lot of entertainment options.
Loft living: Downtown Houston homes are mostly upscale lofts in converted buildings and luxury condos in high-rises.
Luxury amenities: Residential buildings in the area offer a variety of amenities, the most common of which include roof top decks, swimming pools, party and conference rooms, and secure parking. Some downtown Houston condo and loft buildings also offer 24/7 valet and concierge services.
Due to high demand and low inventories, Downtown Houston real estate can be challenging to navigate. Some properties are sold off-market, so homebuyers will want the help of the best Downtown Houston realtor for advice and updated information.
Contact Paige Martin, a top-ranked Houston realtor and head of the Houston Properties Team for questions and advice about Downtown Houston homes for sale.
Downtown Houston Resources:
For more information on available Downtown Houston homes for sale call Paige Martin at 713-425-4194 or email [email protected]
Neighborhood Guide: Downtown Houston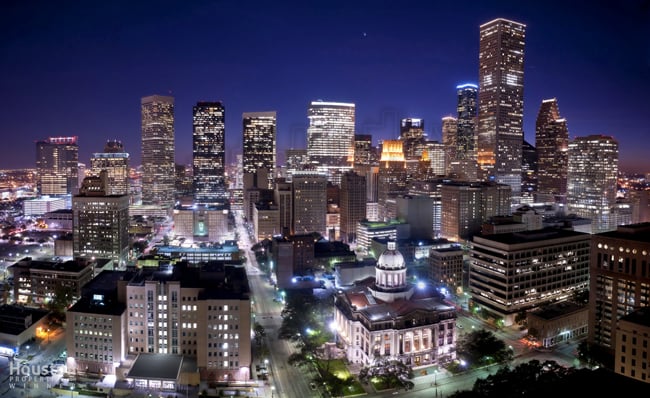 Downtown Houston lies in the area south of Northside Village, west of EaDo (East Downtown), north of Midtown and the Third Ward, and east of the Rice Military/Washington Avenue area and Montrose.
The district sits along major Houston freeways and has Interstate 10 to the north, Interstate 69 to the east, and Interstate 45 to the south and west. Downtown Houston is one of the most accessible neighborhoods in the city. Residents can easily get around via the district's network of skywalks and tunnels, the METRO bus system, and the METRORail.
Established in the early 1800s, Downtown Houston flourished over the years. Like most neighborhoods within the Inner Loop, the 1980s oil crash hit downtown hard. A number of businesses closed, and residents moved to other neighborhoods. It all changed in the 1990s, when developers started buying historic buildings in the area and converting them for residential use. These developments revitalized the Dowtown Houston real estate market.
Today, the downtown area is one of the most popular due to its central location, proximity to both employment centers and entertainment hotspots, and its easy accessibility. Home to more than 3,500 businesses and 150,000 employees, the area is one of Houston's major business and employment centers.
Homes in the district are zone to the Houston Independent School District (HISD), including IB World School Reagan High School (in the Heights).
Downtown is divided into several districts: Historic, Ballpark, Skyline, Theater, Shopping, Warehouse, and Convention. The Theater District has four major entertainment venues, including the Jones Hall for the Performing Arts, the Wortham Theater Center, the Hobby Center for the Performing Arts, and the Alley Theatre.
The Ballpark District on the other hand features the Toyota Center and Minute Maid Park. The BBVA Compass Stadium is minutes away from downtown, within nearby EaDo.
Downtown Houston homes for sale are mostly lofts and condos, ranging from those in converted historic buildings to those in luxury high-rises.
Downtown Houston is within the 77002 and 77010 zip codes of Harris County.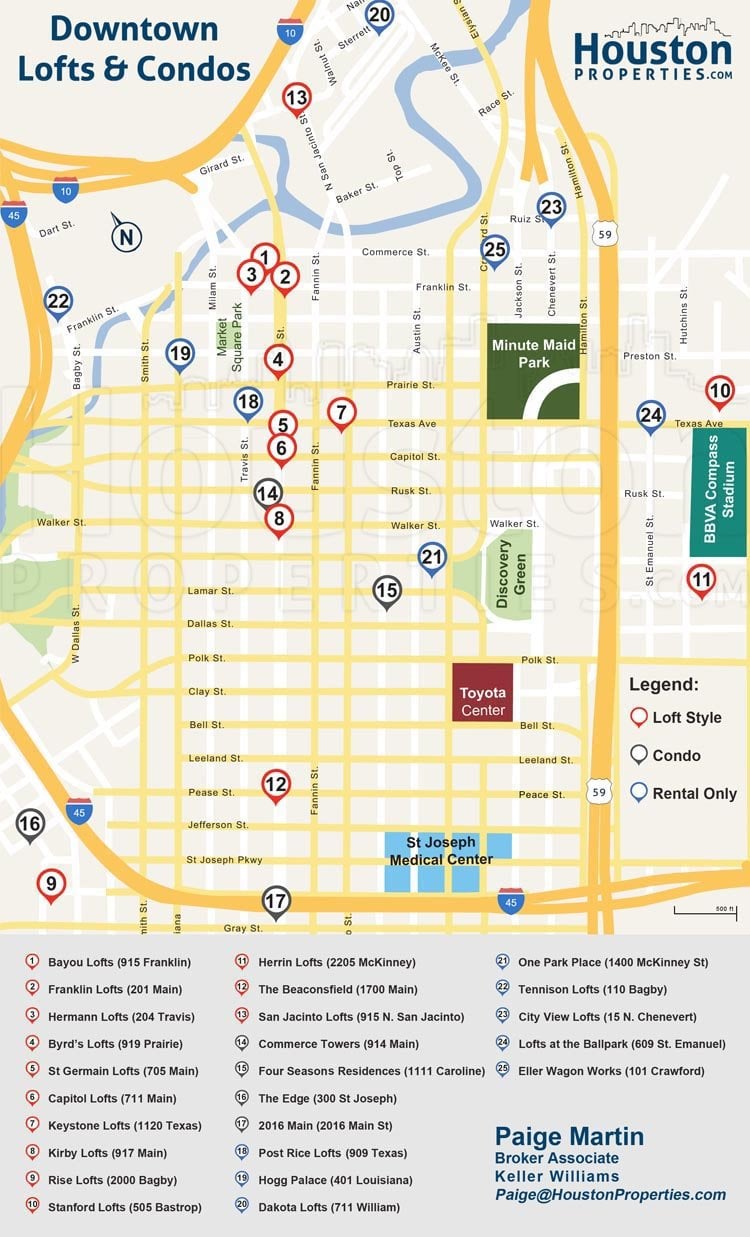 Downtown Houston Real Estate Guide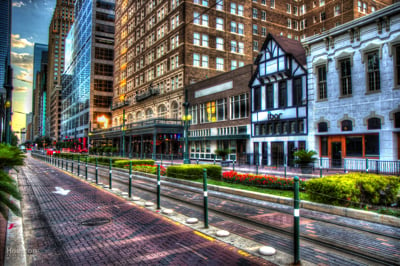 Downtown Houston homes for sale are mostly upscale lofts and luxury condos. There are 25 residential buildings in the district, each with its distinct character, amenities, and architectural styles.
Downtown Houston lofts are typically historic retail and office spaces, converted during the mid-1990s to the 2000s. These loft buildings have restored exteriors and lobby areas, and updated furnishing and fixtures. Condo buildings, on the other hand, are mostly luxury high-rises.
Downtown Houston homes for sale are highly accessible, with some of them mere blocks away from the METRORail.
Condo and loft buildings in the area offer different amenities for their residents. The most common include rooftop decks/terraces, secure parking, fitness centers, and pools. Doorman and porter services, along with 24-hour concierge and valet services, are available in some buildings. Full service condos are available in the area.
Other building amenities can include guest rooms, wine storage, business centers, and conference/party rooms, among others.
Downtown Houston homes typically offer between 500 to 4,500 square feet of living space. Lofts typically offer 1- to 2-bedroom floor plans, while some luxury condos and penthouses can offer 3 to 4 bedrooms.
Several factors affect pricing, including building location and unit size. New construction condo buildings like the Marlowe tend to have more expensive units.
Pricing for downtown Houston homes for sale can start at around $150,000. The most expensive real estate in the area can go for more than $3,000,000.
Downtown Houston Lofts:
*For rental only
Lofts in nearby neighborhoods:
Downtown Houston Condos: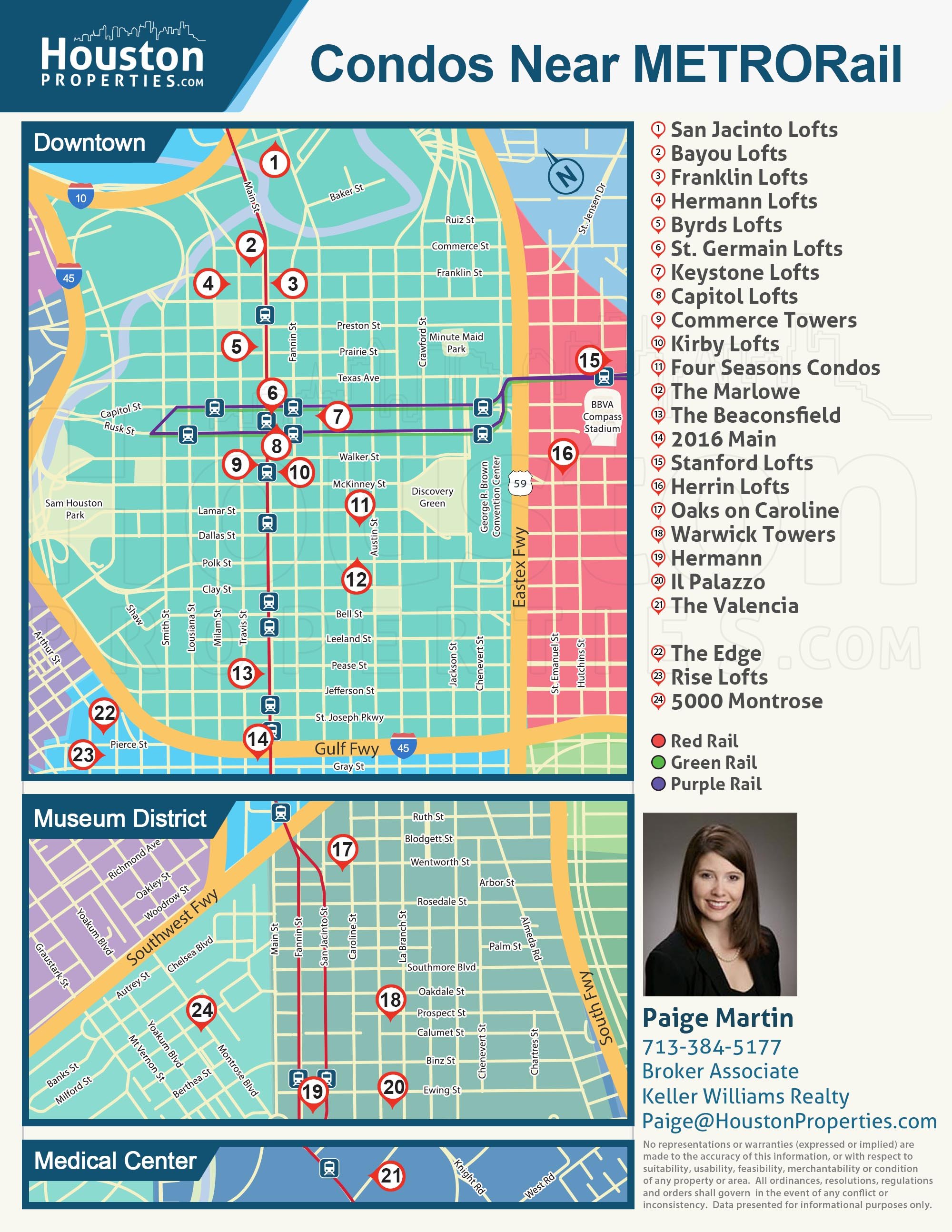 Fun Things To Do In And Around Downtown Houston
Houston's central business district showcases more than just workplaces and corporate headquarters. It is also home to a bustling dining, nightlife, and cultural scene. Downtown features a good number of green spaces and parks, as well as historic landmarks and other areas of interest.
The 17-block Theater District features 4 entertainment venues: Jones Hall for the Performing Arts, Wortham Theater Center, Hobby Center for the Performing Arts, and Alley Theatre. Nine major arts organizations call the district home, along with several other smaller performing arts groups. The Bayou Place Entertainment Complex is also within Houston's Theater District.
The Ballpark and Convention Districts include the Minute Maid Park Stadium (home of the Houston Astros), the Toyota Center (home of the Houston Rockets), Discovery Green, and the George R. Brown Convention Center.
Originally Houston's town center, the Historic District features Market Square Park, plus numerous cafes and bars.
Other Downtown Houston must-visit places include the Downtown Aquarium, Sam Houston Park, and Allen's Landing.
Here are just some of the must-visit places in Downtown Houston:
Dining
Hearsay Gastro Lounge
The Springbok
Bombay Pizza Co.
Myth Kafe
Huynh Restaurant
Brooklyn Meatball Co.
The Honeymoon Cafe & Bar
Irma's Southwest Grill
Treebeards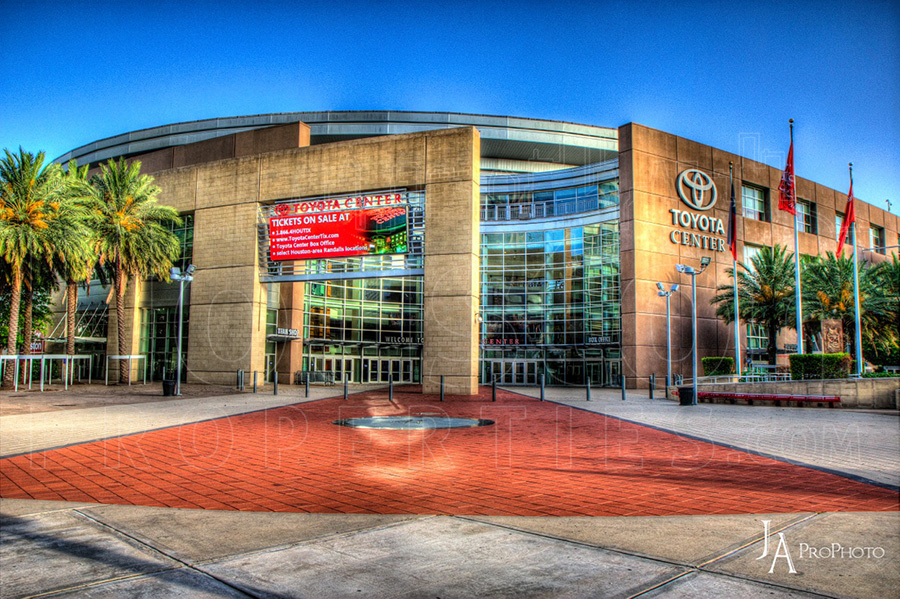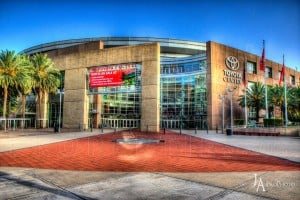 Nightlife
Foundation Bar
MKT Bar
Moving Sidewalk
The Nightingale Room
Little Woodrow's
Little Dipper Lounge
The Pastry War
Neil's Bahr
Reserve 101
Groceries
Long Sing Supermarket
Main Food Store
Express Grocery & Deli
Phoenicia Specialty Foods
Krogers
Super K
Randalls
Epicurean Express
Lankford Grocery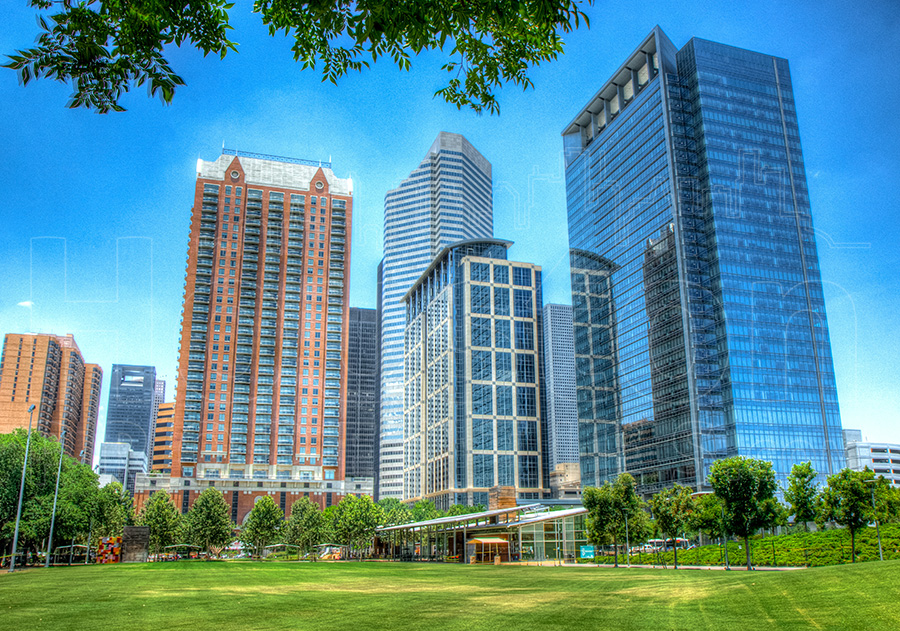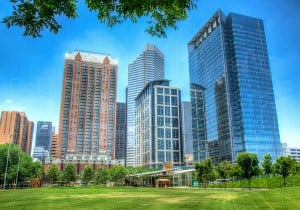 Parks
Discovery Green
Minute Maid Park
Root Square
Sam Houston Park
Eleanor Tinsley Park
Hermann Square
Market Square Park
James Bute Park
Buffalo Bayou Park