Houston Nightlife Map: Best Downtown Restaurants & Bars
Downtown Houston has undergone a tremendous transformation over the last few years with dozens of restaurants, bars, shops and retail outlets.
One of the most popular places in the area, Downtown's Historic District is a block filled with traditional (but well-preserved) architecture, tree-lined streets, eclectic mix of sidewalk cafes, pubs and nighttime hotspots. Downtown's Historic District boasts of a healthy fusion between history, culture, and commerce.
The district has over 30 commercial establishments, all worth checking out. Sampling the entire area can be challenging specially if you want to experience the Downtown Houston nightlife, but here's a nifty map that could help plan the trip: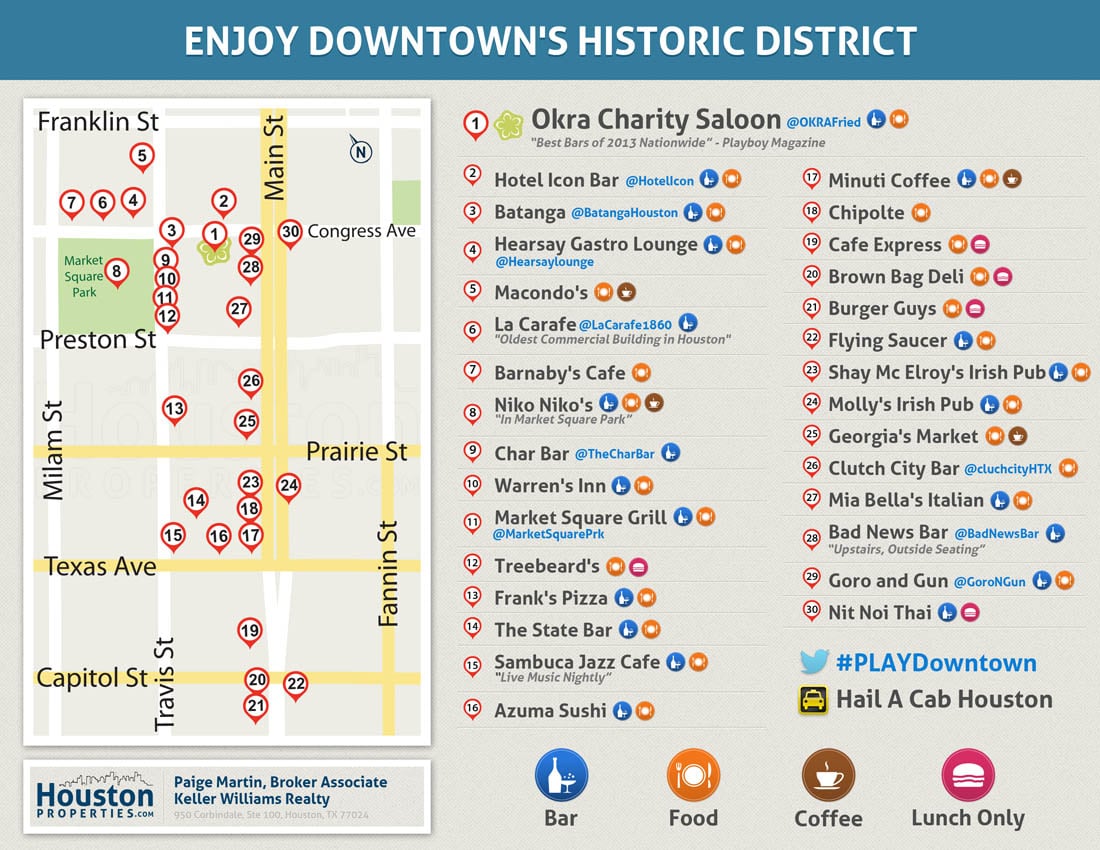 Downtown Historic District Highlights
As shown in the handy map above, Downtown's Historic District carry a long list of exciting establishments to satisfy all sorts of cravings. Here are some of the most notable Historic District establishments:
OKRA Charity Saloon. Putting "care" in "commerce", OKRA (Organized Kollaboration on Restaurant Affairs) is a group of independently owned bars and restaurants with profit entirely devoted to charity.
So which charity gets the proceeds? For every drink purchased, guests get one vote they may cast that night for one of four selected charities. The charity with the most votes at the end of the month receives that month's proceeds. Charities wishing to participate may place their applications at the OKRA website.
Market Square Park. Nestled in Houston's Historic District and flanked by Main St and Milam St, Market Square Park provides everyone a place for entertainment, dining, public art and green space. It is also well known for its public art exhibits. Art installations cover the entire park highlighted by James Surl's "Points of View" sculpture. The piece's soaring black metal and yellow spires create a modern contrast to the Market Square Park's stately old oaks.
Goro and Gun. One of the newest establishments within the district, Goro and Gun is making waves in their field. What started out as a food truck concept is now a full-fledged Asian-themed restaurant with its own strong local following. Located along the Main ST, Goro and Gun offers dishes ranging from ramen to tempura fried short ribs.
Batanga. One of the commercial establishments flanking Market Square Park, Batanga is a long-time favorite by many Houstonians. Restaurateur Brian Fasthoff owns this 9,000-square-foot Latin American restaurant known for its tapas, exotic drinks and live music. With cuisines hailing from the Latin American countries such as Brazil, Mexico, Chile, Argentina, Peru and Colombia, Batanga pulls foodies from all roots.
Warren Inn. Just off Market Square Park, Warren Inn is a bar popular for its ambiance. The Warren Inn is almost always full, and with good reason. Warren Inn is a no frills, hangout that continues to be popular with its masculine, all wood decor and inexpensive drinks.
Hotel Icon. Fresh off a $5 million renovation, the 135-room luxury hotel recently became part of the Marriott Autograph Collection. The establishment serves as the temporary home of the tourist within the area. Coupled with its in-house bar and restaurant, the Hotel Icon is also near the Market Square Park and most of the commercial establishments in Downtown's Historic District.
Downtown Houston is a bustling district home to residential and commercial skyscrapers. Downtown streets are lined up with restaurants, bars, and clubs, and parks. To make "getting around downtown" easier, an extensive network of pedestrian tunnels and skywalks has been built for public use.