Guide To ALL EaDo Homes For Sale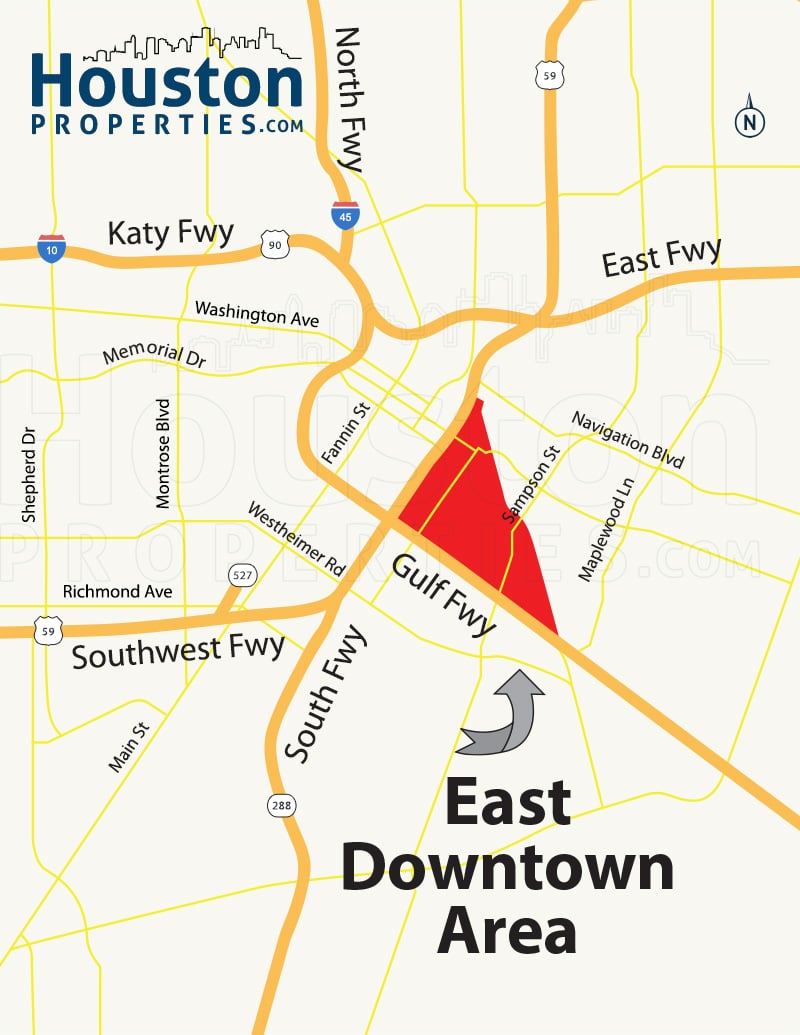 An emerging Houston neighborhood on the verge of reinvention, EaDo also has one of the fastest real estate market growth in the city.
East Downtown is immediately adjacent to Downtown Houston. It is also within a few minutes from Uptown Houston, Texas Medical Center, Greenway Plaza, and the Houston Ship Channel.
Residential options include a number of new townhomes, mid-rise condos, and single-family homes.
These are some of the more affordable homes within the Inner Loop. East Downtown Houston townhomes start at $200,000 to over $500,000.
Experts believe that EaDo is undergoing sustainable real estate and commercial growth. Home prices are currently more affordable, but may soon follow the same strong appreciation trends of real estate in nearby Midtown, Montrose, and other Inner Loop neighborhoods.
With numerous developments all over the district, new construction homes that get sold before even being listed, and school zoning changes, homebuyers benefit from seeking the advice of the best EaDo Houston realtor.
Contact Paige Martin, a top-ranked Houston realtor and head of the Houston Properties Team for questions and advice about East Downtown homes for sale.
EaDo Houston Resources:
For more information on available EaDo homes for sale call Paige Martin at 713-425-4194 or email [email protected]
EaDo Houston Neighborhood Guide
EaDo Houston used to be the site of the Old Chinatown. Many East Asian immigrants helped shape the development of this community.
Even after the merchants moved to the present Chinatown near Bellaire, there are still a number of Asian businesses and temples in East Downtown Houston.
The triangle-shaped district is directly east of Downtown Houston, hence the name. It is flanked by the Eastex Fwy to the west, Gulf Fwy to the south, and the Union Pacific Railway tracks that runs from Congress to Cullen.
The East Downtown Management District, in its aim to have a well-planned, high-quality community, renamed the district in 1998 to EaDo. The hip name reflects the neighborhood's vibe well and has helped in the neighborhood's redevelopment.
It's a great place for sporting fans. The neighborhood is within walking distance from the BBVA Compass Stadium, Minute Maid Park, and the Toyota Center.
The lively, alternative art scene in the district attracts younger professionals who wish to live in a hip area that's near both work and entertainment venues.
EaDo is also a few minutes from the University of Houston and the Texas Southern University, making it a popular residential option for students and employees of these universities.
East Downtown Houston restaurants have some of the best Asian, Mexican, Cajun, and Texan food. It is also the site of the Houston Food Park where various food trucks serve residents from lunch daily.
The EaDo district focuses on a pedestrian experience, and more retail options are expected to open soon. New MetroRail expansion routes are expected to open soon to make commuting from the district much easier.
A large portion of the neighborhood sits in the 77003 Houston zip code, while the rest falls under 77023. Nearby zip codes include: 77004, 77011, 77002, 77010, 77019, and 77006. (View Houston zip code map)
Neighborhoods near EaDo Houston include: Downtown Houston, Second Ward, Third Ward, East End, Fifth Ward, Greater Heights, Northside Village, Magnolia Park, Rice Military, River Oaks, Midtown, and Montrose.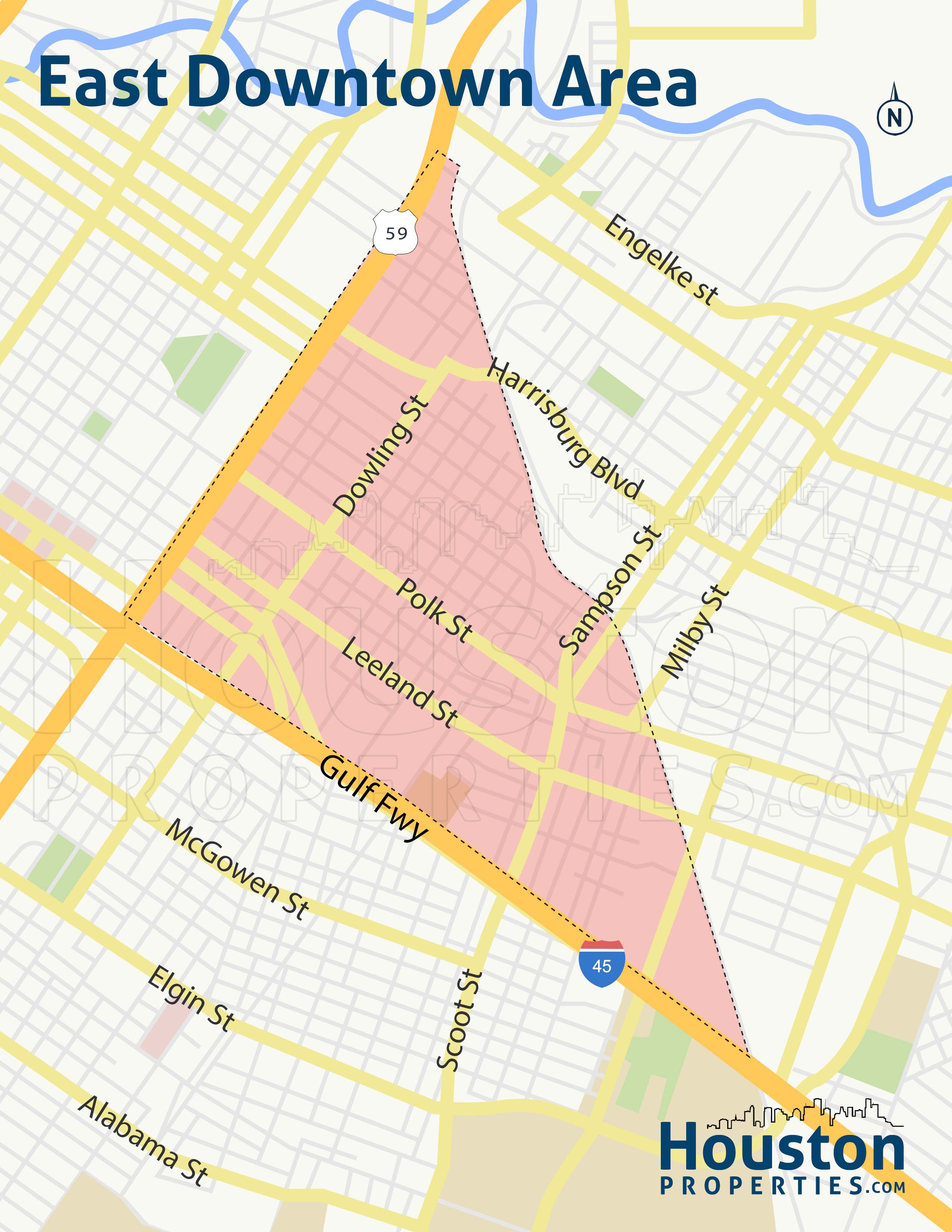 EaDo Schools Information
The Houston Independent School District (HISD) operates schools zoned to East Downtown.
Students in EaDo attend the following Public Schools:
Elementary Schools
The school boundary for Rusk Elementary School runs from Polk Street, St. Charles Street, Lamar Street, Ennis Street and continues east until it reaches the railroad tracks at McKinney Street. This zone stretches north up to the East End.
The rest of the district is currently zoned to the Dodson Elementary School, which is set to close amidst protests from residents. Students will be rezoned to Blackshear Elementary, just 2 miles from the neighborhood.
Dodson Elementary School at 1808 Sampson St. 77003. The Dodson Montessori Magnet School accepts children from Pre-K to 5th grade. The school fuses montessori theories with HISD's curriculum goals. It has GreatSchools rating of 3/10.
Rusk Elementary School at 2805 Garrow St. 77003. The Rusk School offers a Science, Technology, & Mathematics magnet services to students from PK-8th grade. The school has an award-winning robotics and CSTEM team due to its  great Integrated Technology Program. It has a GreatSchools rating of 5/10.
Middle School
Jackson Middle School at 5100 Polk St. 77023. Jackson Middle School is one of Houston's most historic schools. The school is located in the University district and offers a great athletics program, as well as classes on Engineering, Robotics, Math, Science, and Writing. The school is home to a 3-time defending champion of the International C-STEM Challenge and has a GreatSchools rating of 3/10.
High School
Residents located east of Velasco Street, Roberts Street, and Sampson Street are zoned to Austin High School. The rest are zoned to Wheatley High School in the Fifth Ward district.
Austin High School at 1700 Dumble St. 77023. The Stephen F. Austin High School is located in the Eastwood area and is attended by students from grades 9 to 12. The school offers a magnet program for teaching professions and is one of the most architecturally beautiful campuses in Houston. It has a GreatSchools rating of 3/10.
Wheatley High School at 4801 Providence St. 77020. The Phyllis Wheatley High School offers a technology magnet program. The school also excels in athletics, with a highly-rated football and basketball team. It has a GreatSchools rating of 1/10.
To find an updated listing of all EaDo real estate zoned to any specific public school, please send an email to Paige Martin at [email protected] with the property preference and budget that you're working with.
*Note: School zoning tends to change from year to year, information provided above are accurate but not guaranteed. Please double check by visiting the school's website.
EaDo Houston Realtor – Paige Martin
As featured on Fox News in the Morning, the Houston Business Journal, Houston Chronicle, and Houston Magazine, Paige Martin – a consistent Top Producing Broker-Associate and head of the Houston Properties Team – is ranked amongst the very top Keller Williams agents in the Houston area.
Paige is ranked as one of the top realtors in East Downtown Houston, and the state of Texas. Read more about the over 65 awards she's won in the last few years.
Paige works with a tremendous number of buyers and sellers within the Inner Loop.
For a specific recommendation of neighborhoods, homes or properties based upon your personal style, goals & price point, please contact Paige Martin, head of the Houston Properties Team & Broker Associate at [email protected] or 713-425-4194.