Guide To Luxury East Downtown Real Estate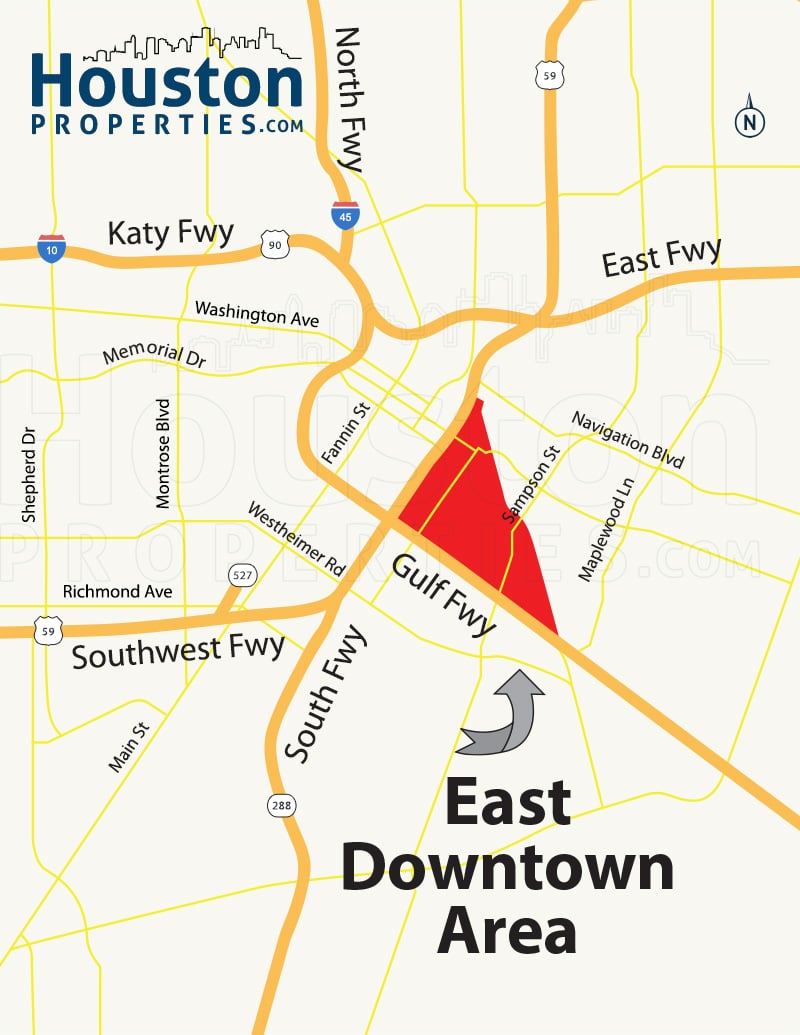 EaDo is one of the fastest growing districts in the Inner Loop.
EaDo owes its name to its location east of Downtown Houston. Formerly known as Old Chinatown, EaDo is in the midst of a reinvention as a trendy neighborhood, the "Art & Soul of the City."
EaDo is a great option for homebuyers due to its:
Great accessibility: EaDo is one of the most accessible neighborhoods in Houston due to its proximity to Downtown and Texas Medical Center.
Recreational spots: EaDo is home to the new BBVA Compass Stadium. It is also next to the George R. Brown Convention Center, Discovery Green, the Toyota Center, and Minute Maid Park.
Competitive housing options: Due to the current redevelopment in the district, real estate is more affordable compared to properties in other Inner Loop neighborhoods.
Investment opportunities: Regarded as one of the fastest growing districts in Houston, EaDo presents great investment opportunities. Commercial development in the area has inspired a housing boom.
EaDo is experiencing a revitalization in both retail and housing sectors. However, there is uneven development and changes in school zoning in the area. Homebuyers will want to get in touch with a reliable EaDo Houston realtor for in-depth and updated information about the district.
For questions, advice, EaDo Houston real estate recommendations, or off-market MLS listings, contact Paige Martin, head of the Houston Properties Team and rated as the best Keller Williams Memorial realtor for the last four years.
EaDo Houston Resources:
For more information on available EaDo luxury real estate call Paige Martin at 713-425-4194 or email [email protected].
EaDo Luxury Real Estate: Neighborhood Guide
EaDo is a district right next to Downtown Houston. It was formerly known as Old Chinatown, and since the district was largely industrial, it was once called the Warehouse District as well.
Located next to the George R. Brown Convention Center, East End, and the Third Ward, EaDo sits along stretches of Gulf and Eastex freeways. The Union Pacific rail line, running from Commerce to Cullen, defines the district's borders on the east.
Back in the 1950s, a community of East Asian immigrants made East Downtown their home. After they moved their businesses to the current Chinatown in the 1990s, the area was left with abandoned warehouses and boarded up buildings.
Growing interest in the area is due in part to recent developments like the BBVA Compass Center. The rise of property taxes and lack of housing in Houston also played a role in EaDo's transformation.
With the construction of more retail and mixed-use spaces attracting more people into the district, property developers have turned their attention to East Downtown. Among the many construction sites in the district are for new townhouses, single-family homes, and mid-rise condos.
The district officially got its new nickname in 2008, and EaDo perfectly captures the hip and trendy vibe that the district grown to assume.
Neighborhoods near EaDo Houston include: Downtown Houston, Second Ward, Third Ward, East End, Fifth Ward, Greater Heights, Northside Village, Magnolia Park, Rice Military, River Oaks, Midtown, and Montrose.
EaDo: Fun Things To Do In The Neighborhood
The neighborhood offers a variety of ethnic grocery stores, restaurants, bars, and art galleries. EaDo is one of the 10 most accessible Houston neighborhoods.
Nightlife and sporting events are the primary crowd drawers of the district. The BBVA Compass Stadium, home of the Houston Dynamo and the Texas Southern University football team was completed in 2012 and has been the anchor for EaDo Houston development.
Warehouse Live on 813 St. Emanuel Street is a 1920's warehouse that's been converted to a live entertainment venue. It was named "Best Musical Venue" in 2008 by Citysearch and has hosted many popular music acts.
Among the many unique shops in EaDo is Aerosol Warfare. The shop is an art gallery and boutique that sells urban wear.
Other fun places to visit near EaDo include:
Restaurants:
Cafe TH
The Cajun Stop
Huynh
Brothers Taco House
Sparkle's Hamburger Spot
Kim Son
District 7 Grill
Not Jus' Donuts
Nightlife:
Club 2020
Cork Soakers
D & W Lounge
Dionisio Winery
Little Woodrow
Mojeaux's Louisiana Drinkery
Walker Street Gastropub
8th Wonder Brewery
Super Happy Fun Land
Shopping:
Aerosol Warfare
Frankel's Costume Co.
Epicurean Express
Kroger
Green Street
East End Hardware
Arts and Entertainment:
Canal Street Gallery
Texas Art Asylum
Mercury Houston
Studio 101
Blue Box Theatre
EaDo Houston Realtor – Paige Martin
As featured on Fox News in the Morning, the Houston Business Journal, Houston Chronicle, and Houston Magazine, Paige Martin – a consistent Top Producing Broker-Associate and head of the Houston Properties Team – is ranked amongst the very top Keller Williams agents in the Houston area.
Paige is ranked as one of the top realtors in East Downtown Houston, and the state of Texas. Read more about the over 65 awards she's won in the last few years.
Paige works with a tremendous number of buyers and sellers within the Inner Loop.
For a specific recommendation of neighborhoods, homes or properties based upon your personal style, goals & price point, please contact Paige Martin, head of the Houston Properties Team & Broker Associate at [email protected] or 713-425-4194.