Eaton Square Homes For Sale & Real Estate Trends
2022 Eaton Square homes for sale & insider real estate guide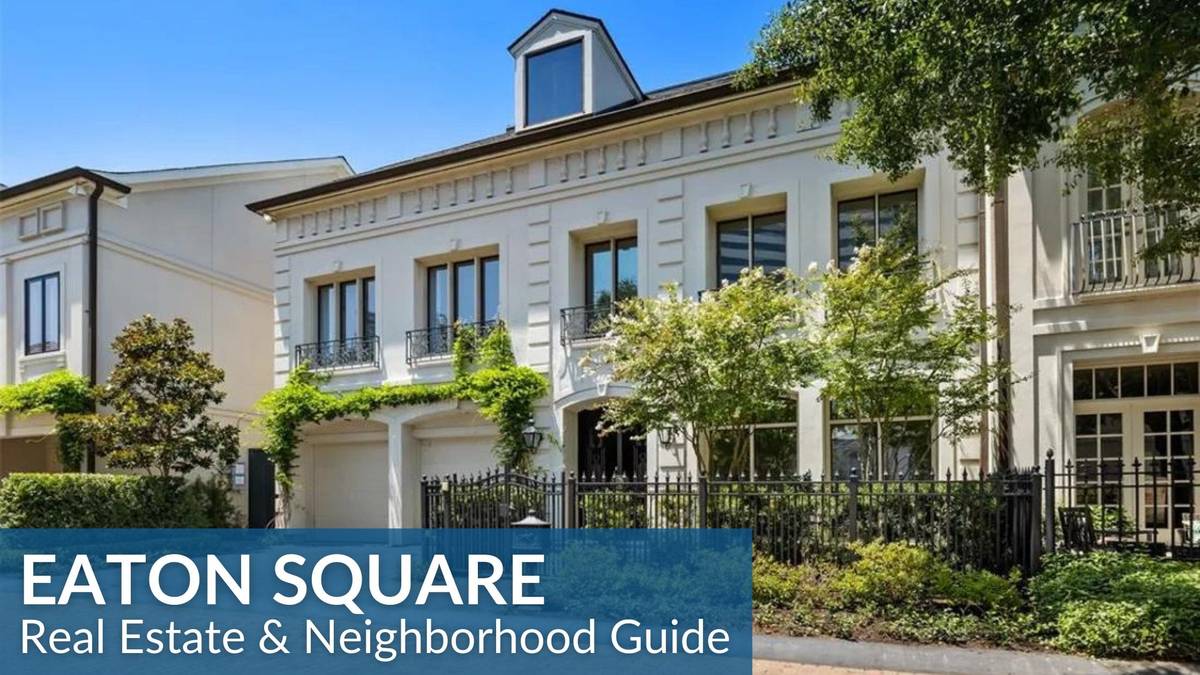 Eaton Square is a luxurious residential neighborhood located between River Oaks and Tanglewood, two of Houston's wealthiest neighborhoods, with prices starting at $1 million. Eaton Square residences have Neoclassical architectural style with an impressive Old-World ambiance, making it one of Houston's best gated communities.
Eaton Square homes feature:
CONVENIENT LOCATION: The neighborhood is less than a mile from The Galleria and less than 20 minutes from Downtown Houston. Eaton Square is also accessible to a variety of great entertainment, shopping, and dining opportunities, as well as Houston's main commercial and employment districts.

EXCELLENT SCHOOLS: Eaton Square Houston is part of Houston ISD, Texas' largest school district, and is served by top-rated public schools such as Lanier Middle School and Lamar High School, according to Houston's Best Schools list.

SECURITY: The residential enclave is a gated community having armed guards on duty 24 hours a day.

GREAT ACCESS: Eaton Square residents have easy access to the 610 Loop, Buffalo Speedway, Katy Freeway, Westheimer Road, and Southwest Freeway, providing for a comfortable trip or commute in the city.
Due to a shortage of inventory and high price ranges, the Eaton Square real estate market is difficult for most buyers.
If you are looking to purchase or sell a home in Eaton Square neighborhood, contact Paige Martin, one of Houston's Best Realtors.
"We had the best experience working with the Houston Properties team. They were always honest and provided insightful feedback which was invaluable during the home buying process. Houston is a complicated market and they know it inside and out. They worked tirelessly for us during an extremely difficult and volatile market. I can't recommend them highly enough!" - Jen Schulten (Google Review)
---
Table of Contents
---
Eaton Square Home Sale Trends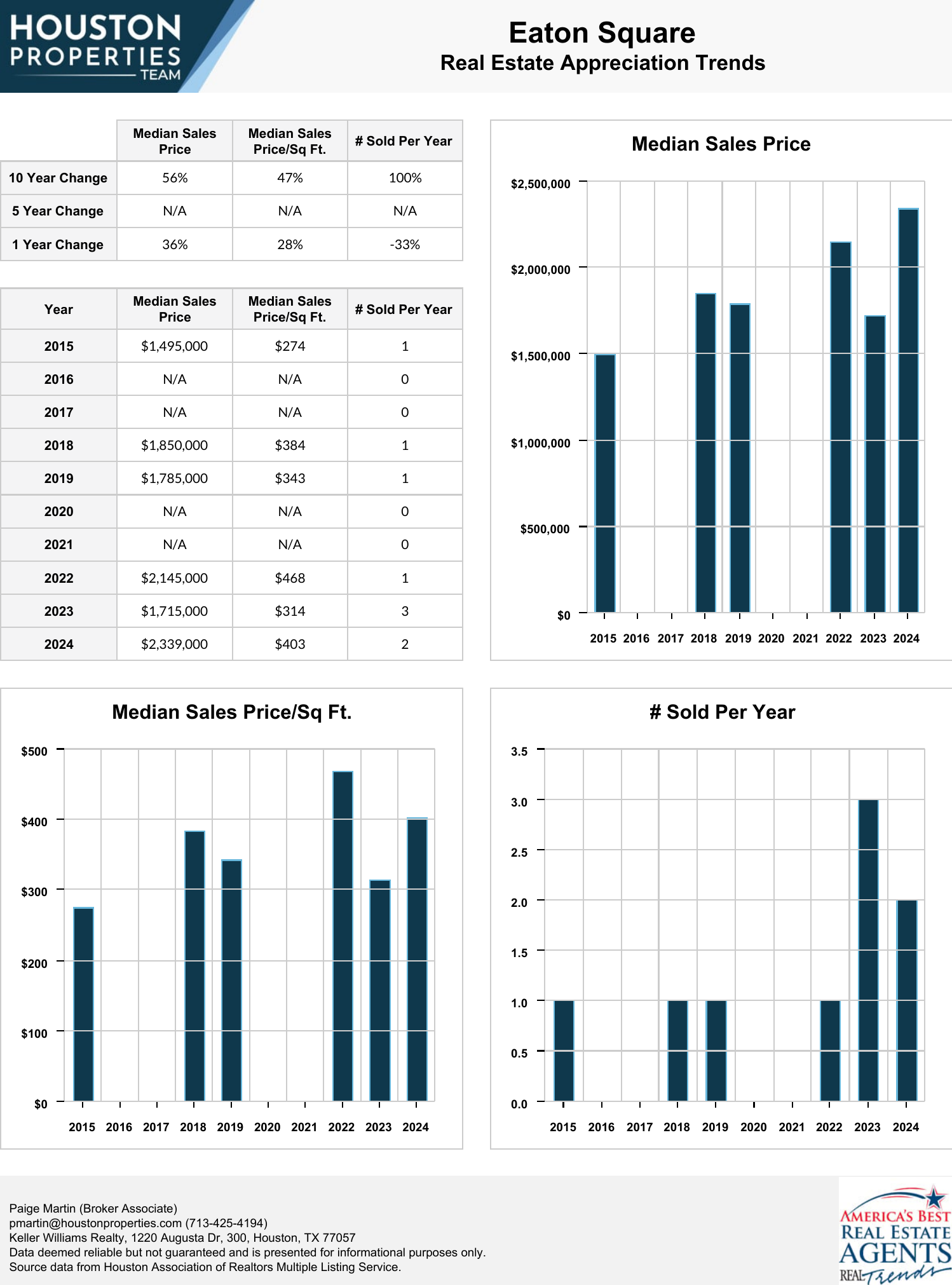 Located between River Oaks and Tanglewood, two of Houston's most expensive neighborhoods, Eaton Square gates 15 premium residences with garden homes and townhomes arranged around a central area. The community's entrance is just a couple of blocks away from Houston's main roads.
Eaton Square is known for its:
Neoclassical Architectural Style: Eaton Square is a residential enclave built in the 1990s by acclaimed Houston Builders William Carla and Robert Davis with the famous architect Lucian Hood. The community's residences, which have stucco exteriors and black iron accents, are excellent specimens of neoclassical architecture.

Proximity to Establishments: Eaton Square connects people to hundreds of businesses in Highland Village, the River Oaks District, and the Galleria, one of Houston's most active retail and business districts. The neighborhood is serviced by top-ranked public schools, according to Houston's Best Schools guide.

Proximity to Main Districts: Eaton Square is conveniently positioned within the Inner Loop, providing quick access to Downtown Houston, Galleria, Medical Center, and Memorial Park.
Eaton Square homes feature well-kept yards, fireplaces, custom closets, wine cellars, and other luxury amenities that encourage family activities.
---
Eaton Square Maps, Location & Zip Code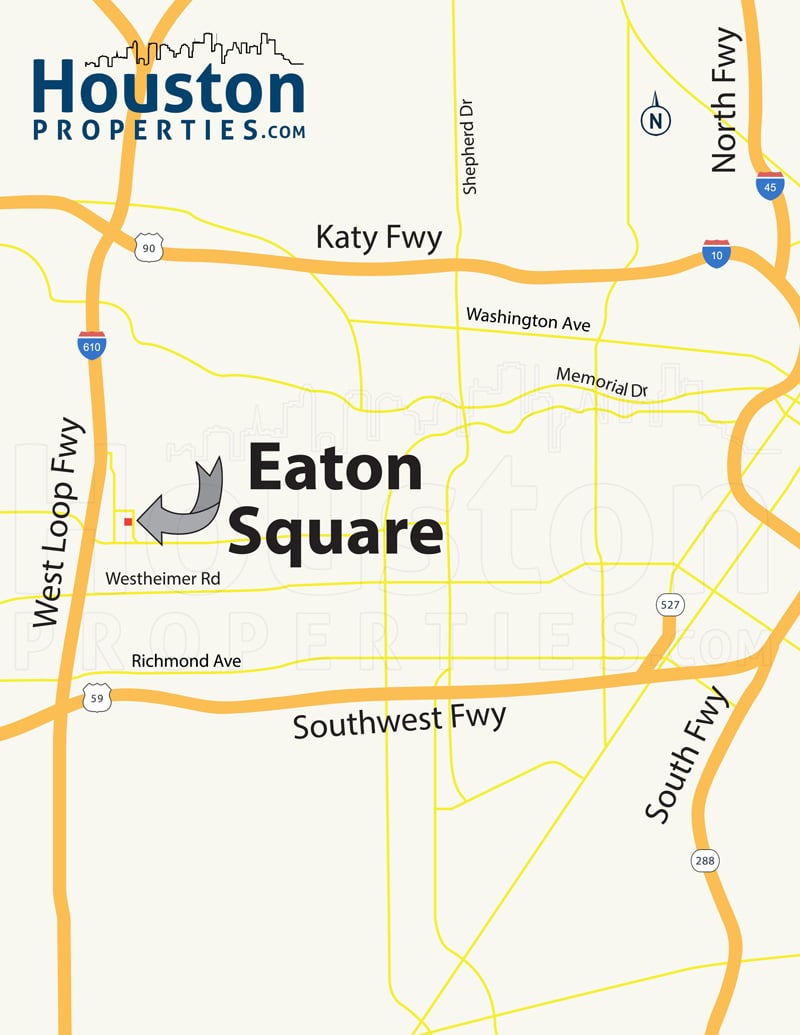 | Commute Time | Eaton Square |
| --- | --- |
| Downtown (min) | Unknown |
| Med Ctr (min) | Unknown |
| Energy Corridor (min) | Unknown |
| Galleria (min) | Unknown |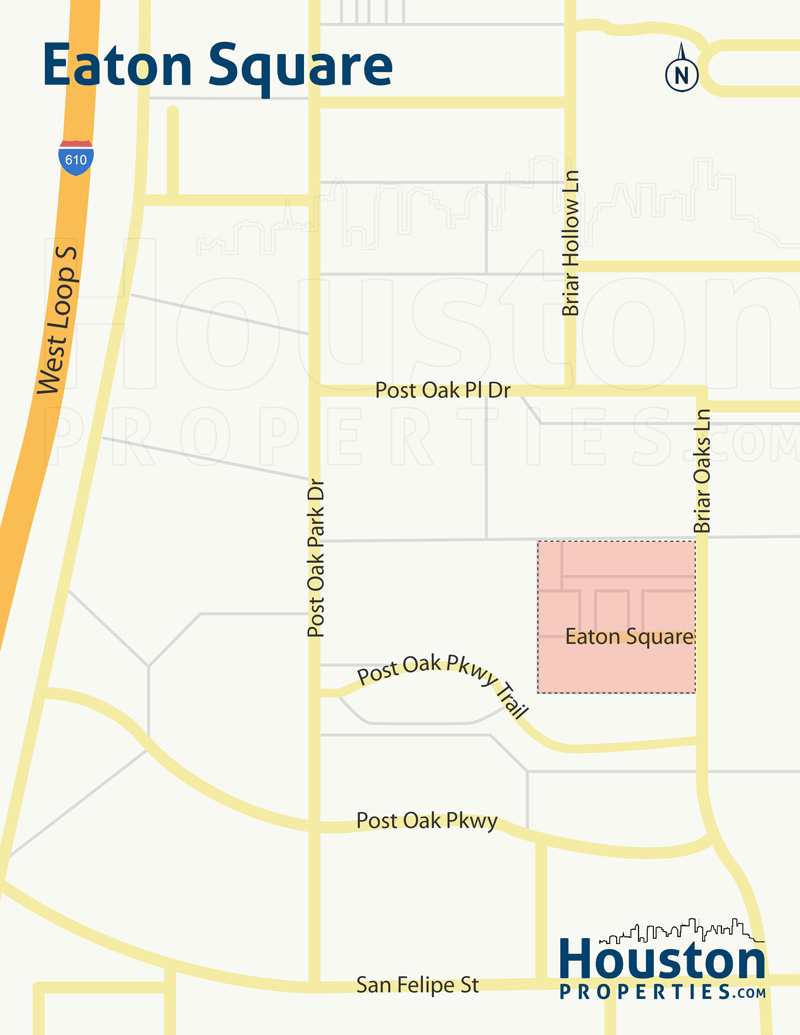 | Highlights | Eaton Square |
| --- | --- |
| Amenities | Unknown |
| Golf Courses | Unknown |
| Run / Bike Trails | Unknown |
| Nearby Retail / Dining | Unknown |
| Major Employers | Unknown |
---
Eaton Square Schools
| Top Middle Schools | Great Schools Ranking |
| --- | --- |
| Lanier Middle | 9 |
---
Best Houston Real Estate Resources
---