Guide To Energy Corridor Homes For Sale Under $1M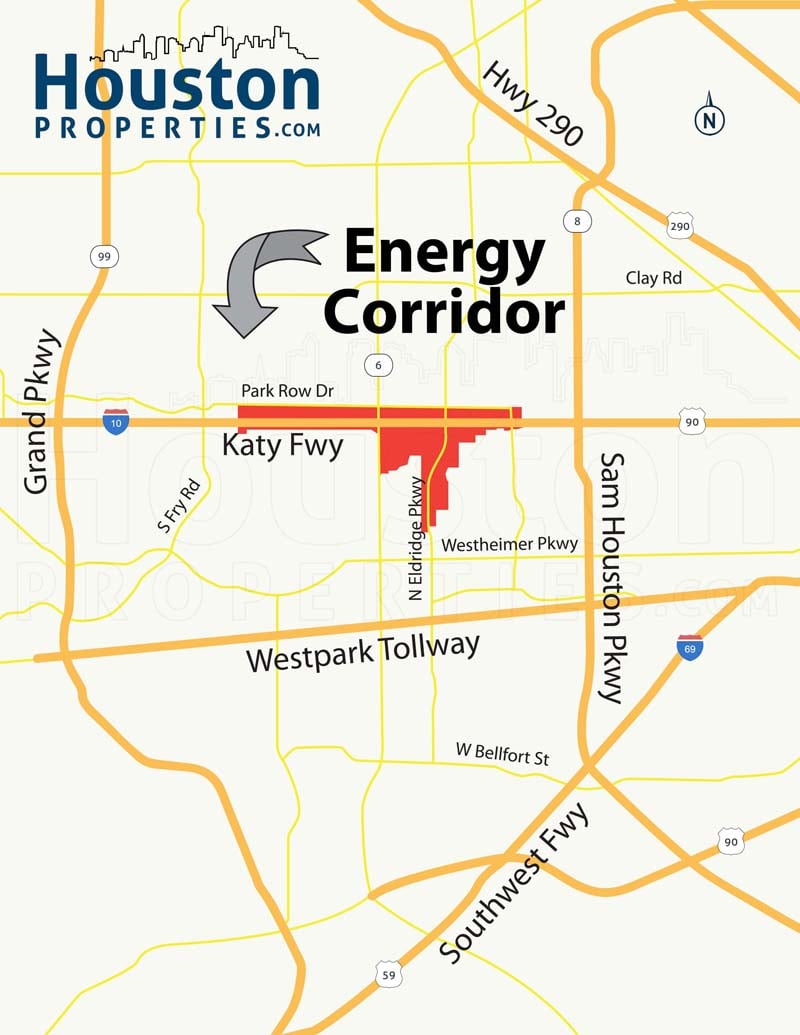 Located along Katy Freeway and adjacent to 26,000 acres of urban park area, the Energy Corridor features excellent access to workplaces and retail and entertainment hubs.
The 1,700-acre district is home to several Fortune 500 companies, gated luxury communities, and several parks and recreational areas. It is zoned to great schools, including Barbara Bush Elementary, Westside High School, and Stratford High School.
The Energy Corridor offers a diverse choice of homes, including estate-style homes, single-family homes, and new construction townhomes. Like most properties in the area, newer construction properties tend to go for higher prices. An eclectic mix of traditional, modern, Spanish, and Mediterranean-inspired houses are available in the area.
Energy Corridor homes for sale are typically more affordable than their counterparts in Inner Loop neighborhoods. Property values are on the rise, however, marking a 50% increase over the past 5 years.
Along with other neighborhoods in West Houston like Memorial and Spring Branch, the Energy Corridor has a fast growing real estate market. Inventories are one of the tightest too; the mrket is very competitive due to its proximity to work centers, top notch schools, and entertainment and retail hubs.
Contact Paige Martin, head of the Houston Properties Team & Broker Associate at [email protected] or 713-425-4194 for advice or questions about buying or selling an Energy Corridor home.
Energy Corridor Houston Resources:
For more information on available Energy Corridor homes for sale call Paige Martin at 713-425-4194 or email [email protected]
Energy Corridor Houston Neighborhood Guide
Established by the Texas State Legislature as a municipal management district in 2001, the Energy Corridor is one of Houston's key business districts.
Long before its official establishment as Harris County Improvement District #4, the Energy Corridor can trace its roots back in the 1970s when two prominent oil companies, Shell Oil Company and Conoco, built campus facilities along Katy Freeway. The district has since grown to house more companies in the energy and oil industries, along with several commercial establishments.
The district's population has grown alongside developments in office and mixed use space in the area. A CDS Market Research study predicts that the growth will continue in coming years, projecting an additional 2,700 housing units to be built by 2030.
Being one of the largest job centers in the area, the district has a very healthy real estate market. Energy Corridor homes are sought after for convenient access to commercial, entertainment, and outdoor recreation hubs, to great schools, and to workplaces.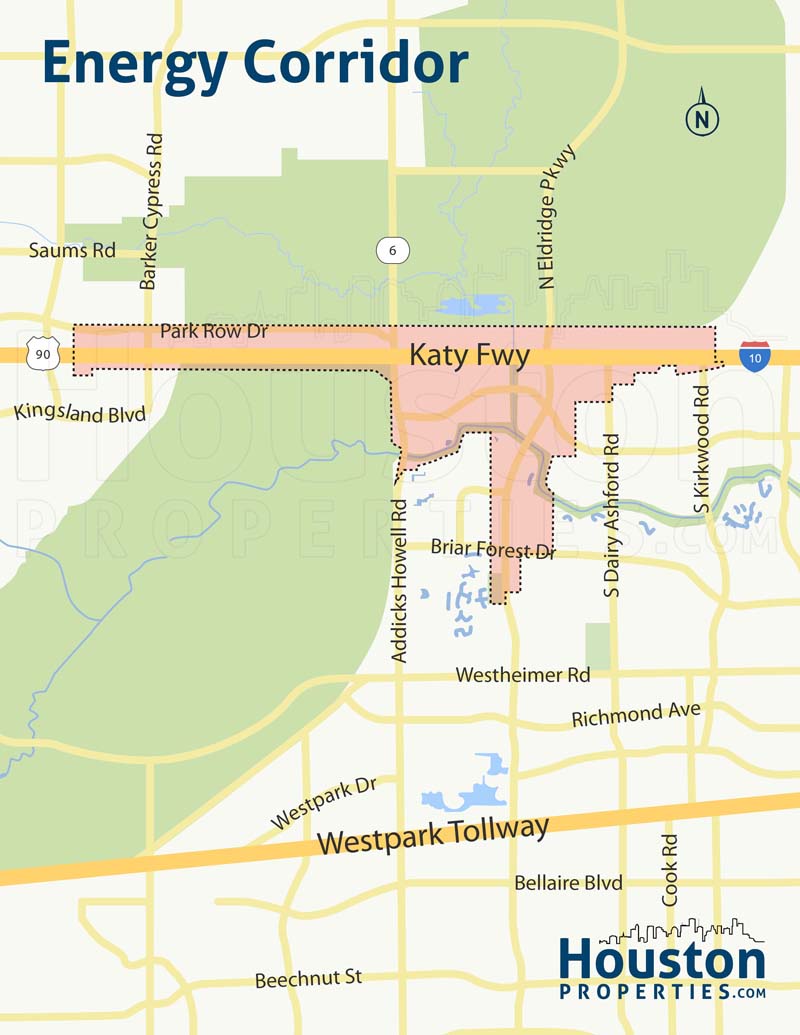 Schools in the Energy Corridor
The Energy Corridor is served by three different school districts: the Houston ISD, the Katy ISD, and the Spring Branch ISD.
HISD serves the residents of AMLI on Eldridge Parkway, San Paloma, and Village on the Parkway. KISD serves the eastern IH-10/Park Ten area including Empirian at Park Row, Heritage at Park Row, Legends at Park Ten, Park Place Apartments, Stone Oak Apartments, and Promenade at Memorial. The Spring Branch ISD has Village on the Memorial Townhomes.
Public Schools:
Here are some of the most notable public schools zoned to the Energy Corridor:
Elementary
Nottingham Elementary at 570 Nottingham Oaks. This PK to 5 public school is under the Spring Branch ISD. Nottingham Elementary has been recognized as a National Blue Ribbon school, with a "Recognized" TEA ranking.
Barbara Bush Elementary at 13800 Westerloch Drive. Also known as BBE, this coeducational school is under the Houston Independent School District. It serves 698 students in grades PK to 5. It has an Exemplary AEIS rating and a 10 out of 10 rating at GreatSchools.org.
Thornwood Elementary at 14400 Fern. From the Spring Branch ISD, Thornwood Elementary serves students in grades PK to 5. It has a GreatSchools.org rating of 6 out of 10.
Ray K. Daily Elementary at 12909 Briar Forrest. Ray Daily Elementary is a coeducational public school from the HISD. It was named after a former HISD board member who advocated for special education, reading, and industrial arts education programs. It serves PK to 6 students and has a GreatSchools.org rating of 7 out of 10.
Maurice L. Wolfe Elementary at 502 Addicks Howell. This K-5 public school from the Katy ISD has been recognized as a National Blue Ribbon school in 1998-99. It has a 6 out of 10 rating at GreatSchools.org.
Middle School
Spring Forest Middle School at 14240 Memorial. This school is under the Spring Branch ISD. It serves students in grades 6 to 8 and has a GreatSchools.org rating of 6 out of 10. It has been recognized as a National Blue Ribbon school from 1994 to 1996.
West Briar Middle School at 13733 Briarhurst. This coed public school is from the HISD. Serving grade 6 to 8 students, it has a 7 out of 10 GreatSchools.org rating.
High School
Westside High School at 14201 Briar Forest. HISD's Westside High School is a magnet school for Integrated Technology. The program takes five different strands: Fine Arts, Business, Media Relations, Applied Science/Health Science, and Computing Sciences. It also offers an advanced placement program. It has a 7/10 GreatSchools.org rating and is one of the top high schools in the United States.
Stratford High School at 14555 Fern Street. Stratford High, under the Spring Branch ISD, features great academics, athletics, and Fine Arts programs. It has received various awards and has been featured with top ranking high schools. Like Westside, it also offers AP courses in addition to several foreign language programs.
Private Schools:
Energy Corridor is also home to excellent private schools. Listed below are some of them:
Westlake Child Development Center at 540 Westlake Park. This is a private nonsectarian preschool. It has a community rating of 3/5 at GreatSchools.org.
Memorial Private High School at 14333 Fern Drive. It is a private school that offers an accelerated Classical Program. It also has excellent arts, academics, and athletics programs.
Westside Montessori School at 13555 Briar Forrest. This is a coed, nonsectarian Montessori school that serves PK to 5 students.
To find an updated listing of all Energy Corridor real estate zoned to any specific public school, please send an email to Paige Martin at [email protected] with the property preference and budget that you're working with.
*Note: School zoning tends to change from year to year, information provided above are accurate but not guaranteed. Please double check by visiting the school's website.
Energy Corridor Houston Realtor – Paige Martin
As featured on Fox News in the Morning, the Houston Business Journal, Houston Chronicle, and Houston Magazine, Paige Martin – a consistent Top Producing Broker-Associate and head of the Houston Properties Team – is ranked amongst the very top Keller Williams agents in the Houston area.
Paige is ranked as one of the top realtors in Energy Corridor Houston, and the state of Texas. Read more about the over 65 awards she's won in the last few years.
Paige works with a tremendous number of buyers and sellers within the Energy Corridor and the Inner Loop.
For a specific recommendation of neighborhoods, homes or properties based upon your personal style, goals & price point, please contact Paige Martin, head of the Houston Properties Team & Broker Associate at [email protected] or 713-425-4194.