Galleria Houston Homes For Sale Under $500k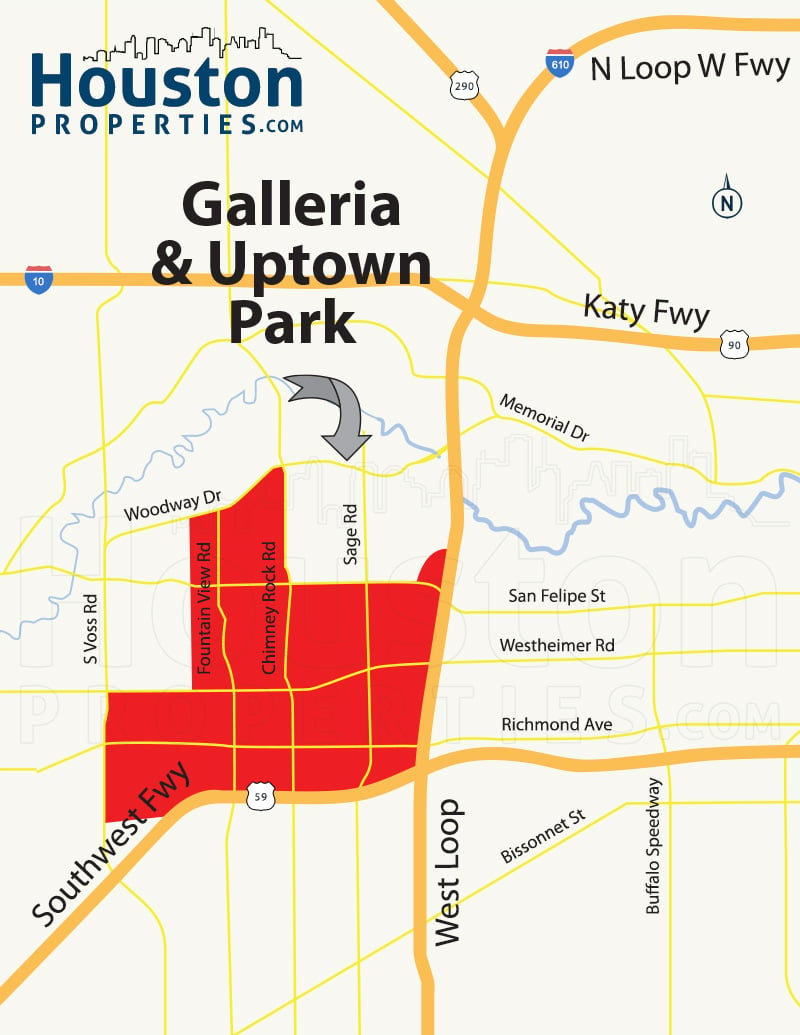 One of Houston's central business districts, the Galleria is a vibrant neighborhood located just west of Loop 610.
Also known as the Galleria/Uptown area, the district is a premiere destination for retail and fashion in the Bayou City. With the biggest shopping mall in Texas practically next door to Galleria homes for sale, there is a very little residents can't get within the district's borders.
With over 700 retail stores, restaurants, and entertainment hubs, the Galleria/Uptown area provides residents and visitors alike with plenty of options.
Key Inner Loop neighborhoods, including Downtown, the Medical Center, and the Museum District, are easily accessible from the Galleria via Loop 610 and the Southwest Freeway. Several of Houston's major thoroughfares also go through the district.
The district offers a wide variety of housing options, including single-family homes, townhomes, and condos. With plenty of options with which to choose, the Galleria is a great option for homebuyers looking to live right where the action is.
Contact Paige Martin, head of the Houston Properties Team & Broker Associate at [email protected] or 713-425-4194 for advice or questions about buying or selling a Galleria home.
Galleria Houston Resources:
For more information on available Galleria homes for sale call Paige Martin at 713-425-4194 or email [email protected]
Galleria Houston Neighborhood Guide
Located just outside the Inner Loop, the Galleria is a key Houston district for both retail and business, with more than 5 million square feet of retail space and over 23 million square feet of office space.
The Galleria/Uptown area sits a few miles west of Downtown Houston, north of the Southwest Freeway and west of the Loop 610. (See our Interactive Map of Houston Neighborhoods.)
The district features several housing options, ranging from single-family homes to upscale condos. And though each has its own pros and cons, all Galleria homes for sale enjoy a central location – with several restaurants, sports and entertainment hubs, retailers, fashion boutiques, schools, and hotels nearby.
Galleria townhomes are typically within gated communities, while single-family homes in the area can range from older patio homes to new construction custom-built homes.
The Galleria also features a collection of posh residential condos, including The Montebello, Cosmopolitan, Astoria and Villa d'Este. These luxury highrises offer great amenities including round-the-clock staff and security, gated entrance, parking, and various private fitness and entertainment facilities, among others.
Galleria Houston is located within the 77056 Harris County zip code. Neighborhoods near the district include Afton Oaks, River Oaks, Briargrove, Tanglewood, Hunters Creek (Memorial Villages), and Bellaire.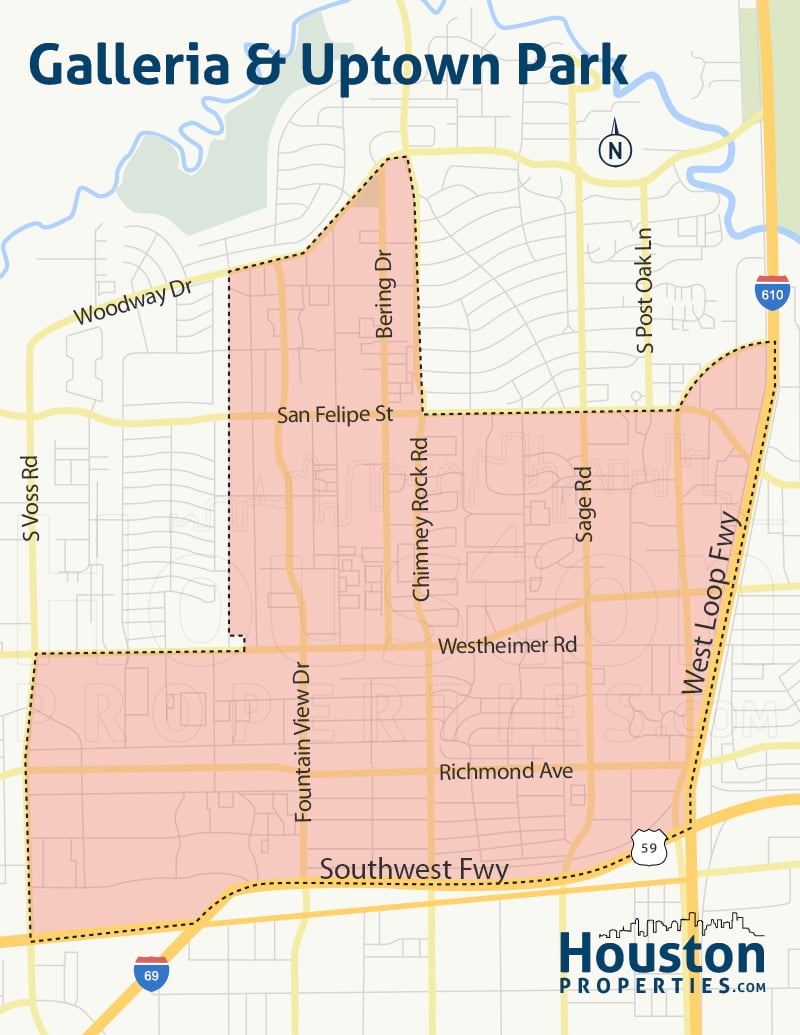 Galleria Schools Information
The Galleria/Uptown area is zoned to the Houston Independent School District (HISD).
Elementary Schools
Briargrove Elementary School at 6145 San Felipe St. Briargrove, a newly minted International Baccalaureate World School, now offers the IB Primary Years Programme(PYP). Apart from the new program, Briargrove also features enrichment classes in music, science lab, art, and critical thinking lab, among others.
St. George Place Elementary School at 5430 Hidalgo St. St. George Place Elementary is also one of the HISD's IB World Schools. It also offers a Vanguard neighborhood program for G/T students, ESL, and special special education programs. It features various enrichment courses and after school activities.
Briarmeadow Charter School at 3601 Dunvale Rd. Students within the Galleria can choose instead to apply to Briarmeadow, a charter school serving grades Pre-K through 8. The school offers Pre-AP Placement and Gifted programs.
Middle Schools
Grady Middle School at 5215 San Felipe St. Established in 1929, Grady Middle School offers several academic programs including core enrichment and Gifted and Talented. Grady also has baseball, basketball, cheerleading, wrestling, volleyball, and soccer teams, among others.
High Schools
Lee High School at 6529 Beverly Hill St. Lee offers an advanced placement curriculum where students can earn college level credits in World History, Macroeconomics, Calculus AB and BC, Spanish Literature, Environmental Science, and Physics B, among other subjects.
Lamar High School at 3325 Westheimer Rd. As one of the Houston ISD's International Baccalaureate schools, Lamar has one of the largest IB programs in North America. It also offers a neighborhood program and an Advanced Placement program. The school also offers a great athletics program, with its football team (Lamar Texans, formerly Redskins) reaching the playoffs 30 times.
Westside High School at 14201 Briar Forest Dr. As the Houston ISD's Magnet School for Integrated Technology, Westside's curriculum centers on 5 aspects: Media Relations, Applied Science/Health Science, Fine Arts, Business, and Computing Sciences.
Galleria Houston Private Schools
The following are some of the more notable private schools near Galleria.
St. Michael School at 1833 Sage Rd.
Strake Jesuit College Preparatory at 8900 Bellaire Blvd.
Saint Agnes Academy at 9000 Bellaire Blvd.
Al-Hadi School of Accelerative Learning at S Voss Rd.
The Awty International School at 7455 Awty School Ln.
St. John's School at 2401 Claremont Ln.
The Kinkaid School at 201 Kinkaid School Dr.
To find an updated listing of all Galleria real estate zoned to any specific public school, please send an email to Paige Martin at [email protected] with the property preference and budget that you're working with.
*Note: School zoning tends to change from year to year, information provided above are accurate but not guaranteed. Please double check by visiting the school's website.
Galleria Houston Realtor – Paige Martin
As featured on Fox News in the Morning, the Houston Business Journal, Houston Chronicle, and Houston Magazine, Paige Martin – a consistent Top Producing Broker-Associate and head of the Houston Properties Team – is ranked amongst the very top Keller Williams agents in the Houston area.
Paige is ranked as one of the top realtors in Galleria, Houston, and the state of Texas. Read more about the over 65 awards she's won in the last few years.
Paige works with a tremendous number of buyers and sellers within Galleria.
For a specific recommendation of neighborhoods, homes or properties based upon your personal style, goals & price point, please contact Paige Martin, head of the Houston Properties Team & Broker Associate at [email protected] or 713-425-4194.