Guide To Most Expensive Galleria Houston Homes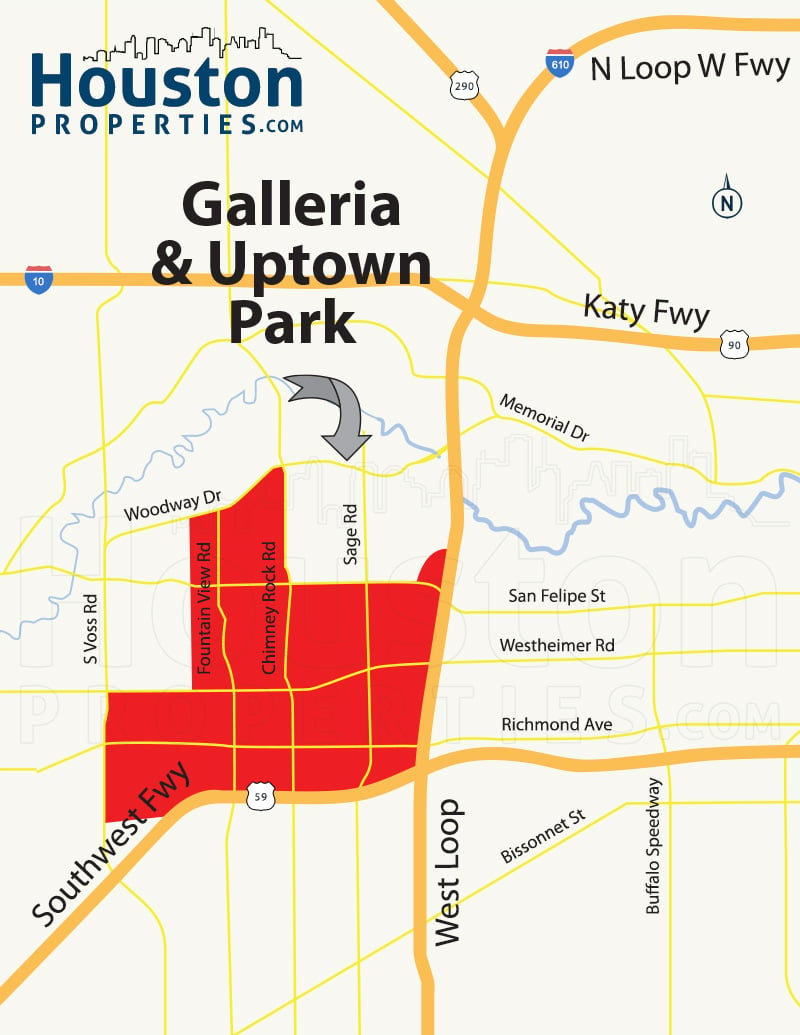 Nestled in the northwest area where Loop 610 and Southwest Fwy meet, the Galleria is one of Houston's premiere destinations for retail and business.
A key Bayou City district, the Galleria/Uptown area is a diverse mix of posh residential highrises, world-class shopping centers, offices, retail stores, custom-built single family homes, and townhomes.
One of Houston's most accessible neighborhoods, Galleria/Uptown Area features more than 700 retailers, and over 23 million square feet of office space.
Thanks to its central location, Galleria luxury real estate have easy access to the district's upscale boutiques, fine dining restaurants, and exciting nightlife options. Galleria homes are also within minutes of key Inner Loop neighborhoods via the main roads that line the district.
The most expensive Galleria homes for sale include recently constructed single-family homes located within posh subdivisions and gated communities, and units in upscale highrises like The Montebello, Cosmopolitan, Astoria and Villa d'Este.
Contact Paige Martin, one of the best realtors in Houston, head of the Houston Properties Team, and Broker Associate at [email protected] or 713-425-4194 for more information about Galleria luxury real estate.
Galleria Houston Resources:
For more information on available Galleria luxury real estate call Paige Martin at 713-425-4194 or email [email protected].
Galleria Luxury Real Estate and Neighborhood Guide
The Galleria is a sprawling mixed-use district located just outside the Inner Loop. It is conveniently located west of Loop 610 and north of the Southwest Freeway, giving the district great access to key Inner Loop hubs like Downtown Houston, the Museum District, and the Medical Center.
During the 1960s, Gerald D. Hines picked up where Glenn H. McCarthy left off and developed what is now known as the Galleria. The retail and hotel complex opened its doors in 1970, and initially had 600,000 square feet of retail space. Today, it is the largest mall in Texas with more than 375 stores.
Burgeoning commercial development spurred on the Galleria/Uptown area's residential areas as well.
The Galleria/Uptown area features several luxury highrise buildings, deed-restricted subdivisions, world-class shopping centers, alongside numerous retail, dining, and business hotspots.
Luxury Galleria homes for sale, especially the ones within gated communities and highrises – offer great amenities, including 24/7 staff and security, private pools, fitness centers, tennis courts, and parking, among other things.
Due to the Galleria area's diverse mix of housing options, those in the market for luxury real estate can choose from custom-built single-family homes, townhomes, and condos.
The Galleria is located near Afton Oaks, River Oaks, Briargrove, Broad Oaks, Briarmeadow, St. George Place, Tanglewood, Hunters Creek (Memorial Villages), and Bellaire.
Galleria Houston luxury real estate have a 77056 Harris County zip code.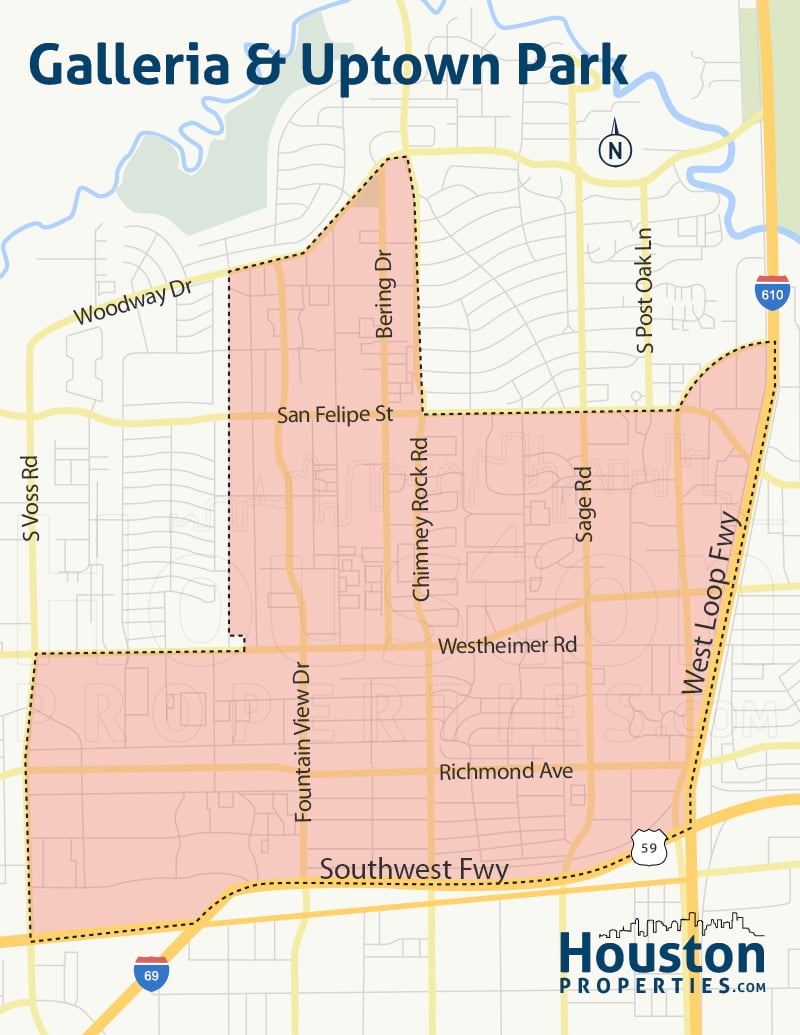 Galleria Houston: Fun Things To Do In The Neighborhood
As Houston's main destination for retail, there is no shortage of fun things to do within the Galleria/Uptown area.
There's the Galleria itself. It is the largest mall in Texas, with over 375 stores. With 2.4 million square feet of total retail area, its sheer size is rivaled only by 7 other retail centers in the United States. Its current anchor stores include Neiman Marcus, Saks Fifth Avenue, Macy's, and Nordstrom.
The Galleria also features over 50 restaurants, a jogging track on the roof, a skating rink, and various other entertainment and dining options.
Located just north of the Galleria is Uptown Park, an open European-style shopping center. It offers a pedestrian-friendly vibe, and features several upscale retail, service, and entertainment centers. Must-visit stores in Uptown Park include Facade, Longoria Collection, Mint Kids & Baby, M Penner, and Elizabeth Anthony Esther, among others.
Should residents find those two retail centers lacking, there are plenty of other options within minutes of the Galleria, including Rice Village and Highland Village.
Here are some of Galleria Houston must-visit places:
Restaurants
Chama Gaucha Brazilian Steakhouse
Masraff's
Pappas Bros Steakhouse
Maggiano's Little Italy
De Frisco's Double Eagle Steak House
Truluck's
The Capital Grille
True Food Kitchen
Caracol
Etoile Cuisine et Bar
Nightlife
Firehouse Saloon
Muldoon's the Patio
The Black Swan
The Living Room
Belvedere
The West End
Ron's Pub
Richmond Arms Pub
51fifteen Restaurant and Lounge
Retail and Entertainment Centers
The Galleria
Uptown Park
Rice Village
Uptown Collection
Highland Village
BLVD Place
Groceries
Whole Foods
The Fresh Market
Randalls Food & Pharmacy
Target
HEB
Westcreek Market and Deli
Parks
Gerald D. Hines Waterwall Park
Post Oak Park
Grady Park
Hidalgo Park
Galleria Houston Realtor – Paige Martin
As featured on Fox News in the Morning, the Houston Business Journal, Houston Chronicle, and Houston Magazine, Paige Martin – a consistent Top Producing Broker-Associate and head of the Houston Properties Team – is ranked amongst the very top Keller Williams agents in the Houston area.
Paige is ranked as one of the top realtors in Galleria Houston, and the state of Texas. Read more about the over 65 awards she's won in the last few years.
Paige works with a tremendous number of buyers and sellers within Galleria.
For a specific recommendation of neighborhoods, homes or properties based upon your personal style, goals & price point, please contact Paige Martin, head of the Houston Properties Team & Broker Associate at [email protected] or 713-425-4194.