Galveston Real Estate Guide
Galveston homes for sale & insider real estate guide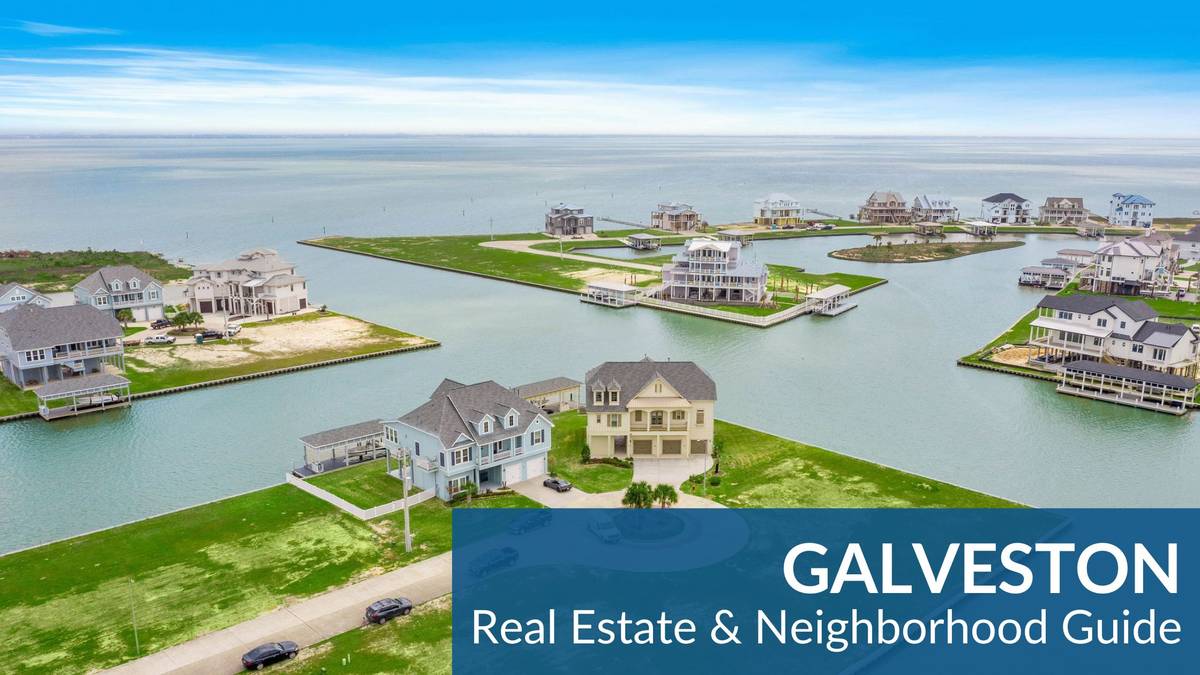 Nestled within Houston's popular neighborhood is the Galveston neighborhood. It features a unique blend of history, culture, and natural beauty. It is in the Gulf of Mexico. Also, it boasts over 30 miles of stunning beaches. It is a thriving economy and has a diverse population.
Galveston is popular due to its:
BEAUTIFUL BEACHES: Galveston's beaches are a constant draw for tourists and residents. The city has over 30 miles of beaches, including the renowned Stewart Beach and East Beach. Both offer a range of activities like swimming, sunbathing, and fishing.
THRIVING ECONOMY: Galveston also has a strong and growing economy. It includes several major industries such as healthcare, education, and tourism. The city is also home to the University of Texas Medical Branch. Moreover, it is also 30 minutes away from Galleria and 35 minutes drive from Downtown.
CULTURAL EVENTS: Several cultural events are set yearly. The Mardi Gras Galveston and the Galveston Island Food and Wine Festival, to name a few. These events attract a diverse range of visitors and residents. Additionally, these contribute to the city's vibrant and diverse culture.
OUTDOOR ACTIVITIES: Besides beaches, Galveston offers several outdoor activities. Hiking, camping, and birdwatching are some of those. Galveston provides varied options for individuals wanting to explore the city's natural beauty. Two of those are Brazoria National Wildlife Refuge and Galveston Island State Park.
RICH CULTURAL HERITAGE: Galveston also has a rich cultural heritage. It is evident in its diverse population and many cultural landmarks. For example the city's historic downtown district. It is home to several art galleries and cultural institutions. One of those is the Galveston Arts Center and the other is the Grand 1894 Opera House. The city is also home to several museums. The popular ones are the Texas Seaport Museum and the Galveston Railroad Museum. These offer visitors a glimpse into the city's history and cultural heritage.
EMPLOYMENT OPPORTUNITIES: Galveston is also home to top employers. McDermott International, Foster Wheeler, and Gulf States Toyota, to name a few.
BOOMING REAL ESTATE MARKET: Galveston's real estate market has been experiencing a boom. It is due to the increasing demand for residential and commercial properties. It is partly due to the city's growing economy and attractive features. Two of such are beaches and historic architecture. Property values also have been increasing. It makes a lucrative market for investors as a result. Additionally, the city has many housing options. It ranges from historic homes to new developments, which offer something for everyone.
There are underlying challenges despite Galveston's attractive features for real estate. One of the biggest challenges is the competitive market. It makes it difficult to find affordable properties. There may also be zoning and permit restrictions to navigate. Potential issues like flood zones and insurance may arise. Buyers and sellers indeed need to work with experienced professionals. Real practitioners who are familiar with the local market and can help navigate these challenges.
To get personal advice on buying or selling in the Galveston area, contact Paige Martin, one of Houston's best condo realtors and one of the top-ranked Realtors in the United States.
"We enjoyed working with Violet Brooks. She was an absolute pleasure to work with throughout the whole process. She is a knowledgeable Real Estate agent who understood our needs and went above and beyond to find the right property for us! She made the process so easy thanks to her thoroughness and dedication! We feel so happy that Violet was our Realtor." - Maricarmen Colin (Google Review)
---
Table of Contents
---
Galveston Home Sale Trends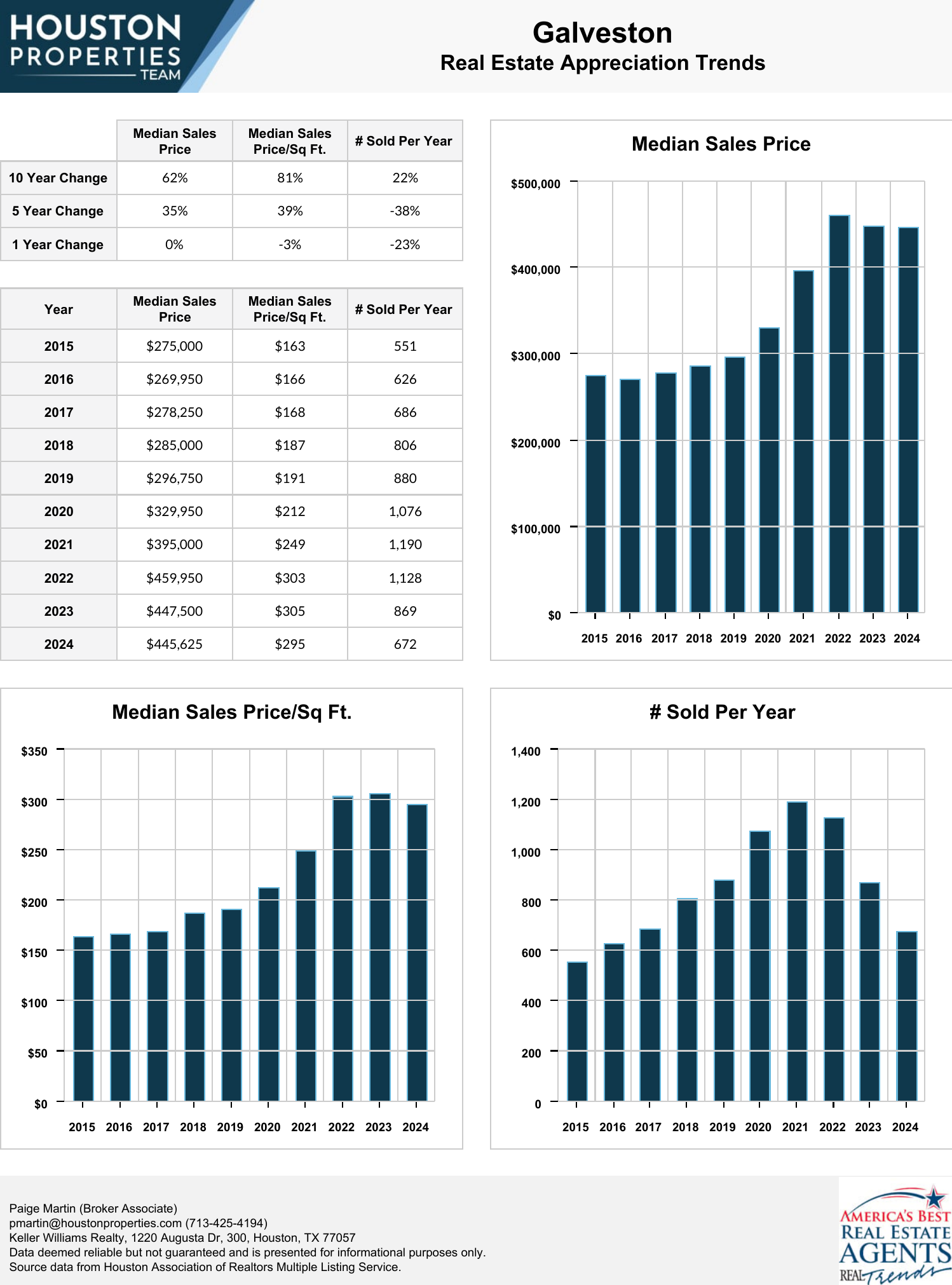 ---
Galveston Maps, Location & Zip Code
| Commute Time | Galveston |
| --- | --- |
| Downtown (min) | 35 |
| Med Ctr (min) | 35 |
| Energy Corridor (min) | 25 |
| Galleria (min) | 30 |
Highlights
Galveston
Amenities
Ideally you want to be East of 249, West of 45 and North of 1960.

Cypress features several restaurants, parks, golf courses, outdoor recreational venues, retail and entertainment centers.
Golf Courses
Cypress Lakes Golf Club
BlackHorse Golf Club
Longwood Golf Club
Run / Bike Trails
Little Cypress Creek Preserve
Nearby Retail / Dining
Cypress Towne Center
Fairfield Town Center
The Boardwalk
Houston Premium Outlets
Major Employers
McDermott International
Shell Oil Company
Dow Chemical Company
Foster Wheeler
Gulf States Toyota
---
Best Houston Real Estate Resources
---