Garden Oaks Real Estate Guide
Garden Oaks homes for sale & insider real estate guide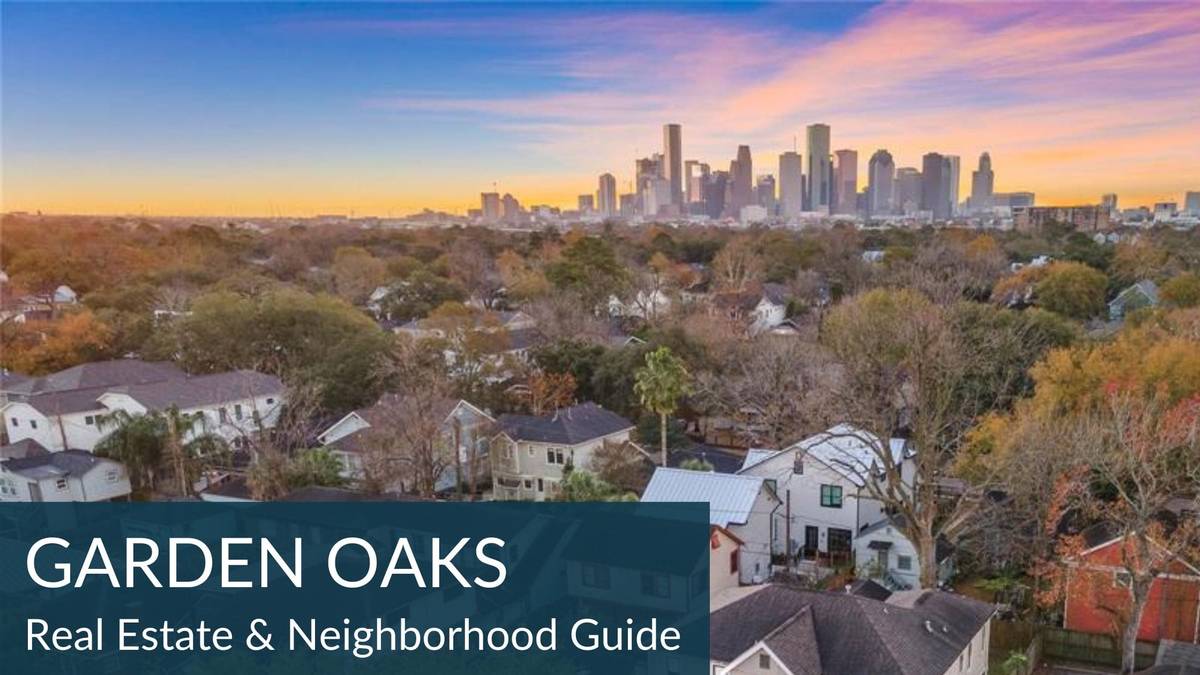 Located off Loop 610, Garden Oaks is a neighborhood of approximately 1400 homes. Pine trees, magnolias, pecans, and oak surround the whole area that gave its namesake.
Garden Oaks features:
VARIOUS HOME STYLES: Many home options include plantation-style homes, cottages, patio homes, ranch-style homes, and bungalows. Garden Oaks still have homes dating as far back as 1937, which makes the area full of architectural history with modern touches.

SPACIOUS LOTS: The homes in Garden Oaks range from 6,000 to around 17,000 square feet. The neighborhood's strict deed restrictions require large setbacks from lot boundaries which, in turn, gives ideal open space for a green landscape.

IDEAL LOCATION: Located near major highways, interstates, and the George Bush Intercontinental Airport, traveling to work and significant entertainment and dining establishments' takes minutes without traffic.

EASY COMMUTE: Trolleys, buses, and small lift vans are accessible to everyone in the neighborhood. Situated 10-15 minutes away from Downtown and other neighborhoods in Houston, commuting is fast and convenient.

TOP-RANK SCHOOLS: There are great options for child care, early childhood education, elementary school, and middle school in Garden Oaks. Some of Texas' high-ranking schools like Garden Oaks Montessori Magnet School located here.

GREAT APPRECIATION RATES: With the continuous developments and increasing population, land value appreciation rates in Garden Oaks are rising.
To preserve the residential character of Garden Oaks, deed restrictions are heavily enforced. It's imposed that homeowners need to have their builders and architects comply with a set of rules and regulations before any rebuilding or remodeling projects.
To get personal advice on buying or selling in the Garden Oaks neighborhood, contact Paige Martin, one of Houston's best condo realtors and one of the top ranked Realtors in the United States.
"Ashley Tilton is hands down one of the hardest working and most genuine loving people I have been blessed to know. A few years ago we were trying to find a home and we were hitting a lot of bumps in the road due to my identity theft issues but she still work tirelessly to help us even while she herself was taking care of a little baby and dealing with personal illness. A couple of years later once my credit issues was resolved she still worked really really hard and she was on the verge of giving birth to her second baby and fighting a bad flu, she still showed up to help us finish the paperwork to buy our dream home. She truly cares about her clients and really anyone whether human or furbabies. I'm just so grateful to known her and we're very very lucky to call her a friend and now a sister to our hearts." - Artie Bayat (Google Review)
---
Table of Contents
---
Garden Oaks Home Sale Trends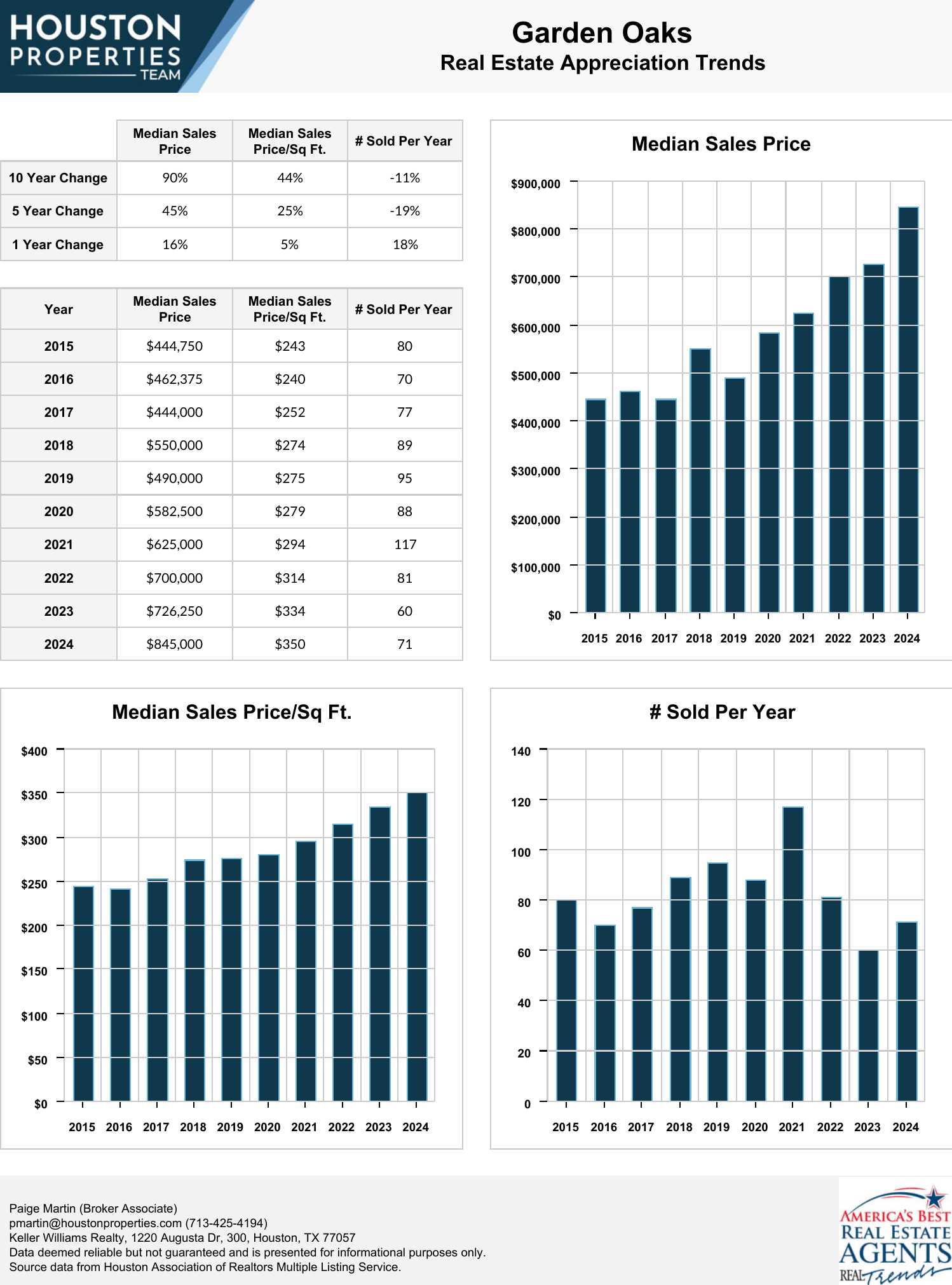 With about 1,400 homesites, Garden Oaks showcases a variety of traditional and new construction homes. Located just off Loop 610, this largely residential neighborhood has some of the Best Land Value Appreciation Rates in Houston.
Garden Oaks features:
LARGE LOTS: By Houston standards, homes in Garden Oaks sit on mid-to-large-sized lots. Lot areas range from 6,000 to 17,000 square feet, allowing for vast green space.

GREAT ACCESSIBILITY: Garden Oaks has tree-lined streets near the city's main entertainment and commercial districts. Commuting to Downtown, EaDo, Heights, and Rice Military takes about 15 minutes.

BEAUTIFUL VINTAGE HOMES: There are a number of home options in Garden Oaks. These include bungalows, plantation-style homes, quaint patio homes, ranch-style homes, and townhomes.

ACTIVE CIVIC CLUB: Garden Oaks Civic Club enforces deed restrictions and organizes events in the community. Their projects include neighborhood beautification and a constable program.
The Garden Oaks community continues to grow as developers buy up land in the area.
---
Garden Oaks Best Realtor Insights
One of Houston's older neighborhoods, Garden Oaks, has remained a popular option for interested homebuyers. Homes in the area are prized for their quiet and verdant surroundings, large lots, and relatively central location.
Garden Oaks homes are minutes away from key Houston districts like downtown and the Galleria. Residents have easy access to main roads and freeways like Loop 610, Northwest Freeway, Ella Boulevard, and Shepherd Drive.

Though mostly residential, Garden Oaks has parks, schools, restaurants, and retail stores nearby.

Established in 1937, Garden Oaks is one of Houston's older neighborhoods. Its deed restrictions have helped maintain its small-town atmosphere.

The neighborhood features a number of home options, including plantation-style homes, quaint patio homes, and bungalows. Ranch-style homes and townhomes are also available in the area.

Garden Oaks real estate is among the best in terms of land appreciation. Homes in the area continue to sell well; despite slight fluctuations, the median sales price has continued to increase.

Garden Oaks homes are zoned to the Houston Independent School District (HISD).

Known for its verdant and peaceful atmosphere, Garden Oaks features homes with wooded lots.

Most of the neighborhood's original homes, some dating as far back as 1937, have been meticulously updated and maintained.

The neighborhood is deed-restricted and has an active homeowners' association. Garden Oaks features around 1,400 homes and is divided into 5 sections.

Two- to three-bedroom floor plans are common in the neighborhood. Larger properties can offer 4 to 5 bedrooms. Living spaces range from 1,000 to more than 4,500 square feet.
---
Garden Oaks Maps, Location & Zip Code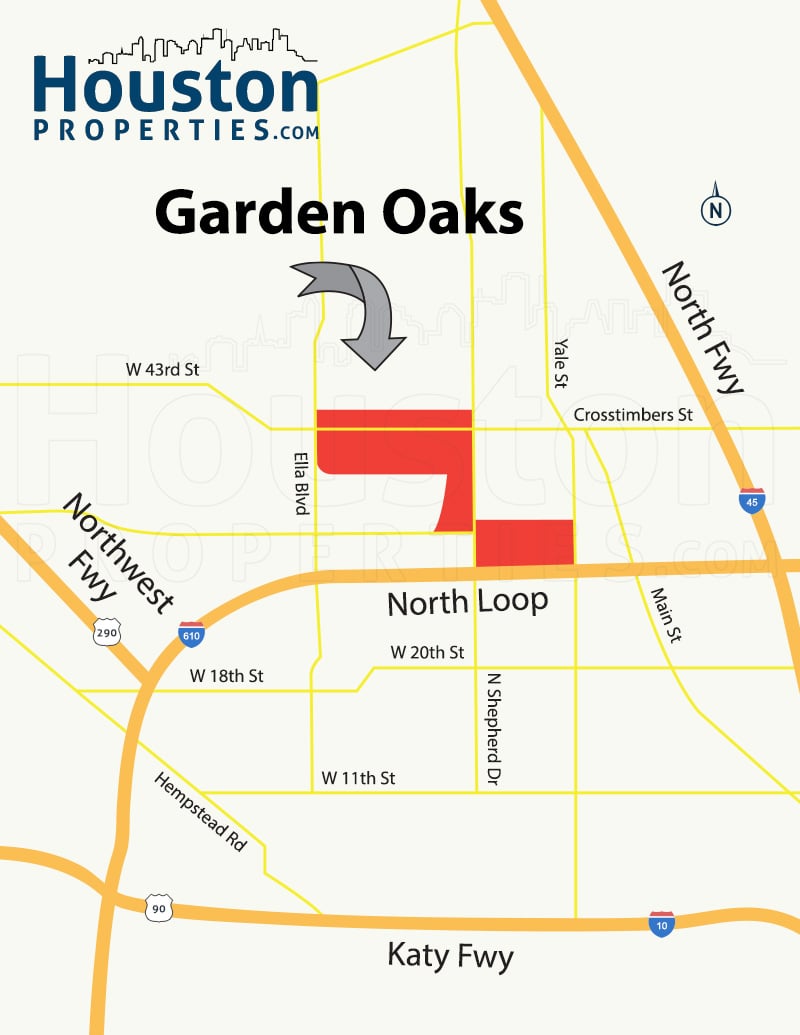 | Commute Time | Garden Oaks |
| --- | --- |
| Downtown (min) | 20 |
| Med Ctr (min) | 20 |
| Energy Corridor (min) | 20 |
| Galleria (min) | 10 |
| Exxon Campus (min) | 30 |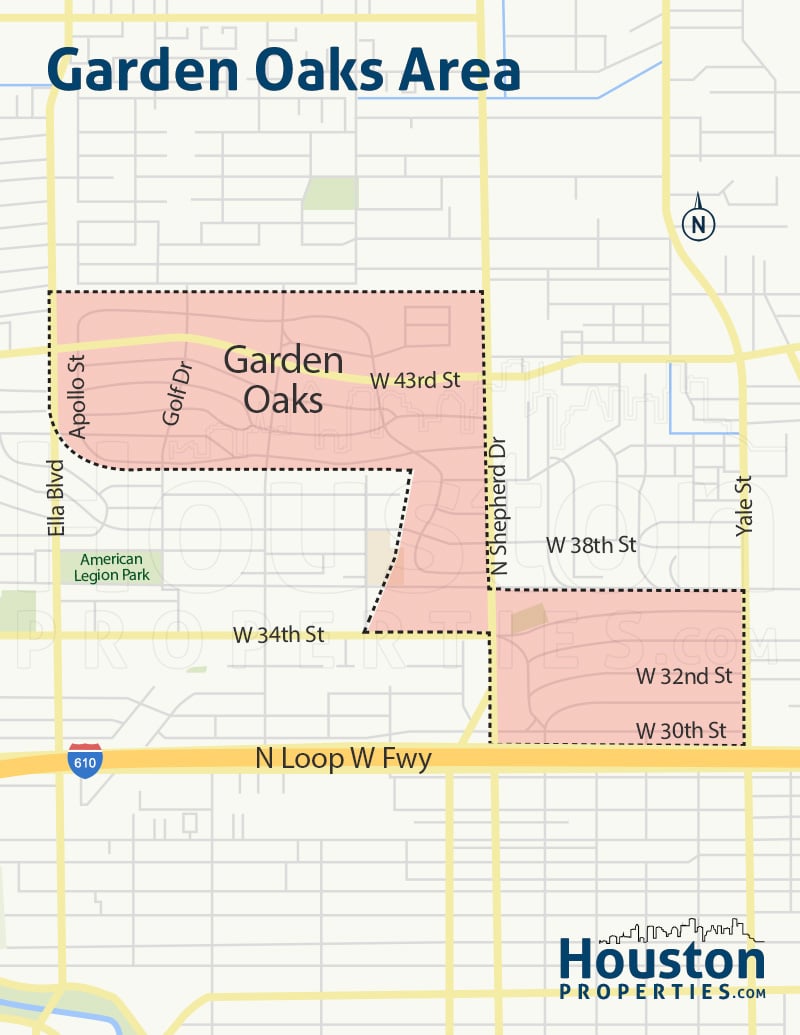 Highlights
Garden Oaks
Amenities
Garden Oaks is located off Loop 610, a neighborhood of approximately 1400 homes surrounded by pine trees, magnolias, pecans, and oaks.

The community boasts large green spaces, a resident lounge and clubhouse, and a fully-loaded fitness center. Homeowners can enjoy access to nearby retail establishments, parks, and restaurants.
Golf Courses
- 5050 Acorn Golf
Run / Bike Trails
- West Tidwell Park
- White Oak Bayou Greenway Trail
- Wortham Island Reserve
- Little Thicket Park
- Spring Branch Trail
- Lorraine Cherry Nature Preserve
- Heights Hike and Bike Trail
- White Oak Bayou Greenway Access
Nearby Retail / Dining
Retail:
- Ross Dress for Less
- Rainbow Shops
- He's Got Style
- Whole Foods Market
- Kroger
- Sunny's Groceries & Tobacco
- ALDI
- H-E-B
- Kay Foods
- Costco

Dining:
- Millie's Kitchen and Cocktails
- Valencia's Tex-Mex Garage
- Mi Sombrero
- Aladdin Mediterranean Grill
- Jellyfish

Nightlife:
- Wakefield Crowbar
- Catty Corner Ice House
- Del Mar Lanes
- La Villita
- Sunset Strip
- Pleasures Gentlemen's Club
Major Employers
- United States Postal Service
- HEB
- Kroger
- Costco
- Harris County Hospital District
- HCA Houston Healthcare Medical Center
- Harris Health Lyndon B. Johnson Hospital
- LyondellBasell
- Deloitte Houston
---
Garden Oaks Schools
| Top Middle Schools | Great Schools Ranking |
| --- | --- |
| Black Middle | 7 |
Garden Oaks homes are zoned to the Houston Independent School District (HISD).
Established in the 1920s, Houston ISD is the largest school district in the state (with 283 schools). The Texas Education Agency (TEA) gave the district a "Met Standard" rating in 2016.
Students in the area may attend the following public schools:
---
Elementary Schools
---
Garden Oaks Montessori Magnet School at 901 Sue Barnett Dr.Formerly the Garden Oaks Elementary School, the school now offers a Montessori Magnet program centered on environmental sciences. It also features several academic programs, including a Vanguard neighborhood program and ESL. The school's early learning programs include Preparing Students for Independence (PSI) and Preschoolers Achieving Learning Skills (PALS).

Durham Elementary School at 4803 Brinkman St. Located next to Shepherd Park, Durham Elementary School is one of the Houston ISD's International Baccalaureate World schools. It features the IB Primary Years Programme (PYP) alongside a Dual Language program.
---
Middle Schools
---
Frank Black Middle School at 1575 Chantilly Ln. Founded in 1957, Black Middle School was named for one of Houston's educators. It is a Vanguard magnet school that offers advanced academic courses in mathematics and science. Core enrichment programs include high school Spanish and information technology.
---
High Schools
---
Waltrip High School at 1900 W 34th St. Established in 1959, Stephen Pool Waltrip High School is a Research and Technology Magnet School. Students in the magnet program are encouraged to explore different research areas, including history, literature, math, technology, biology, and chemistry.

Washington High School at 119 E 39th St. Located in Independence Heights, Booker T. Washington High School moved to its present campus in the late 1950s. Its campus houses the High School For Engineering Professions.
---
Garden Oaks Houston Private Schools
---
The following are some of the more notable private schools near Garden Oaks.
St. Ambrose Catholic School at 4213 Mangum Rd.
St. Rose of Lima Catholic Church at 3600 Brinkman St.
Temple Oaks Baptist School at 2101 W 34th St.
Lutheran High School North at 1130 W 34th St.
St. Pius X High School at 811 W Donovan St.
New Heights Christian Academy at 1700 W 43rd St.
To find an updated listing of all Garden Oaks real estate zoned to any specific public school, please email Paige Martin at PMartin@HoustonProperties.com with the property preference and budget that you're working with.
Note: For more detailed information on specific schools zoned to different Garden Oaks areas, please refer to our Houston Schools Guide OR email me.
Note: School zoning tends to change from year to year. The information provided above is accurate but not guaranteed. Please double-check by visiting the school's website.
---
Garden Oaks Real Estate Market
Garden Oaks Single-Family Home Sale Trends
---
Garden Oaks homes are mostly detached single-family properties set on mid to large-sized lots (by Houston standards). Homes in the neighborhood have remained popular over the years. It is due to their relatively central location and accessibility to downtown and other key districts. Another reason is its beautiful old homes.
Unlike other Houston neighborhoods, Garden Oaks still features many of its original homes. Those homes dated as far back as 1937. These vintage homes have since been renovated and restored.
Garden Oaks real estate varies, from patio homes and bungalows to larger plantation-style and ranch-style homes. Two- to three-bedroom floor plans are standard, though larger 4-bedroom homes are also available. Living spaces range from 1,000 to more than 4,500 square feet.
Garden Oaks single-family homes sit on lots ranging from 6,000 to more than 15,000 square feet.
Architectural styles vary, though traditional and ranch styles are common. New construction Garden Oaks homes feature more contemporary designs.
Prices for homes in the neighborhood can start at around $250,000. The most expensive Garden Oaks real estate can sell for more than $1,400,000.
---
Garden Oaks Townhomes Sale Trends
---
Recent residential development in Garden Oaks has led to several new townhomes for sale.
As interest in the area grew, developers purchased lots in the Garden Oaks area. Townhomes in the neighborhood typically offer 3-story floor plans with 3 to 4 bedrooms. Private balconies or terraces, attached 2-car garages, and second-floor living are standard features.
Compared to single-family homes, Garden Oaks townhomes feature smaller lots. They range from 1,500 to about 2,500 square feet. Living spaces are typically between 1,500 to 3,000 square feet.
Prices for Garden Oaks townhomes for sale can start at $200,000 and go up to $500,000.
---
Garden Oaks Condo Sale Trends
---
There are no mid- or high-rise Garden Oaks condos for sale. However, there are some units available in neighboring areas like Houston Heights. It includes The Point at White Oak (77009).
Other condos within 10-20 minutes of Garden Oaks include:
To see other condos within the Inner Loop, see Inner Loop Houston Condos. To see condos within the nearby Galleria area, see Galleria Houston Condos. To see other condos within Downtown Houston, see Downtown Condos. To see condos within Museum District, see Museum District Condos.
---
Garden Oaks TX History
---
Established ten years before its next-door neighbor Oak Forest, Garden Oaks is one of Houston's older neighborhoods.
In the late 1930s, Edward L. Cairn bought a parcel of land just north of the historic Heights. The development, then marketed as "Houston's next River Oaks," broke ground in 1937. Its streets were laid out in a curvilinear pattern, quite like River Oaks' street layout.
The neighborhood's first homes were plantation-style or ranch-style homes on expansive, tree-canopied lots.
World War II caused a slowdown in the Houston housing market. It halted development in Garden Oaks. The post-war housing boom during the 50s and 60s revived new construction in the area. There was, however, a shift in demand – returning soldiers preferred smaller and more practical homes. Garden Oaks' later sections, notably the ones on the western edge of its borders, illustrate this shift.
Today, the neighborhood still features a wide variety of home styles. They vary from quaint cottages and bungalows to bigger plantations and ranch-style homes. Increased demand for housing also sparked new development. Developers started buying up old Garden Oaks homes and lots. The old homes were torn down in favor of townhomes and more contemporary single-family homes.
Super Neighborhood 12 (Central Northwest) was recognized in 2010. It includes Garden Oaks, Oak Forest, Candlelight Estates, and Shepherd Park. It also includes other subdivisions north of Loop 610 and west of Northwest Freeway. The Oak Forest-Garden Oaks area refers to this group of subdivisions and neighborhoods.
---
Fun Things To Do Near Garden Oaks
---
Though primarily residential, Garden Oaks' central location gives its residents plenty of options. It is near the Heights, Oak Forest, and other key Houston retail, entertainment, and cultural districts.
There are several parks and hike-and-bike trails within minutes of Garden Oaks homes. They include the White Oak Bayou Greenway Trail, American Legion Park, and Graham Park.
For retail, residents can drive to the nearby Galleria or downtown. Residents can also visit the Oak Forest Center along Ella Boulevard. It features a few retail and dining options. Those choices include Kroger, Dollar Tree, and Ross Dress For Less.
Here are some of the best places to visit in and around Neartown / Garden Oaks:
Dining
Houston Panini and Provisions
Petrol Station
House of Fries
Golden Wok
Gatlin's BBQ
Mytiburger
El Ray Taqueria
El Pollo Loco
Marco's Pizza
Little Bitty Burger Barn
Toasted
Fiesta Tacos
Nightlife
Plonk! Beer & Wine Bistro
Sassafras
Frio To Go
The Oak Forest Chill Neighborhood Icehouse
Catty Corner Ice House
NJ's
Big Star Bar
SmokeyDoke Vape and Smoke Shop
Cafes
Toasted
Kraftsmen Cafe
Miller's Cafe
Maryam's Cafe
Landa Cafe
Hugs & Donuts
Cafe 2000
Heights Asian Cafe
Groceries
Kroger
Randall's
H-E-B
Food Town
Walmart
Family Dollar
Parks
American Legion Park
Garden Oaks Park
T.C. Jester Park
Candlelight Community Center & Park
Graham Park
---
Best Garden Oaks TX Realtor – Paige Martin
---
As featured on Fox News in the Morning, Houston Business Journal, and Houston Magazine, Paige Martin, a consistent Top Producing Broker-Associate and head of the Houston Properties Team, is ranked as one of the top residential real estate agents in the world.
---
Best Houston Real Estate Resources
---