Houston has seen tremendous real estate appreciation rates over the last 10 years, making it hard to find townhomes and single-family homes under $300,000 near main Houston hubs. The Garden Oaks neighborhood (found north of 610 Loop) is one of the few neighborhoods with good options in the $300,000 range.
Real estate developers seeking residential sites for more affordable housing have started various projects in Garden Oaks. New construction single-family homes and town homes are available in the neighborhood. Garden Oaks is also about 10-15 minutes away from Galleria and Downtown Houston.
Garden Oaks Houston real estate for sale also has above average Walkability and Bikeability scores. The Z-shaped neighborhood has numerous parks and over 230 rated commercial establishments.
See all Garden Oaks homes for sale under $300,000 below.
For more information on available Garden Oaks homes for sale, call Paige Martin at
713-425-4194 or email [email protected]
Overview: Garden Oaks Homes For Sale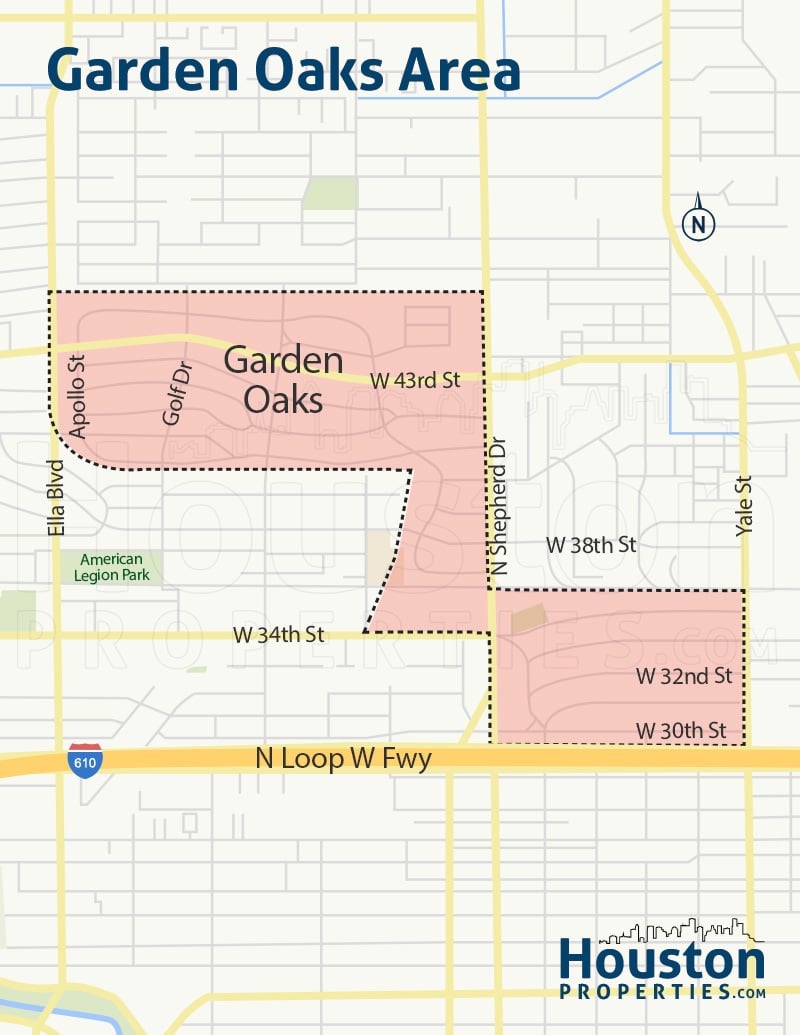 Located north of Houston's 610 N Loop, Garden Oaks homeowners have easy access to Downtown Houston, the Uptown/Galleria area, the Medical Center and Houston Intercontinental Airport. Garden Oaks residents are also very close to Highway 290 and I-45.
When development for Garden Oaks was started in 1937, the neighborhood was initially billed as "Houston's next River Oaks". Its founder, Edward L. Crain, first established Garden Oaks on a tract of land just north of the Houston Heights.
With a 62 Walkability score, Garden Oaks gets a "Somewhat Walkable" rating from Walkscore. The ranking suggests that basic errands (such as shopping, dining, etc) are doable on foot.
There are about 420 restaurants, bars and coffee shops in the Garden Oaks/Oak Forest area (these neighborhoods are right next to each other). Garden Oaks residents can walk to an average of 0.9 restaurants, bars and coffee shops in 5 minutes.
Its 59/100 "Bikeable rating" is also above average. Yelp.com has over 230 rated establishments in the Garden Oaks area.
Notable commercial establishments include:
Facundo Cafe ( Breakfast & Brunch, Burgers, Coffee) at 3103 Ella Blvd.
Shepherd Park Draught House (American Gastropub) at 3402 N Shepherd
Plonk! Beer & Wine Bistro (Wine Bar) at 1214 W 43rd St
Petrol Station (Restaurant, Bar) at 985 Wakefield Dr
Little Bitty Burger Barn (Burgers) at 5503 Pinemont Dr
Many recreational parks are located within/near Garden Oaks. Garden Oaks residents are only a few minutes away from biking trails, picnic destinations, and scenic jogging trails.
Parks in Garden Oaks include:
T.C.Jester Park at 4201 T C Jester Blvd
Oak Forest Park at 2100 Judiway
Lamonte Park at 3737 Watonga Blvd
Graham Park at 540 W. 34th St.
Shepherd Park at 4725 Brinkman
Candlelight Park at 1520 Candlelight Ln.
American Legion Park at 3621 Golf Dr.
Mangum Manor Park at 5235 Saxon
Watonga Parkway at 4100 Watonga Blvd