Located north of the North Loop (610), and bordered by Ella Blvd. to the west and Yale St. to the east, Garden Oaks is a great neighborhood of roughly 1400 homes.
Garden Oaks Resources
Two New Garden Oaks Homes' Neighborhood Maps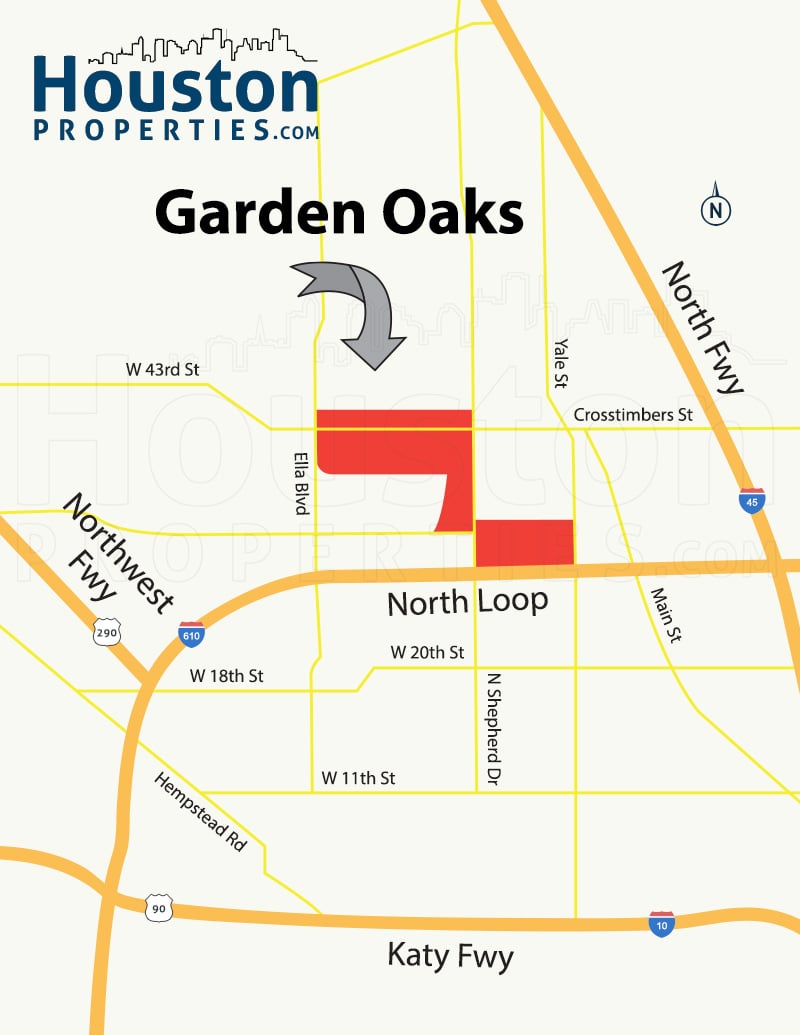 Known for its towering pines and grand magnolias, Garden Oaks homes range from cottages, bungalows, ranch-, and traditional-style homes to new construction single-family and townhomes.
Houston neighborhoods close to Garden Oaks include: Oak Forest, Greater Heights (Houston Heights), Spring Branch. Timbergrove, Lazybrook, and Memorial. Downtown Houston and Galleria are also only about a 10-minute drive or commute away (depending on traffic).
Oak, pecan, and pine trees are found all over Garden Oaks. Massive lots (median lot size is 12,000 square feet) result to wide-open landscaped yards.
The Z-shaped Garden Oaks neighborhood is conveniently located right outside the Houston Inner Loop, with easy access to major freeways leading to main Houston hubs.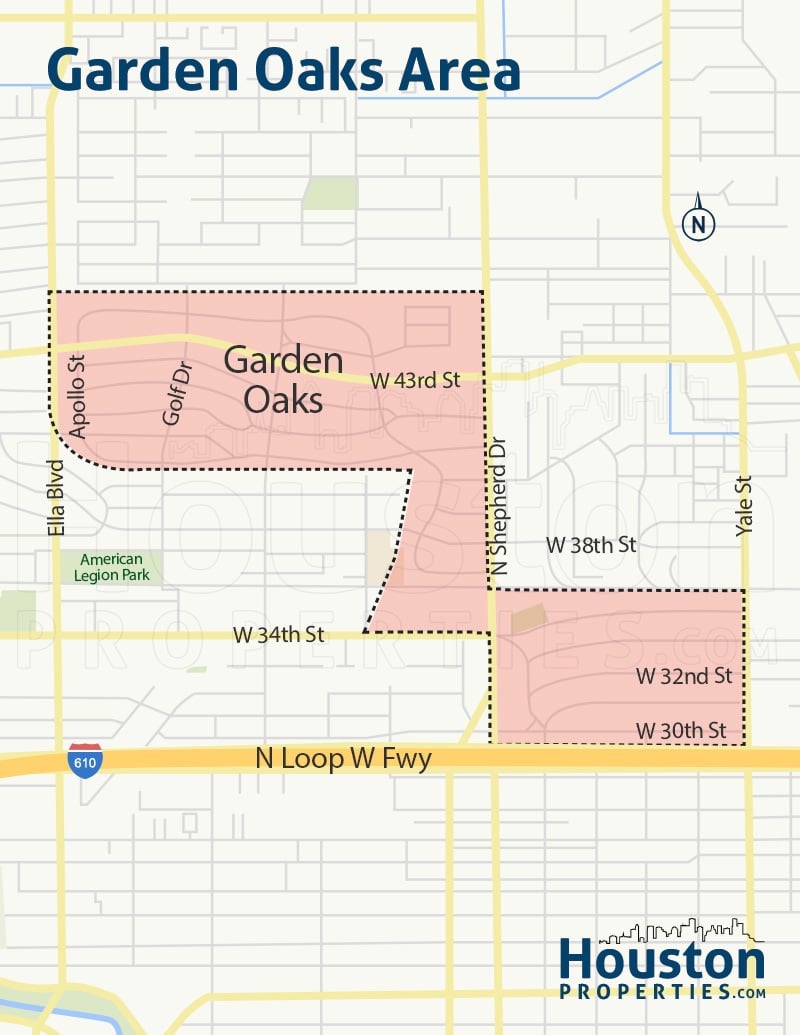 Garden Oaks Neighborhood: Lifestyle
Garden Oaks earned a 62 Walkability rating from Walkscore, giving the neighborhood a "Somewhat Walkable" ranking. Basic errands (such as shopping, dining, etc) can be accomplished on foot.
There are about 420 restaurants, bars and coffee shops in the Garden Oaks. Garden Oaks residents can walk to an average of 0.9 restaurants, bars and coffee shops in 5 minutes.
Its 59/100 "Bikeable rating" is also above average. Yelp.com has over 230 rated establishments in the Garden Oaks area.
Notable commercial establishments include:
Petrol Station (Restaurant, Bar) at 985 Wakefield Dr
Little Bitty Burger Barn (Burgers) at 5503 Pinemont Dr
Facundo Cafe ( Breakfast & Brunch, Burgers, Coffee) at 3103 Ella Blvd.
Shepherd Park Draught House (American Gastropub) at 3402 N Shepherd
Plonk! Beer & Wine Bistro (Wine Bar) at 1214 W 43rd St
Many recreational parks are located within/near Garden Oaks. Garden Oaks residents are only a few minutes away from biking trails, picnic destinations, and scenic jogging trails.
Parks in Garden Oaks include:
T.C.Jester Park at 4201 T C Jester Blvd
Oak Forest Park at 2100 Judiway
Lamonte Park at 3737 Watonga Blvd
Graham Park at 540 W. 34th St.
Shepherd Park at 4725 Brinkman
Candlelight Park at 1520 Candlelight Ln.
American Legion Park at 3621 Golf Dr.
Mangum Manor Park at 5235 Saxon
Watonga Parkway at 4100 Watonga Blvd