Guide To All Garden Oak Homes For Sale
Known for its highly-rated public schools, Garden Oaks is a tree-rich neighborhood of around 1400 homes located north of the North Loop (610), and bordered by Ella Blvd. to the west and Yale St. to the east.
Garden Oaks is also one of the best-performing neighborhoods in Houston, both in terms of real estate appreciation and total number of home sales.
Popular for its towering pines and grand magnolias, Garden Oaks homes for sale include cottages, bungalows, ranch-, traditional-style homes, and new construction single-family and townhomes.
View pictures and information of all Garden Oaks homes for sale below.
For more information on available Garden Oaks homes for sale, call Paige Martin at
713-425-4194 or email [email protected]
Garden Oaks Neighborhood Map and Location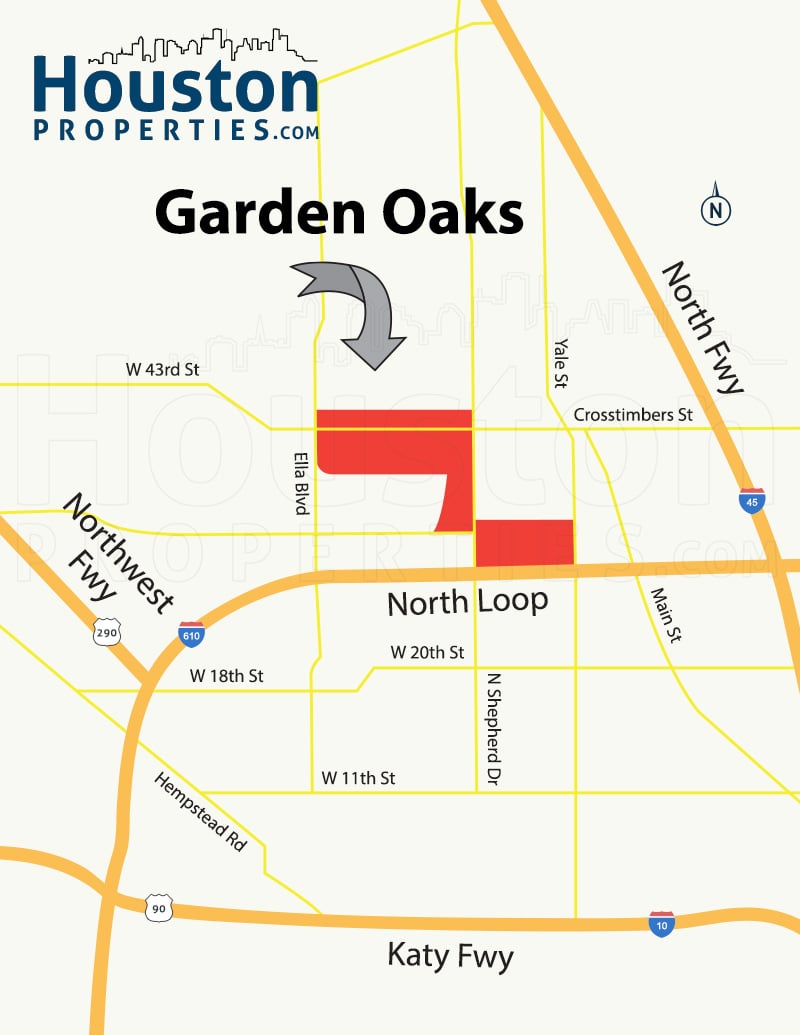 Established in 1937 by Edward L. Crain, Garden Oaks is a peaceful neighborhood of approximately 1,400 homes located north of Houston Heights and near the retail and office/industrial buildings off Shepherd, Ella Blvd, and North Loop 610.
Neighborhoods near Garden Oaks include: Oak Forest, Greater Heights (Houston Heights), Spring Branch. Timbergrove, Lazybrook, and Memorial. Downtown Houston and Galleria are also only about a 10-minute drive or commute away (depending on traffic).
Despite being close to main commercial districts Downtown Houston and Galleria, Garden Oaks has kept its "naturesy" identity. Oak, pecan, and pine trees tower over homes in Garden Oaks. Massive lots (median lot size is 12,000 square feet) with lush yards compliment the tree-roofed neighborhood.
The Z-shaped Garden Oaks neighborhood is conveniently located right outside the Houston Inner Loop, with easy access to major freeways leading to main Houston hubs.
Garden Oaks Houston: Schools Overview
Garden Oaks Public Schools
The Houston Independent School District (HISD) serves Garden Oaks. The public schools associated with homes in Garden Oaks include:
Elementary School
Also zoned to Garden Oaks residents, Garden Oaks Elementary carry a qualified Montessori program first established in 1995.
Middle Schools
Frank Black Middle School is best known for its Vanguard Magnet program. Vanguard is a program that offers advanced and accelerated academic curriculum for students who have been designated as "Gifted & Talented" using the HISD GT matrix.
High Schools
Waltrip High School is rated 5 out of 10 by Greatschools. While it remains average in most subjects, its Grade 11 students got between 91% to 98% test scores in English Language Arts, Math, Science, and Social Studies.
Waltrip is also one of the highest performing comprehensive high schools in Houston Independent School District (HISD). The school was named "Recognized" by the Texas Education Agency, one of the few urban high schools in HISD to receive such a designation.
Private Schools
St. Rose of Lima Catholic School at 3600 Brinkman
Lutheran High North at 1130 W. 34th
St. Pius X High School at 811 Donovan
Heritage Oaks School at 2931 W. 12th Street
To find an updated listing of all Garden Oaks real estate zoned to any specific public school, please email Paige Martin at [email protected] with the property type and budget that you're looking for.
*Note: school zoning can change from year to year, information above is deemed accurate, but not guaranteed. Please double check.