Oaks, pecan, and pine trees along with consistent community development help Oak Forest gain its reputation as "one of Houston's best-kept secrets."
Oak Forest residents often compare their neighborhood to upscale residential developments such as West University and Bellaire.
Garden Oaks homes median sale price is around $300,000, but properties range from under $200,000 to over $1,000,000. View pictures and information of the most expensive Garden Oaks houses for sale below.
For more information on available Garden Oaks homes for sale, call Paige Martin at
713-425-4194 or email [email protected]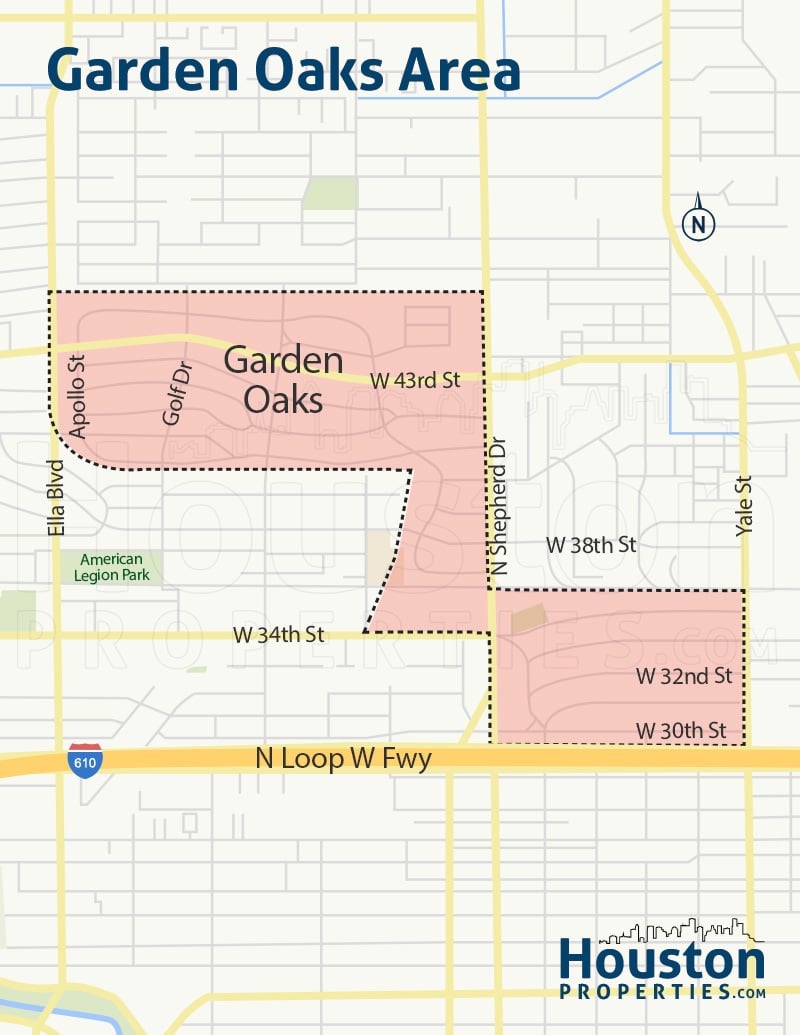 Garden Oaks homes are mostly single-family properties with a neighborhood value range of $189,000 to $489,000. The average home size is 1,690 square feet with the average number of bedrooms and baths at 2.81 and 1.73 respectively.
Garden Oaks Houston: Fun Things To Do In The Neighborhood

Carefully planned real estate development and deed restrictions made Garden Oaks a very organized neighborhood (please see the inner map of Garden Oaks above for a better reference). Walkscore rates Garden Oaks as Houston's 28th most walkable neighborhood. The area's 59 over 100 "Bikeable rating" is also above the average score for Houston neighborhoods.
There are about 420 restaurants, bars and coffee shops in the Garden Oaks/Oak Forest area (these neighborhoods are right next to each other). Garden Oaks residents can walk to an average of 0.9 restaurants, bars and coffee shops in 5 minutes.
Notable commercial establishments include:
Facundo Cafe ( Breakfast & Brunch, Burgers, Coffee) at 3103 Ella Blvd.
Shepherd Park Draught House (American Gastropub) at 3402 N Shepherd
Plonk! Beer & Wine Bistro (Wine Bar) at 1214 W 43rd St
Petrol Station (Restaurant, Bar) at 985 Wakefield Dr
Little Bitty Burger Barn (Burgers) at 5503 Pinemont Dr
Many recreational parks are located within/near Garden Oaks. Garden Oaks residents are only a few minutes away from biking trails, picnic destinations, and scenic jogging trails.
Parks in Garden Oaks include:
T.C.Jester Park at 4201 T C Jester Blvd
Oak Forest Park at 2100 Judiway
Lamonte Park at 3737 Watonga Blvd
Graham Park at 540 W. 34th St.
Shepherd Park at 4725 Brinkman
Candlelight Park at 1520 Candlelight Ln.
American Legion Park at 3621 Golf Dr.
Mangum Manor Park at 5235 Saxon
Watonga Parkway at 4100 Watonga Blvd
Neighborhoods Near Garden Oaks Houston:
Acres Home
Spring Branch East
Langwood
Sawyer Heights
Woodland Heights
Sunset Heights
Shady Acres
Independence Heights
Other popular neighborhoods within a 5-10 minute drive (depending on traffic) include: Memorial, Galleria, Downtown Houston and Rice Military.