Houston's real estate appreciation has made it hard to find affordable homes near main districts such as Downtown Houston and Galleria. Garden Oaks is one of the few Houston neighborhoods that had low appreciation rates the last 5 years.
Garden Oaks only had a 1% five-year median sales price change. The increasing number of new construction single-family and townhome options keep the supply and demand in balance.
This also helps in keeping Garden Oaks homes for sale within a low price-point, despite its proximity to Downtown Houston, Rice Military and Galleria.
The Garden Oaks Real Estate Appreciation Report below outlines the neighborhood's real estate performance the last 10 years. Showing figures from 2003 to 2012, the report brings us 5 interesting trends for Garden Oaks real estate.
Garden Oaks Resources: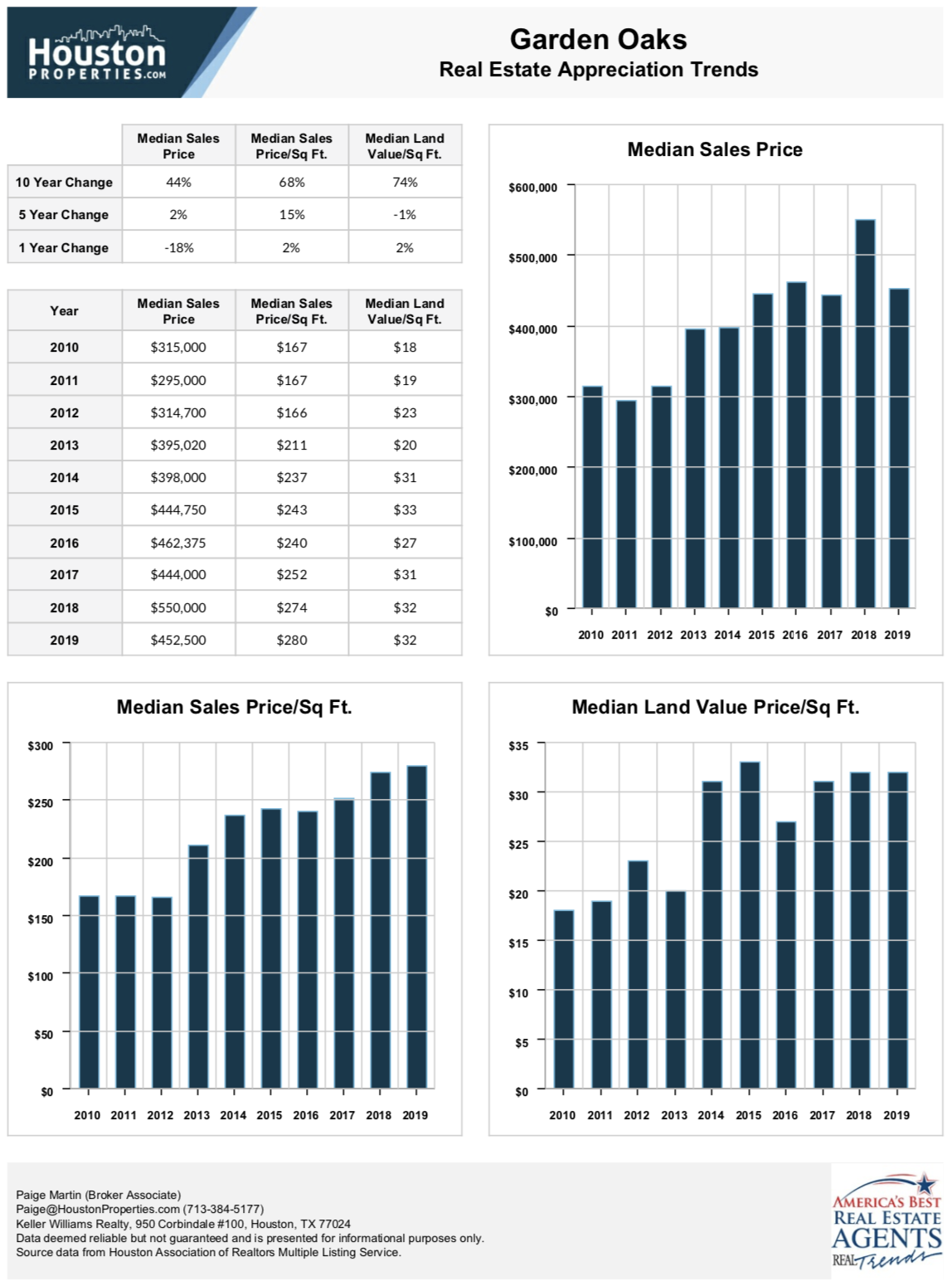 5 Interesting Trends In Garden Oaks Real Estate
1. Garden Oaks homes bought 10 years ago rose by 59%.
Median sales price of Garden Oaks homes in 2003 is $178,117. Last year, it was $283,500. The 59% 10-year increase amount to over a hundred-thousand dollar difference.
2. Garden Oaks only had a 1% five-year median sales price increase.
At 1%, Garden Oaks had one of the lowest 5-year real estate appreciation movement. New construction projects keep home prices in the neighborhood low, specially when compared to nearby Houston Heights or Rice Military.
3. Average price per square feet had a 10-year increase of 42%
Garden Oaks' avg price per square feet jumped 42% in just 10 years. Garden Oak's 12,000 square feet median lot size makes this surge more significant.
4. Last year's Garden Oaks home sales jumped by 23%
Garden Oaks home sales last year is 23% higher than 2011. This is also the highest year-to-year increase the last 10 years.
5. Garden Oaks homes sold more last year, but maintained the same median sales price
Garden Oaks homes was 23% higher than 2011 sales. Interestingly, the median sales price remain the same.
The increasing demand did not exactly push Garden Oak's home prices higher. Garden Oaks' new construction single-family houses and town homes give buyers help address the demand.
Garden Oaks single-family homes have a neighborhood value range of $189,000 to $489,000. Townhomes prices typically start between $180,000 to $250,000.