Glen Cove Houston Homes For Sale Guide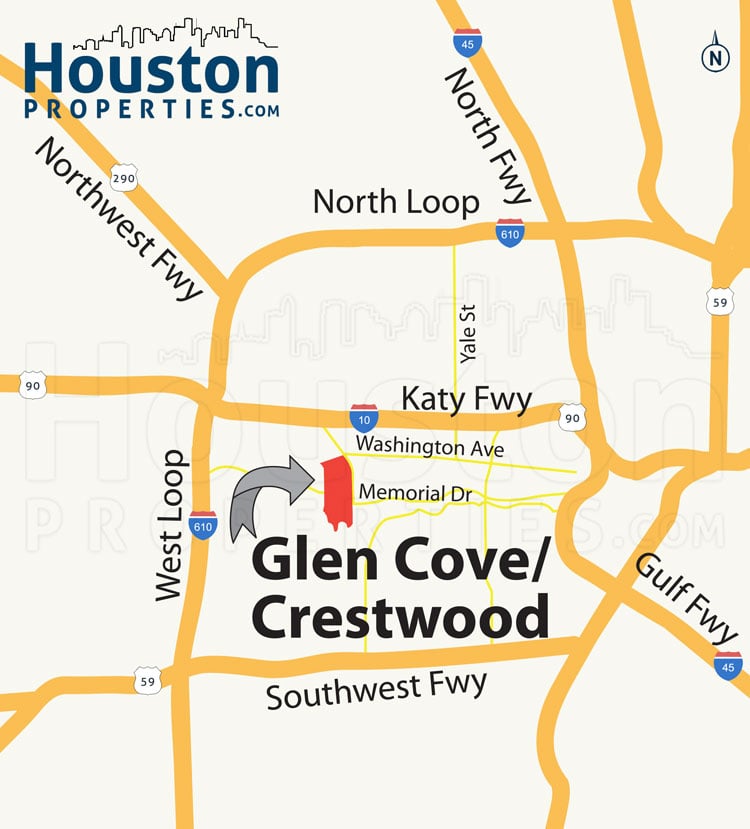 Enjoying a central Inner Loop location, the Glen Cove neighborhood is heavily deed-restricted. Glen Cove homes for sale are mostly expansive, new construction single-family properties.
Glen Cove homes are just a few minutes east of Memorial Park, one of the largest urban parks in the United States. The park attracts over 4 million people annually due to the many recreational activities it offers.
It is the 10th most expensive Houston neighborhood. Similar to many Inner Loop Houston neighborhoods, Glen Cove exhibited a trend of tearing down older houses and building newer homes.
The median sales price of Glen Cove homes have appreciated by 237% in the past decade, owing to the many new constructions in the area.
Glen Cove is composed of 3 subdivisions, each enforcing a different set of deed restrictions.
Due to these deed restrictions and the variety of homes in the neighborhood, having a good Glen Cove Houston realtor is beneficial during your home search.
For questions, advice, Glen Cove real estate recommendations, or off-market MLS listings, contact Paige Martin, head of the Houston Properties Team and rated as the best Keller Williams Memorial realtor the last four years.
Glen Cove Houston Resources:
NOTE: Glen Cove homes are among the fastest selling real estate in Houston. Some of the properties are off-market (not publicly listed). For more information on available Glen Cove homes for sale call Paige Martin at 713-425-4194 or email [email protected]
Glen Cove Houston Neighborhood Guide
Glen Cove homes for sale are located south of Arnot St., west of Westcott St., north of the Buffalo Bayou, and east of Crestwood Dr.
This small area in Harris County lies between the neighborhoods of Crestwood and Camp Logan.
There are a few waterfront properties in the neighborhood, particularly in Glen Cove Addition, the subdivision closest to Buffalo Bayou. These homes get to enjoy the views leading to the ravines and relaxing movement of the river.
The neighborhood also benefits from the wildlife within the Hogg Bird Sanctuary. Local bird watchers enjoy the hiking trails amidst the large rain trees that houses over 23 bird species.
With its proximity to Katy Freeway and West Loop, getting to the busy job districts of Houston such as Uptown Houston, Galleria, and Downtown Houston is easy. The Museum District and the Texas Medical Center are also both easily accessible via city streets.
Due to the wide-time spread Glen Cove homes were built, the price range of homes for sale greatly varies. Homes range between $500,000 to over $4 million on over 1,700 to 7,600 square feet of living space.
The median sales price of this neighborhood in the 77007 Houston zip code is currently at $1,450,000.
Nearby zip codes include 77019, 77002, 77009, 77008, 77055, 77024 and 77027. (View Houston zip code map.)
Nearby neighborhoods include: River Oaks, Galleria, Rice Military, Memorial Park, Briar Hollow, Tanglewood, Cottage Grove, Camp Logan, Crestwood, and Timbergrove.
Glen Cove Subdivisions
Glen Cove is divided into 3 subdivisions, each with its own set of deed restrictions. Most of the area is restricted to single-family residential use except for certain lots in Glen Cove 2 and the small parcel of land at the corner of Arnot St. and Westcott St.
Glen Cove I
Glen Cove Addition covers the area between Glen Cove St. and Crestwood Acres. Homes in the area are restricted to 2-story single-family dwellings that provide great views of the Hogg Bird Sanctuary.
Deed restrictions does not allow lots to be further subdivided, and homes are at least 25 feet from the front property line which guarantees roomy front lawns.
Structures other than a fence or driveway are not allowed on front lawns to maintain the views of the ravines leading to Buffalo Bayou.
Living areas in Glen Cove I are at least 2,000 square feet and must be air-conditioned. Homes must also be kept in good condition to preserve the neighborhood's luxury appeal.
Only 3 pets are allowed per household and commercial breeders are also prohibited in the subdivision. Leash laws are also strictly enforced.
Glen Cove II
Glen Cove II covers the area between Blossom St., Westcott St., Memorial Dr., and Crestwood Dr. It spans almost 70 acres, and while most of the area is restricted for single-family home use, certain lots are allowed to be use for business purposes.
Glen Cove III
Just over 19 acres, Glen Cove 3 is a strictly single-family residential subdivision in Glen Cove.
Homes in the subdivision have at least 800 square feet of living space, and front lawns are at least 25 feet from the front property line.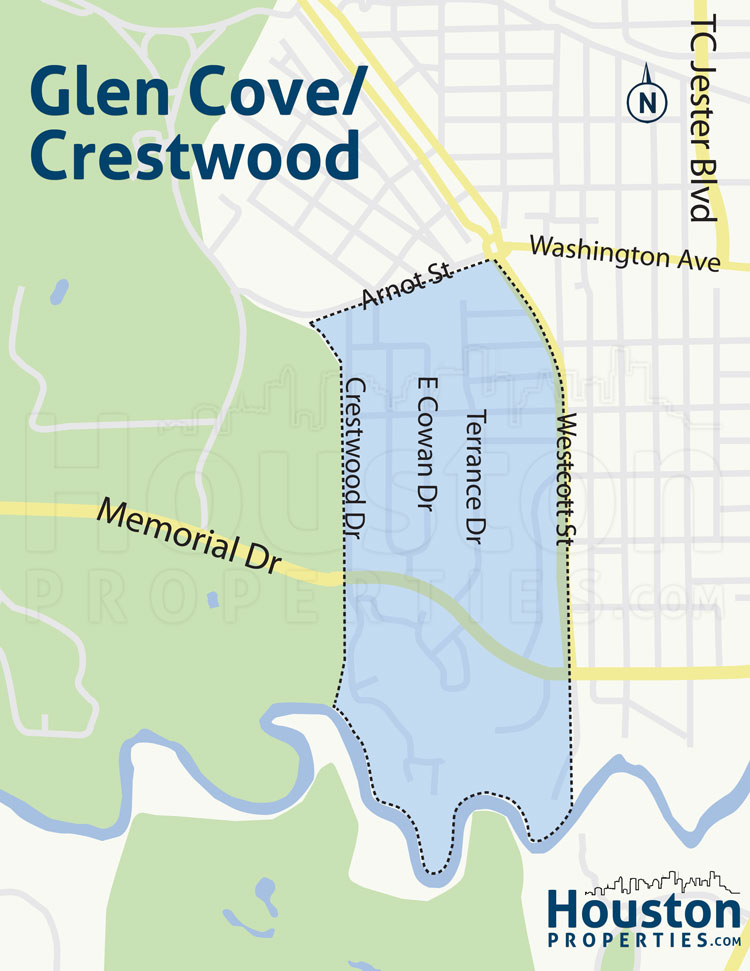 Glen Cove Schools Information
Residents of Glen Cove are zoned to schools under the Houston Independent School District (HISD). Students attend the following public schools:
Elementary Schools
Memorial Elementary School. The Memorial Elementary School is easily accessible from Glen Cove along Arnot Street. The school serves students grades PK-6 and has a GreatSchools.org rating of 6/10.
Middle Schools
Hogg Middle School. Hogg Middle School is located in the Norhill neighborhood, just a 15-minute drive from Glen Cove. It has a GreatSchools.org community rating of 3/10.
High Schools
Lamar High School at 3325 Westheimer Rd. Lamar High School has a great Athletics program. They have one of the oldest lacrosse programs in the state. Their football team, The Lamar Redskins, is one of the highest-ranking teams within the Greater Houston area. It has GreatSchools.org rating of 7/10.
High School For Law Enforcement And Criminal Justice. LE/CJ on 4701 Dickson is an all-magnet school for law enforcement and criminal justice. It has a GreatSchools.org rating of 8/10.
Glen Cove Private Schools
Most of the residents send their children to the exemplary private schools nearby.
The Kinkaid School in the Memorial Villages is one of the oldest and most prestigious private schools in Houston. It serves students from PK – 12 and features an Interim Term where students can select a from a set of teacher-designed curricula.
Students also go on international trips sponsored by the school and provides connections with companies for students who need an internship.
St. John's School on Claremont Lane is noted for its selectivity and academic excellence. Forbes.com noted it as one of "America's Elite Prep Schools". Many of its students get accepted to highly selective universities such as Harvard and Princeton.
The DePelchin Children's Center is a University Charter School of the University of Texas. Located along Memorial Drive, the school offers programs for youths aged 5 to 13 years who suffer from depression, bipolar disorder, abuse, and other behavioral problems.
Other notable private schools near Glen Cove include:
Houston Heights Learning Academy
The Kipling School
Messiah Lutheran School
Memorial Hall School
St. Thomas High School
St. Theresa Catholic School
Melinda Webb School – The Center for Hearing and Speech
Duchesne Academy of the Sacred Heart
Memorial Christian Academy
St. Agnes Academy
To find an updated listing of all Glen Cove real estate zoned to any specific public school, please email Paige Martin at [email protected] with the property type and budget that you're looking for.
*Note: school zoning can change from year to year, information above is deemed accurate, but not guaranteed. Please double check.
Glen Cove Houston Realtor – Paige Martin
As featured on Fox News in the Morning, the Houston Business Journal, Houston Chronicle, and Houston Magazine, Paige Martin – a consistent Top Producing Broker-Associate and head of the Houston Properties Team – is ranked amongst the very top Keller Williams agents in the Houston area.
Paige is ranked as one of the top realtors in Glen Cove Houston, and the state of Texas. Read more about the over 65 awards she's won in the last few years.
Paige works with a tremendous number of buyers and sellers within the Inner Loop.
For a specific recommendation of neighborhoods, homes or properties based upon your personal style, goals & price point, please contact Paige Martin, head of the Houston Properties Team & Broker Associate at [email protected] or 713-425-4194.