Glen Cove Houston Maps: Neighborhood Guide
Glen Cove is a neighborhood of nearly 180 homes found within Houston's Inner Loop and next to Memorial Park.
The subdivision is right next to Crestwood neighborhood and about 4 miles from Downtown Houston. Glen Cove homes are also 5-10 minutes from Galleria, Museum District and Montrose.
Glen Cove is bordered by Katy Freeway to the north, Southwest Freeway to the south, West Loop to the west, and Gulf Freeway to the east. Memorial Drive also runs through the Glen Cove neighborhood.
Together with its neighbor, Crestwood, Glen Cove is under the Houston Independent School District. Memorial Elementary School, Hogg Middle School, and Lamar High School serve Crestwood and Glen Cove residents.
Glen Cove: Related Resources:
Two New Glen Cove Houston Neighborhood Maps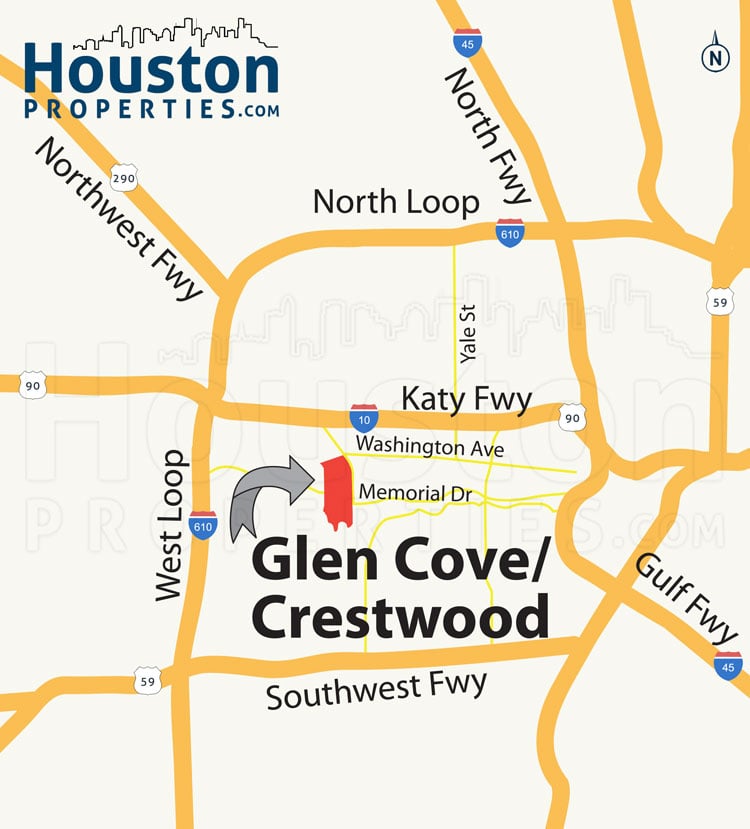 Glen Cove's central inner Loop location and nearness to major freeways allows its residents easy access to Downtown Houston, Montrose, Galleria and Museum District.
Glen Cove homes for sale are also minutes from Memorial Park. The 1508-acre public park provides Glen Cove homeowners recreational activities such as jogging, hiking, and biking. Memorial Park also boasts of Houston's first golf course, picnic grounds, ball fields, tennis courts, children's playgrounds, a public swimming pool, an arboretum.
With a 7,874 square feet median lot size, Glen Cove homes well above the average lot size in Houston. Glen Cove homes for sale have a neighborhood value range of $435,000 to $2,115,000.
The properties in Glen Cove are among the most desirable real estate in Houston. The neighborhood is heavily deed-restricted, paving the way for expansive single-family homes and mega-mansion type of houses.
Its proximity to major Houston hubs also attract popular upscale developers. Most of the homes built in the 1940s are now replaced with modern houses. Current median sales price of Glen Cove homes for sale is at $940,638, making these properties some of the most expensive in Houston.
Neighborhoods near Glen Cove include Crestwood, Rice Military, Camp Logan, Houston Heights, Timbergrove, Midtown and River Oaks.