GLENDOWER COURT REAL ESTATE GUIDE
2022 Glendower Court homes for sale & insider real estate guide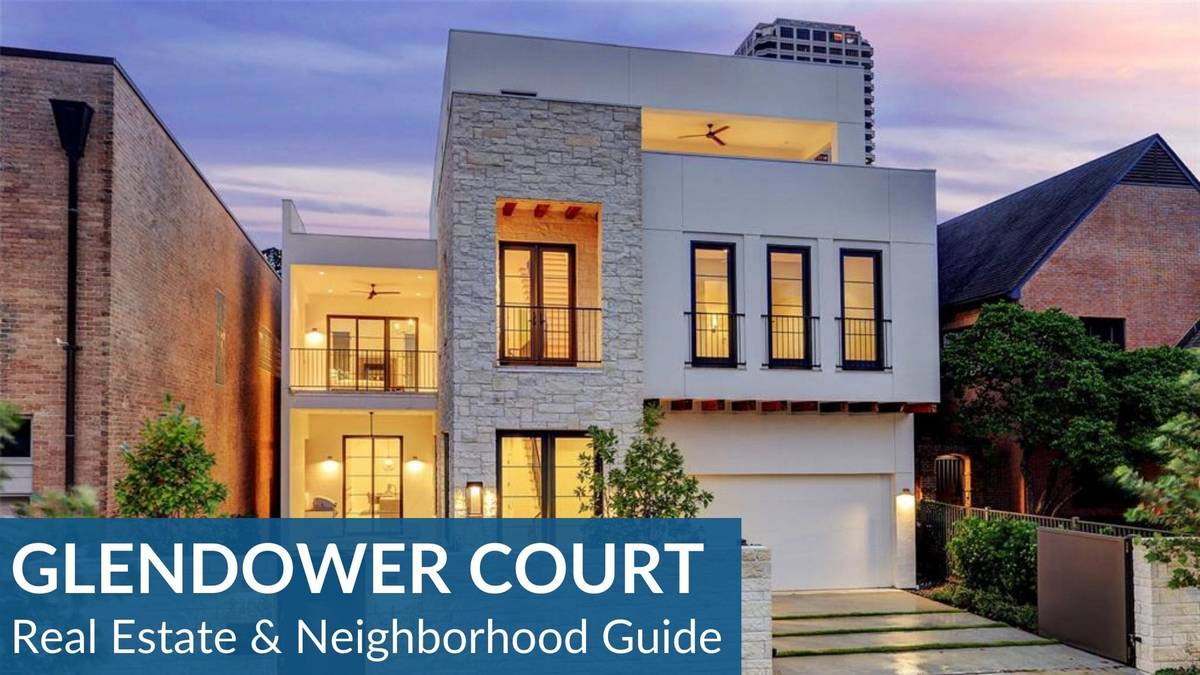 Nestled between Avalon Place and Montrose. Glendower Court is an affluent residential enclave featuring some of Houston's most expensive homes.
Glendower Court real estate is quite popular, thanks to the neighborhoods:
GREAT LOCATION: Nestled near some of Houston's most expensive and most accessible neighborhoods. Glendower Court enjoys great access to the best the city has to offer. It is roughly 3 miles away from Downtown Houston, home to over 3,500 businesses with 150,000 employees. Glendower Court is located south of Avalon Place and east of Westgate Street. The community is situated north of Westheimer Road and west of Kingston Street.

PROXIMITY TO EXCELLENT RETAIL AND ENTERTAINMENT: Glendower Court residents enjoy easy access to many yelp-rated restaurants and dining spaces. Two retail centers, Shepherd Square and River Oaks, are blocks away from the neighborhood. Westheimer Road is also lined with plenty of exciting dining, retail, and nightlife options.

SHORT COMMUTES: Main roadways are all within a stone's throw away from Glendower Court homes. Main roads nearby include Kirby Drive, Westheimer Road, Shepherd Drive, and San Felipe Street. Upper Kirby/Greenway Plaza, the Texas Medical Center, and the Galleria are within minutes away.

HIGHLY RATED SCHOOLS: Glendower Court homes are zoned to the Houston Independent School District (HISD). Three IB World schools serve the neighborhood. These are the River Oaks Elementary, Lanier Middle, and Lamar High School. River Oaks Elementary is located just a few blocks away from Glendower Court homes. The Elementary is also one of Houston's top-rated schools.

ACTIVE HOMEOWNERS ASSOCIATION: The Glendower Court Property Owners Association proved instrumental in the neighborhood's redevelopment. Today, the association still manages the community's affairs. Some of which are its architectural guidelines and deed restrictions.

STRONG REAL ESTATE APPRECIATION: Glendower Court real estate has posted great appreciation rates over the past decade. Its median sales price peaked at over $2,000,000. (See The Salary I Need To Buy A Home In Houston's Best Neighborhoods)
Buying or selling a home in Glendower Court can be challenging due to the neighborhood's deed restrictions. It can be good or bad, depending on the goals. Given also its proximity to busy roads (either a near one or don't want to be too close). The neighborhood's limited inventories can also be a speed bump, as some properties may not be listed.
To get personal advice on buying or selling a Glendower Court home, contact Paige Martin. One of Houston's best realtors and one of the top-ranked Realtors in the United States.
"Selling your home is an emotional process. For that, it is important to work with the best real estate agency out there. From the moment we decided to sell, Houston Properties Team was there for us. They took their time to get to know us, what our needs were and when it would be the right time to sell, and for what price. We received a detailed timeline so we knew exactly where we were in the process at all times. They were very knowledgeable and went above and beyond for us. They were very patient, answered every question we had big or small promptly, and always provided us with the information we needed. I highly recommend working with the Houston Properties Team. Thanks to them, we had a very smooth sale and found the perfect new owners for our house." - Olivia Simoen-Deman (Google Review)
---
Table of Contents
---
Glendower Court Home Sale Trends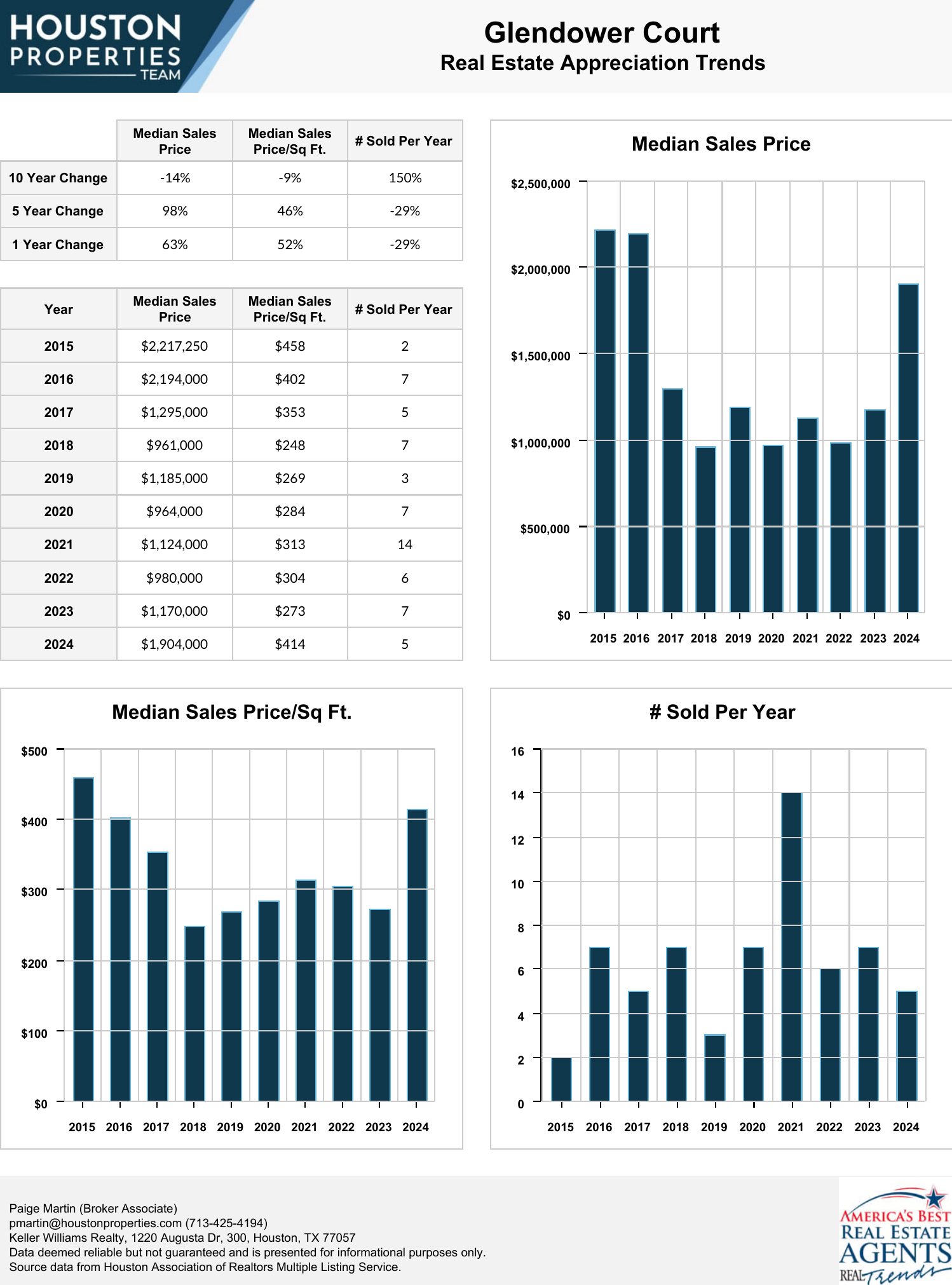 ---
Glendower Court Maps, Location & Zip Code
| Commute Time | Glendower Court |
| --- | --- |
| Downtown (min) | Unknown |
| Med Ctr (min) | Unknown |
| Energy Corridor (min) | Unknown |
| Galleria (min) | Unknown |
| Highlights | Glendower Court |
| --- | --- |
| Amenities | Unknown |
| Golf Courses | Unknown |
| Run / Bike Trails | Unknown |
| Nearby Retail / Dining | Unknown |
| Major Employers | Unknown |
---
Glendower Court Schools
| Top Elementary Schools | Great Schools Ranking |
| --- | --- |
| River Oaks Elem | 9 |
| Top Middle Schools | Great Schools Ranking |
| --- | --- |
| Lanier Middle | 9 |
---
Best Houston Real Estate Resources
---